Home Renovation: Do You Have to Do it All at Once?
Written By Roy Faust
Born and raised in Austin, Texas, I graduated from Lamar University with a Bachelor's Degree in Marketing in 1999. In 2006, I started New Creations and I am most proud to say we have earned 158 Five-Star Client Testimonials.
You DON'T Have to Renovate Your Home All at Once
You've discovered a splendid property in the ideal location — perhaps you're residing there now — but it certainly needs some renovating. The issue now is to picture the options. Can you transform this fixer-upper into your forever home? Or should you consider another option and find another home that's ready to move into?
For our Onion Creek Whole-House Renovation clients, walking away was not an option. When you live in a home situated in your ideal location — in their case, a wonderful Austin neighborhood in a peaceful residential community — a sequence of timely renovations was a better plan than relocating to a newer home.
Step by Step Home Renovation Plan — One Project at a Time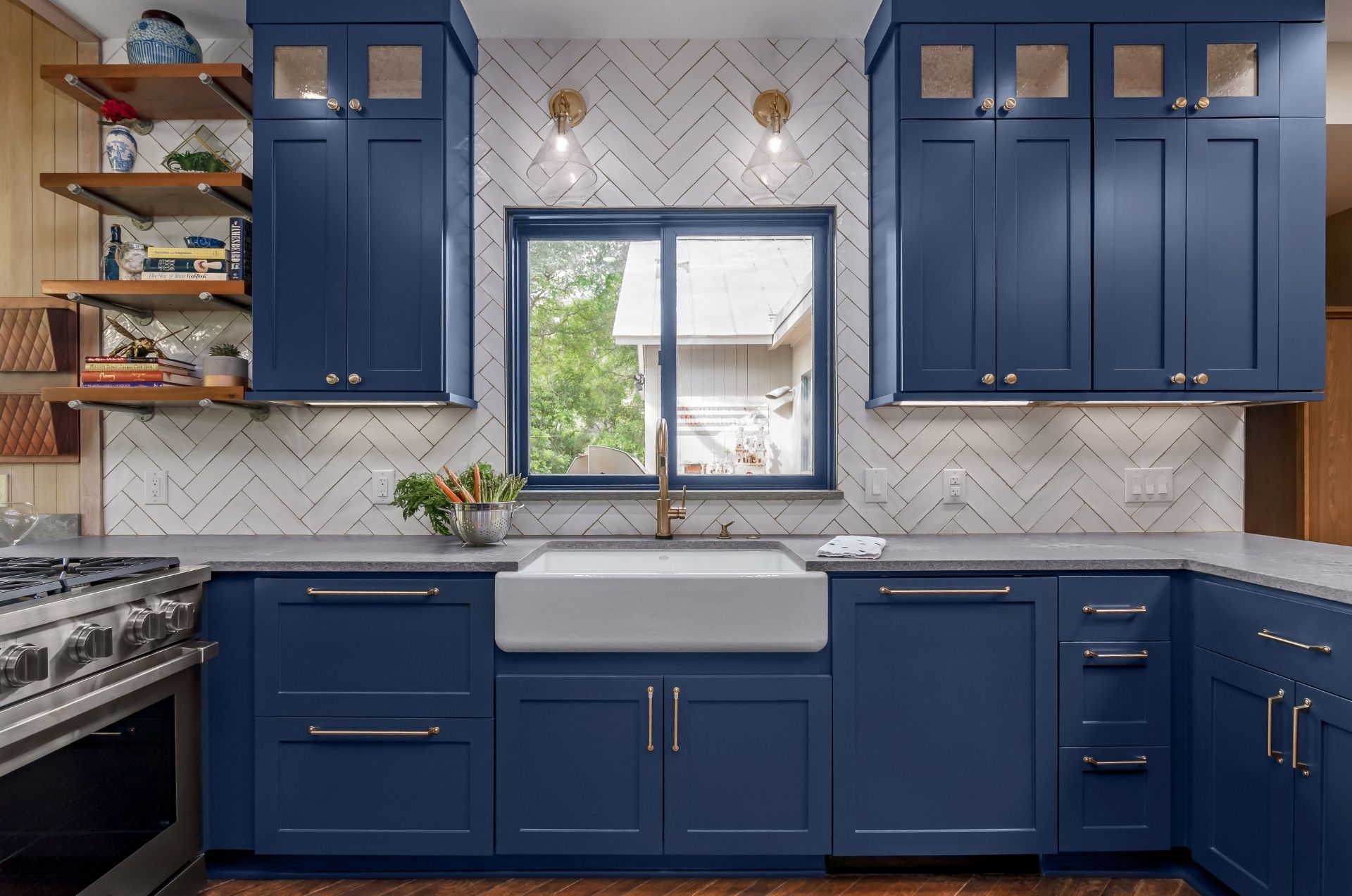 At times, just a single project will complete your dream home. Then there are times, as your priorities change to meet the evolving needs of your family when there needs to be a process. That was the case for our Onion Creek Whole House Renovation clients. 
Our Onion Creek clients have been working with us for about five years now, and we've completed  four renovation projects for them including:
a major kitchen renovation keeping most of the existing hardwood flooring, custom cabinetry, backsplash, lighting, and new appliances. For added functionality, we added pull-out drawers.

a master bathroom renovation including unique his and her interior décor, custom-built cabinetry, faux wood porcelain tiles, floating shelves, lighting, contemporary counter-tops, and redesigned walk-in showers.

a hall bathroom renovation with new shaker doors, granite countertops, a hammered nickel vessel sink, backsplash, rejuvenated lighting, wood-finished shelves, and a wall-mounted faucet.

a built-in Texas Longhorn-themed grill by Linx on their back porch with a Sirocco Dekton Countertop and a Havana Brick porcelain tile backsplash to round out the design.
For some clients, the process begins with a kitchen or bathroom renovation. These rooms should be well-functioning, or your home just doesn't feel like home. Our Onion Creek clients were no exception, and our work with them began in familiar territory. For them, it turned out that remodeling the kitchen was just the starting point.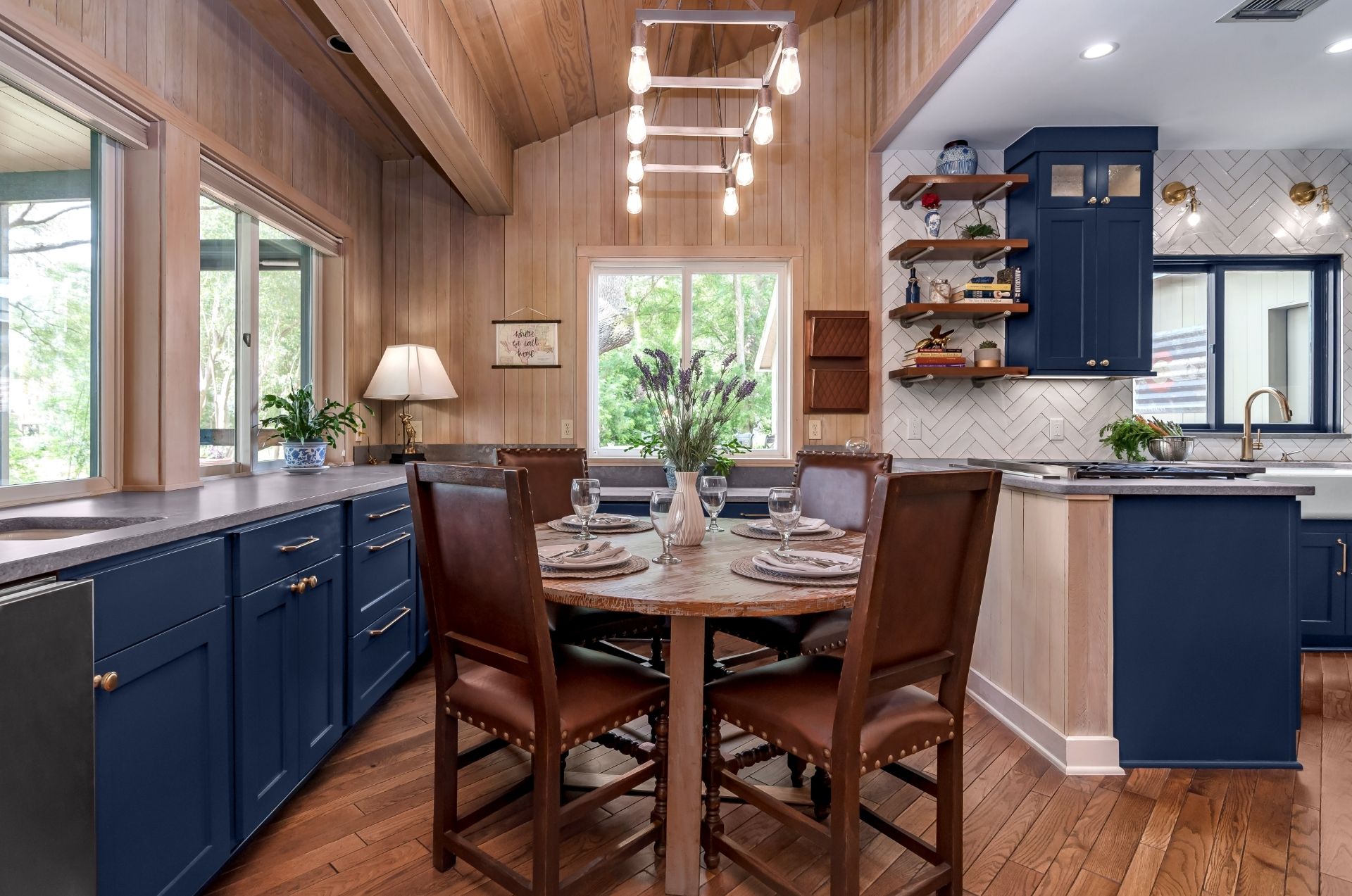 When Your Home is in Mint Condition, But Not in a Good Way
You've likely visited a property where everything was functioning well enough — the roof isn't leaking and the utilities work — but the house just wasn't up to speed. It was well-maintained but just frozen in time, usually around the year the home was constructed. That may be intriguing to observe for an architecture preservationist, but it's not ideal for living in. That's what our Onion Creek clients were facing in their 1990's home. Times had changed and the time had come to update their home, too.
Since a kitchen is the centerpiece of a home, they began with the kitchen. When you embark on a disruptive endeavor that requires living without a kitchen for months on end, moving out is a real possibility, but they took things in stride. When we sealed off the kitchen for construction, they converted the dining room into a "camp-out" kitchen with a hot plate and microwave. They said they "hardly even noticed" we were there.
You see it a lot on those HGTV episodes: if the neighborhood and location are a perfect match, the house can be brought up to speed with all the features and finishes that work best for you. We relish helping people turn an imperfect home into the perfect forever home. But that requires homeowners like our Onion Creek clients who were willing to see that "hidden gem" quality, and the potential their home could have with the right design-build partnership.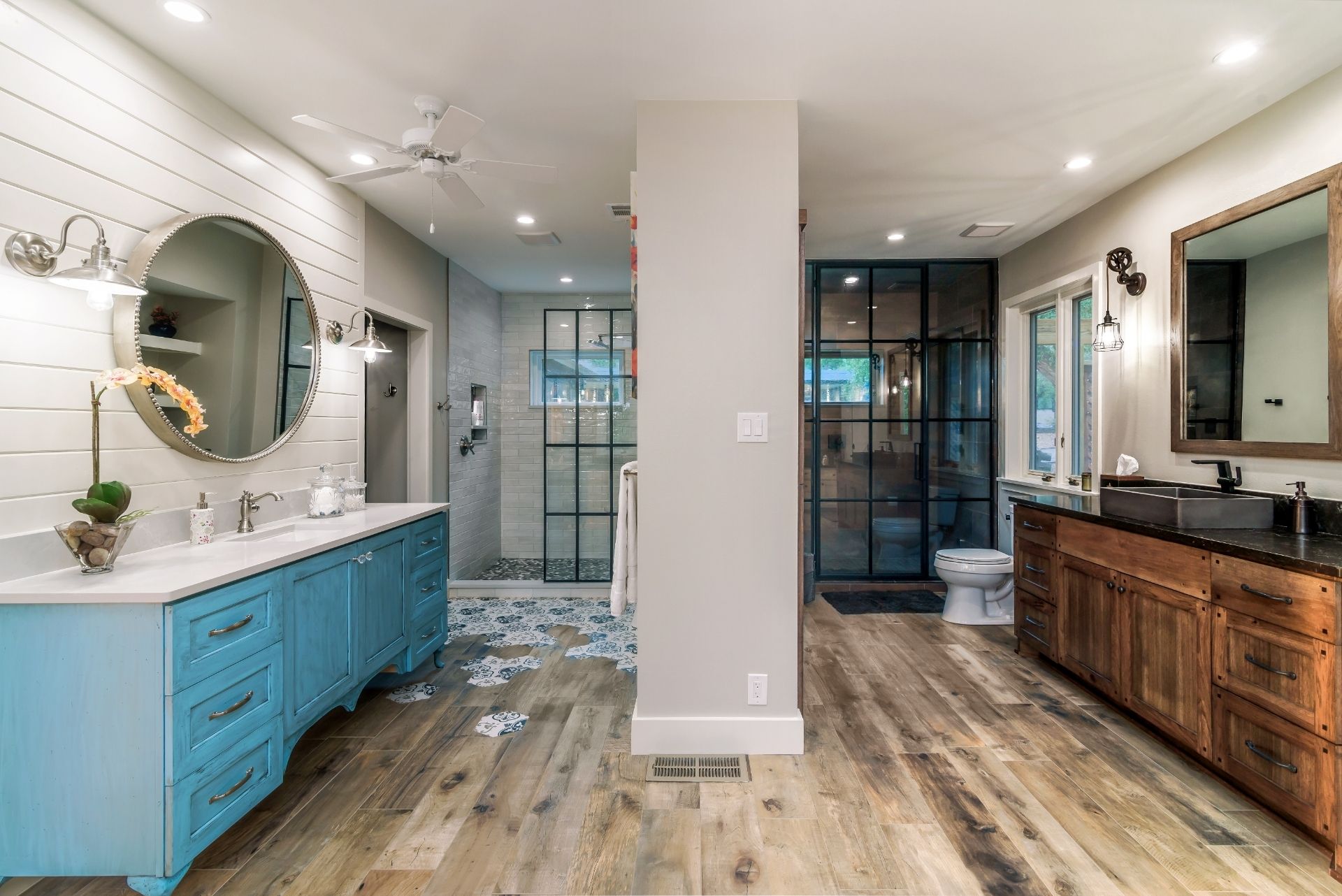 How to Find the Right Partner for Your Renovation
Having a vision for a home that needs significant updating is one thing. Making that vision a reality is another. Particularly if you are considering multiple projects over time, doing your due diligence to find the right design-build partner you can work with over the long haul makes sense. The important question is: how do you find the "right" partner and how do you know it's the right company when you see it?
What initially brought our Onion Creek clients to seriously consider New Creations was our exceptional reputation. They were intrigued learning we have earned 158 FIVE-STAR reviews for performing home renovation projects in the Austin, Texas area since 2006.
Every renovation entails its own unique set of challenges. Exploring those challenges down to the the smallest detail to find the best solutions can make the difference between delivering on your dreams for your forever home, or delivering a world full of headaches during the process. You want to partner with people who can help you find well-planned solutions.

When you are looking at a renovation project divided into multiple phases, there are a lot of elements to consider. An ideal renovation partner will possess the skills to get the technical and structural pieces done right. They should also know how to finish strong with the design features that transform a house into your home with your hallmark style.
With our Onion Creek clients' home, the latest update was a built-in backyard grill housed inside a beautiful piece of custom-built cabinetry included with power outlets, custom-built foot railing, and an outdoor refrigerator. Our clients have even enjoyed the process and have recommended our New Creations to their friends. Check out the review below the photo.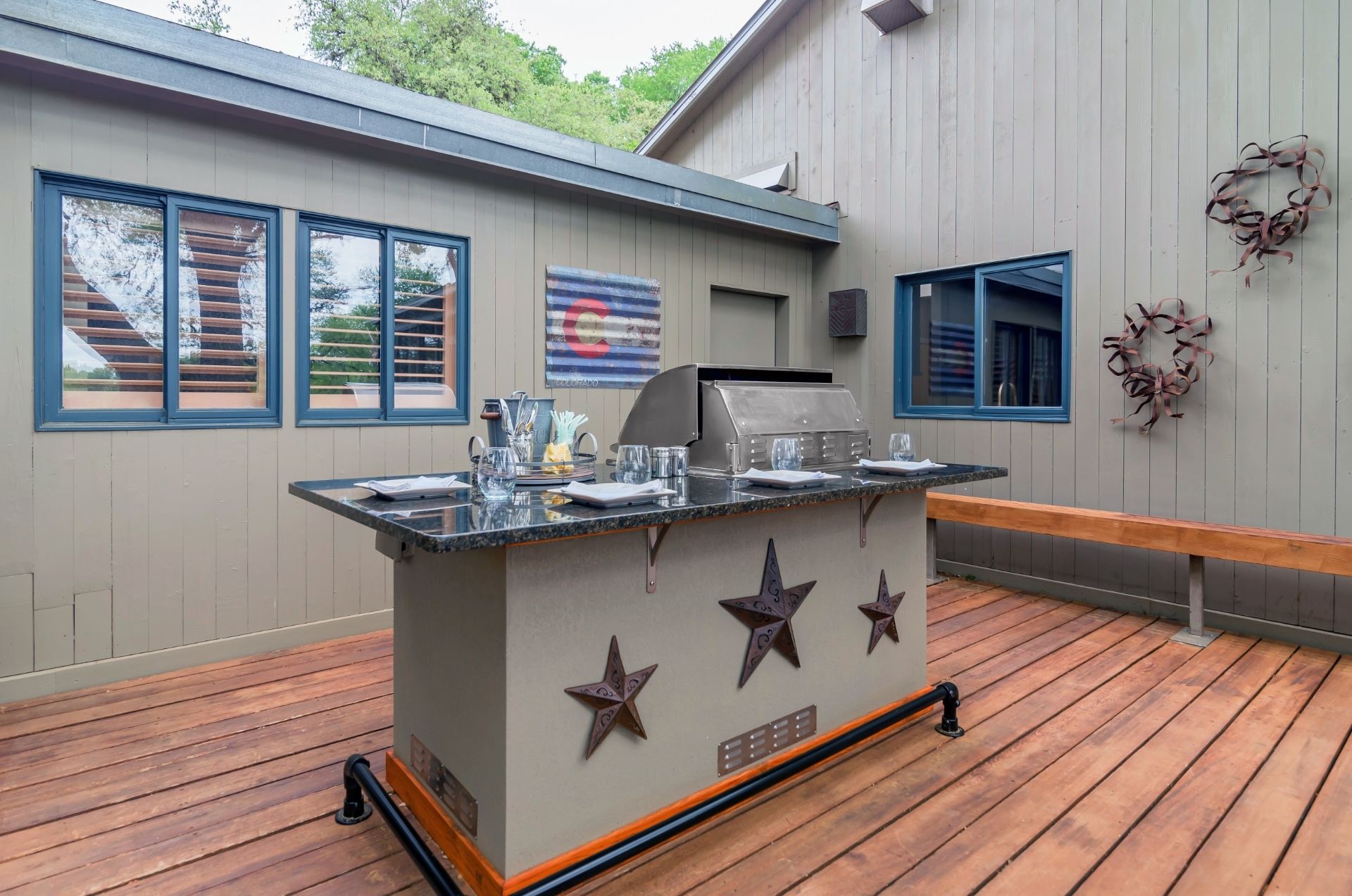 Onion Creek Home Renovation Review
"Roy and his team did a fantastic job! We had a large remodeling project which included our kitchen, master bathroom, powder room, and outdoor grill. His team is professional, reliable, and fun to work with! I have recommended New Creations to my friends and will use them for future projects. Thank you, Roy, Erin, and Apollo!"
Location, Location, Location
If you love the neighborhood you live in but your house needs some work, that is a problem with plenty of workable solutions. Our clients in Onion Creek found a series of solutions that transformed their once-dated house into a forever home.
Learn more about renovating an older home by checking out our home remodeling blog or reach out to New Creations Austin today to discuss your renovation goals.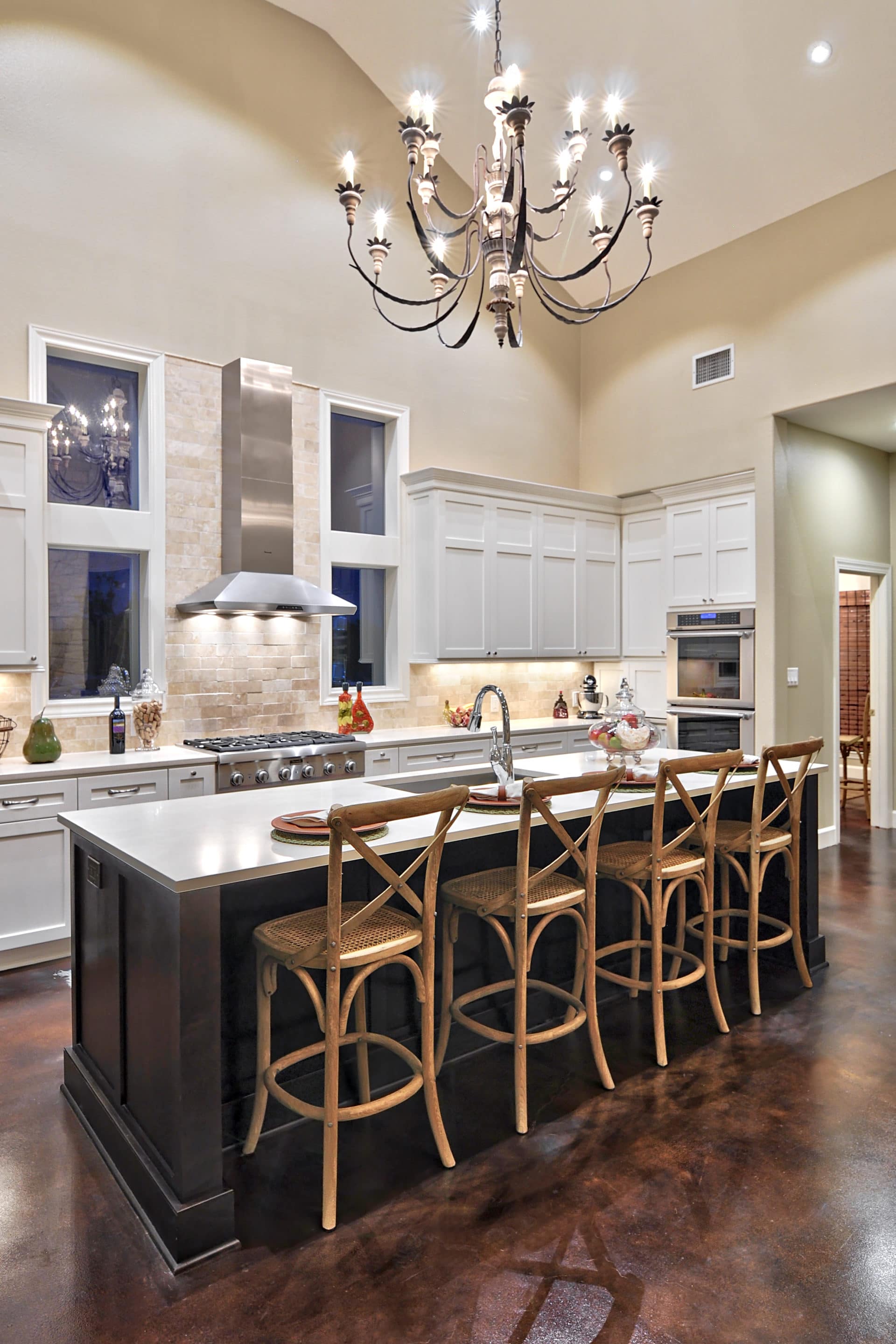 You are thinking about a home renovation, maybe updating the kitchen and dramatically improving the flow and sightlines throughout your downstairs....
Years Remodeling Austin, Texas
+Austin Area Homes Remodeled
+ Glowing Five-Star Reviews
#1 Home Remodeling Contractor Since 2006