Award-Winning Thermador Kitchen
By New Creations Austin
Award-Winning Thermador Kitchen
We are proud to feature this Award-Winning Thermador Kitchen Design. Suffice to say, we left no stone unturned renovating this amazing kitchen – winner of
The Thermador Kitchen Design Challenge
for the Austin, Texas area.
Our client's house was warm and cozy. However, the outdated appliances and builder-grade look needed a complete makeover. Luckily, the original footprint of the house was optimal. So, we were able to prioritize optimizing the room while updating the appliances and features. As usual, we focus on quality, beauty, and our multi-step remodeling process. Most importantly, we prioritize customer service. After all, the ultimate award is our client's happiness. However, we like to think that this award validates our love for home remodeling and our commitment to building quality renovations.
OVERVIEW
The original kitchen was quite spacious with high ceilings. The expansive room provided the perfect layout, warm and open. Consequently, our in-house design team focused on maximizing every square inch for functionality and ease of movement. Our team's custom design and build transformed the kitchen and dining area into a harmonious gathering room that also opens up into the living area the perfect layout for gathering with family and friends.
Award-Winning Thermador Kitchen & Laundry Room Renovation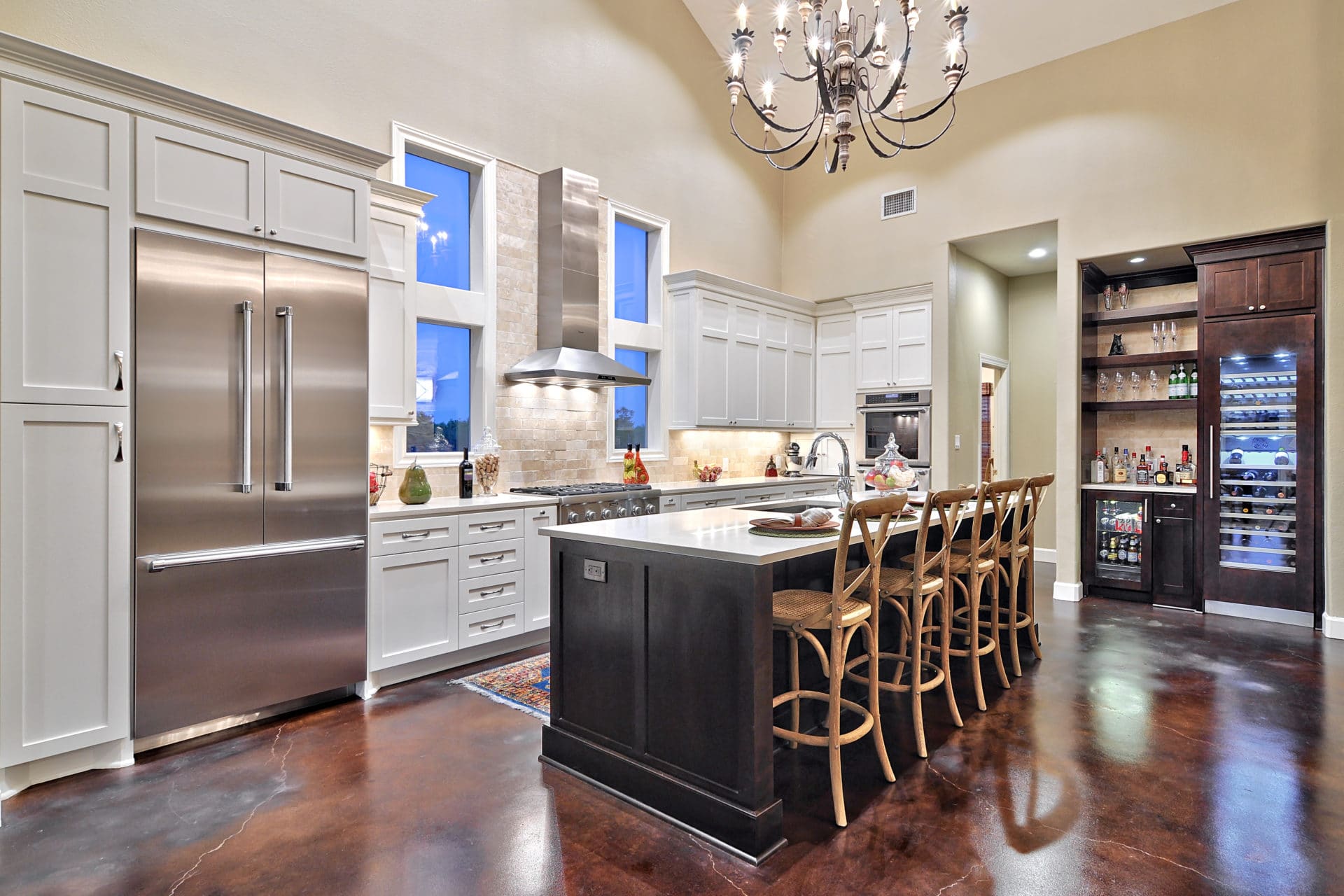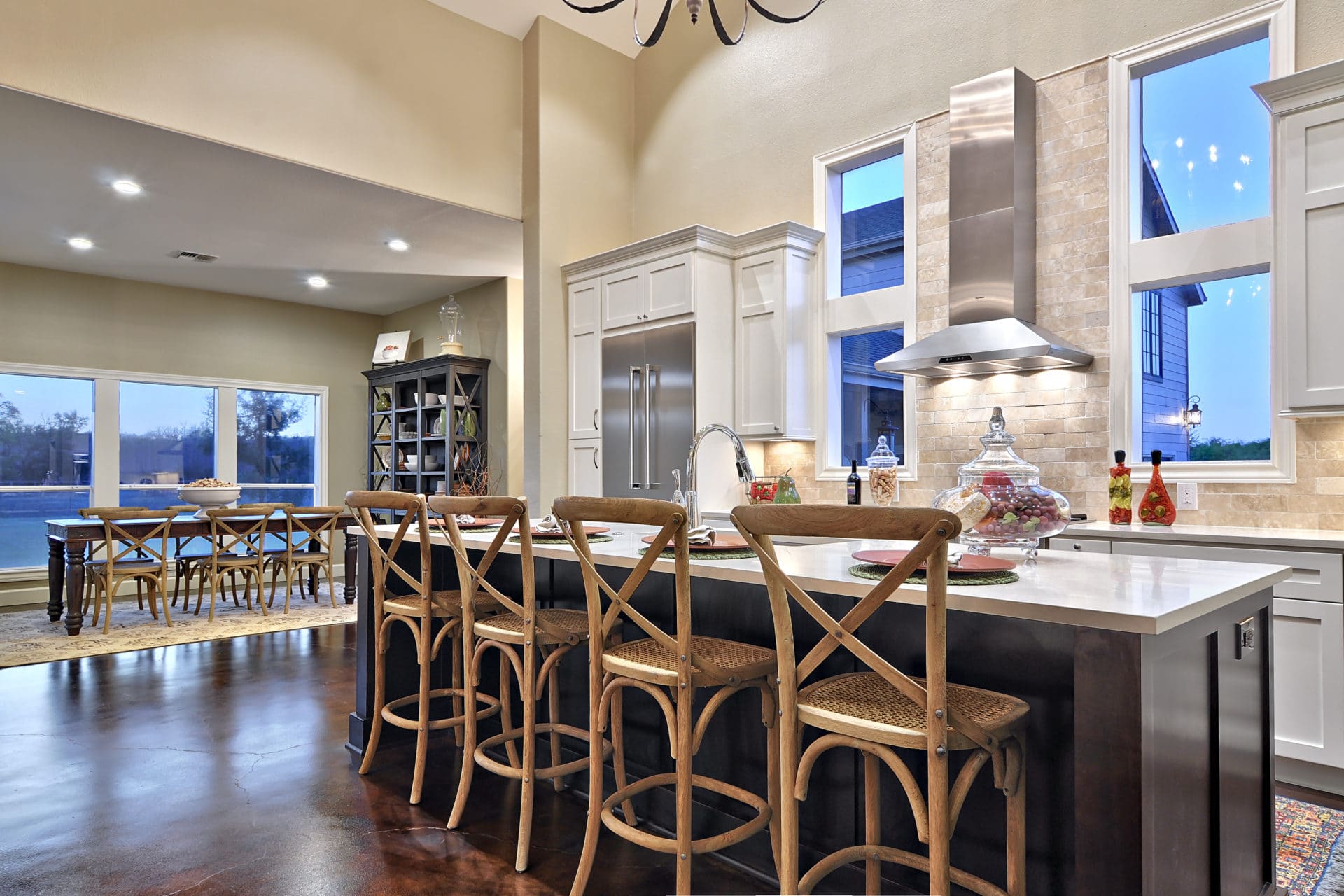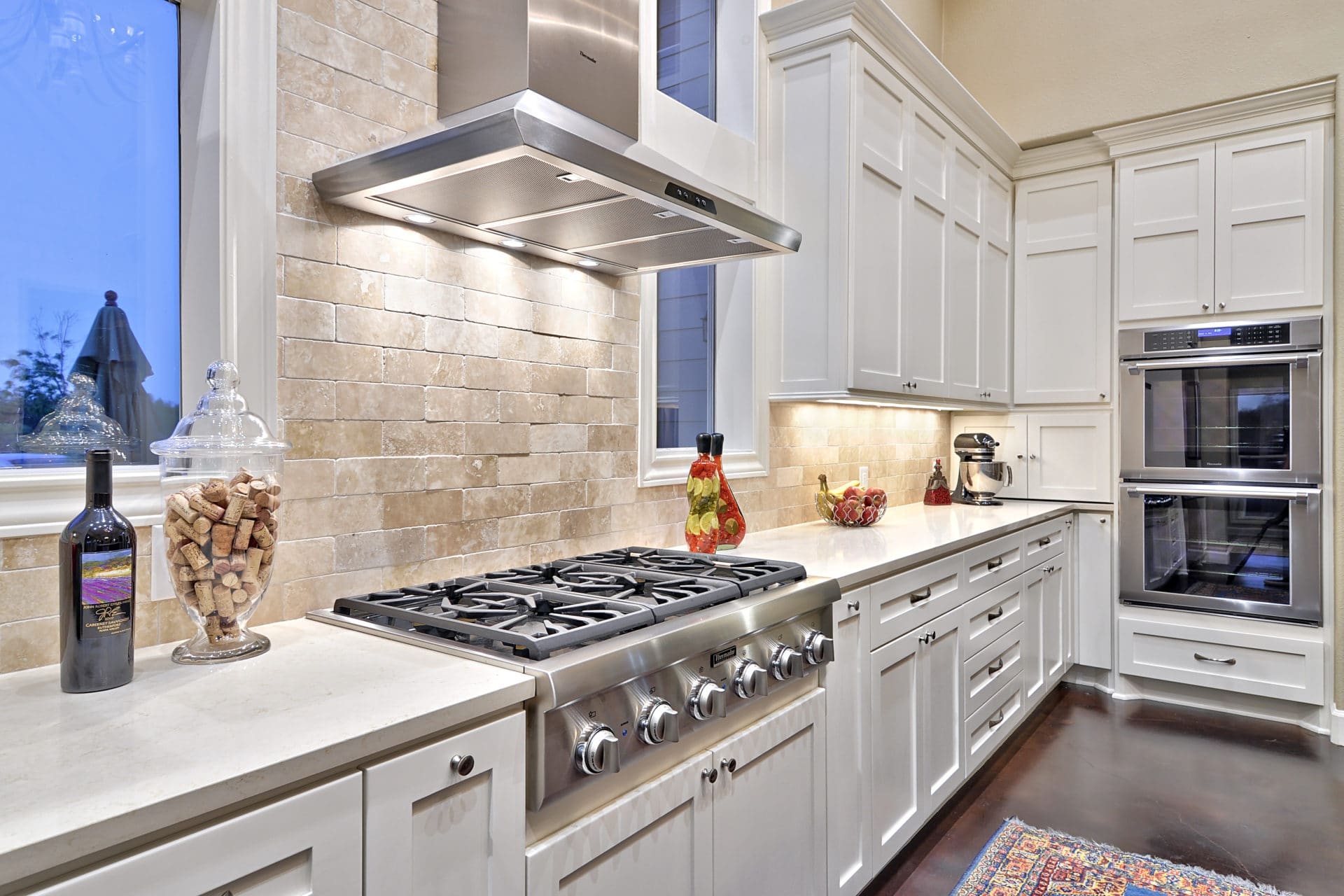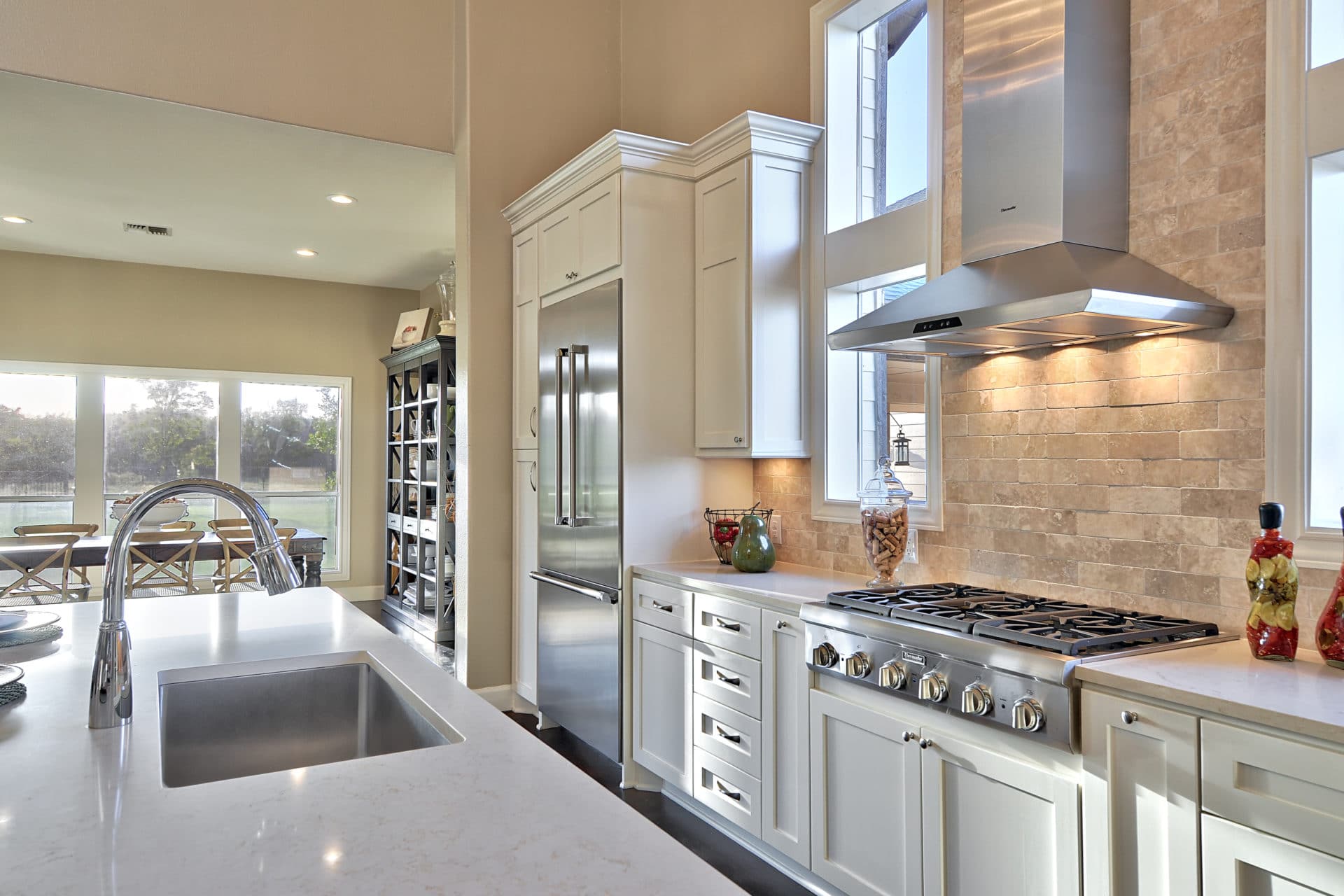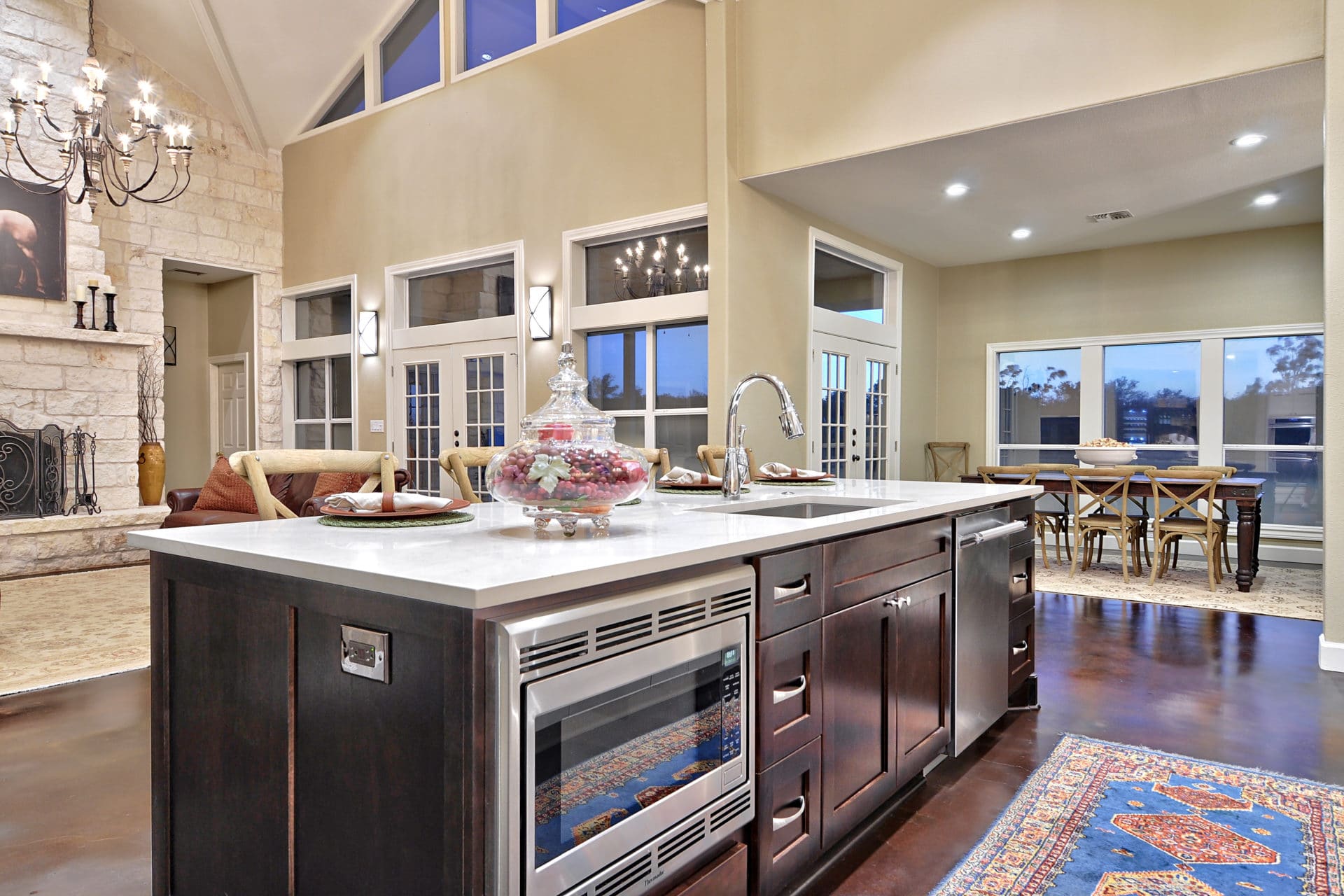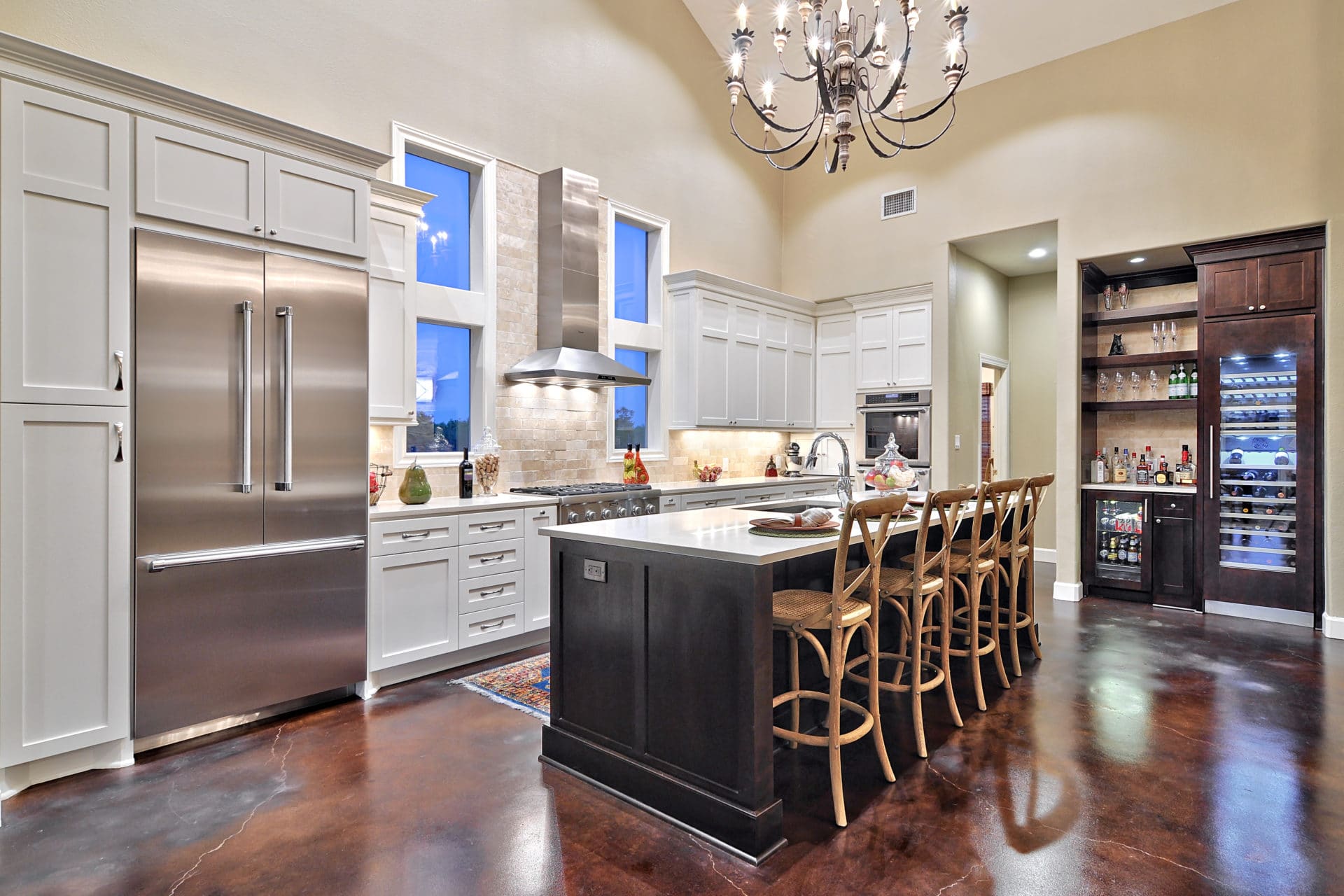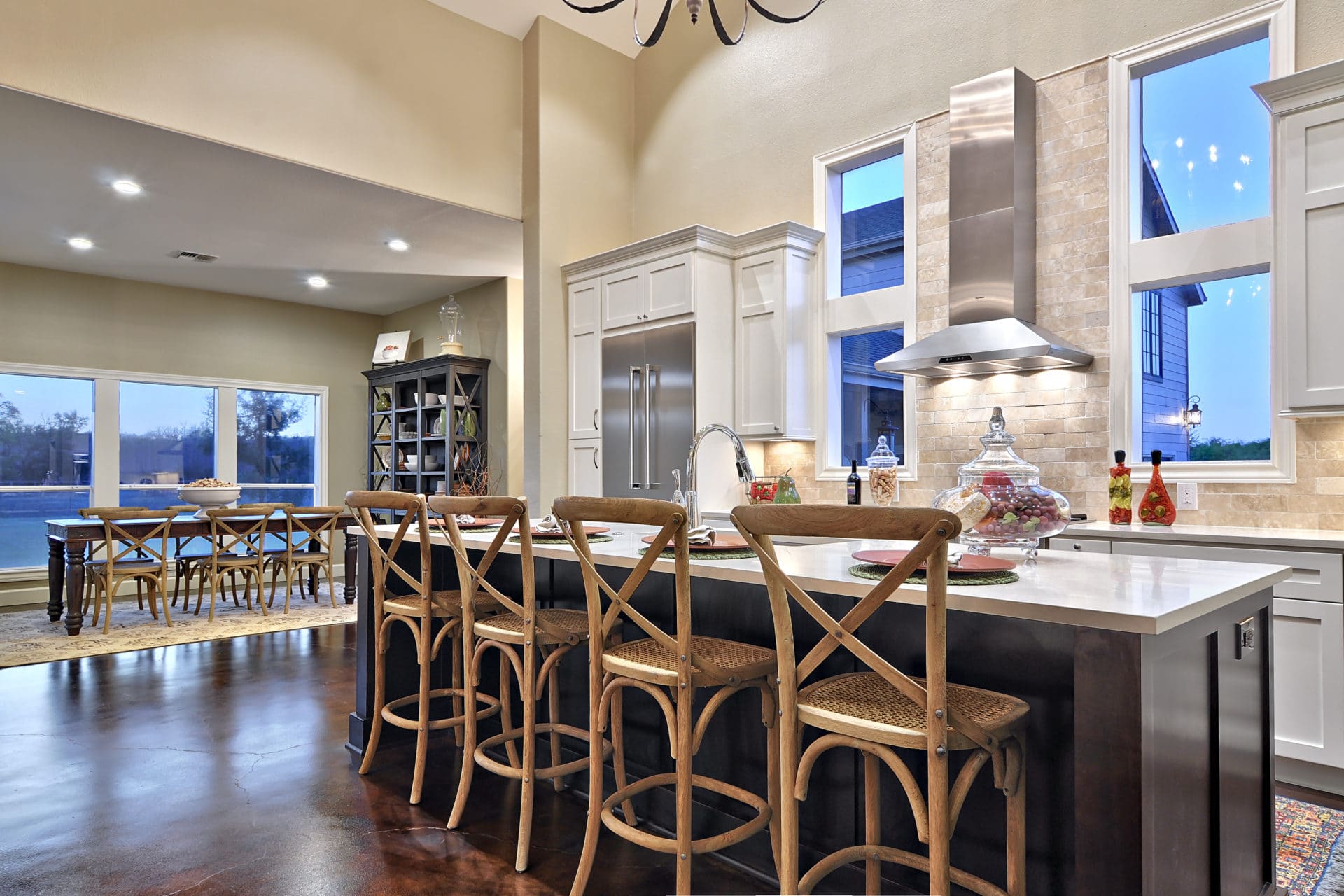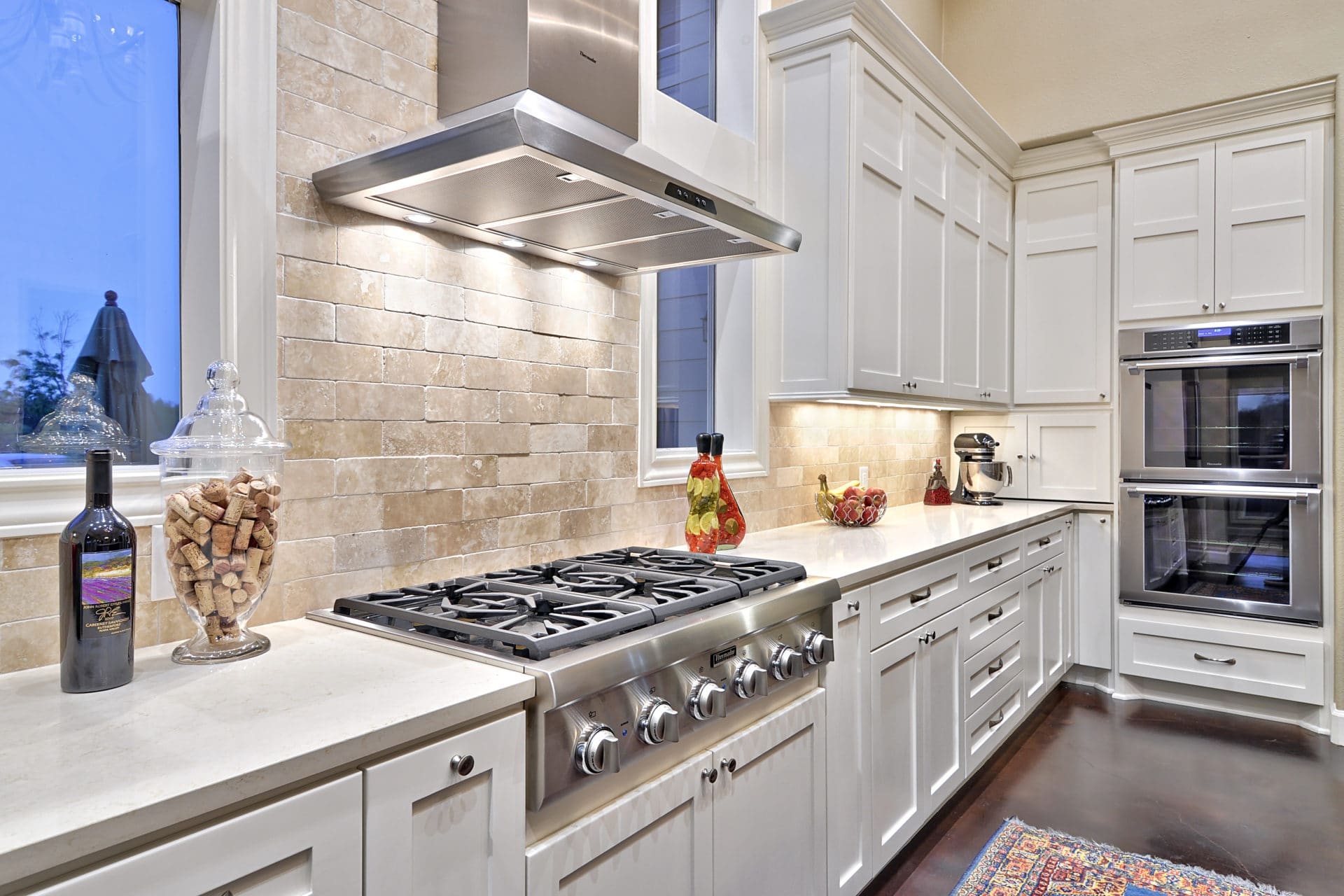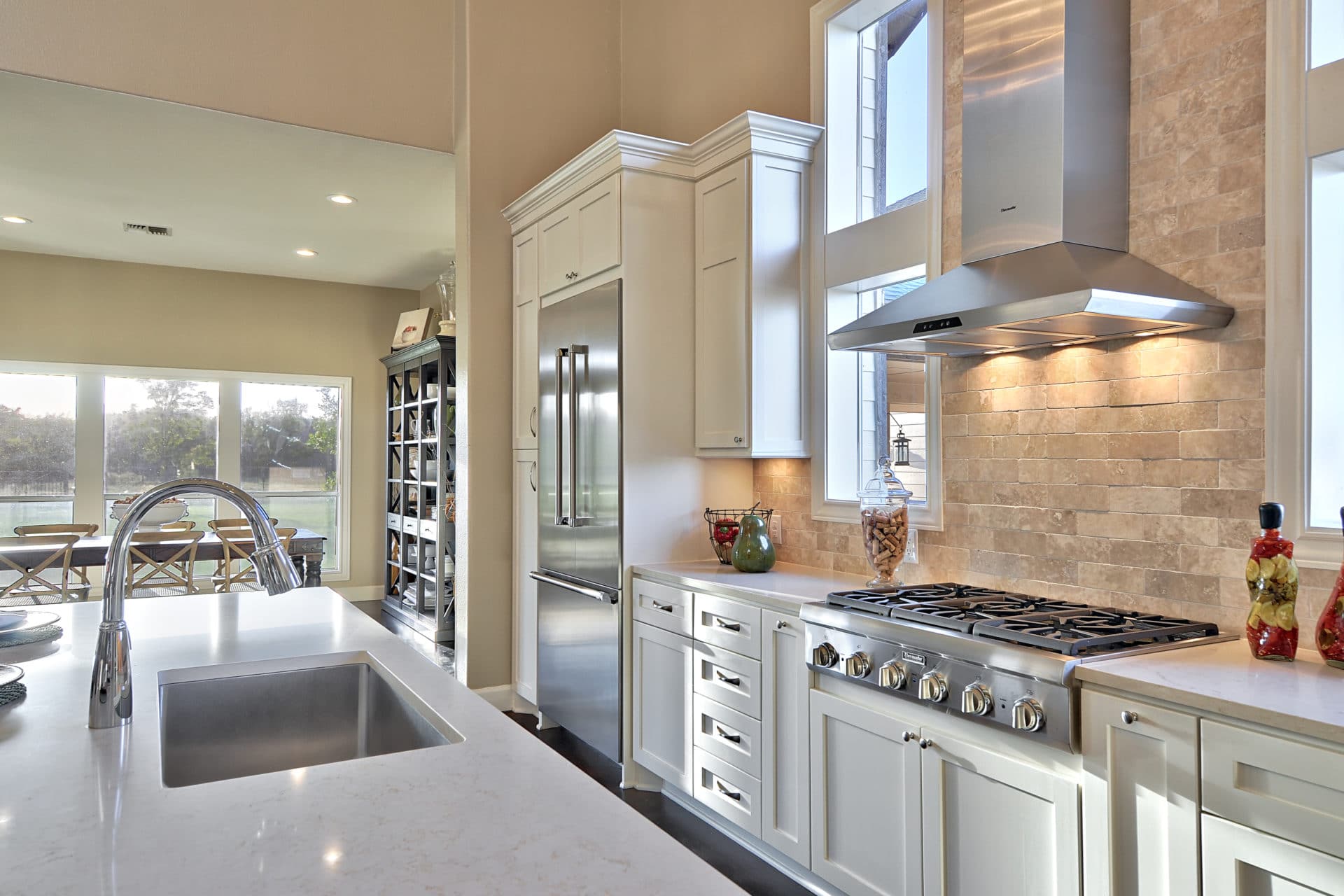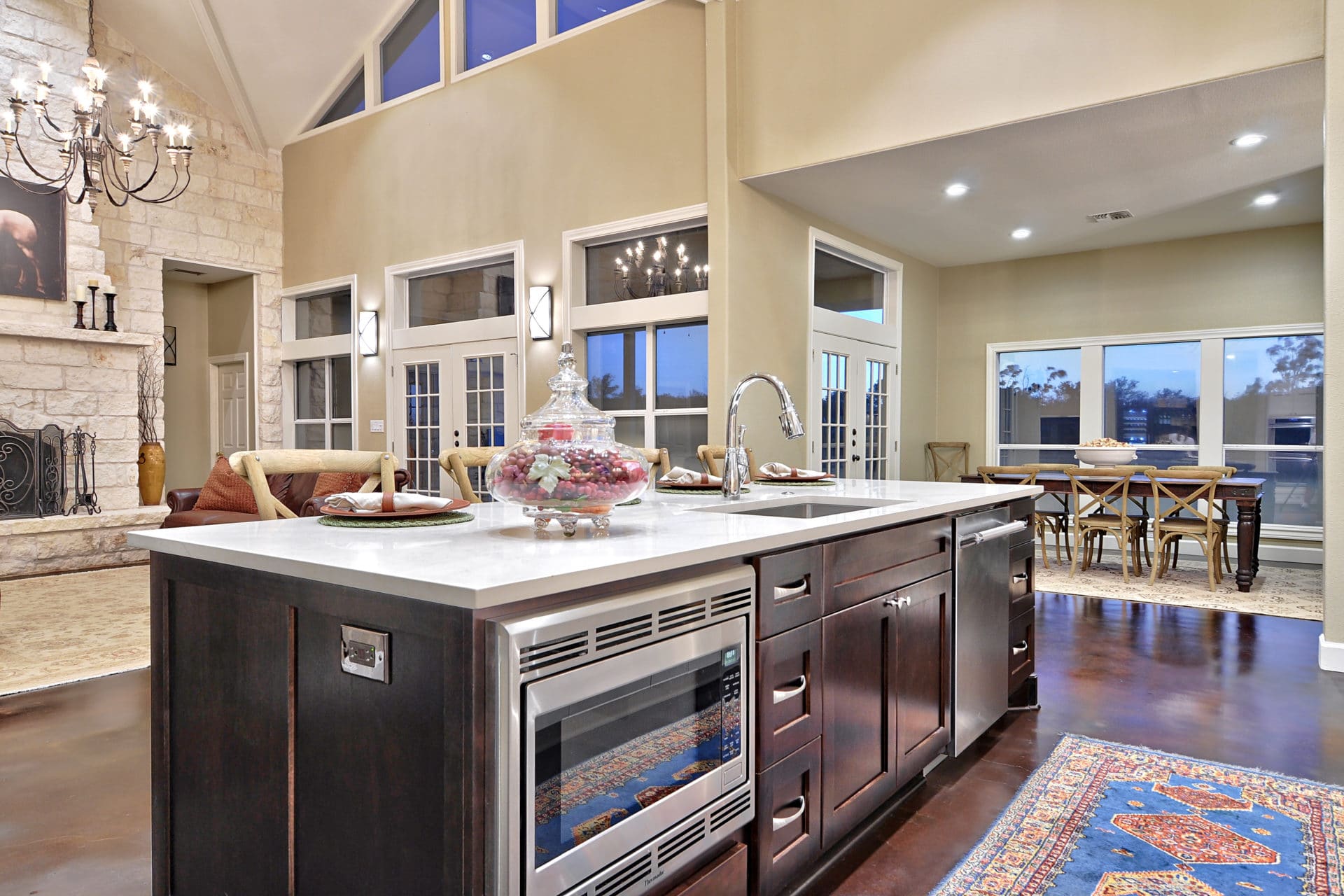 Award-Winning Thermador Kitchen Style & FEATURES
First, we demolished the original raised bar and island. Then, we built a sizeable flat-surfaced island and breakfast bar that comfortably seats four. To accommodate an oversized, pro-style cooktop, our team installed the sink in the island/breakfast bar.
We made sure to allow ample space between the island and the cooktop to maximize workflow and functionality. Accordingly, the kitchen island comes with easily accessible power outlets.
APPLIANCES
We upgraded the kitchen with large professional-grade appliances and a counter-depth refrigerator, capitalizing on the abundance of space. Similarly, we replaced the old microwave vent out with a massive 42″ vent hood.
The vent hood sits over a chef-friendly commercial-grade cooktop. Notice the strategic layout of the fridge, cooktop, double oven, and sink. As a result, countertop workspace is abundant near every appliance.
CABINETRY
The look of the kitchen is just stunning, while modern features abound. Firstly, towering custom-built cabinetry extending from floor to ceiling provides infinite storage and a look of elegance.
We accessorized with handy pull-out drawers that conceal the trash can, organize your kitchen tools, and remove clutter. Accordingly, we also added LED lighting below the vent hood and under the upper cabinets to ensure adequate lighting.
White Silestone countertops paired with white shaker cabinets, beige stone tile backsplash, and stainless steel appliances offer a fashionable look for this transitional kitchen.
Meanwhile, the wood-finished cabinets and stainless steel appliances on the island/breakfast bar complement the adjacent wine storage/wet bar. Moreover, the white Silestone countertops match the white shaker cabinets.
LAUNDRY ROOM FEATURES
The laundry room next to the kitchen shares a complementary look. Continuing with the same theme, It features white shaker cabinets up to the ceiling, a beige stone tile backsplash, and white Silestone countertops.
But we build the space with ample lighting for maximum functionality to make laundry time easy. The placement of the farmhouse sink, washer, and dryer is optimal, providing a ton of counter workspace. An abundance of electrical outlets along the counter demonstrates a smart but often overlooked, design feature. Under-cabinet LED lighting does the rest.
AWARD-WINNING THERMADOR KITCHEN SUMMARY
It's special to be a part of materializing this amazing, Award-Winning Thermador Kitchen Design. But we are even happier that our clients got the dream home they deserve. Our team took full advantage of a wonderful layout and transformed our client's kitchen and dining area The result, a fabulous award-winning kitchen that will dazzle family and friends for years to come.
Years Remodeling Austin, Texas
+Austin Area Homes Remodeled
+ Glowing Five-Star Reviews
#1 Home Remodeling Contractor Since 2006
Get Our Newsletter
Learn the insider remodeling secrets NO CONTRACTOR wants you to know and participate in bonus offers and NC GIVEAWAYS!