Barton Hills Kitchen Renovation
By New Creations Austin
Barton Hills Kitchen Renovation
PROJECT OVERVIEW
Our clients contacted us in need of a remodeling contractor to design and manage their Barton Hills Kitchen Renovation. They just bought a beautiful house in Barton Hills Neighborhood in the Austin, Texas area. 
For the most part, the new house pleased them. However, a few changes would transform their new place into their dream home. Specifically, the kitchen appliances needed upgrading, the lighting needed improvement, and they wanted to bring it up-to-date with modern accessories.
WALL REMOVAL
Moreover, an open-shelved wall separated the kitchen and living room impeding the flow. But our clients preferred a warm and open room space ideal for gathering. They reached out in the fall of 2018 in need of a remodeling contractor to design and manage their kitchen remodeling project.
After reviewing our design and build process we've been perfecting since 2006, we decided to proceed. First, our in-house interior designer, along with our clients, put together a fabulous kitchen design. Upon approval, we moved to the fun part – the build phase.
Barton Hills | Austin, Texas
Custom Kitchen Design and Build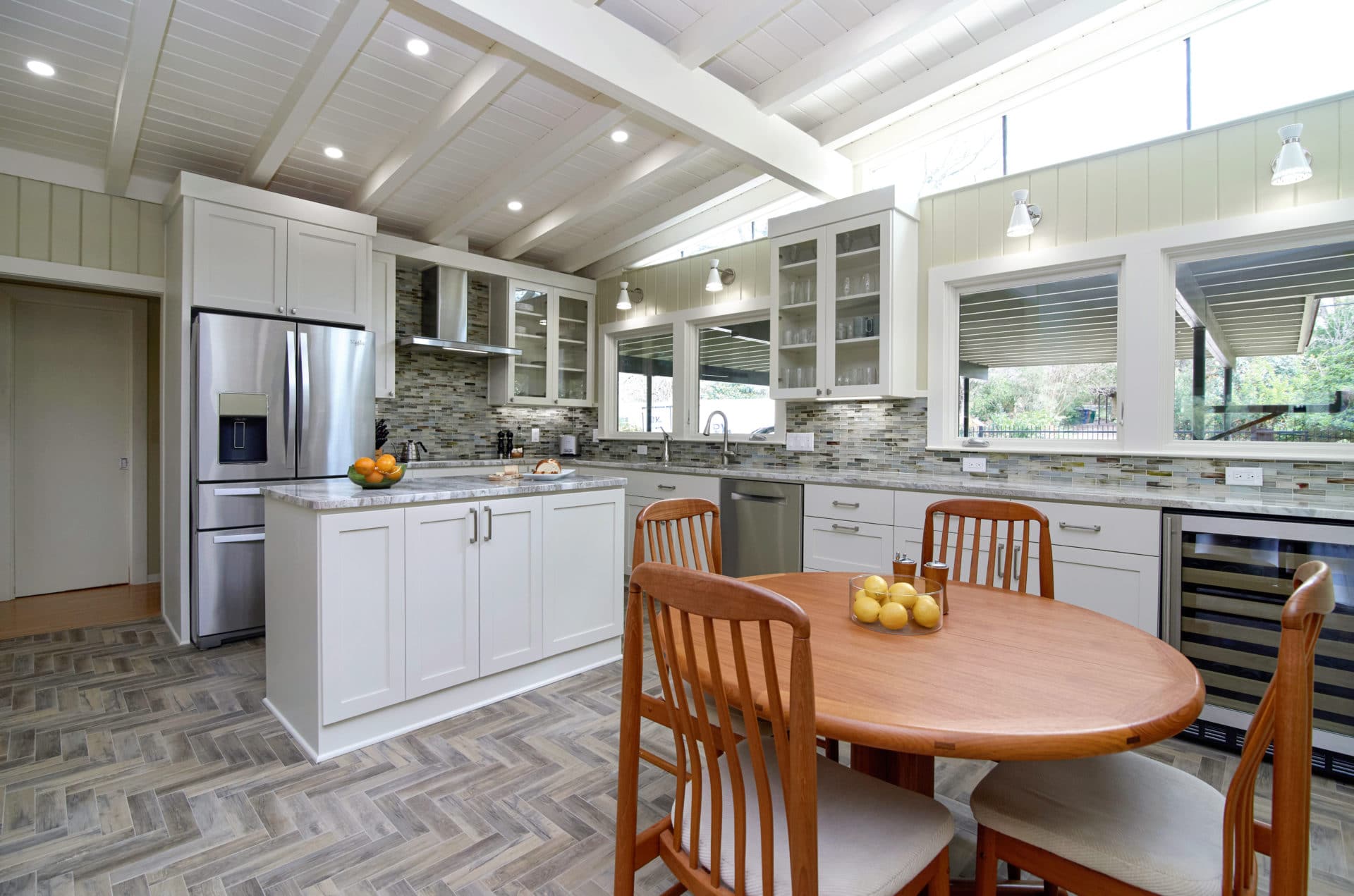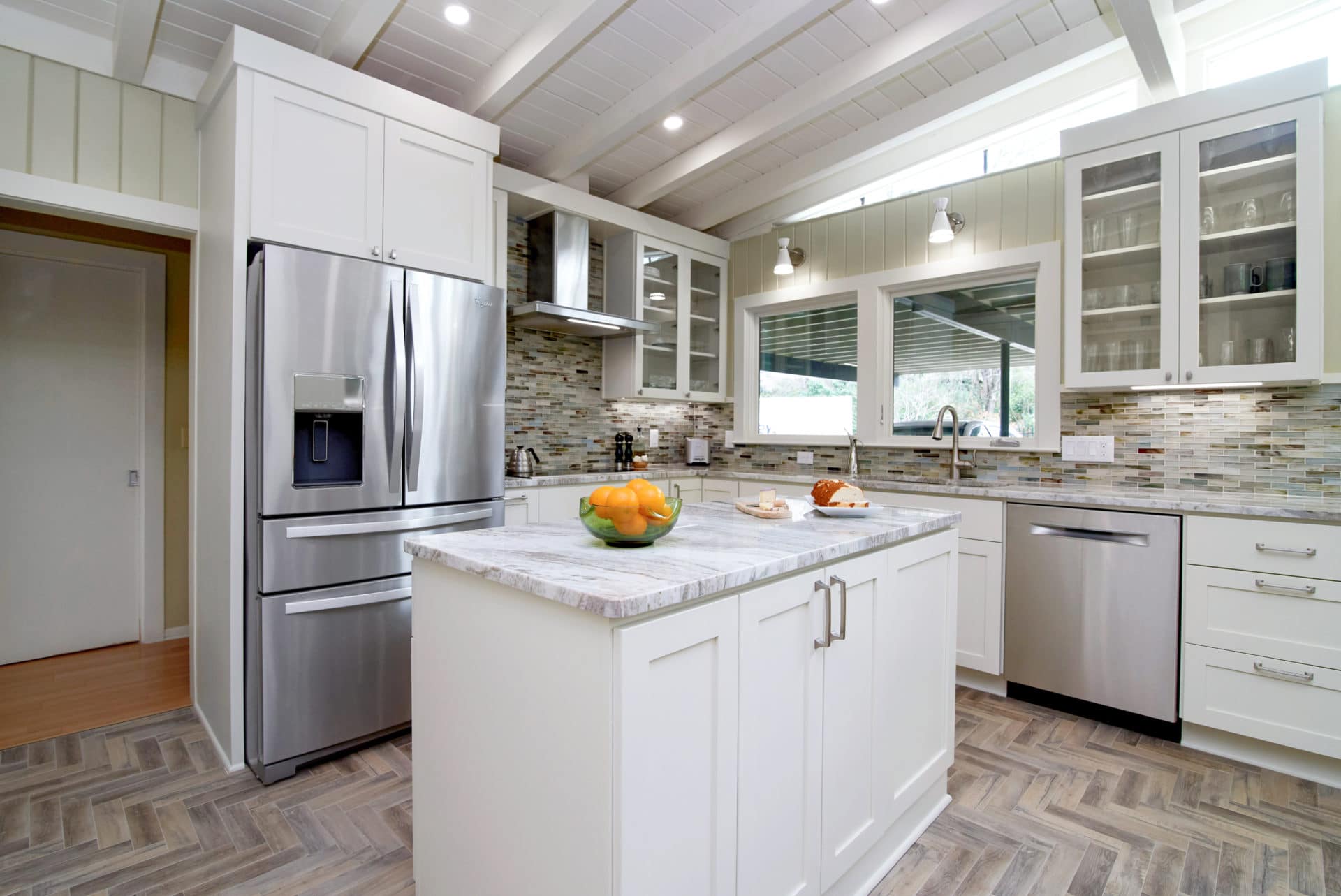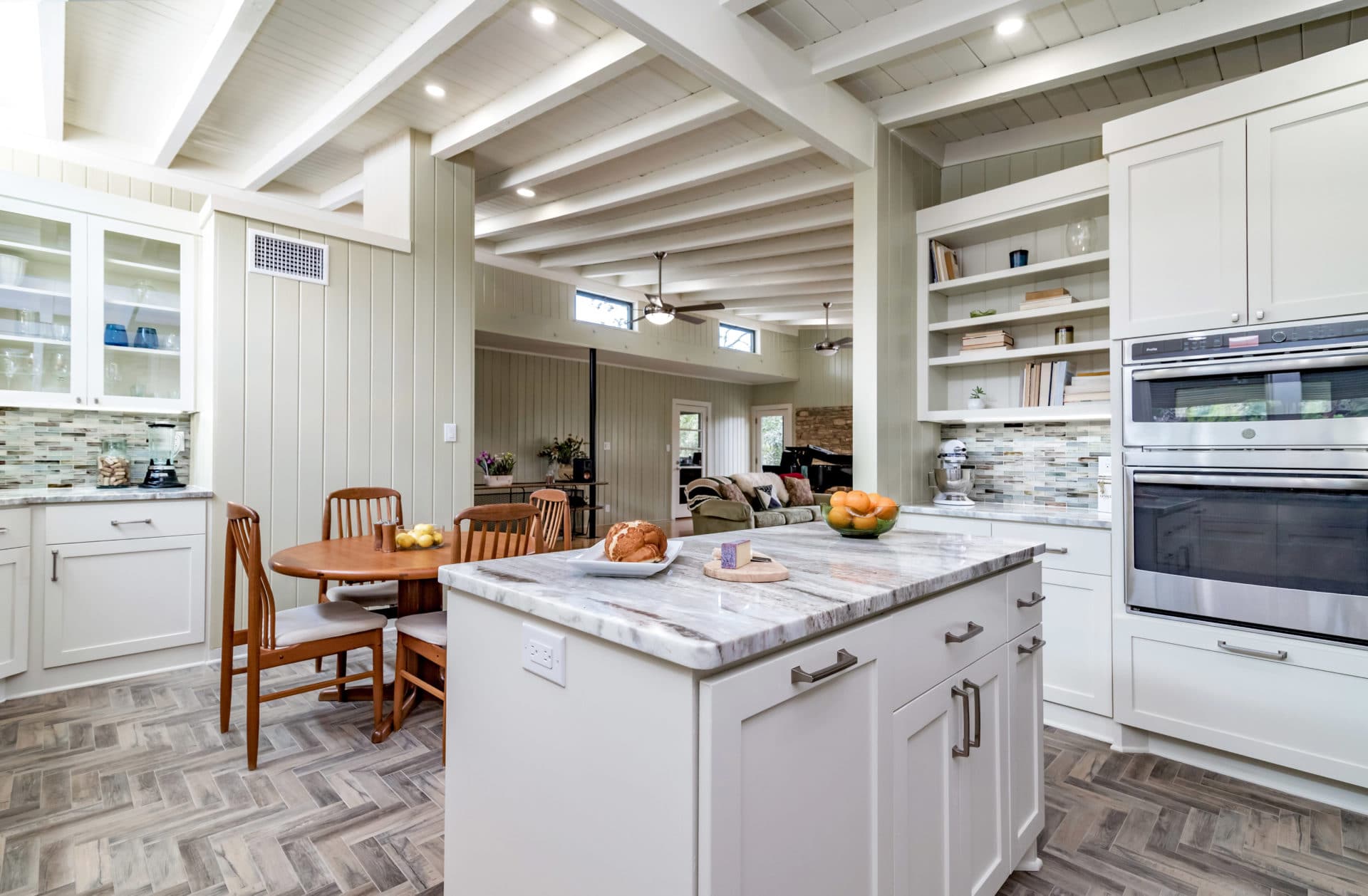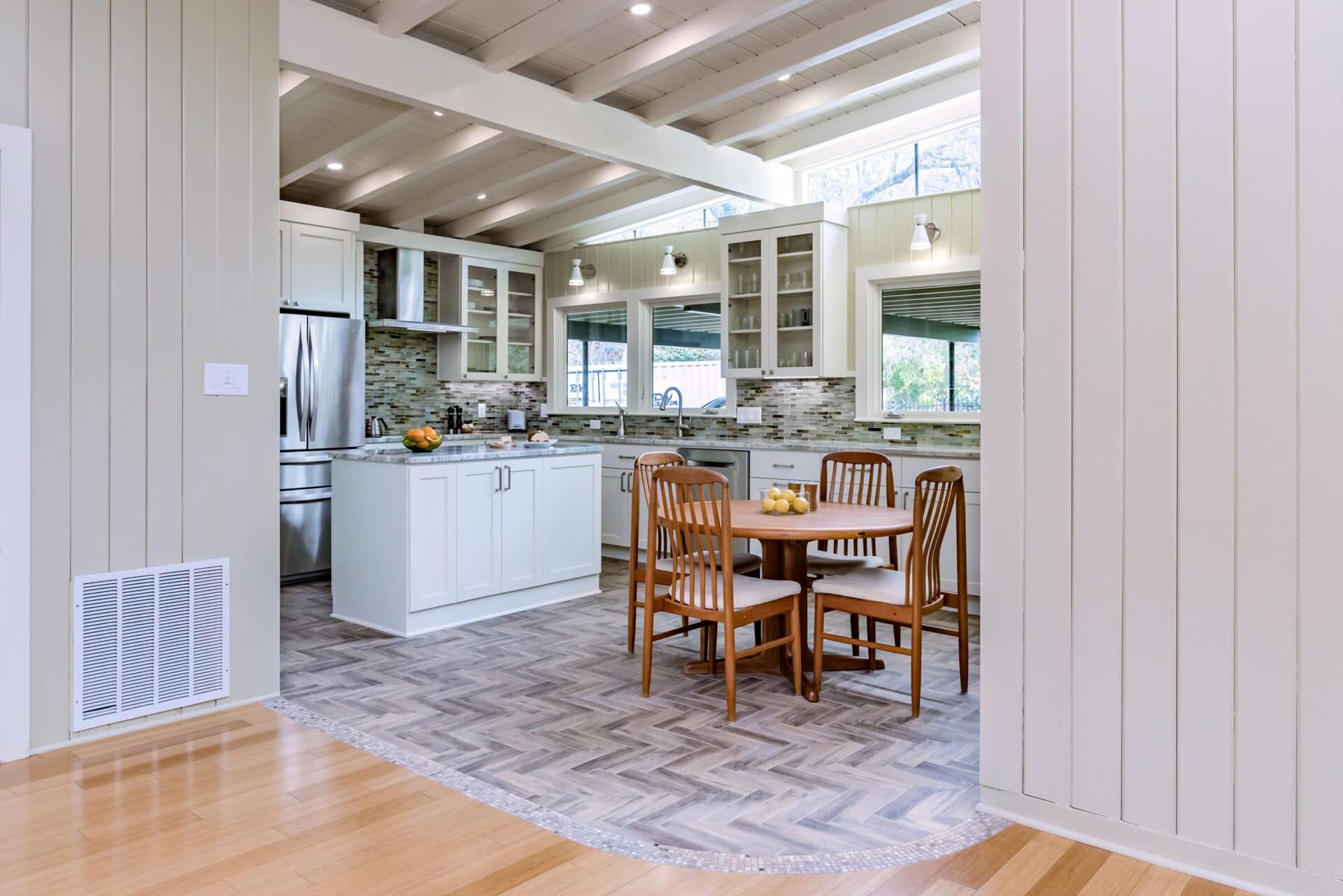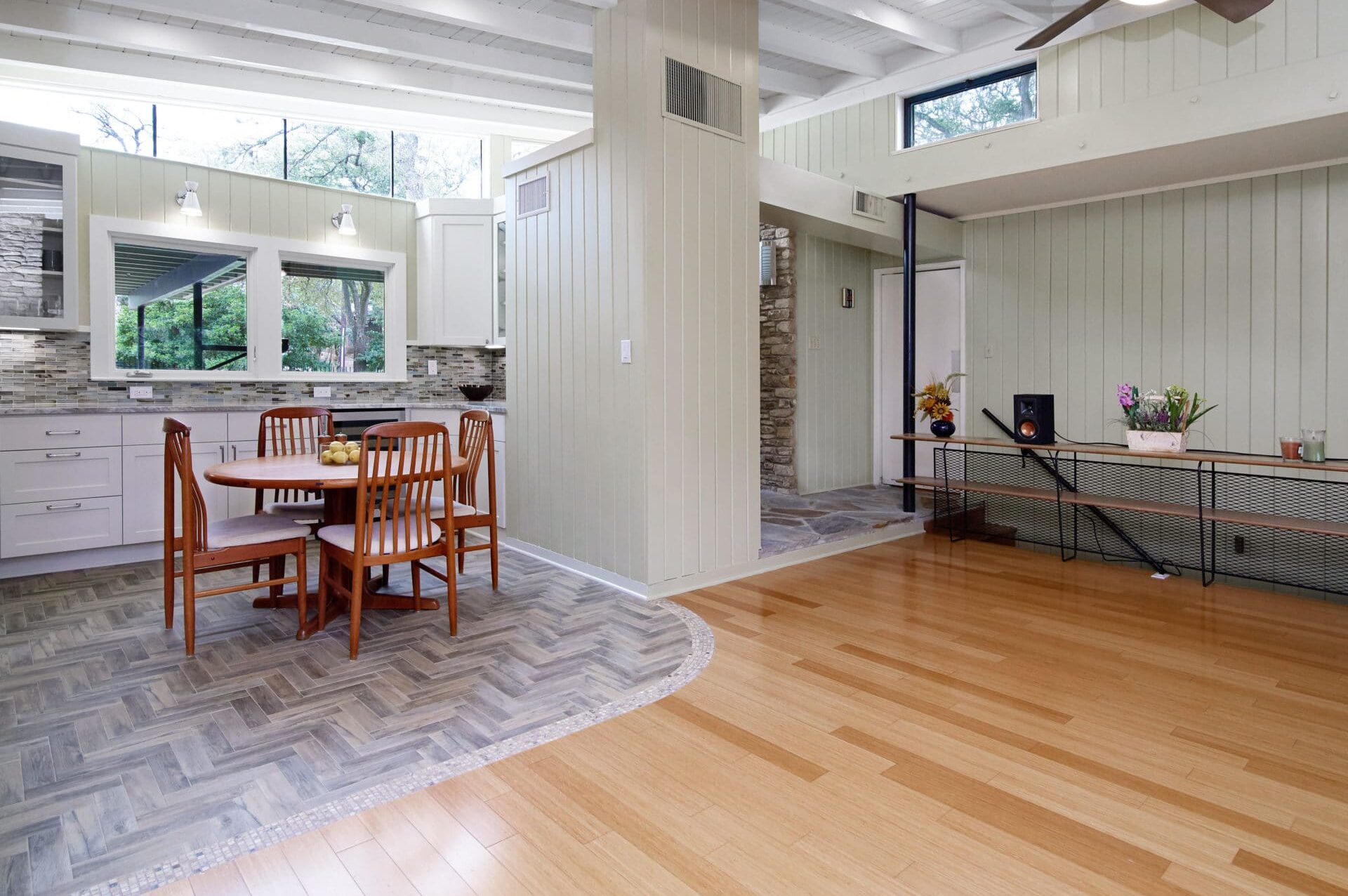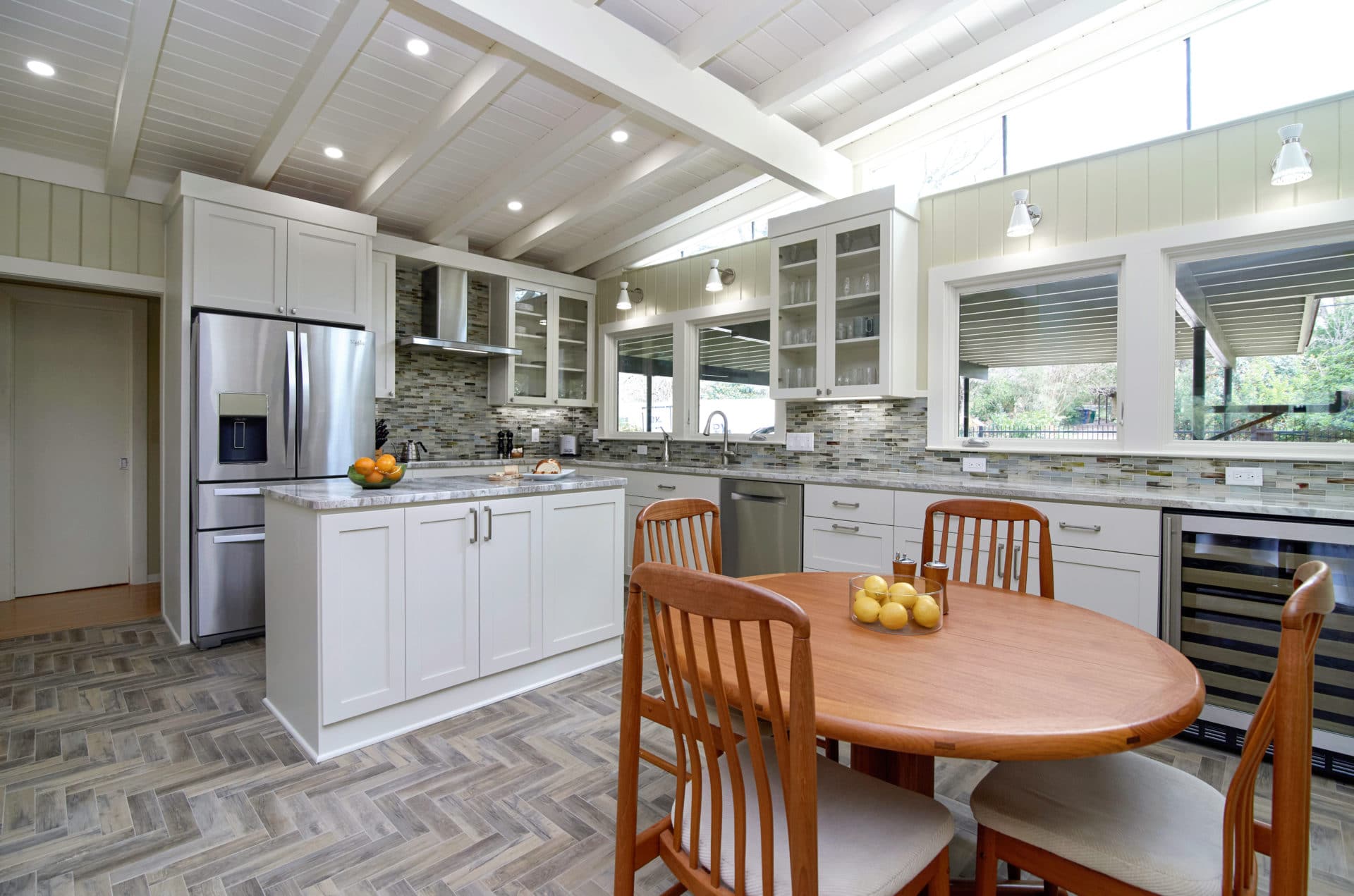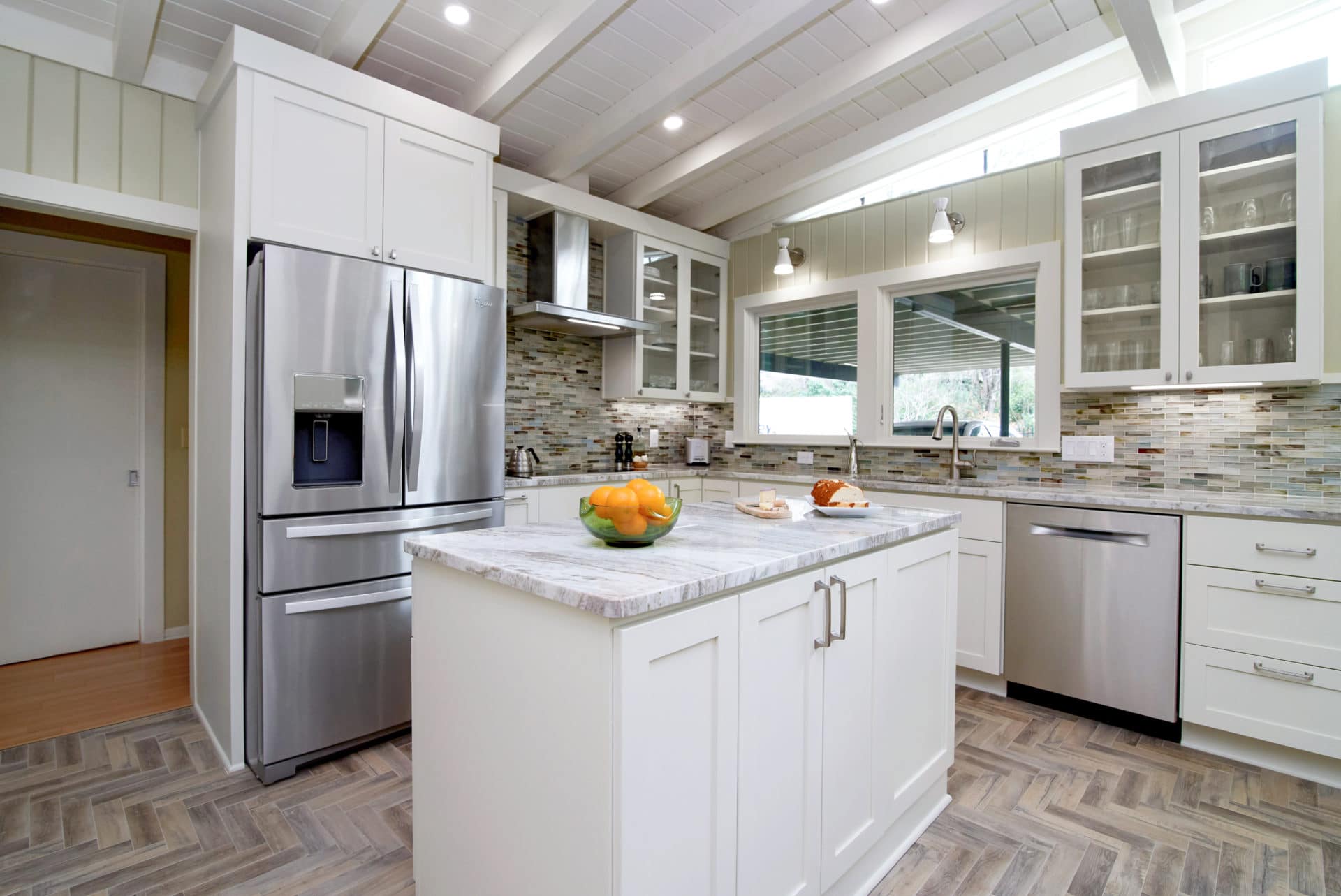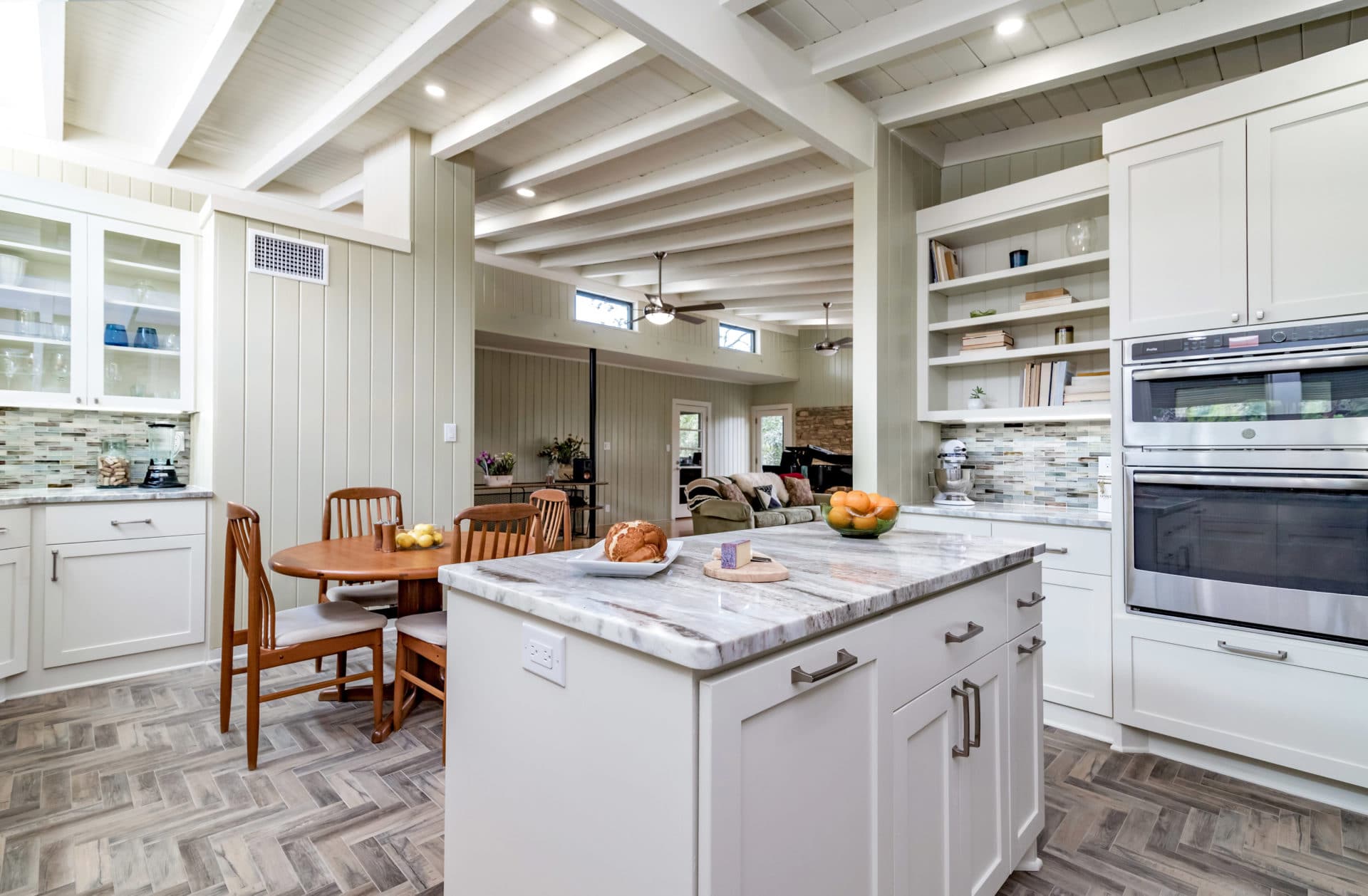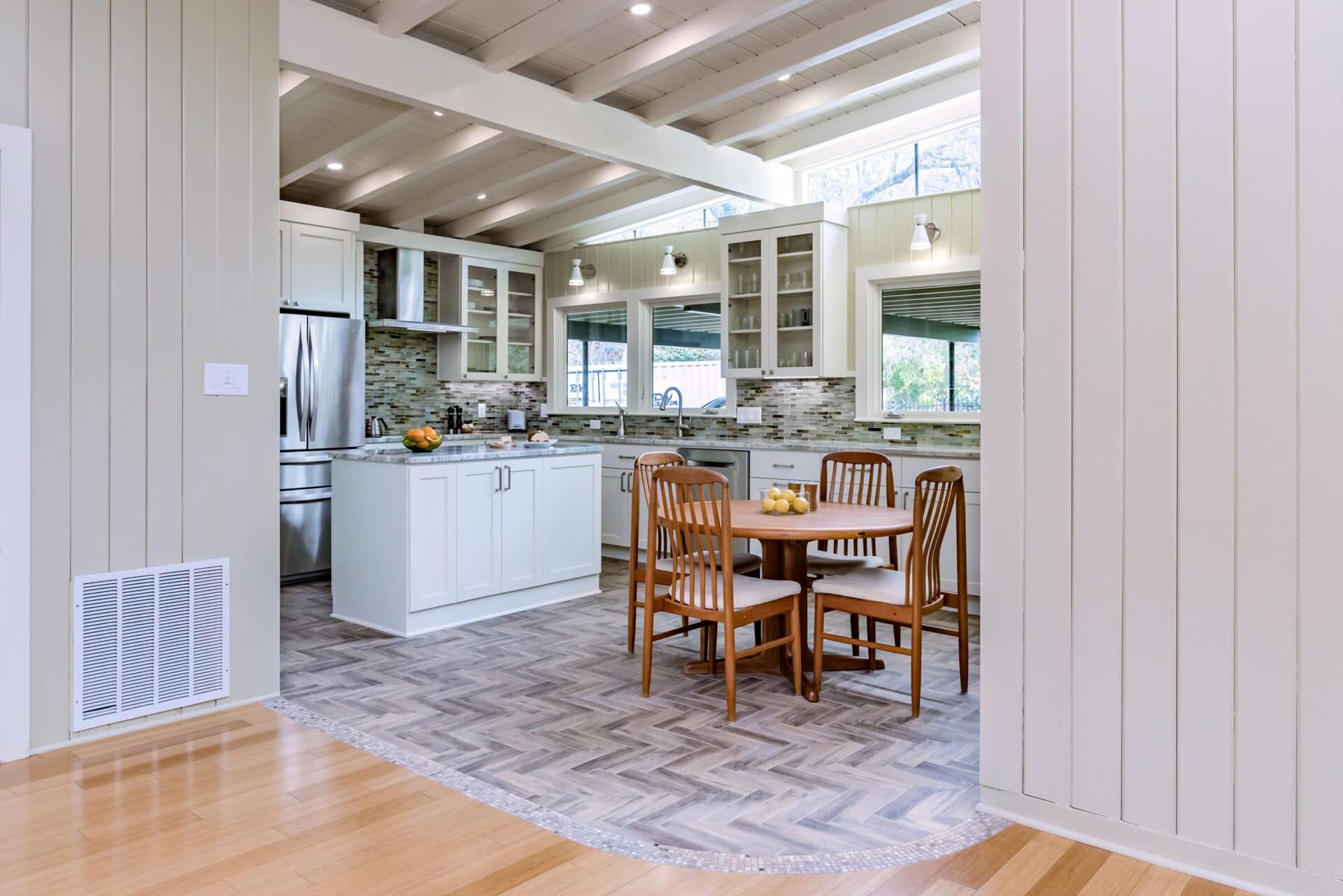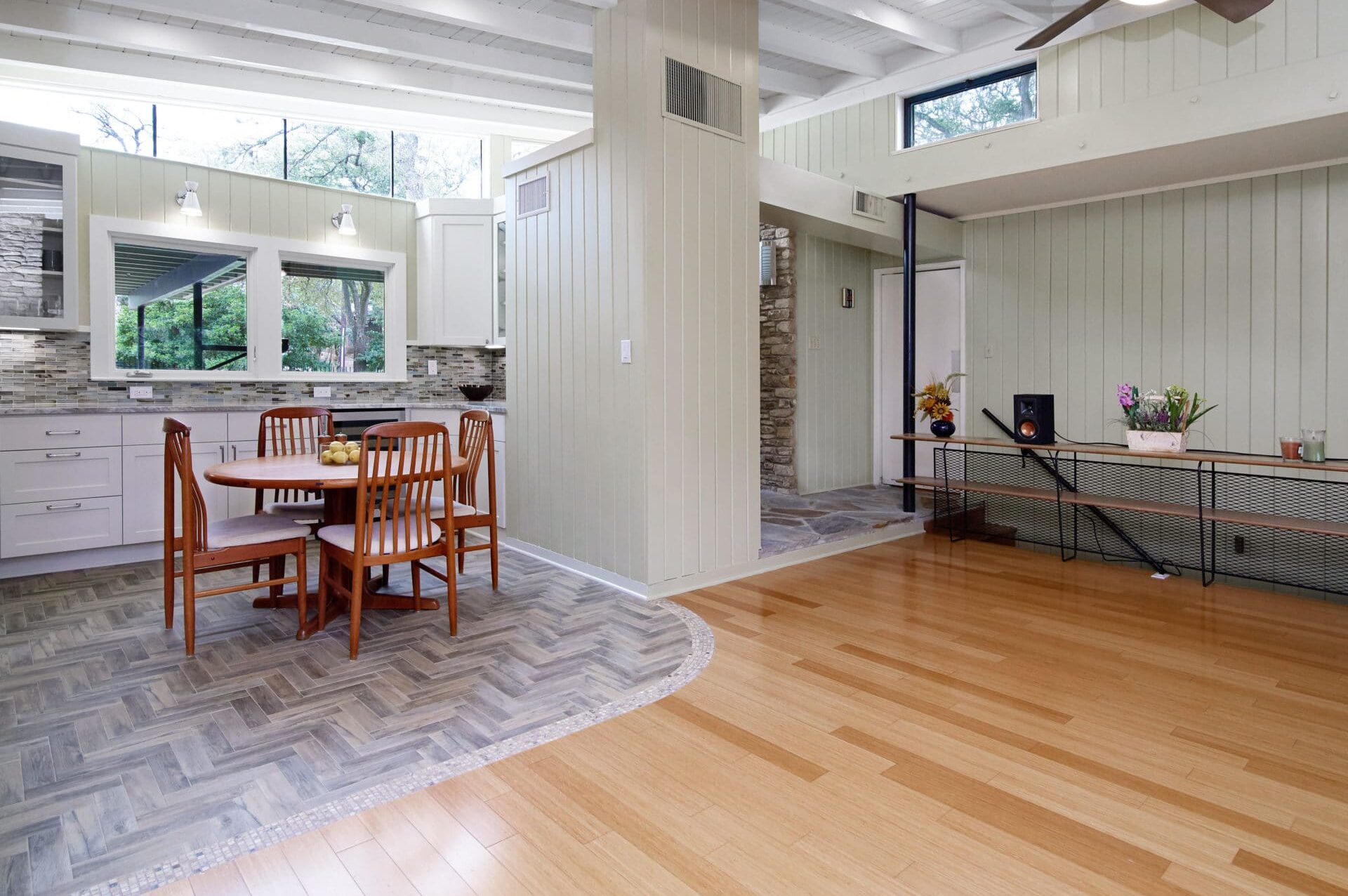 CUSTOM CABINETRY
The kitchen features custom-built shaker-style cabinetry with a white semi-gloss finish and satin nickel hardware. However, we opted for glass-fronted doors on either side of the sink and the left side of the wine chiller. We constructed the cabinets around the refrigerator and double-oven offering a clean, built-in look.
The cabinetry and island spotlight Fantasia White Granite countertops that look amazing with the white cabinets, glass-fronted doors, and brilliant lighting.
SMART KITCHEN FEATURES
The cabinetry comes outfitted with several handy modern features. For example, with installed convenient pull-out drawers for the trashcan and to neatly store kitchenware. Also, we made sure to install under-cabinet lighting throughout.
ISLAND
A custom-built island sits at the center of the kitchen providing extra countertop workspace and storage. Of course, we installed additional electrical outlets into the island to optimize work efficiency.
KITCHEN APPLIANCES
We upgraded the appliances opting for stainless steel throughout offering a consistent look.
The Bosch Benchmark 36″ Induction cooktop and Box Canopy Chimney Hood along and Advantium Combination Double Wall Oven make cooking a pleasure. Moreover, the giant Whirlpool. French Door Fridge and GE Monogram SS Wine Reserve make entertaining guests fun.
FLOORING AND BACKSPLASH
The Lunada Bay Tozen Series Glass Mosaic tile backsplash complements the Stone Solutions Caskwood Series faux-wood porcelain floor tile and Fantasia White granite countertops.
The transition curve between kitchen and living consists of Crossville Patara Stone Travertine Mosaic Tile ties the hardwood flooring and kitchen tiles together.
LIGHTING
As mention above, our clients wanted to improve the lighting. So, we installed dimmable recessed can lights throughout the kitchen along with several pendant lights delivering fantastic lighting.
BARTON HILLS KITCHEN RENOVATION SUMMARY
This Barton Hills Kitchen Renovation ended successfully. With careful planning and attention to detail, our client's vision came to fruition. We updated the appliances, installed modern features throughout, and improved the lighting as well. Most importantly, they transformed their house into their dream home enhancing their quality of life for years to come.
Years Remodeling Austin, Texas
+Austin Area Homes Remodeled
+ Glowing Five-Star Reviews
#1 Home Remodeling Contractor Since 2006
Get Our Newsletter
Learn the insider remodeling secrets NO CONTRACTOR wants you to know and participate in bonus offers and NC GIVEAWAYS!