Circle-C Ranch Kitchen Renovation
By New Creations Austin
Circle-C Ranch Kitchen Renovation
PROJECT OVERVIEW
The owners of this home felt they needed complete kitchen renovation to transform the house into the home they always envisioned. Their existing kitchen had a nice shape to work with, so we were excited at the potential.
The room was perfect offering high ceilings and an abundance of space. Our clients and design team were eager to create the design that could capitalize on that extra space and realize this room's true potential.
It was dated aesthetically leaving much to be desired, and the layout made it cumbersome to work in. Some of the appliances also needed upgrading. On top of that, we needed to upgrade the lighting and overall functionality of the kitchen.
The biggest problem we noticed was the poor placement of the original sink and kitchen island. We planned to create a smarter interior design by rearranging the sink and island to create space and optimize the functionality of the kitchen.
As a result, our clients now have the space they need to move about comfortably while cooking and entertaining family and friends.
Circle-C Ranch | Austin, TX
Complete Kitchen Renovation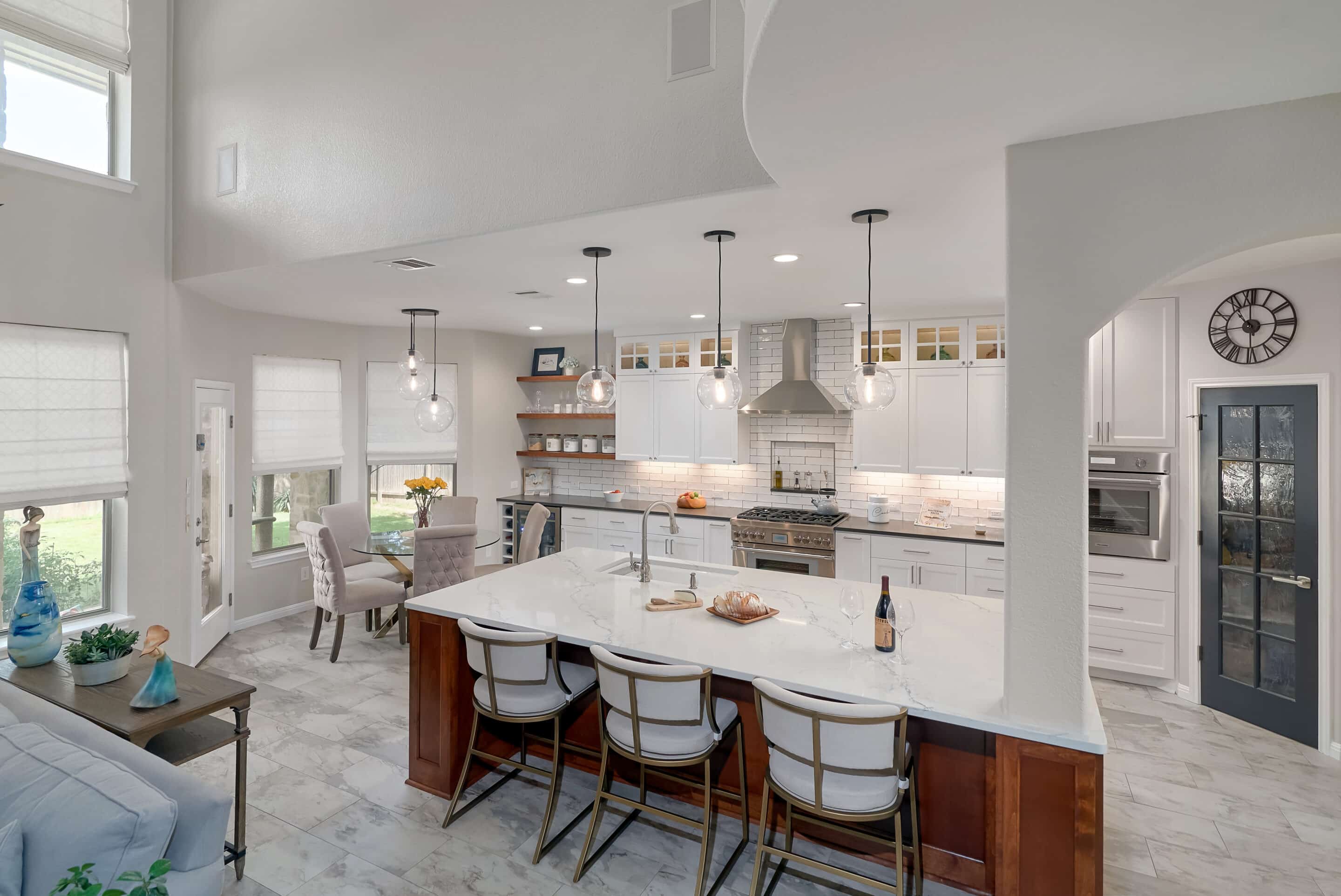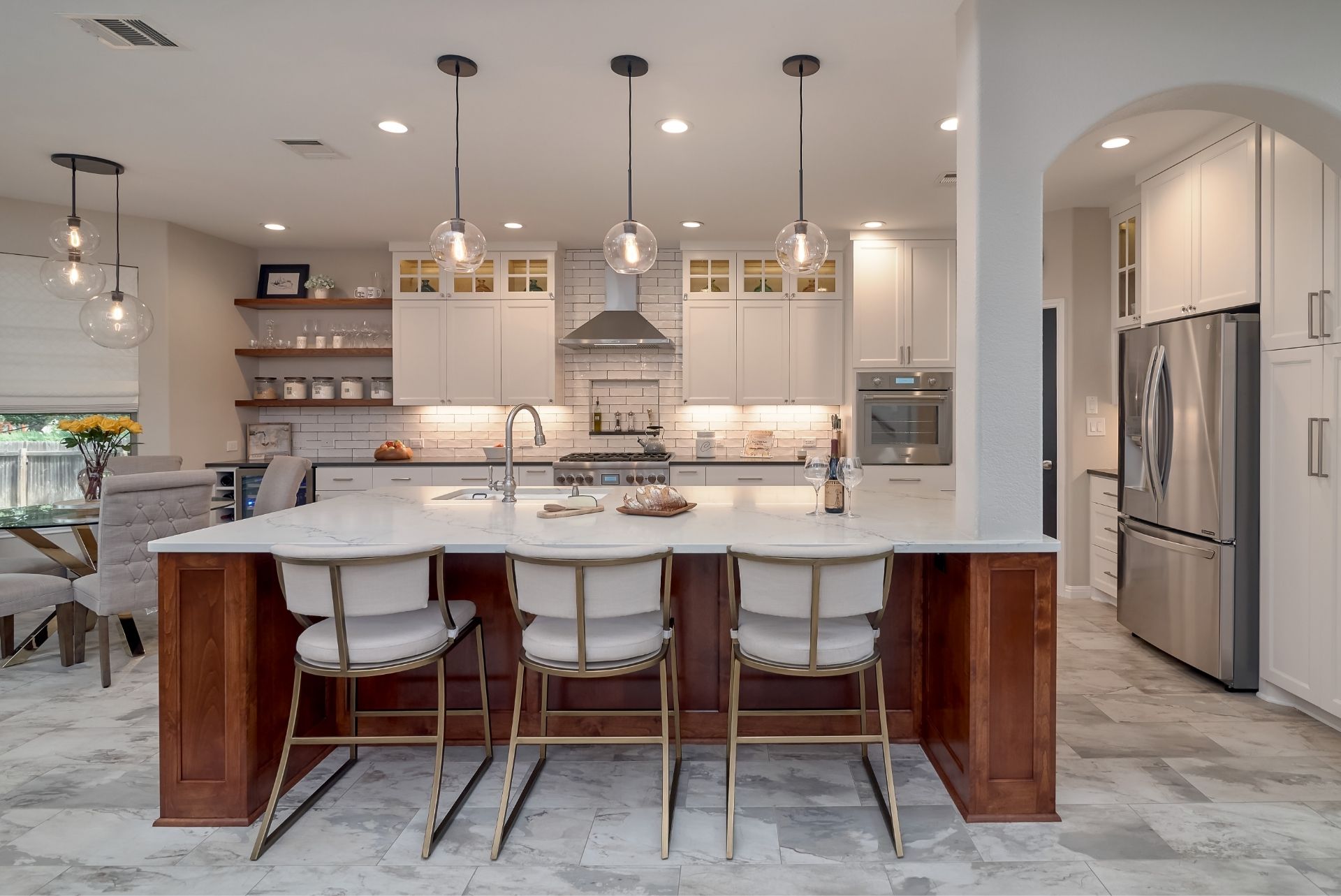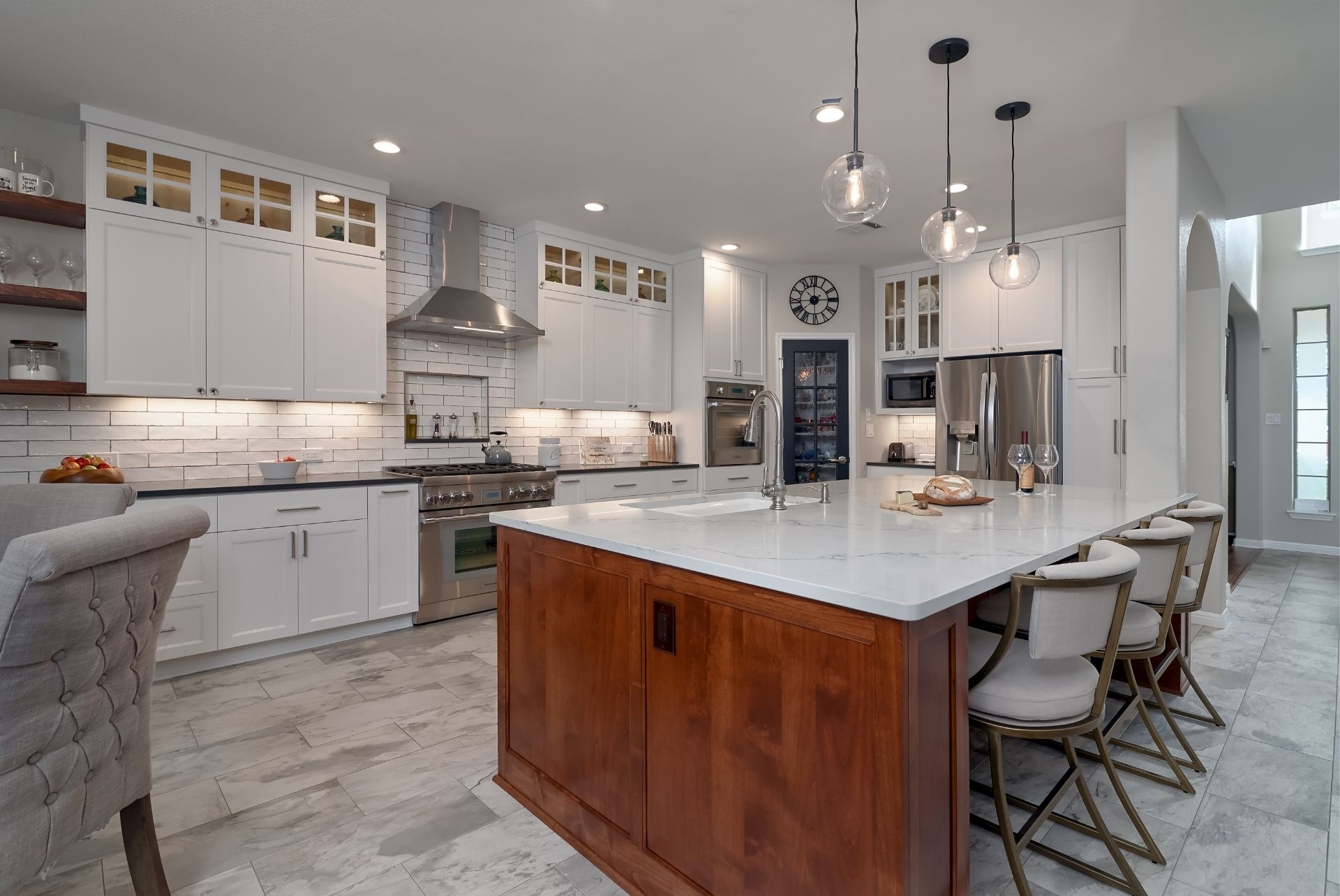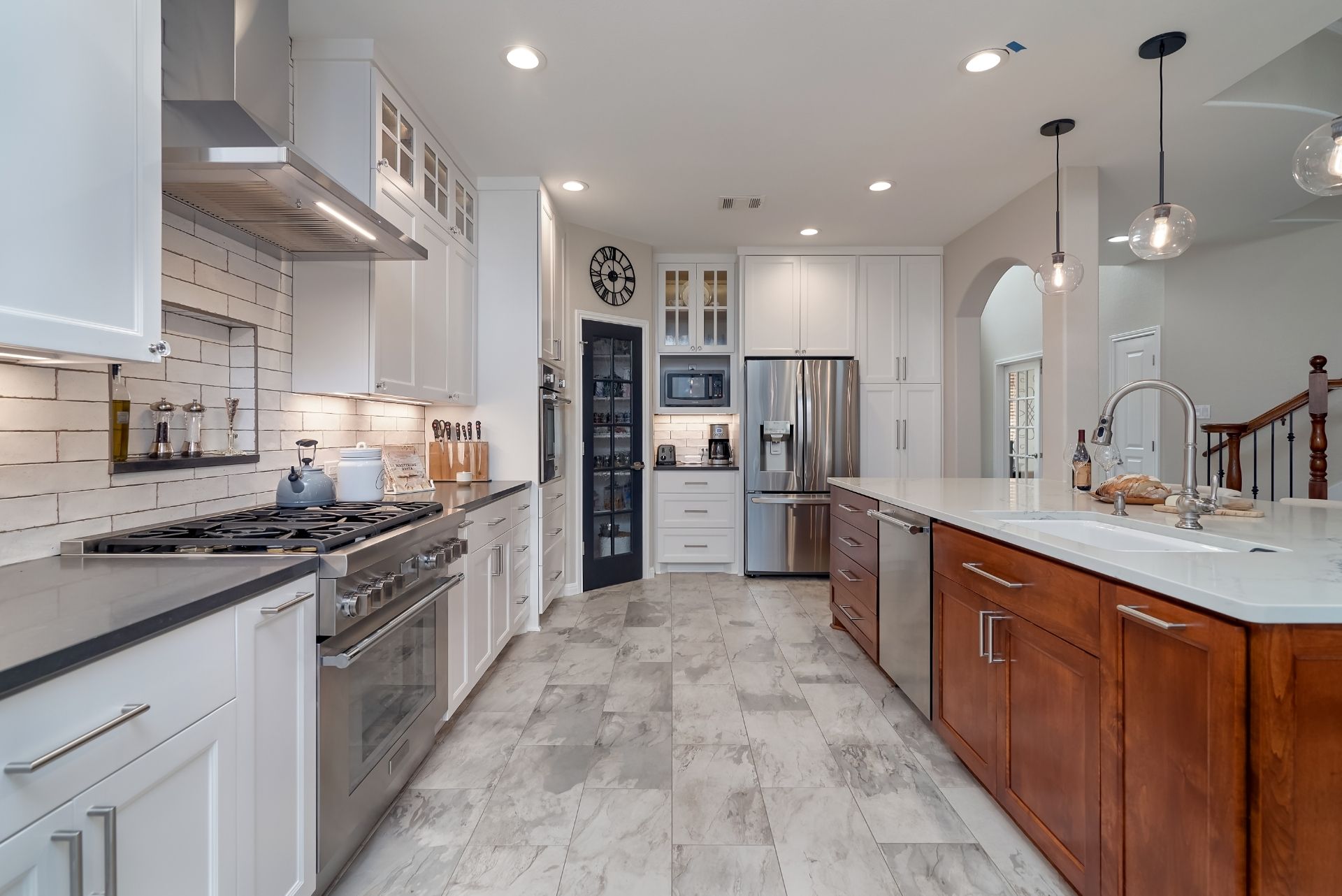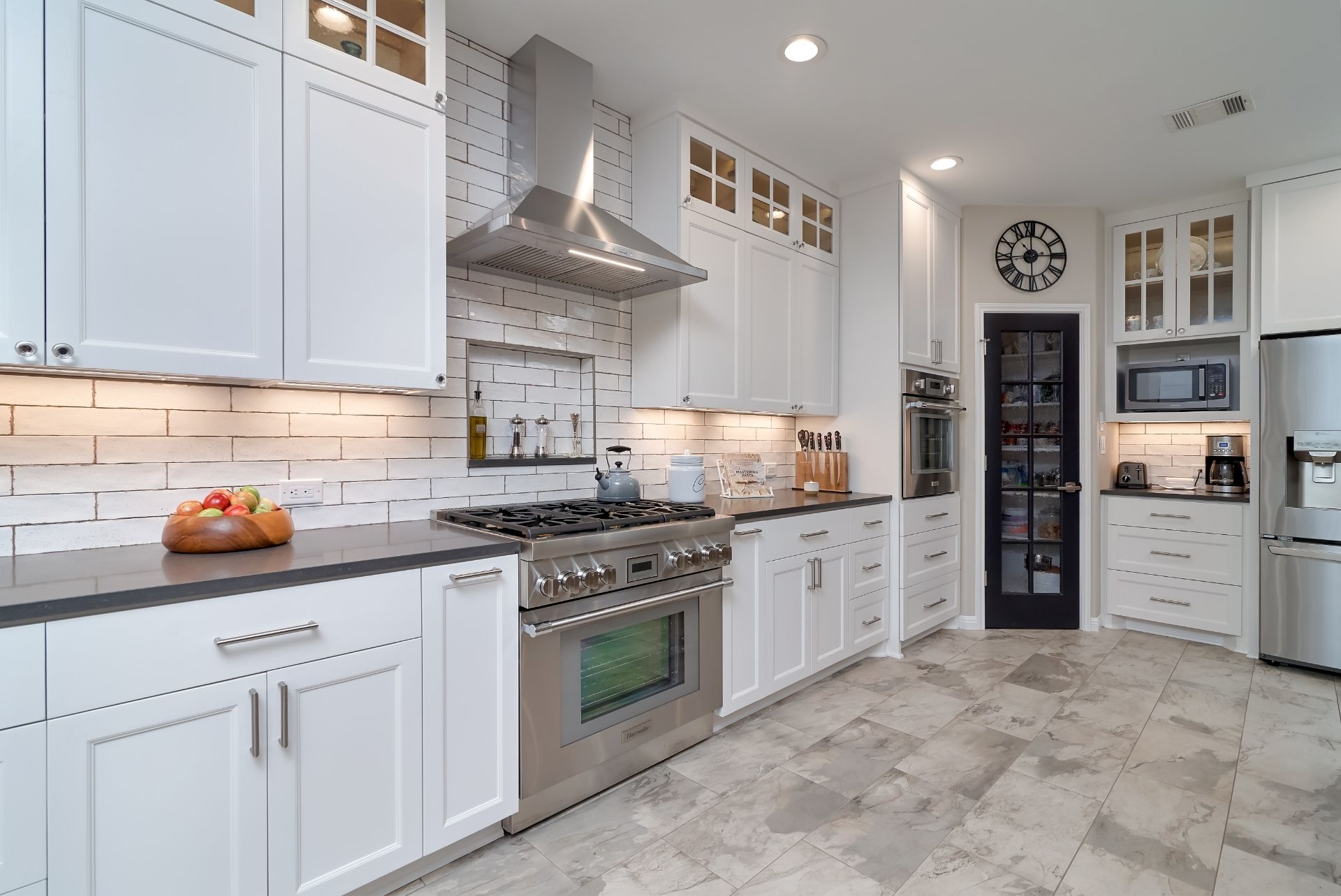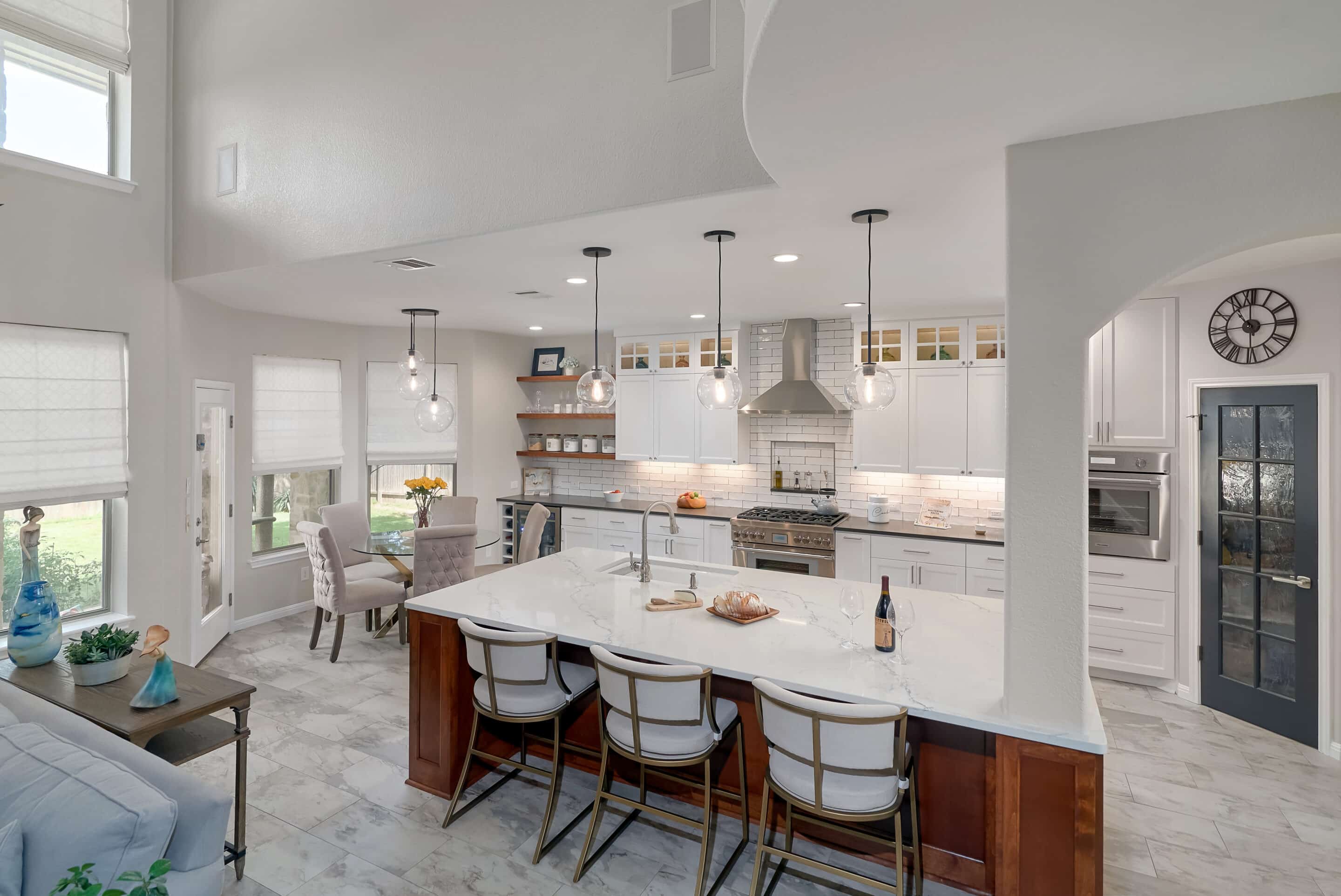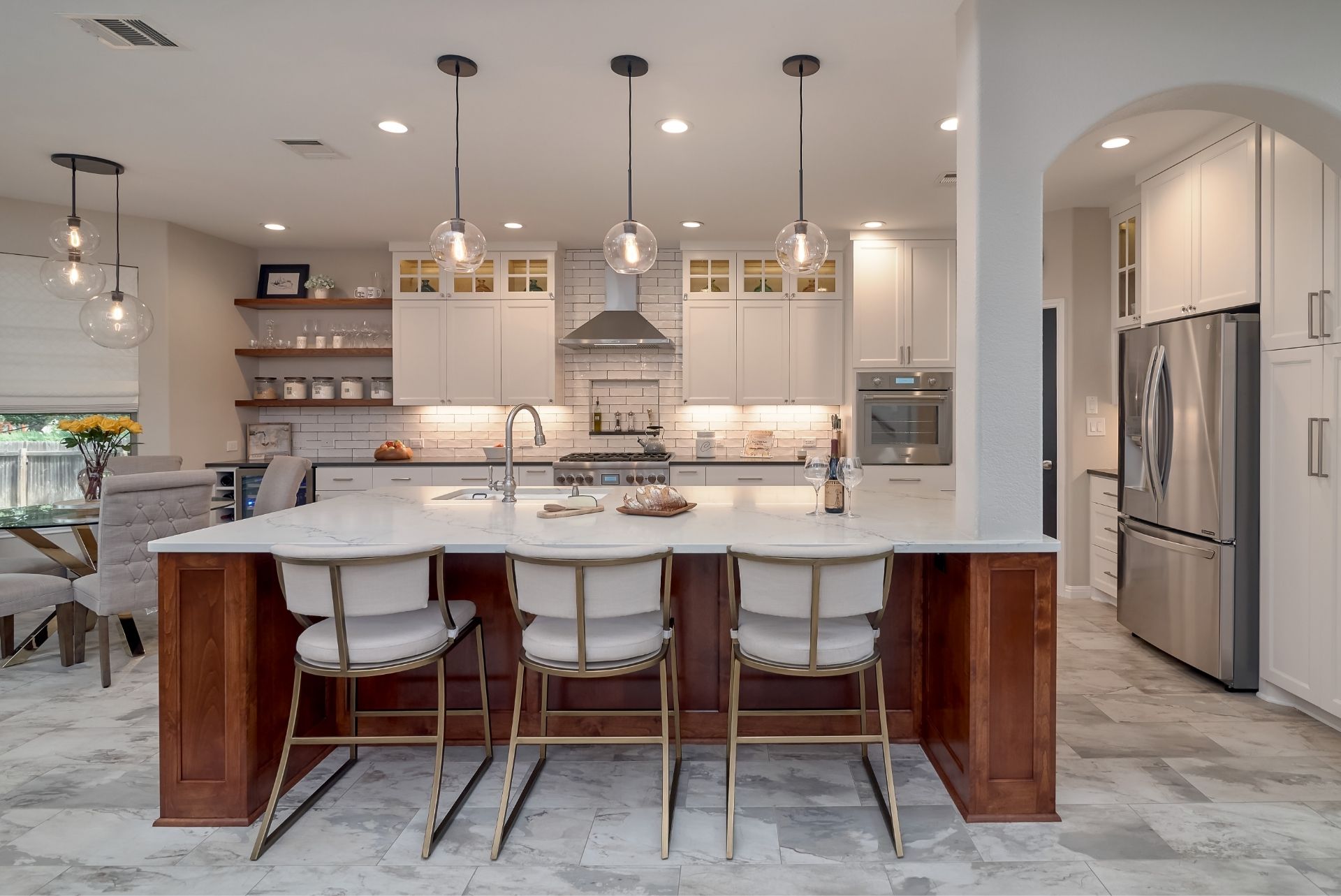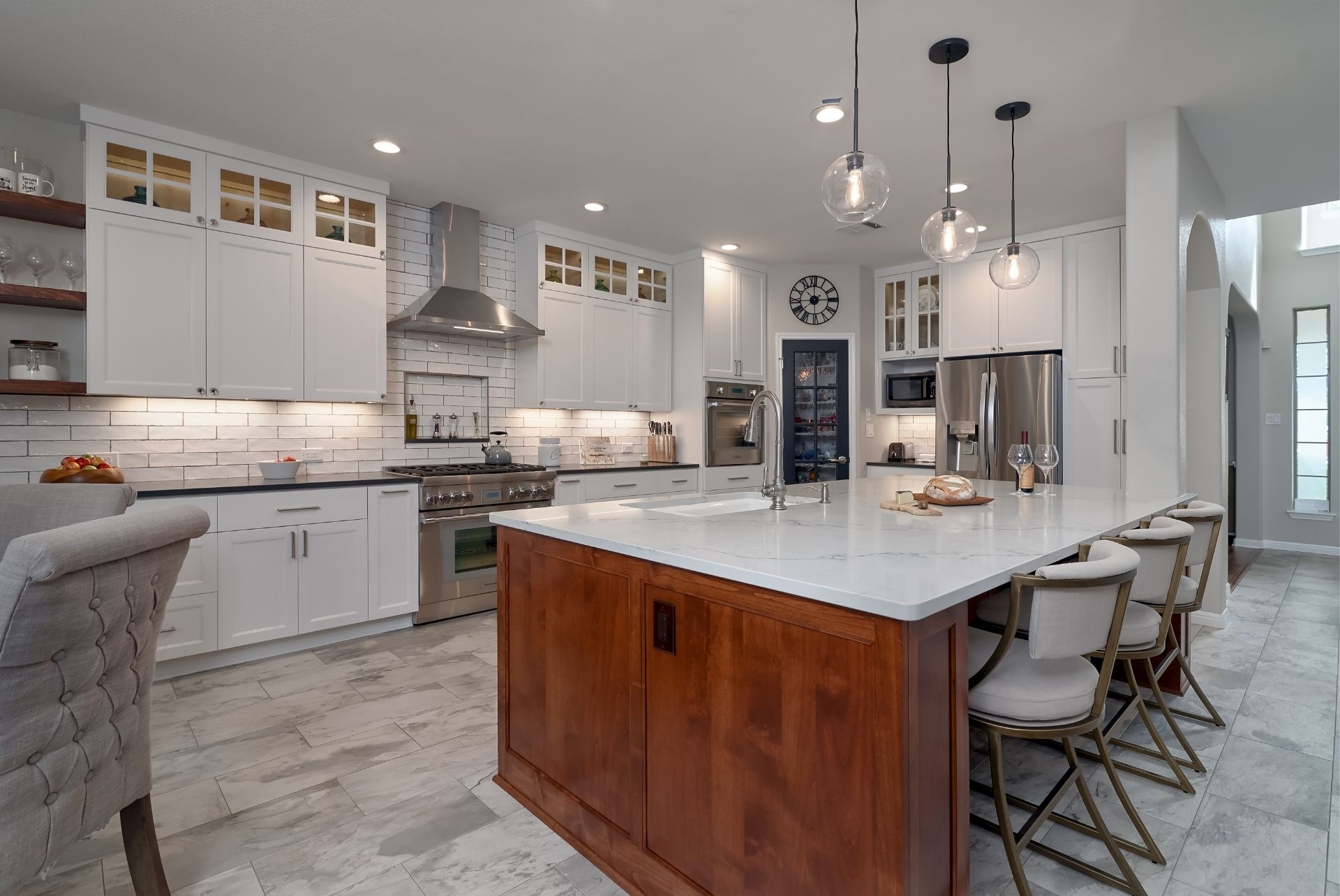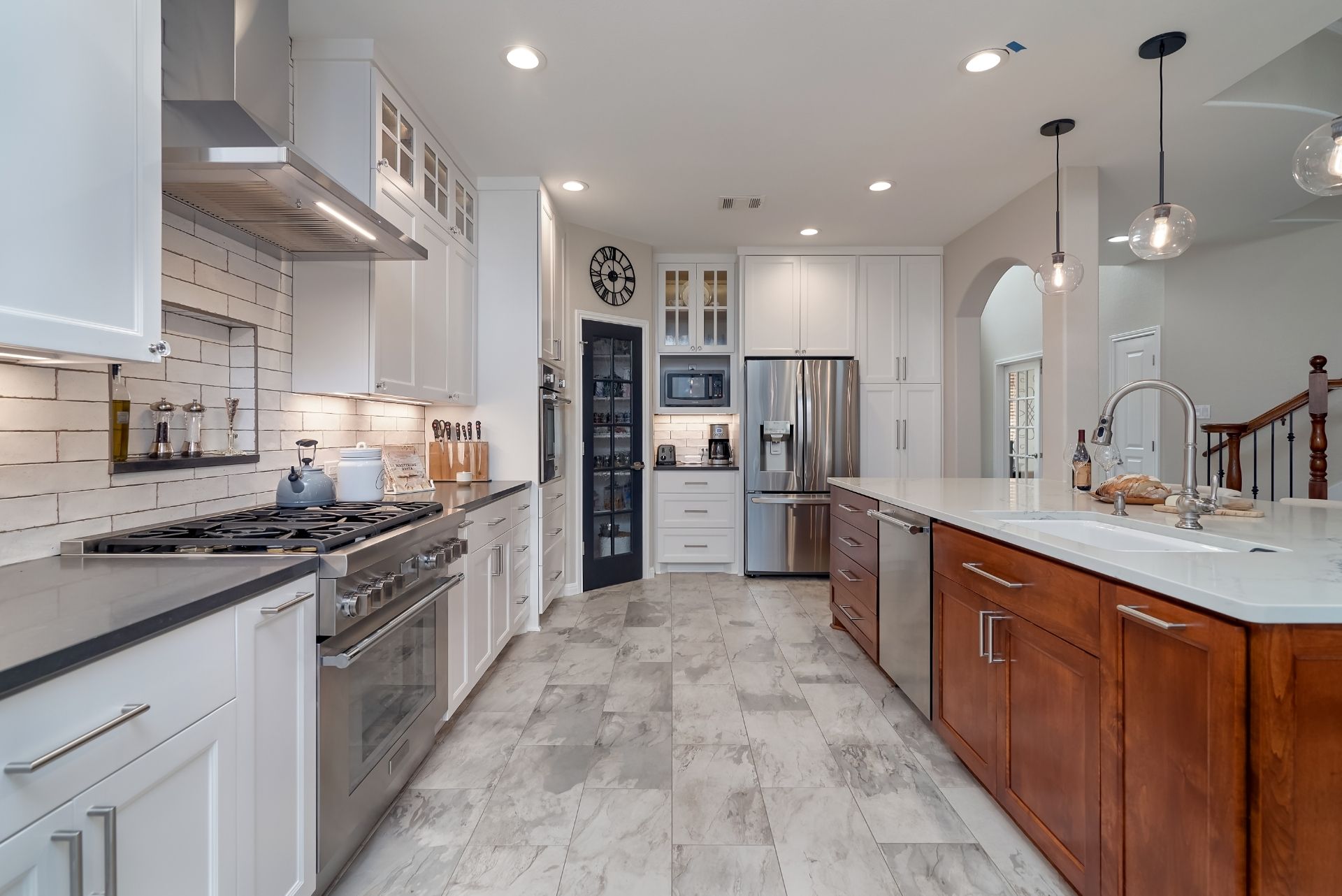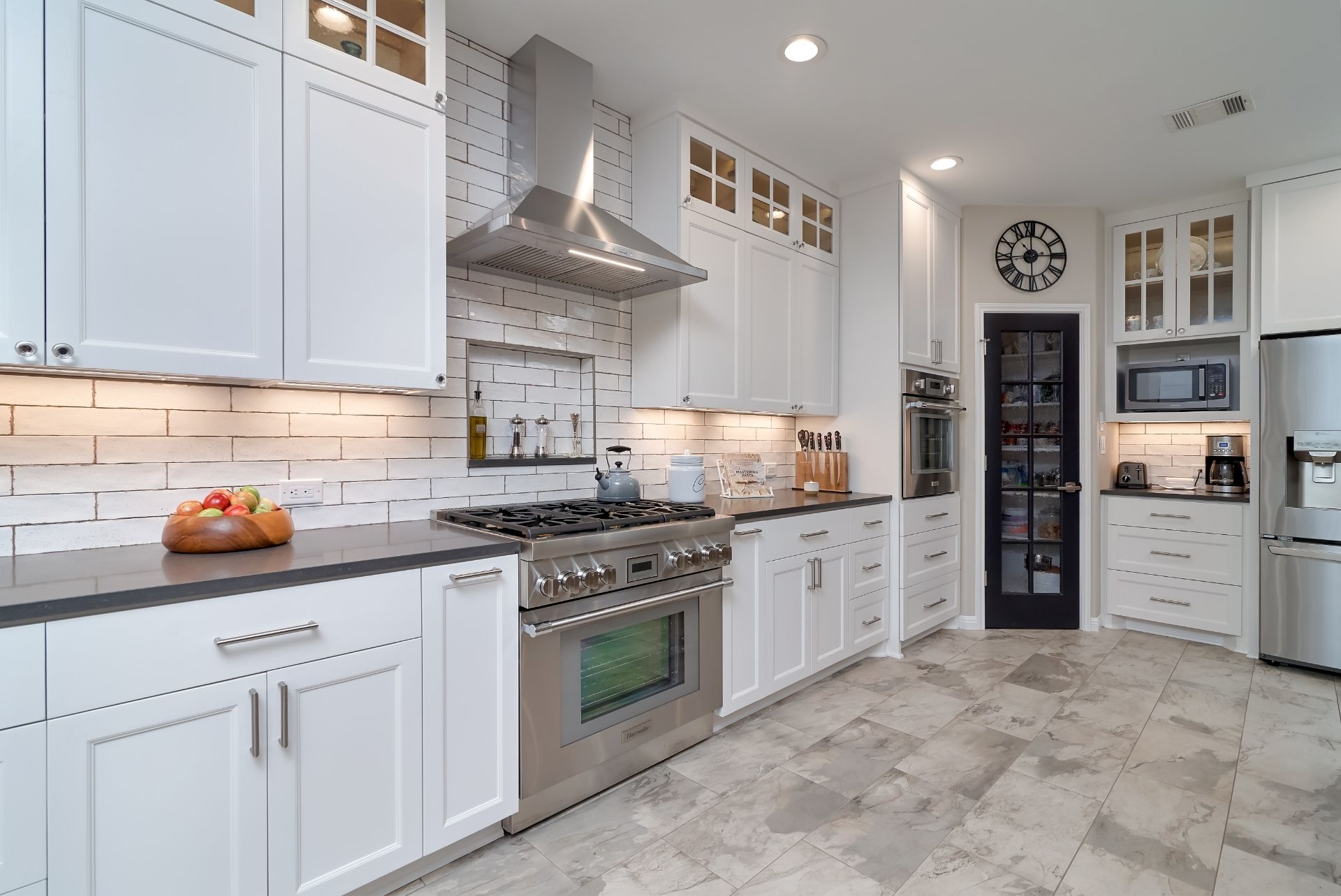 FLOORING
The dining room and kitchen in this interior are components of a Great Room and we wanted to make sure that any new work we did in the kitchen complemented the existing family room features. We collectively decided to replace the flooring throughout the first floor to maintain consistency. 
The Ice Winter porcelain floor tiles laid in a staggered pattern look amazing in contrast to the wood stain woodwork on the kitchen island as well as the wood wrap around the living room fireplace.
CUSTOM CABINETRY
This kitchen renovation project blessed us with relatively high ceilings. So, we raised the cabinets to the ceiling making the room feel taller and creating more storage.
Our client's design spotlights both painted and stained cabinetry and a color theme with soft white and light grey tones along with warmer wood tones.
Along the perimeter, our clients opted for white shaker cabinets the contrast the medium brown alder cabinetry featured on the kitchen island.  
The tops of the white shaker cabinet doors feature mullions with dazzling seedy glass inserts. The LED tape lights keep the area lit perfectly.
Accordingly, the island's countertop is a beautiful white Caesarstone that contrasts the darker Raven Quartz countertops covering the cabinetry on the kitchen's perimeter.
OVEN AND VENT HOOD
We planned on upgrading the appliances and we went all-in on the oven and vent hood. We got rid of the tired old gear and installed a massive Thermador Pro Harmony 36″ Gas Range features 6 burners that sit below a 36″ Zephyr Siena wall vent hood.
Our clients love to cook so we also added a Thermador Professional 30″ single convection oven into the cabinetry in the perfect place to keep the kitchen highly functional.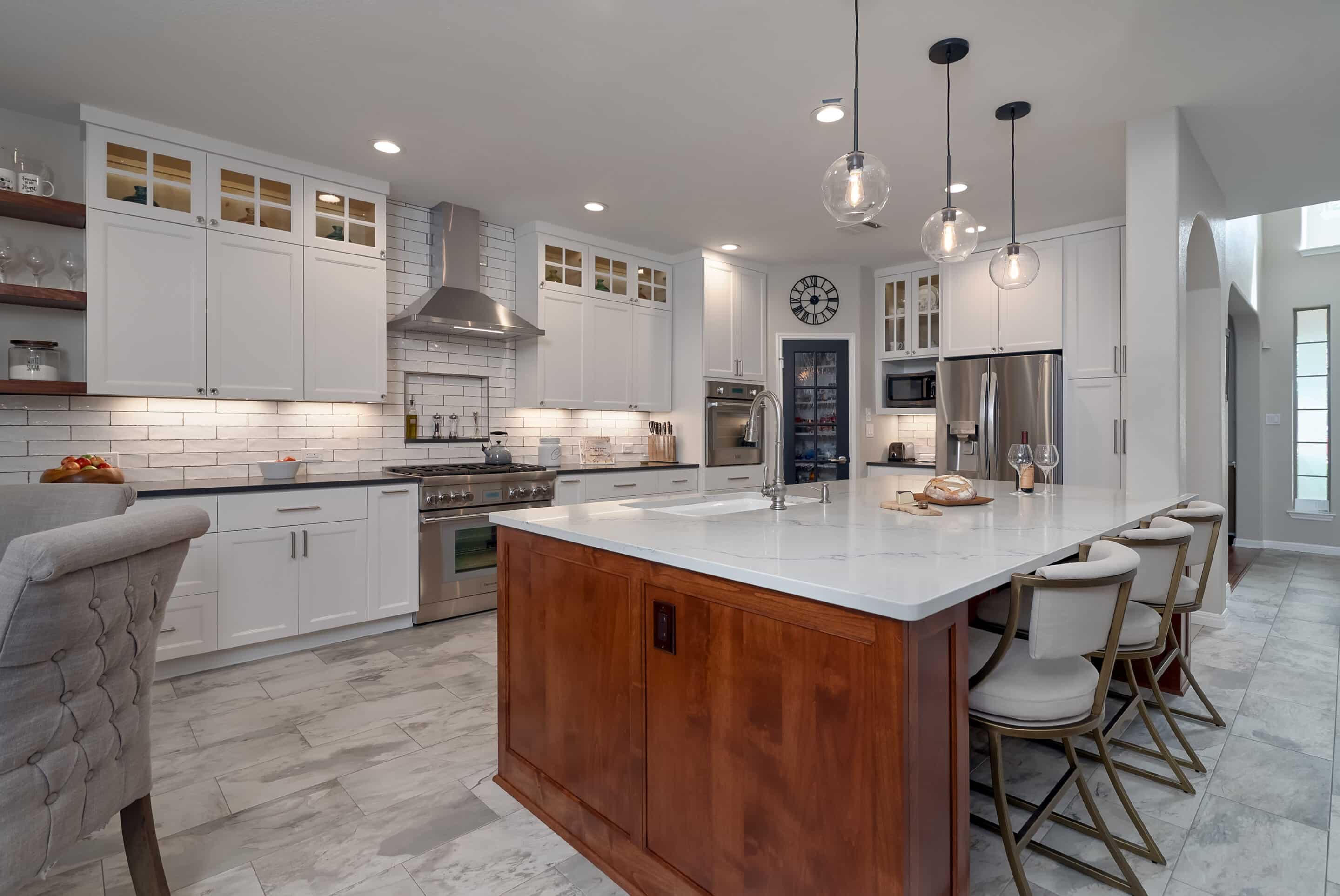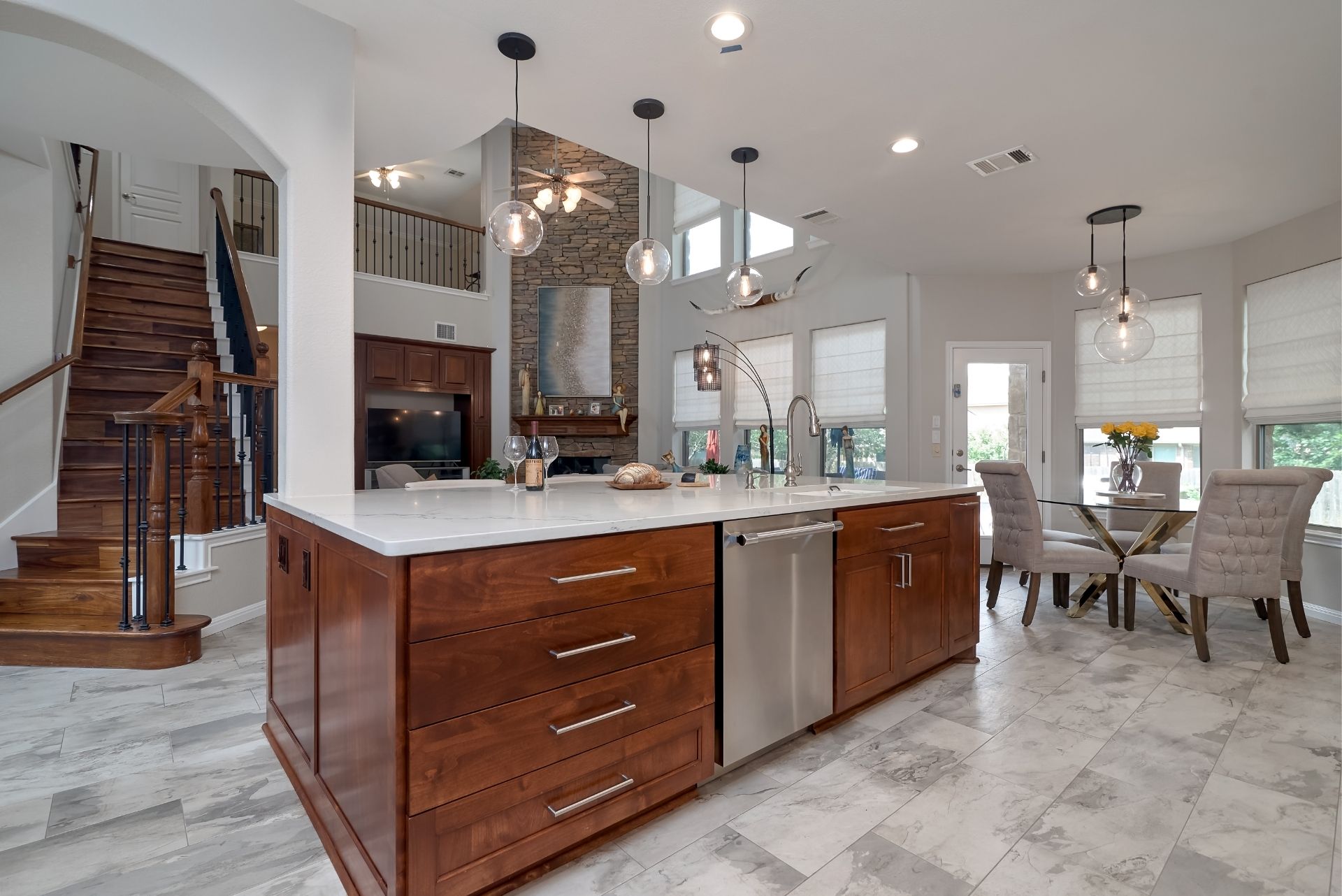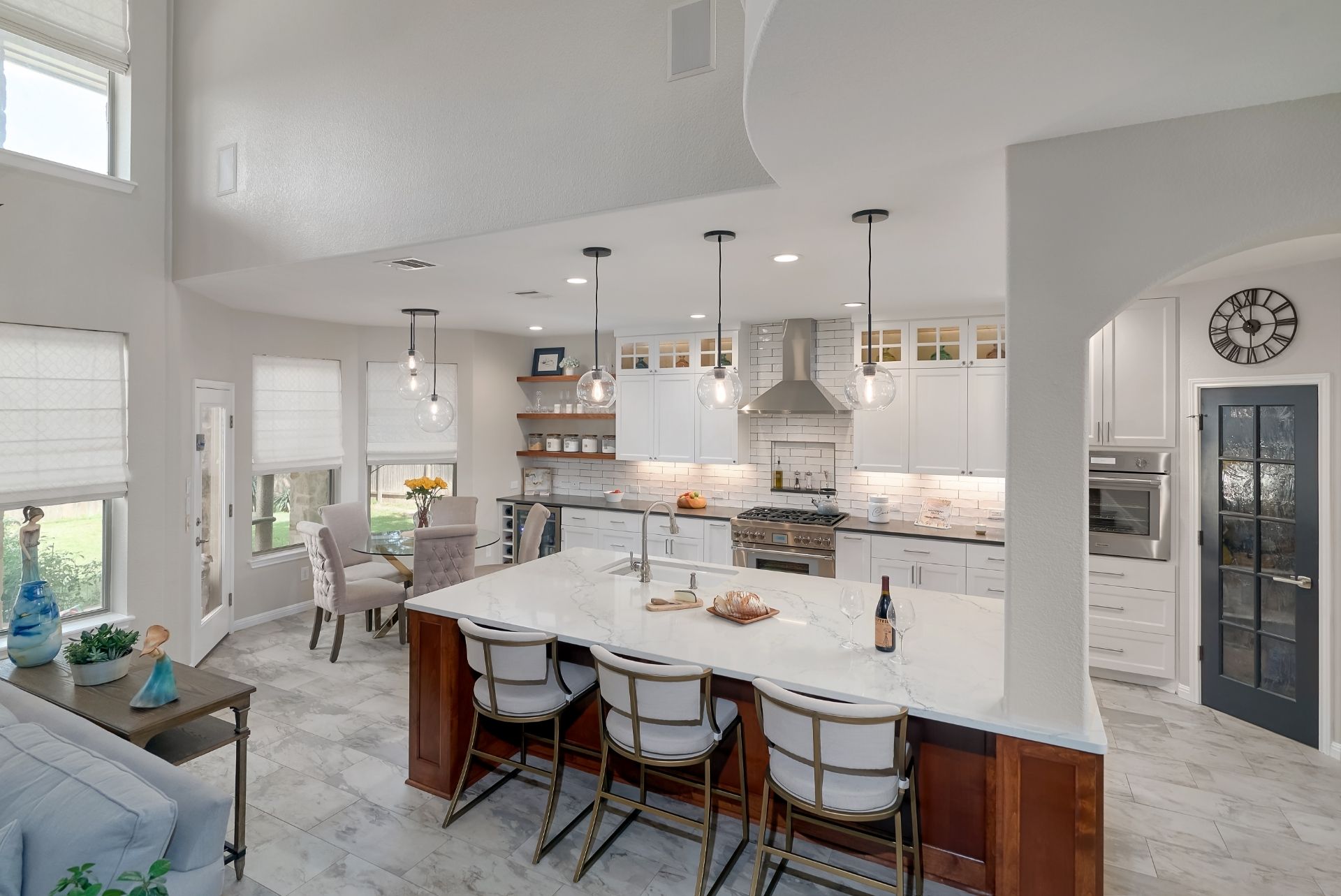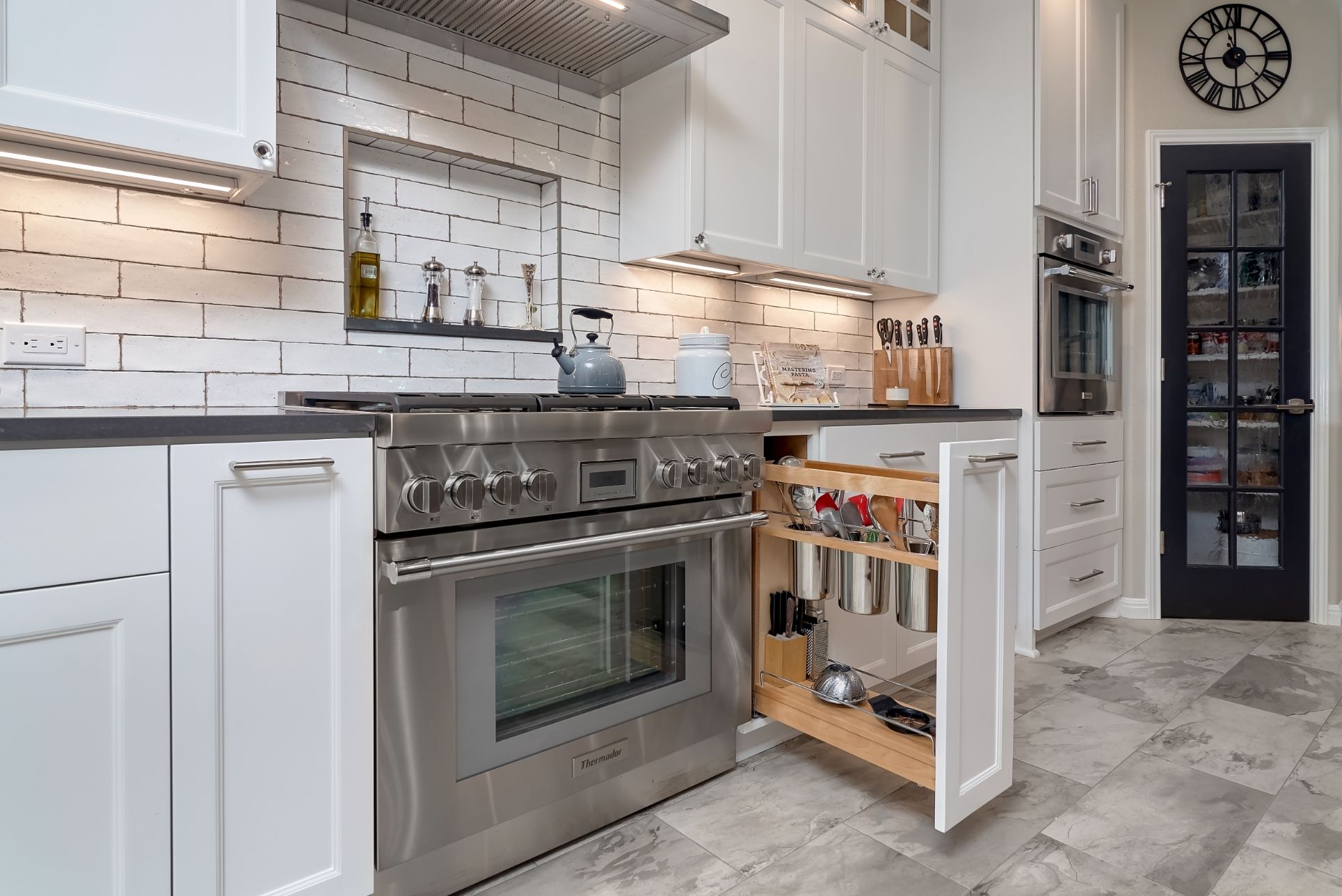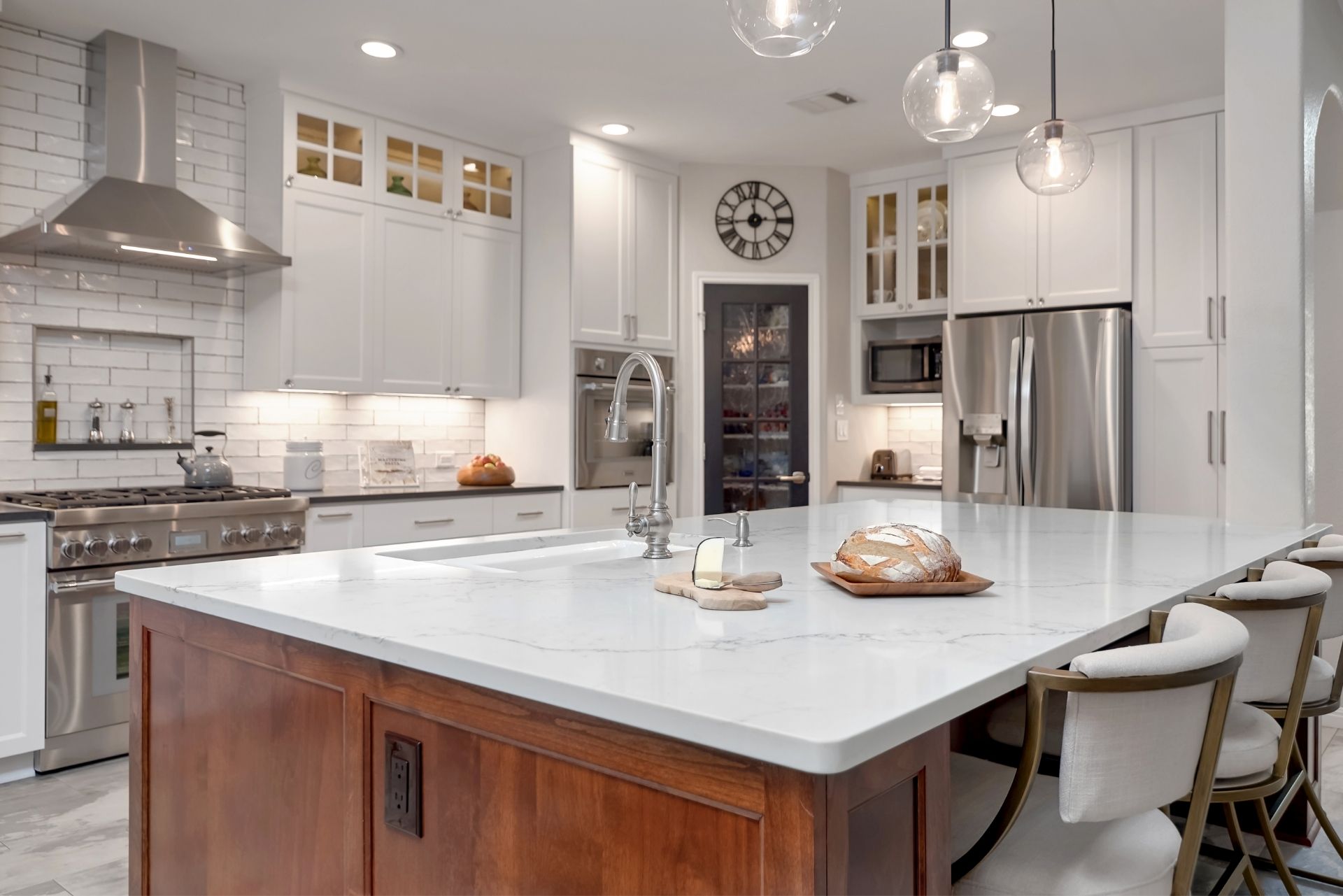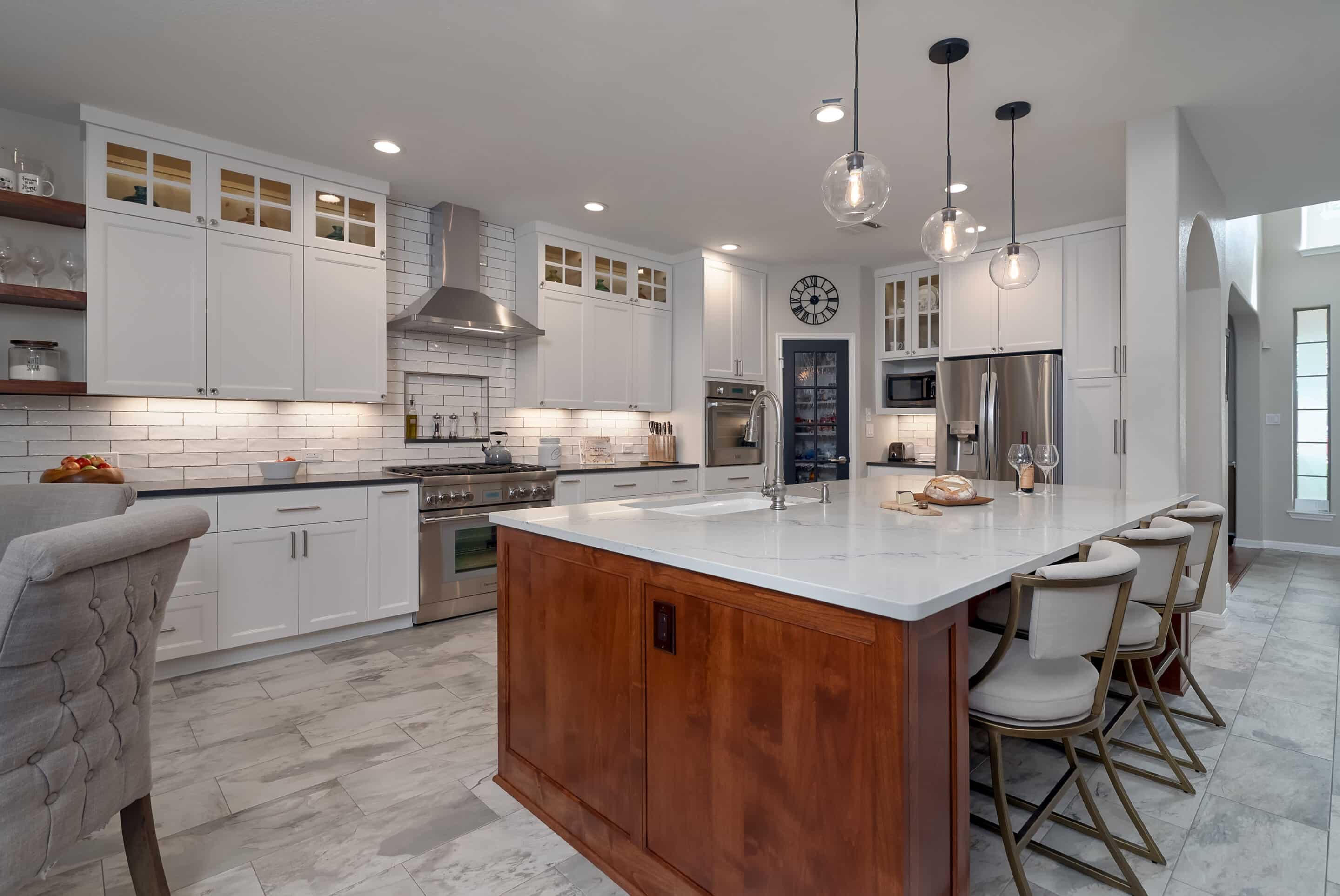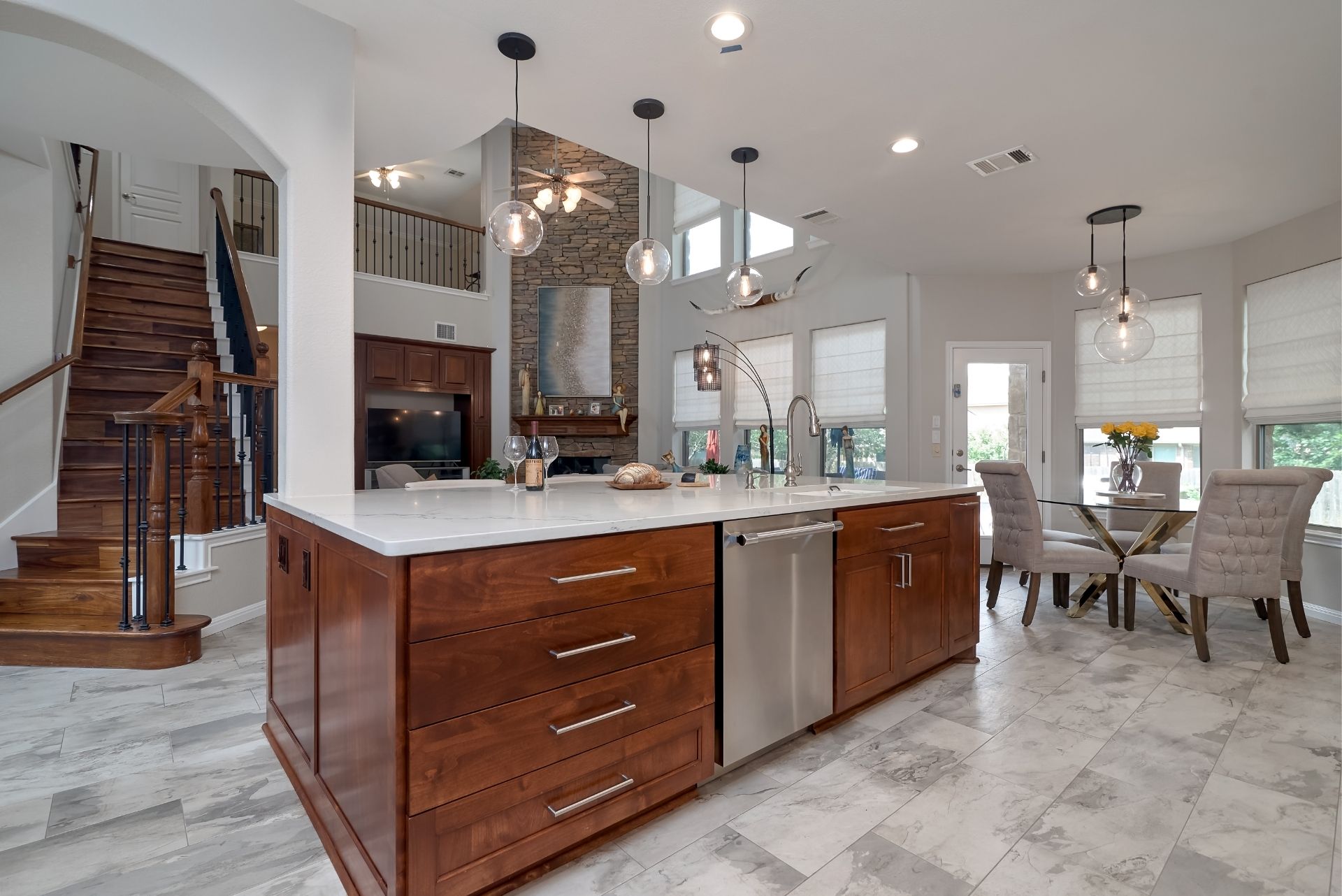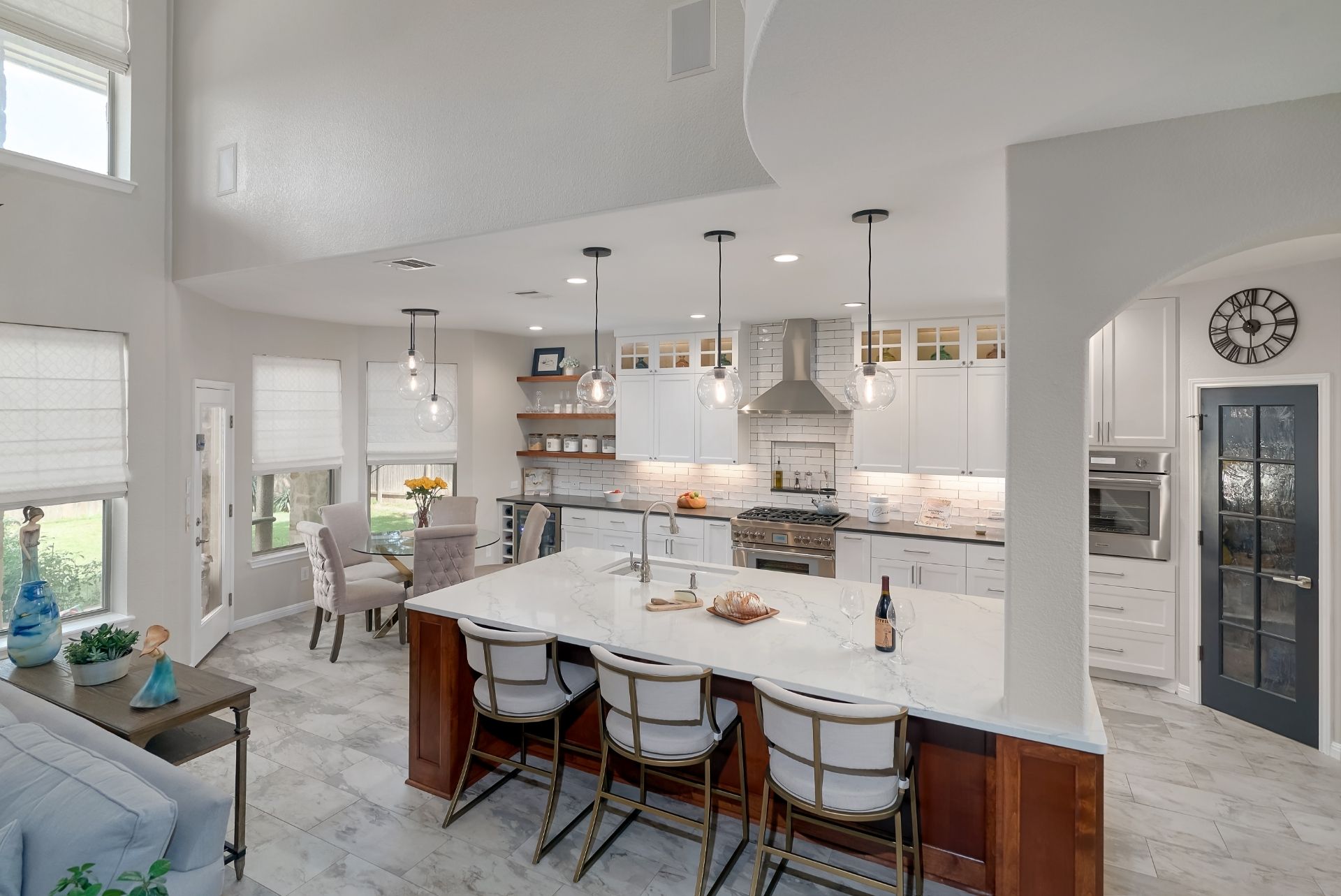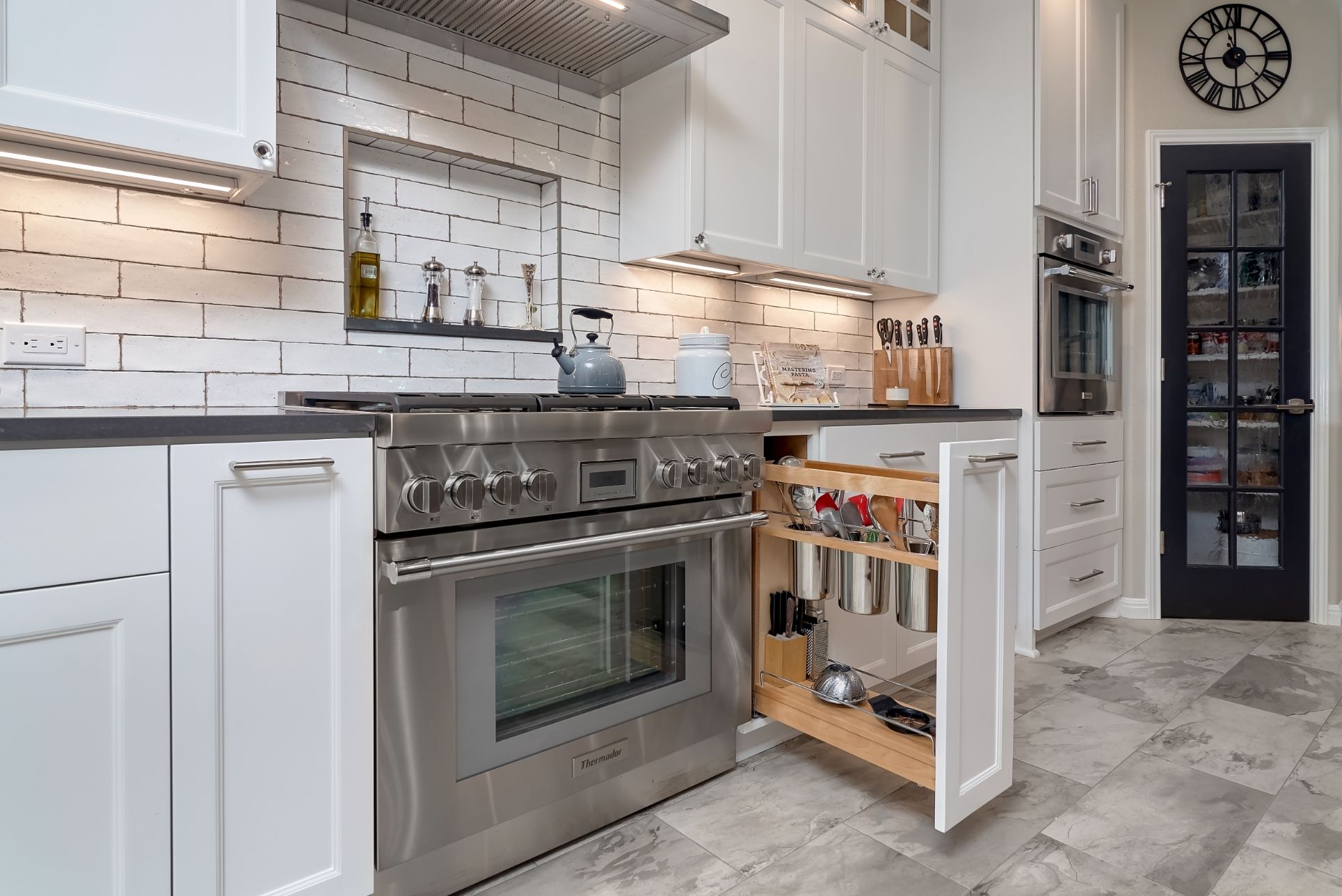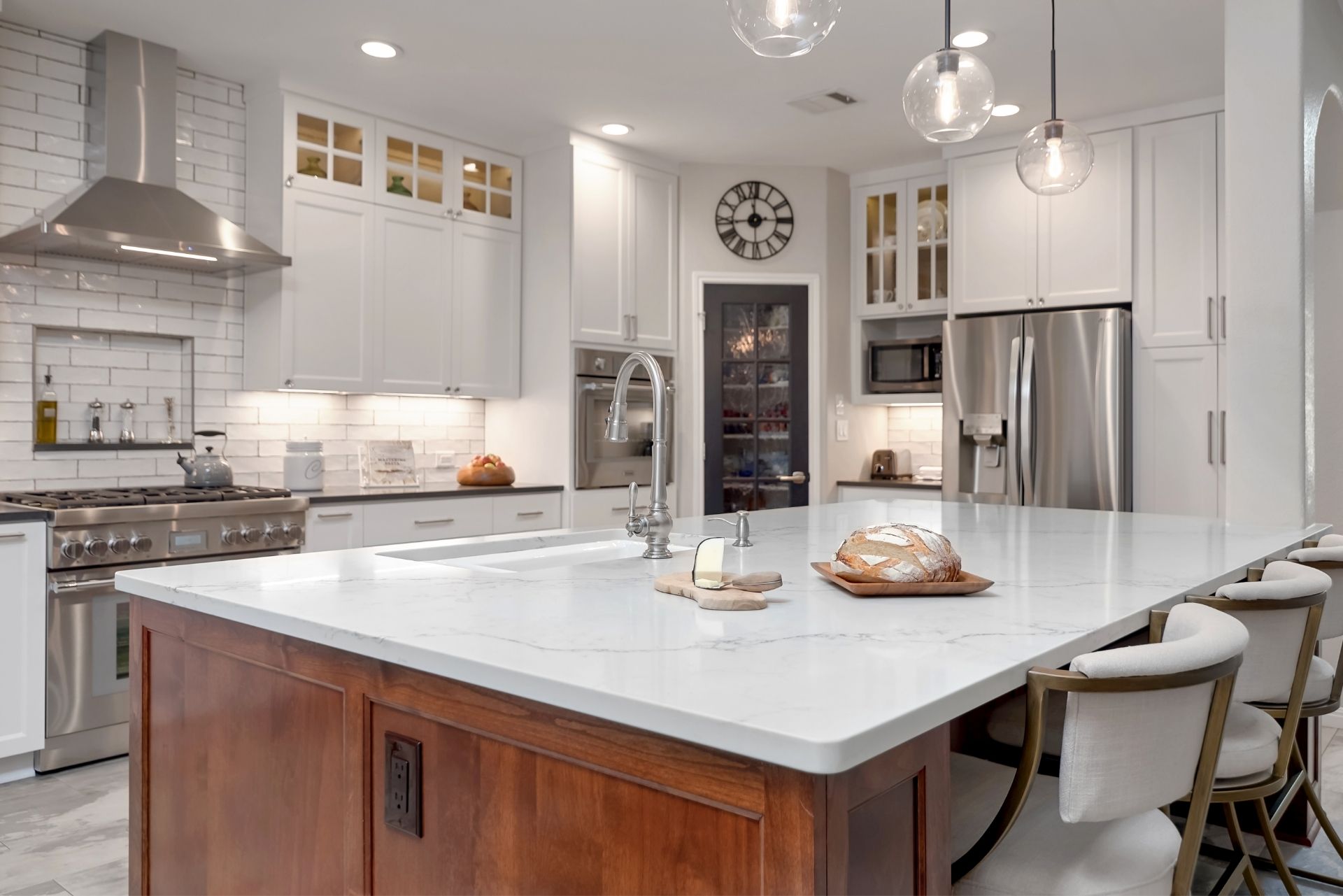 Circle-C Ranch Kitchen Renovation Features
LIGHTING
The plan was to improve the layout and lighting to take advantage of the high ceilings and space. We added can lighting throughout the kitchen as well as 3 pendant lights that hang above the kitchen island.
We add LED lighting under the cabinets and inside the cabinets creating a wonderfully lit room with no dark zones.
BUILT-IN WINE COOLER
Our clients had a useless old desk area that was a dead zone occupying valuable space. We did the wise thing and converted to a cool new wine storage area that our client's cat loves (see photo).
We build custom cabinetry around a stainless steel Avallon Wine Cooler. Then, our team added a cleaver false panel to store extra bottles of wine at room temperature.
To keep our color them going we added some wood-stained open shelving to balance out the white shaker cabinets. In the end, we created more storage space more open and added warmth to the interior.
CIRCLE-C RANCH KITCHEN RENOVATION SUMMARY
The new Creations design team helped manifest our client's vision, and the result is stunning. We worked together to design a beautiful and highly functional custom kitchen starting with an all-new layout and by selecting the right complementary building materials.
Consequently, their new kitchen matches their living room and now our clients have exactly what they desired⁠—a warm and open environment to entertain family and friends.
Years Remodeling Austin, Texas
+Austin Area Homes Remodeled
+ Glowing Five-Star Reviews
#1 Home Remodeling Contractor Since 2006
Circle-C Ranch Kitchen Renovation
"I wish I could have given 10 stars to New Creations! I can't say enough wonderful things about this company. Roy, Erin, and the entire team were nothing short of phenomenal. Thank goodness for Erin's designer eye because she really had to hold my hand! She kept me on budget and worked with me to design my dream kitchen. I can't wait to do another project with them. They are professional, responsive, and just plain caring. From our first meeting to our last they made sure I was completely happy. Their customer service is tops.

Thank you all for my beautiful kitchen!"
Gigi Williams
New Creations' Client</h6
Get Our Newsletter
Learn the insider remodeling secrets NO CONTRACTOR wants you to know and participate in bonus offers and NC GIVEAWAYS!