Great Hills Master Bathroom Renovation
By New Creations Austin
Great Hills Master Bathroom Renovation
GREAT HILLS MASTER BATHROOM OVERVIEW
An awesome family contacted us to perform this Great Hills Master Bathroom Renovation project. Their original master bathroom was extraordinarily awkward and broken up into several tiny spaces. The lighting was inadequate, and the room felt a bit cavernous. As a result, the room not only lacked cosmetic beauty, but the overall utility of the room also left much to be desired.
Our client, Deidre, planned on getting rid of an old leaking bathtub. She also wanted to update the room with some modern features. So, our design team worked to maximize the footprint of the room while creating a highly functional and beautiful master bathroom.
DEMOLISH THAT WALL
First, we demolished a wall that was impeding flow. Then, we removed the old leaking tub. We removed the soffits so that we could raise the ceilings to the same height across the room.
Lastly, we replaced the water closet entry with a pocket door. In the end, our design opened up the room creating a more expansive feel, and the modern accessories we added greatly improved the functionality and comfort of our client's master bathroom.
Master Bath Design and Build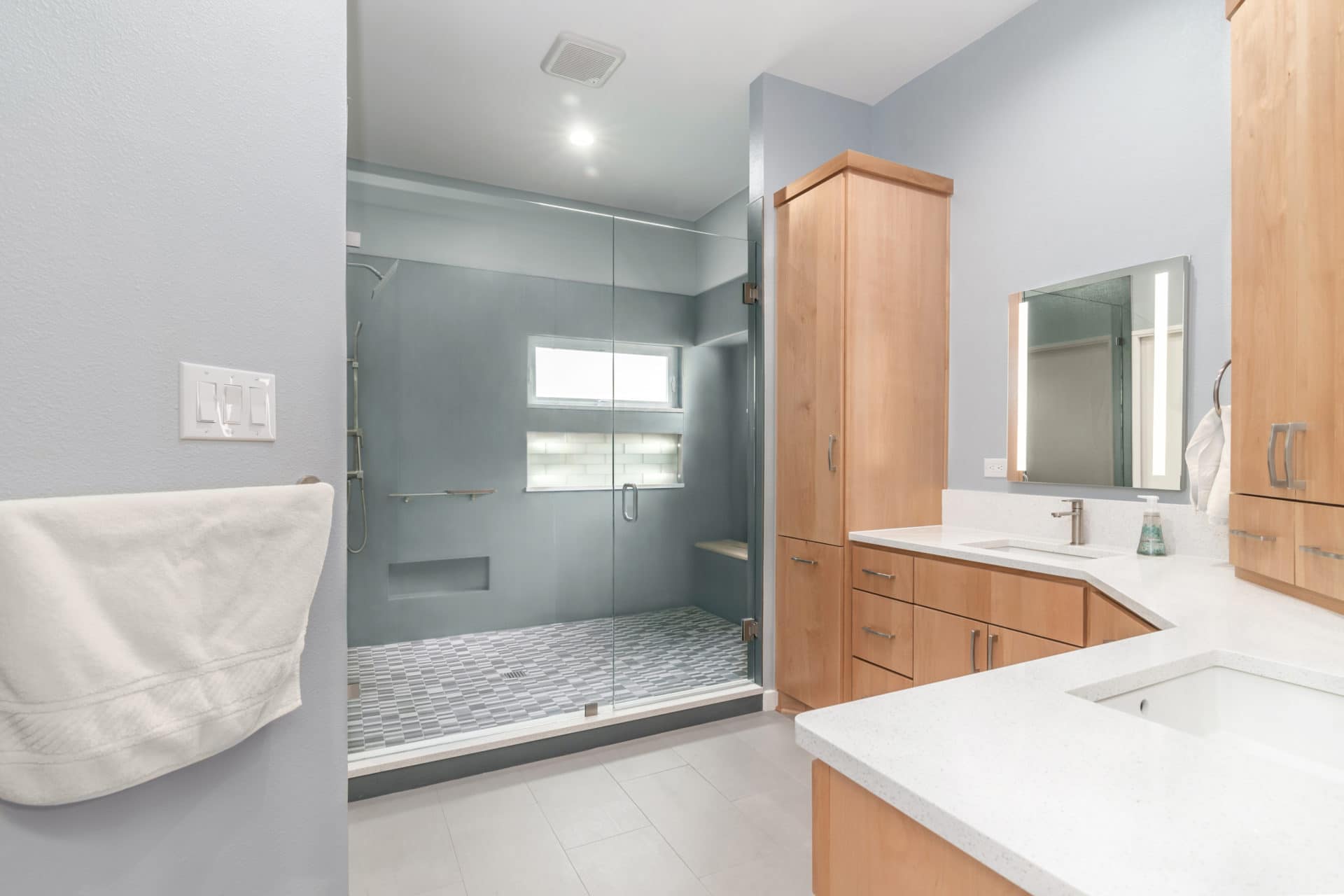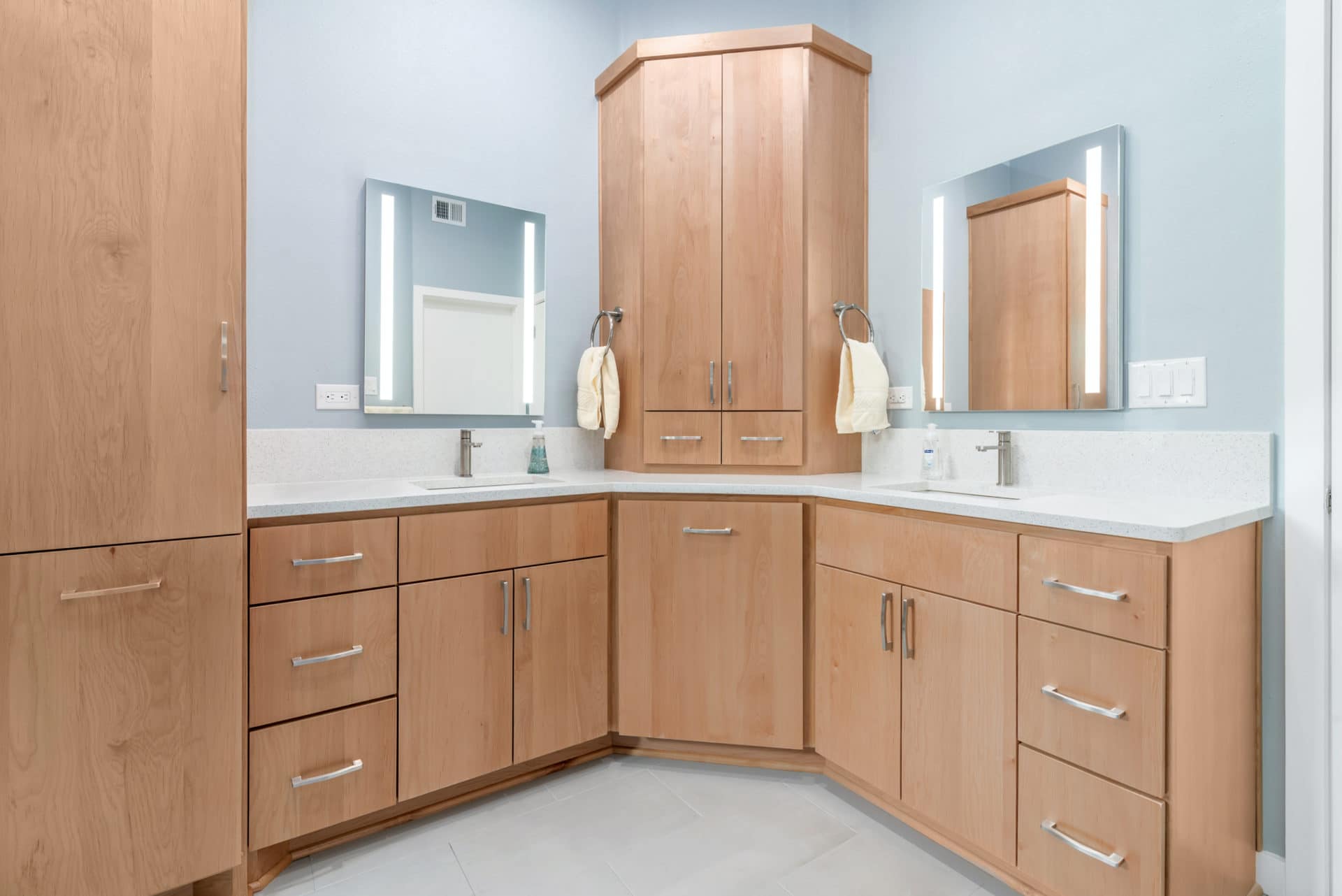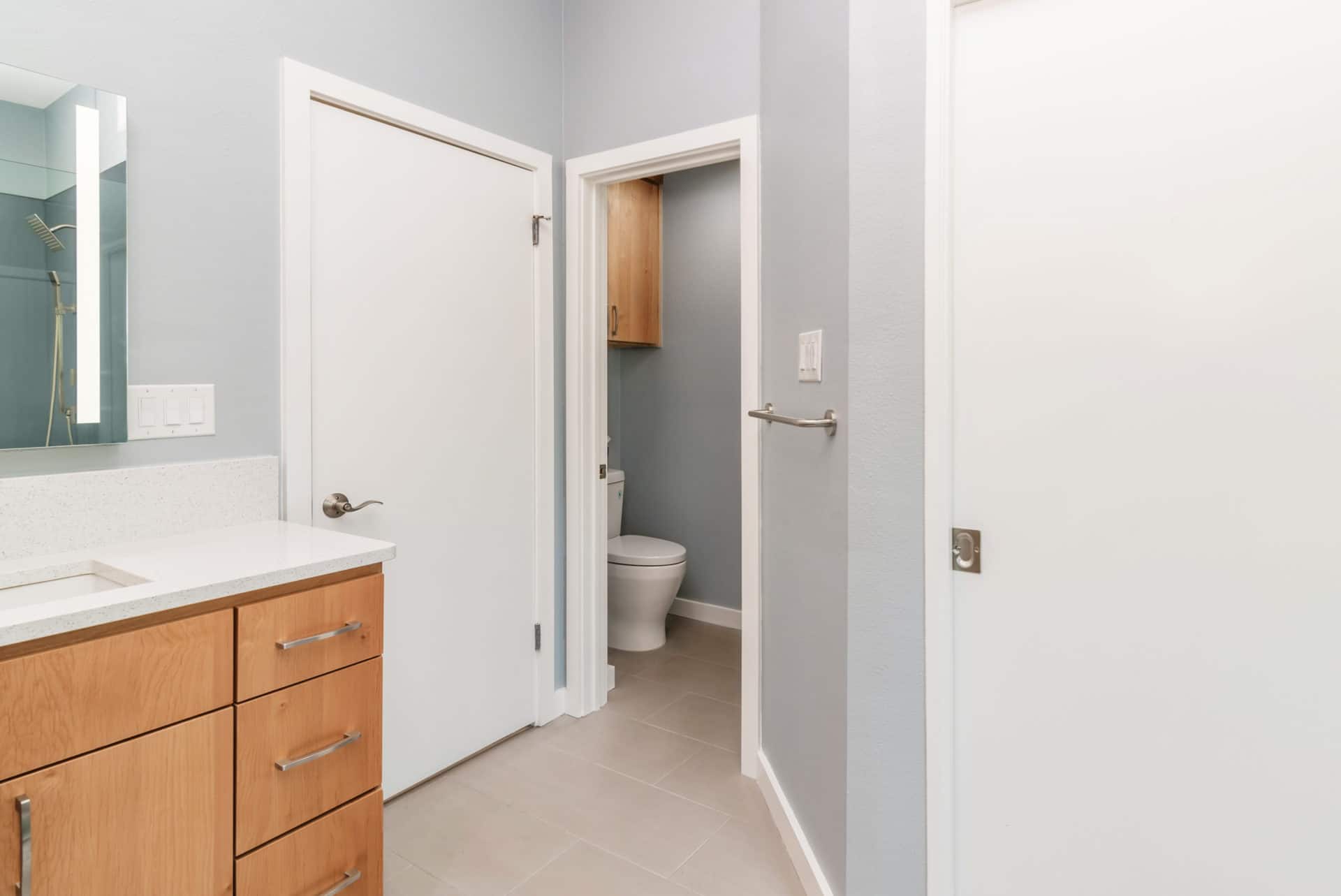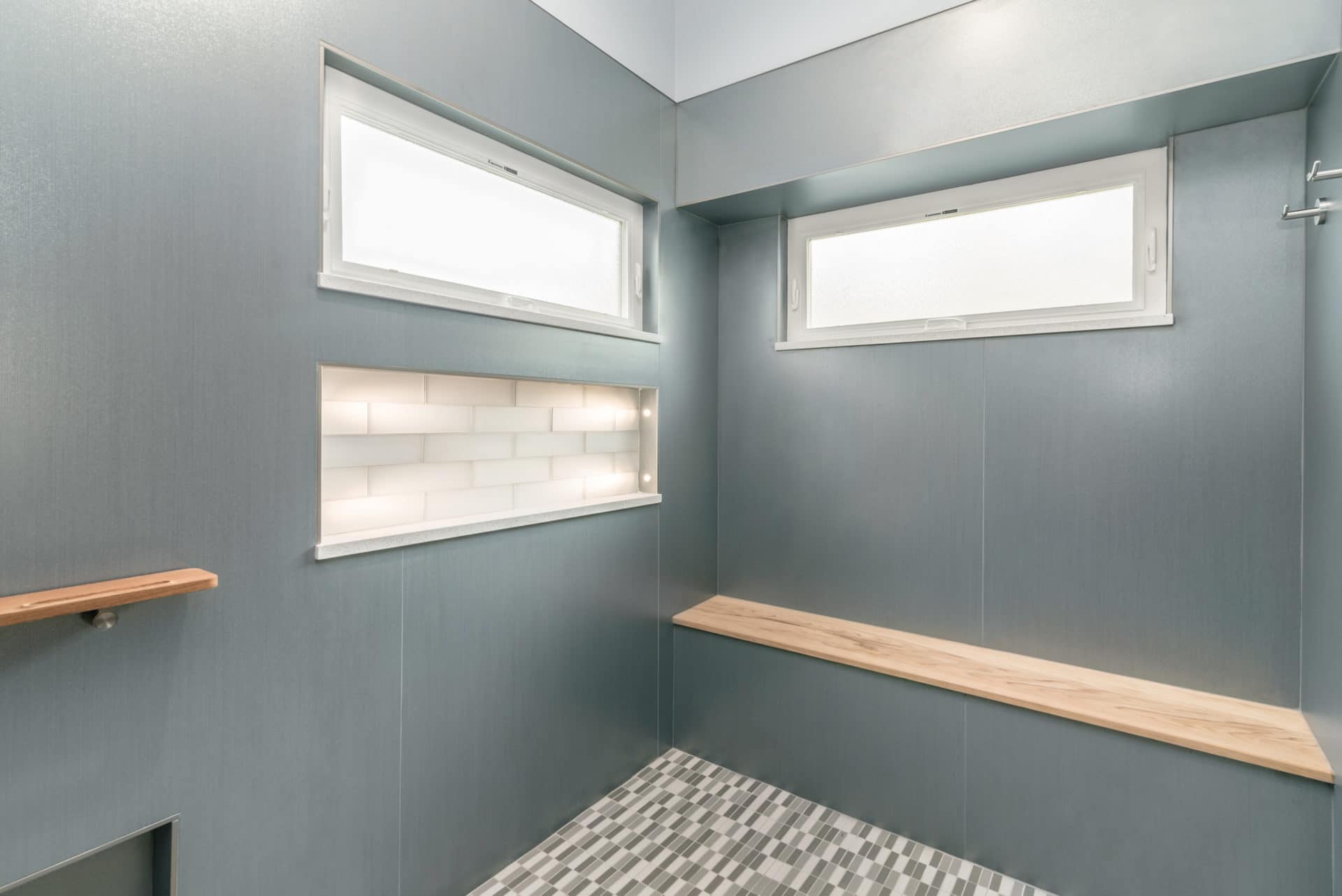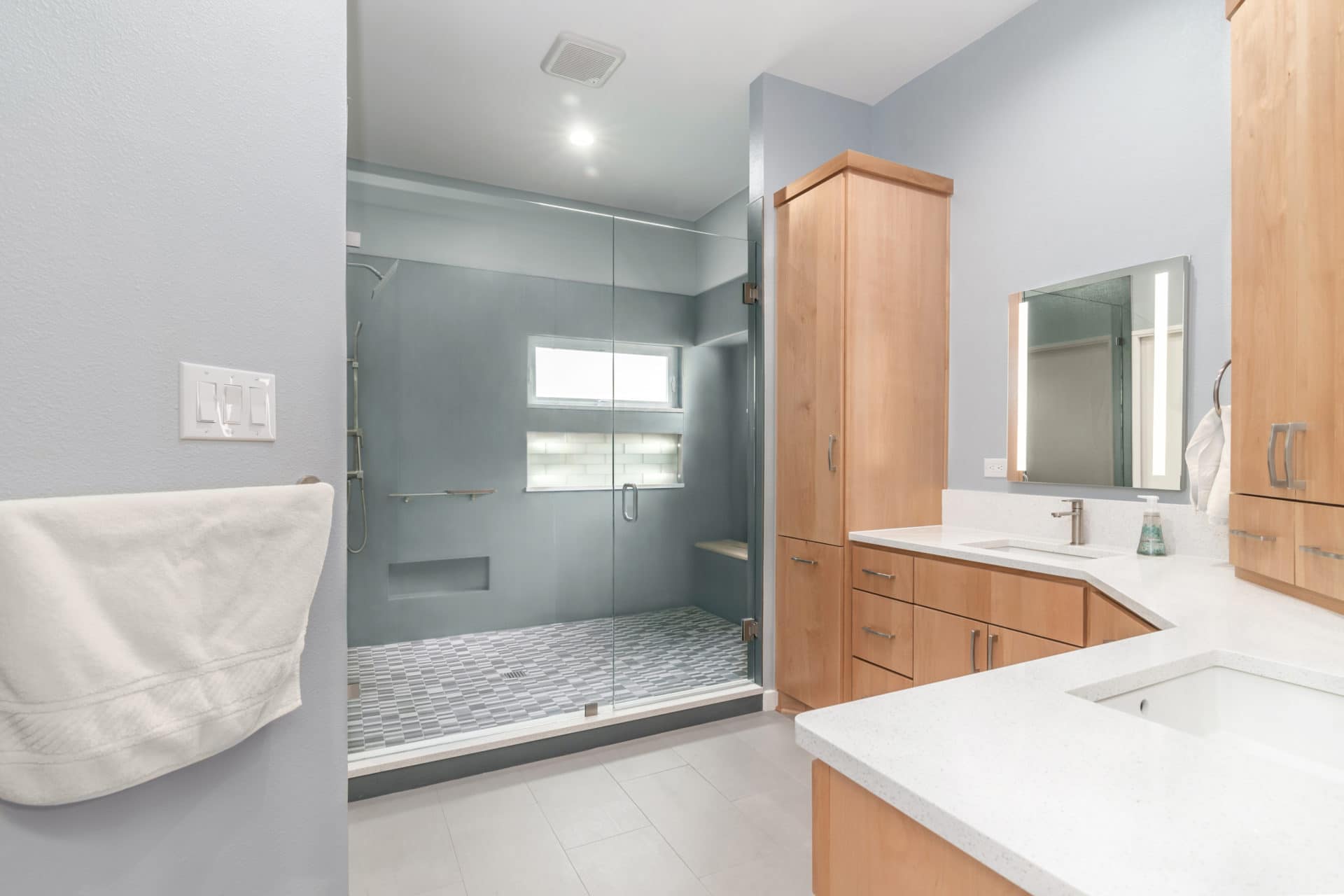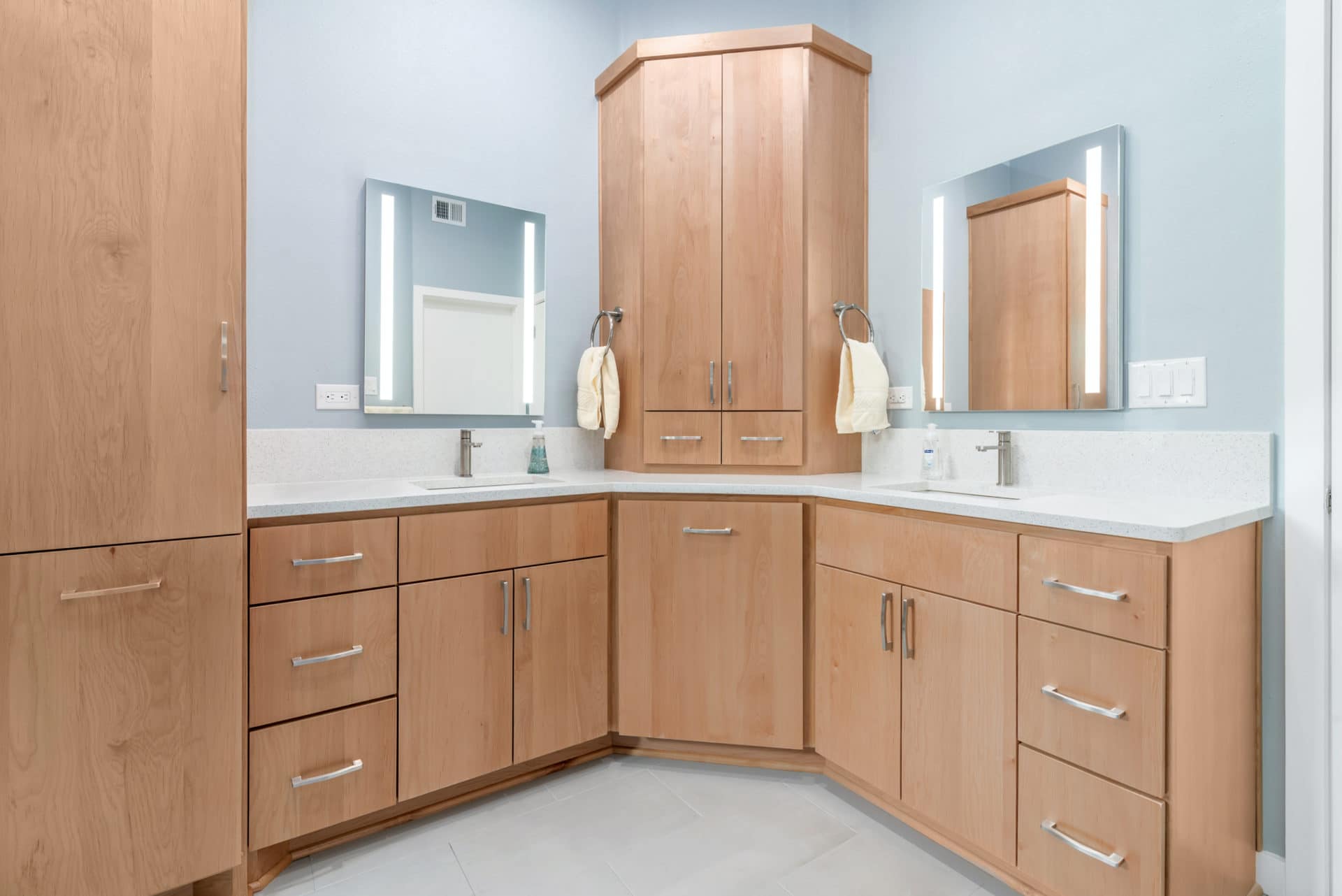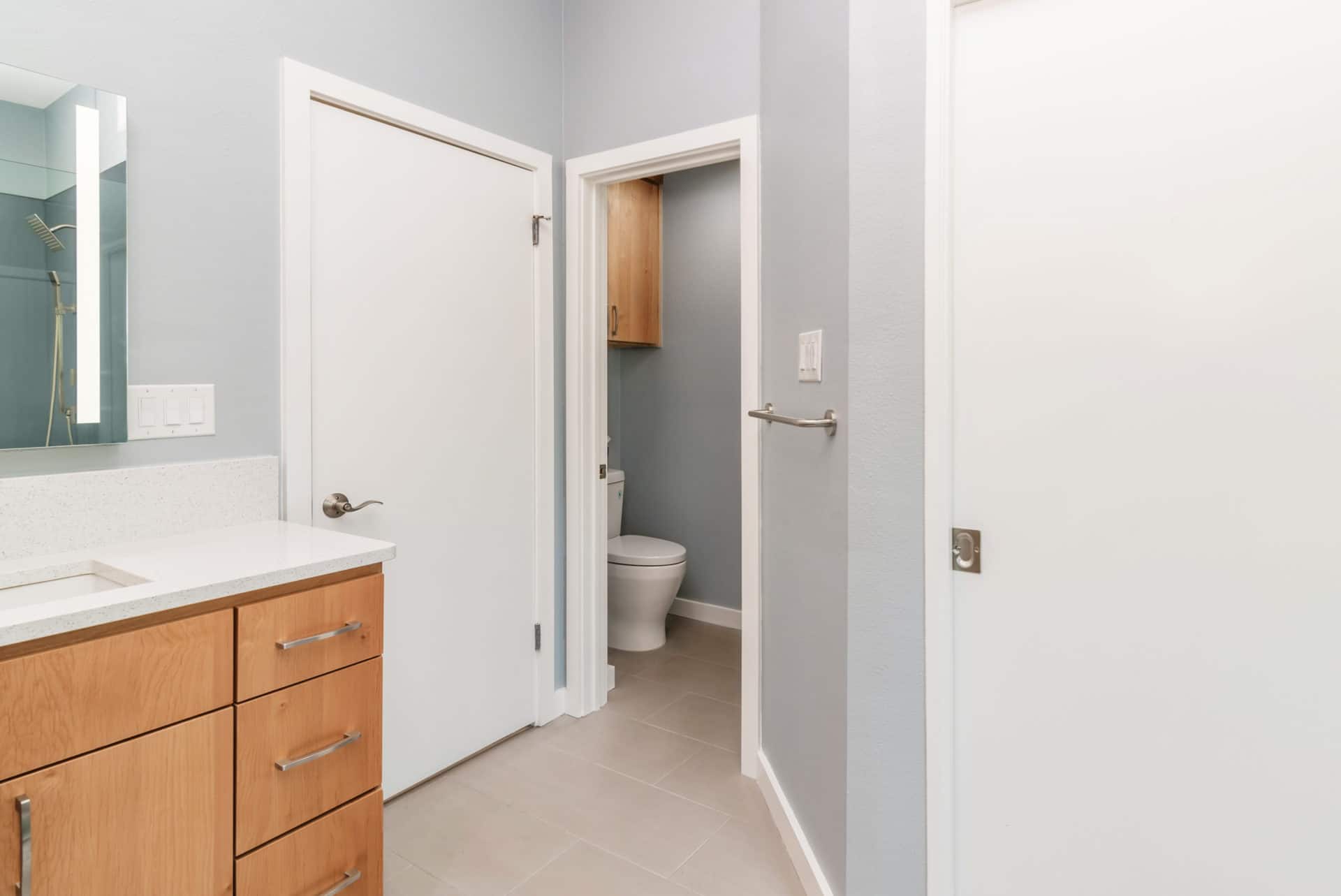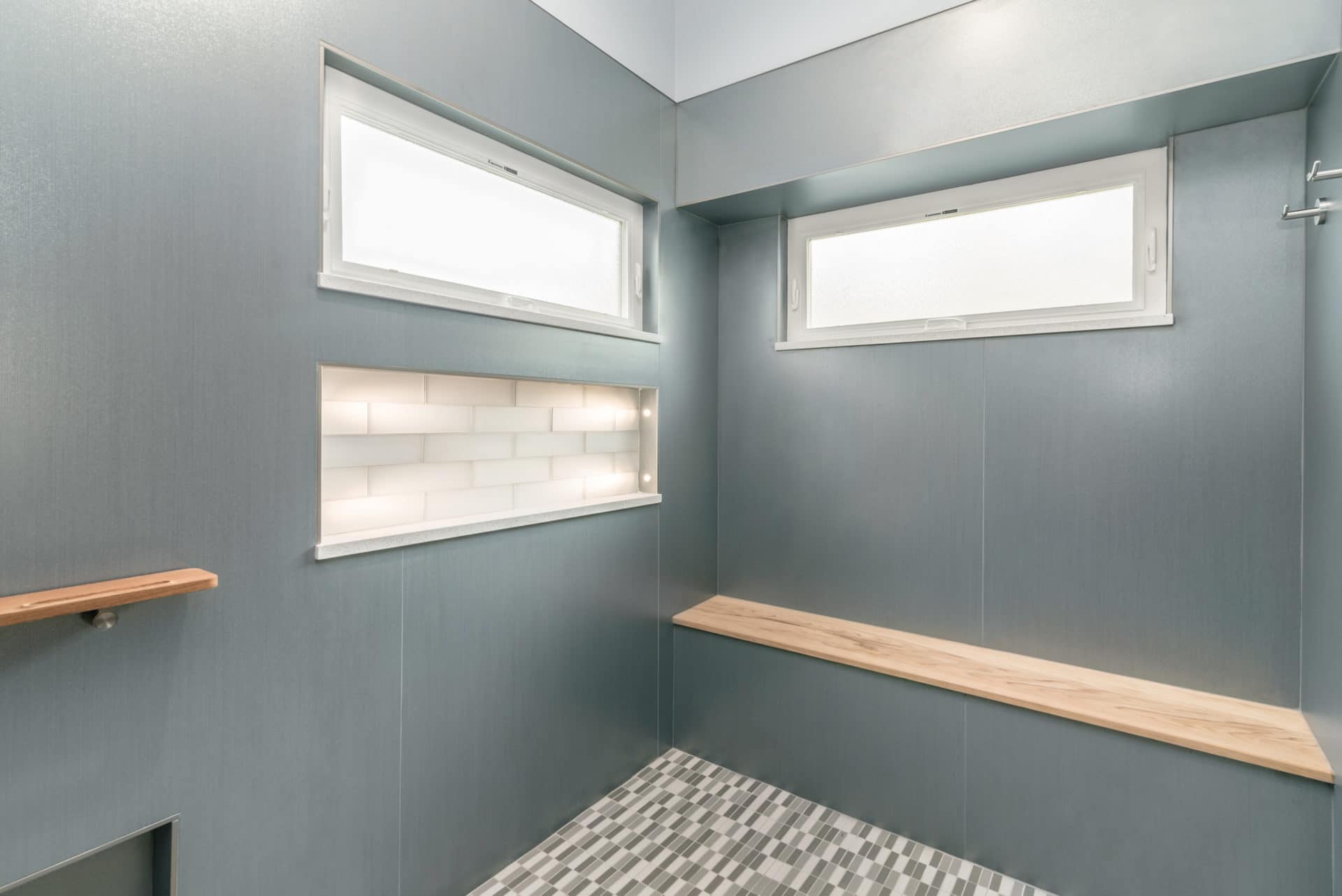 WALK-IN SHOWER
After removing a wall and the original bathtub, we built a large and luxurious walk-in shower. The renovation spotlights cool features such as niche lighting and stunning frameless glass doors. It's amazing how much brighter the room is with improved lighting and an intelligent interior design.
The custom built-in teak hardwood shower bench provides both functionality and beauty. We achieved a spa-like, zen-inspiring atmosphere with a color theme highlighted by cool greys, muted blues contrasted by the natural teak shower bench.
CUSTOM CABINETRY
We replaced the existing cabinetry with custom-built light-wood-finished shaker cabinets. Features abound with lighted mirror medicine cabinets along with his-and-hers personalized sinks. We upgraded the vanity storage by adding two drawer bases, a vanity pull-out organizer, and a pull-out trash can. These popular and accommodating features help remove unwanted clutter. Finally, we also added a built-in linen cabinet right outside of the shower for convenience.
Great Hills Master Bathroom Summary
For this Great Hills Master Bathroom Renovation, we designed and built a fabulous master bathroom updated with modern accessories, transformed the layout of the room, and created a peaceful, spa-like atmosphere. Most importantly, our hard-working client now has the dream master bathroom that they deserve.
Years Remodeling Austin, Texas
+Austin Area Homes Remodeled
+ Glowing Five-Star Reviews
#1 Home Remodeling Contractor Since 2006
Great Hills Master Bathroom Renovation
"We love our new master bathroom! The New Creations team just finished our complete master bath remodel and we're super happy. We love the work they did, and the way they collaborated to deliver what we wanted/needed on time and within budget–and before the holidays! Erin and Roy were great with ideas and discussing options. Apollo and Jose were a pleasure to be around, super courteous and very thoughtful of our home, and kept the site incredibly cleaned and organized.
Roy managed all the tradespeople to pretty concise schedules and they too were all very nice and respectful. We really love our new room and we'll definitely look to work with the New Creations team when we do our kitchen remodel."
Greene Family
Get Our Newsletter
Learn the insider remodeling secrets NO CONTRACTOR wants you to know and participate in bonus offers and NC GIVEAWAYS!