Great Hills Steampunk Kitchen Renovation
By New Creations Austin
Great Hills Steampunk Kitchen Renovation
Great Hills Steampunk Kitchen Renovation proves that your home can be as cool and funky as your personality is. One advantage of a complete custom kitchen remodeling service is you can do practically anything you can imagine.
A fun, eclectic couple wanted to build a unique, steampunk kitchen style. Their idea was creative and original. It was unlike any design we had ever done. So, our approach was to think outside of the box. We were thrilled to work with some exciting new materials and finishes.
GREAT HILLS STEAMPUNK KITCHEN OVERVIEW
The original kitchen had a nonfunctional layout. It was tight and awkward. There were large soffits throughout, and there were also several broken appliances. But our client routinely cooks for family and friends, and she spends several hours in her kitchen daily.
Our client wanted a kitchen that could inspire her, so we focused on making a small space highly functional. Of course, the beauty and uniqueness of the kitchen had to capture our client's colorful personality.
Working within the original footprint of the room, we reconfigured the kitchen space optimizing the layout for ease of movement. Now our clients have a one-of-a-kind, eye-popping steampunk kitchen to share with their family and friends.
Custom Steampunk Kitchen Design and Build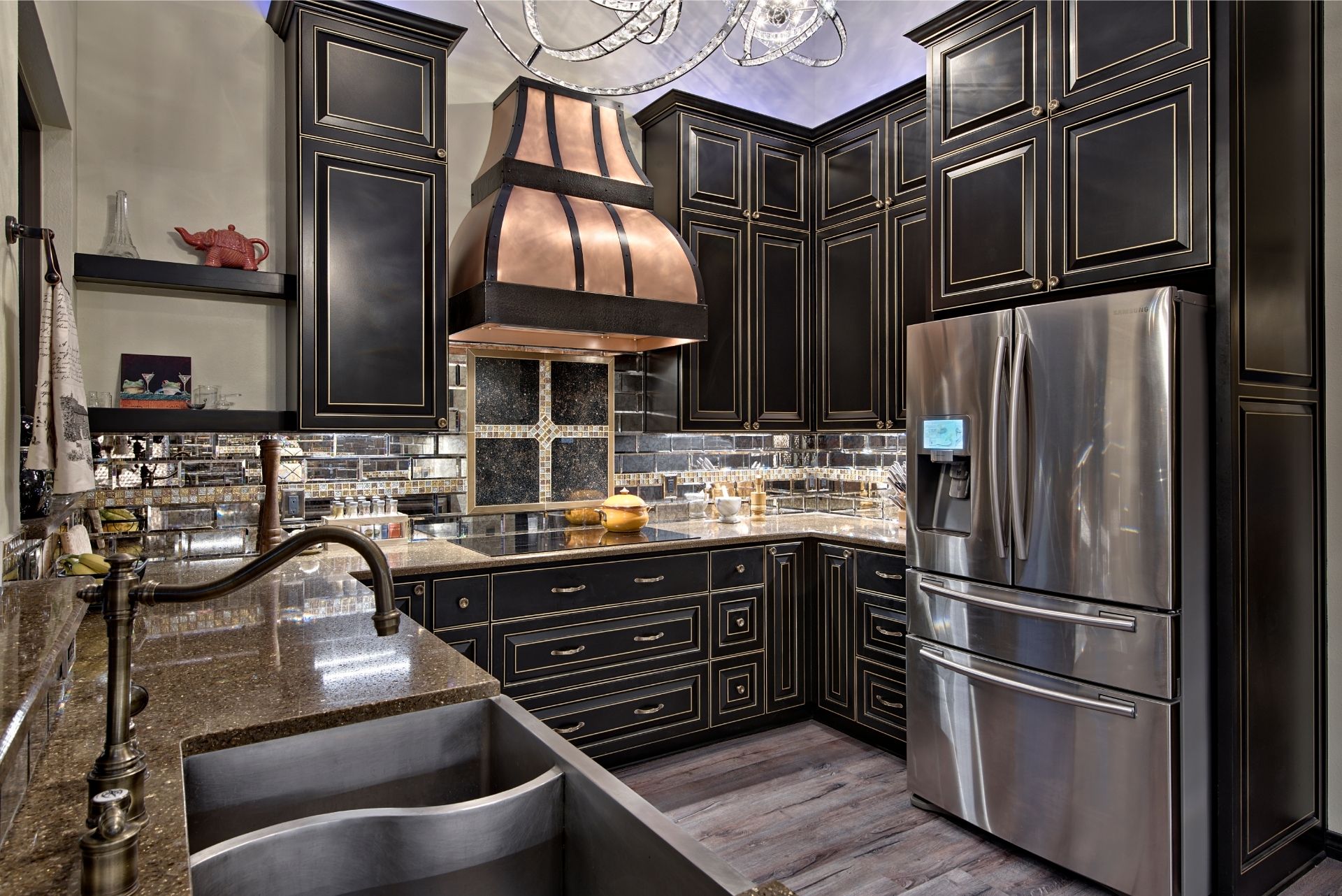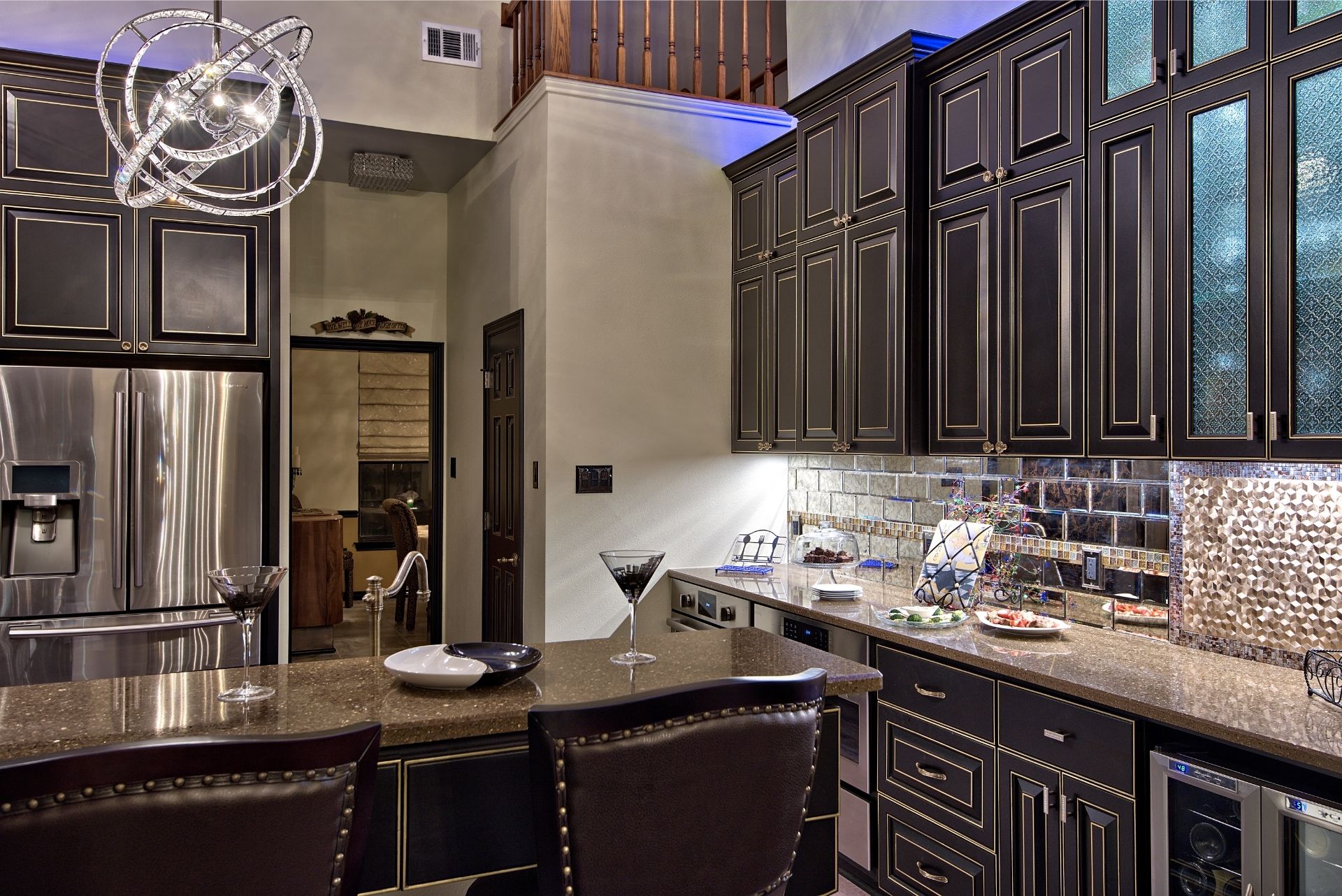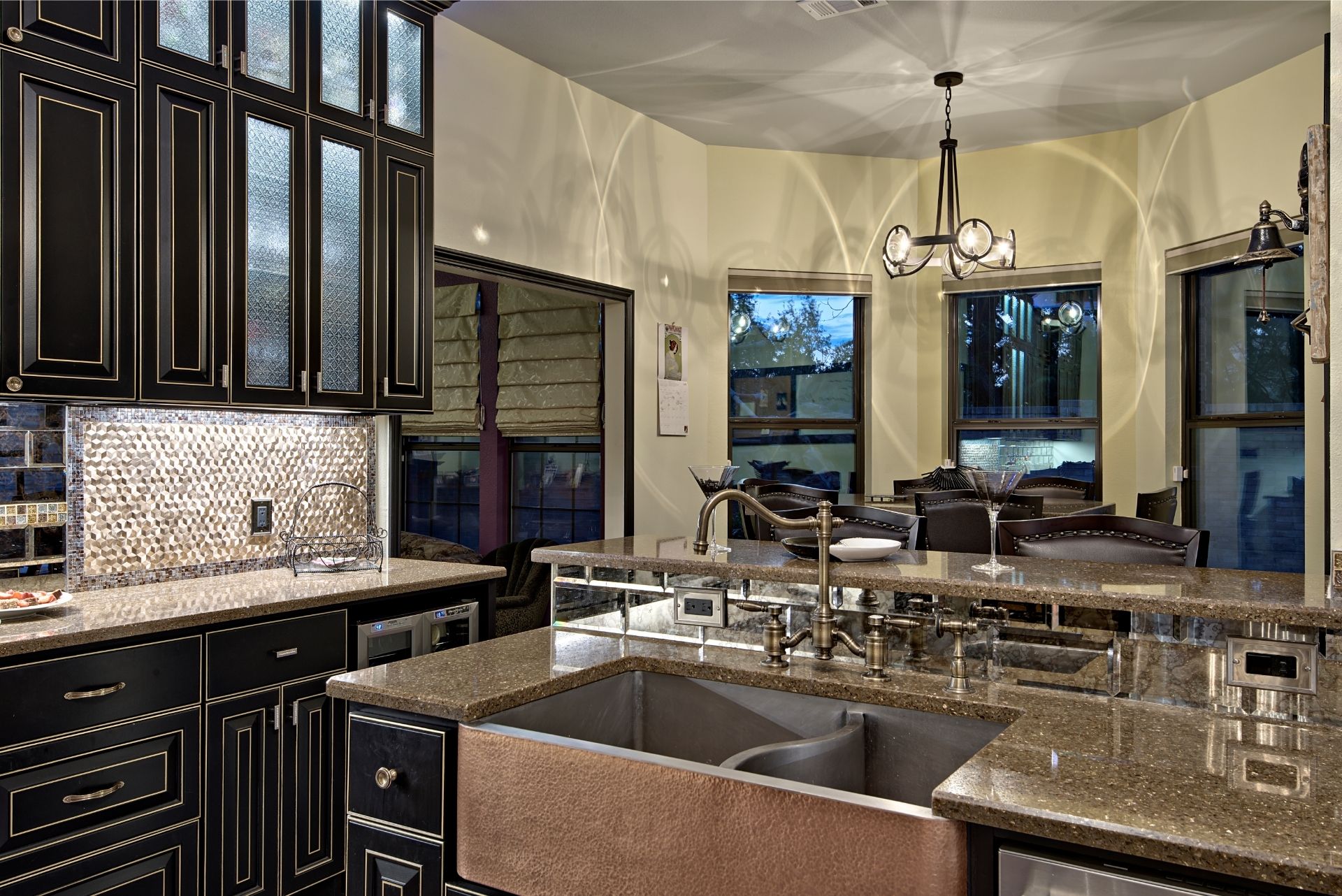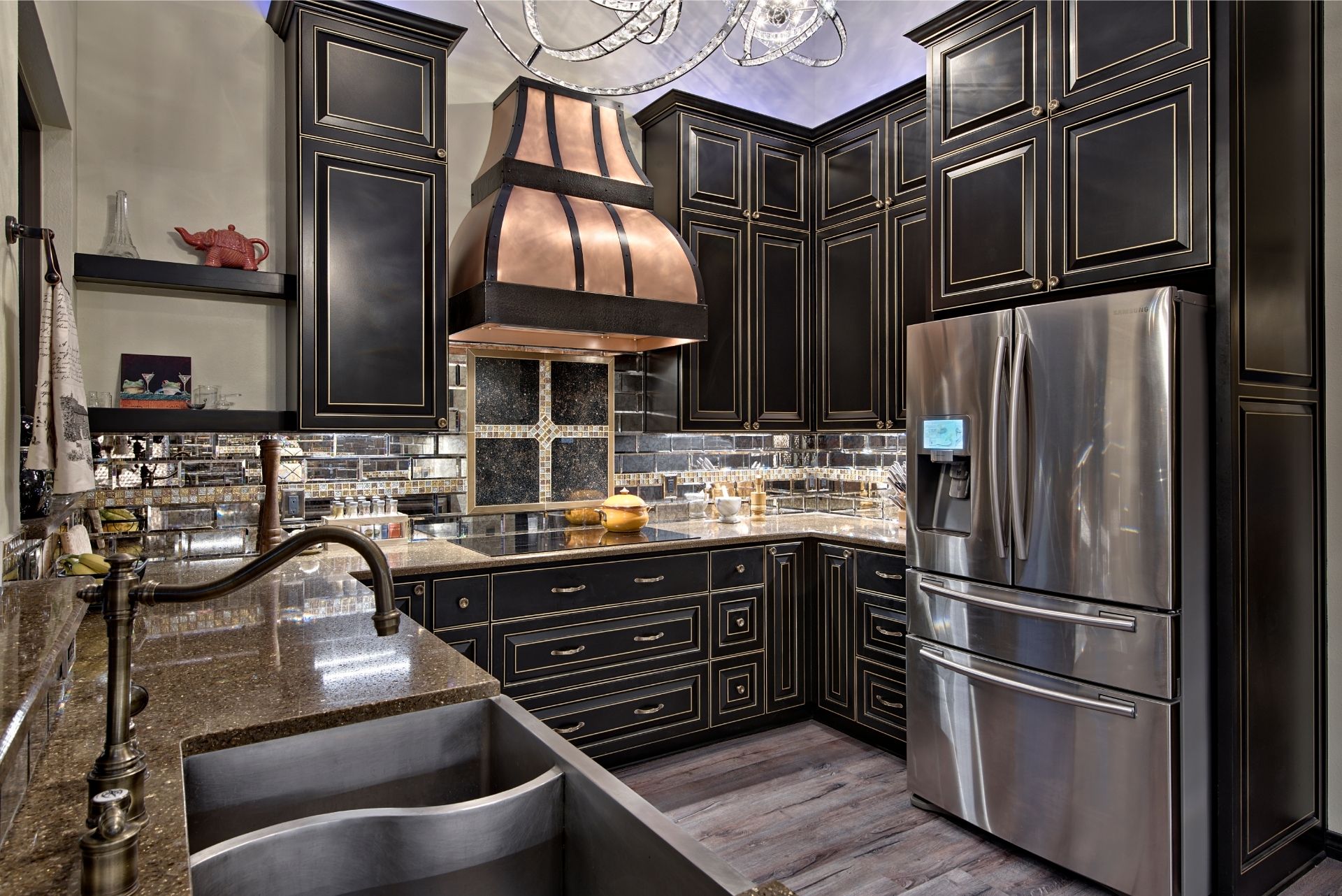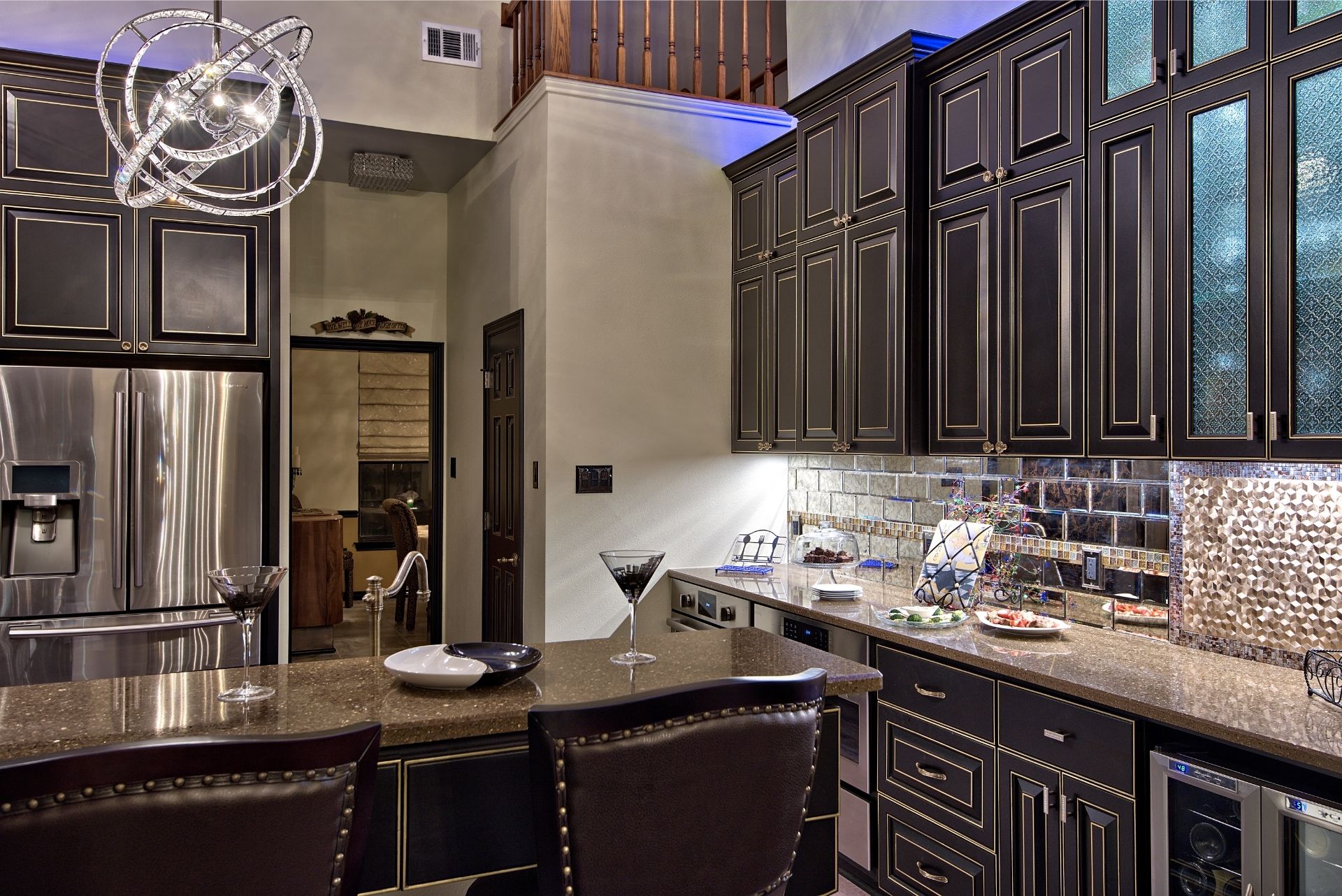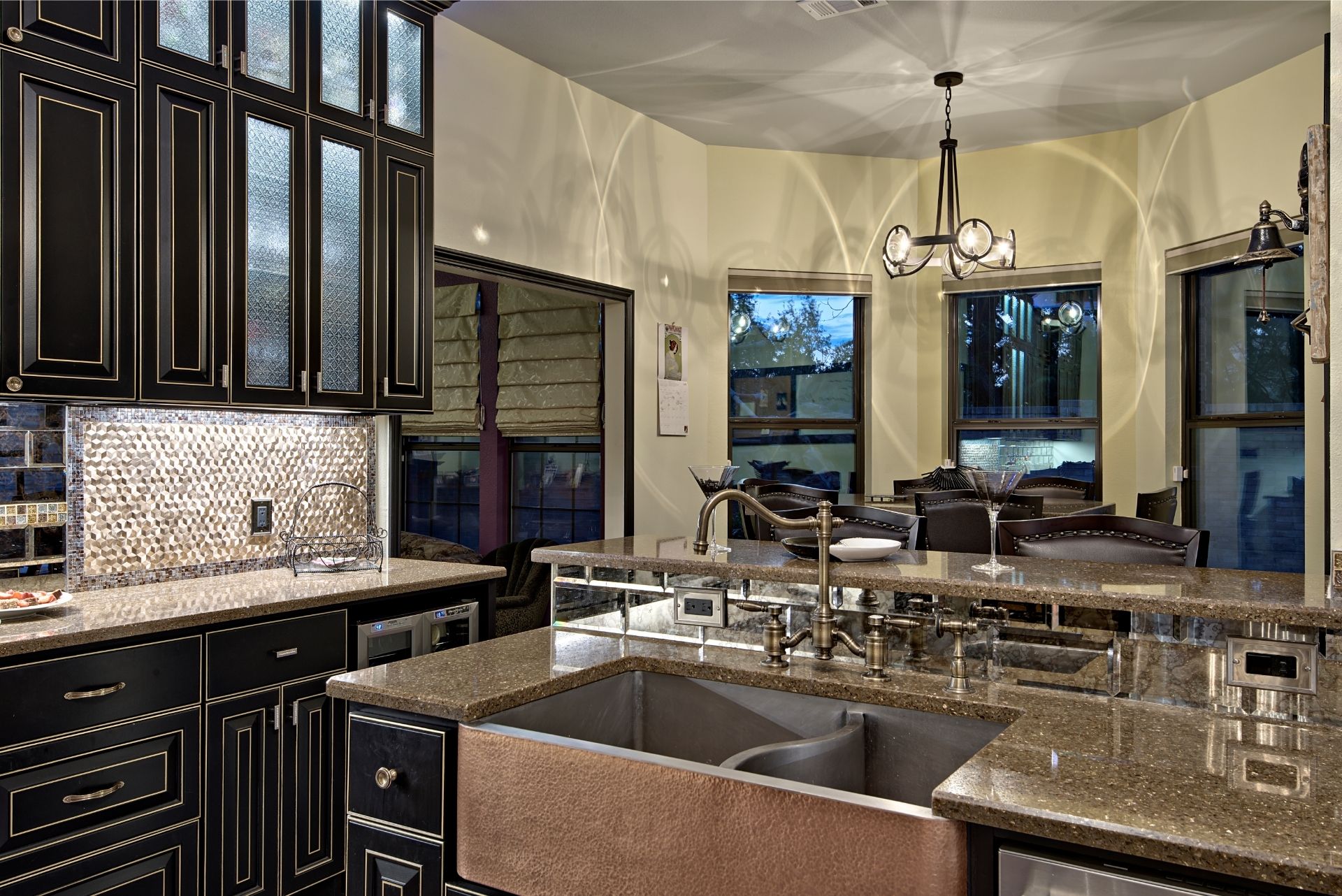 CUSTOM COPPER VENT HOOD
We worked closely with a local metal shop. We had them customize a hammered copper and stainless apron-front-sink. The same metal shop also made the accompanying copper vent hood.
MORE SPARKLE
The crystal orb chandelier further complements the theme. The kitchen features custom cabinetry in tricorn black. Notice the eye-catching, iridescent gold leaf detailing in the paneling groove of the cabinet doors.
CABINETRY
We worked with a local artisan faux painter for the cabinetry and millwork.  
We incorporated several cabinet accessories to optimize the cabinet space. The finished product presents a brilliant steampunk kitchen design with all the bells and whistles.
FLOORING
Our client worried that tile flooring would be too hard of a surface in the kitchen. Accordingly, we used durable and equally gorgeous LVT faux wood plank. We also installed it over a cork underlayment. This allowed her to get the softer flooring product she wanted without sacrificing durability.
ISLAND
Our design included a tall freestanding island/dining table. We customized it to fit in the bay window area. The peninsula/island features a cool pop-up plug built into the quartz.
SPARKLE
Our client loves brilliance, color, but most importantly, sparkle! We honored this theme consistently throughout the process. We used unique materials such as antique-beveled glass-mirrored-tiles and glittery-gold quartz countertops.
Zoom in on these close-ups and you can really appreciate our client's love for dazzling, sparkling features. She truly captured that steampunk vision and our team cherished being able to work on such a unique and creative design. Thank you, Joan!
Years Remodeling Austin, Texas
+Austin Area Homes Remodeled
+ Glowing Five-Star Reviews
#1 Home Remodeling Contractor Since 2006
Great Hills Steampunk Kitchen Renovation
"The New Creations Team really delivers a quality product! They listen to how you use your space & work to get it exactly how you want it! Even after 2 years, I still feel I am on vacation in my magical & unique Kitchen. They guarantee their work & make the whole process as painless as possible. You get what you want & even more!
Thanks, New Creations!"
Joan Stys
Get Our Newsletter
Learn the insider remodeling secrets NO CONTRACTOR wants you to know and participate in bonus offers and NC GIVEAWAYS!