Lakeway Whole-House Renovation
By New Creations Austin
Lakeway Whole-House Renovation
PROJECT OVERVIEW
This Lakeway Whole-House Renovation consists of a complete custom kitchen, a fabulous new master bathroom, and a custom kids' bathroom with a sink for each child.
A small Westlake family of four had put off their home remodeling plans long enough. The growing list of problems was overwhelming. The broken old dishwasher and the ugly 1980's wallpaper in the bathrooms were the final straw.
After our on-site consultation, we collectively decided that a whole house renovation would offer them the best opportunity to maximize the functionality of their living space and refine the ambiance of their home.
Together, we were able to manifest the home they always envisioned, and our proven process made their project as hassle-free as possible.
THE VISION
Their goal was to redesign the layout of their kitchen and bathrooms to be more open and to have a better flow. Also, they wanted to create a beautiful and expansive environment that their large family could freely move about and enjoy. Likewise, they wanted to dazzle their guests with a warm and welcoming home. 
The truth is home remodeling is exciting, but it also takes delicate planning and time. Instead of trying to renovate different sections of their house at different times, they made a wise choice—opting for a complete home remodel to upgrade every room with its unique style and a variety of smart and luxurious features.
Davenport Ranch | Austin, Texas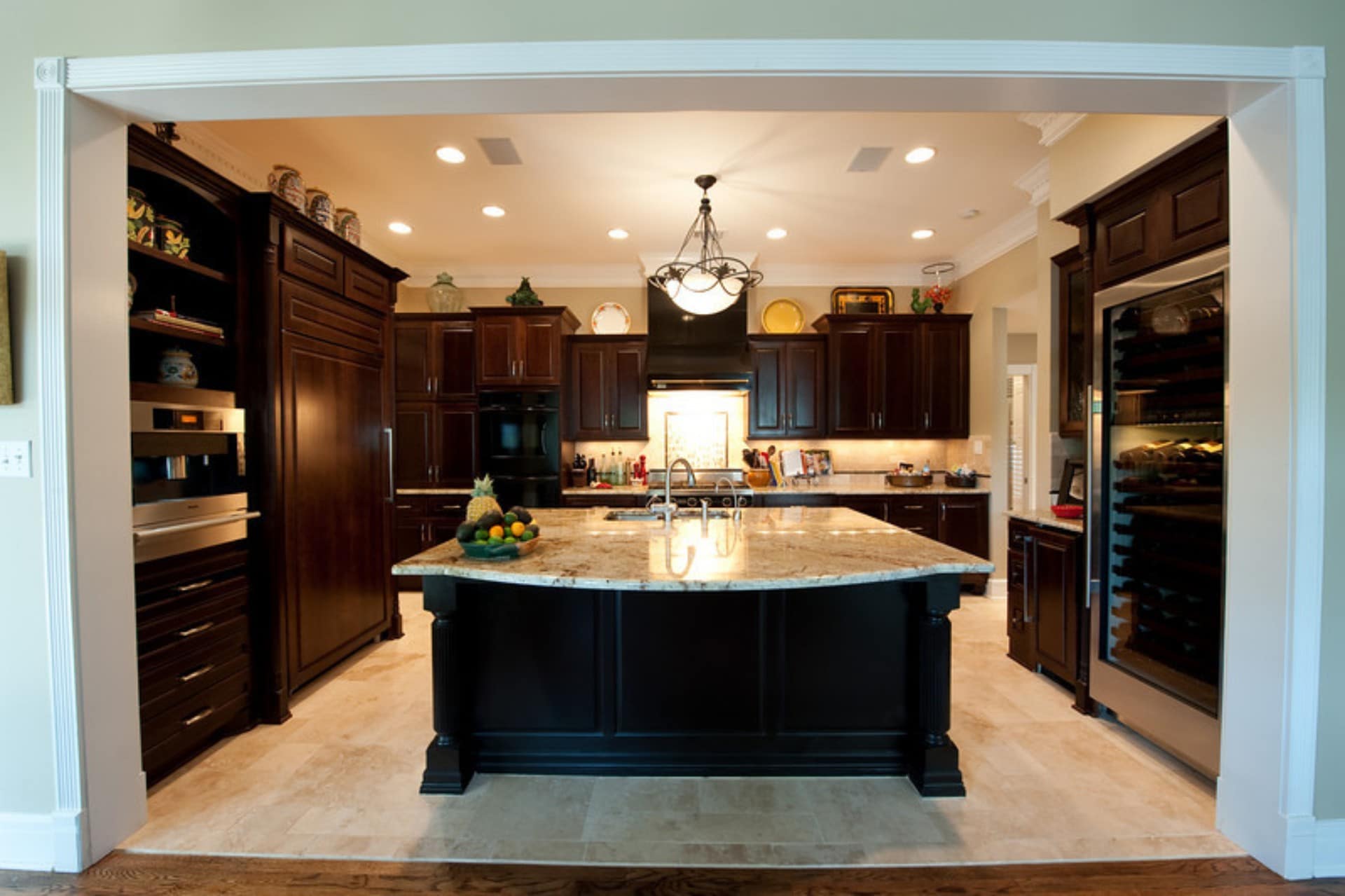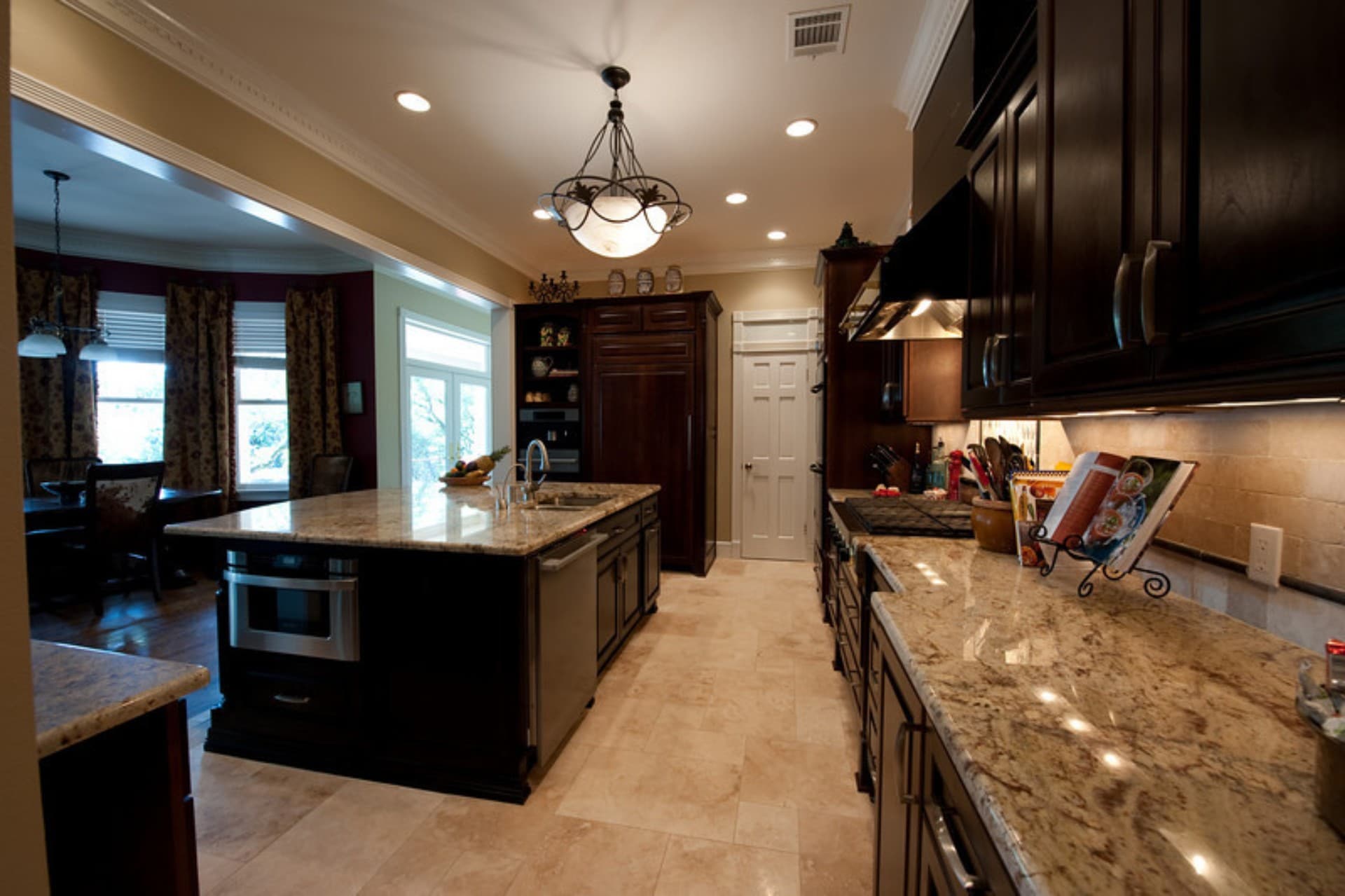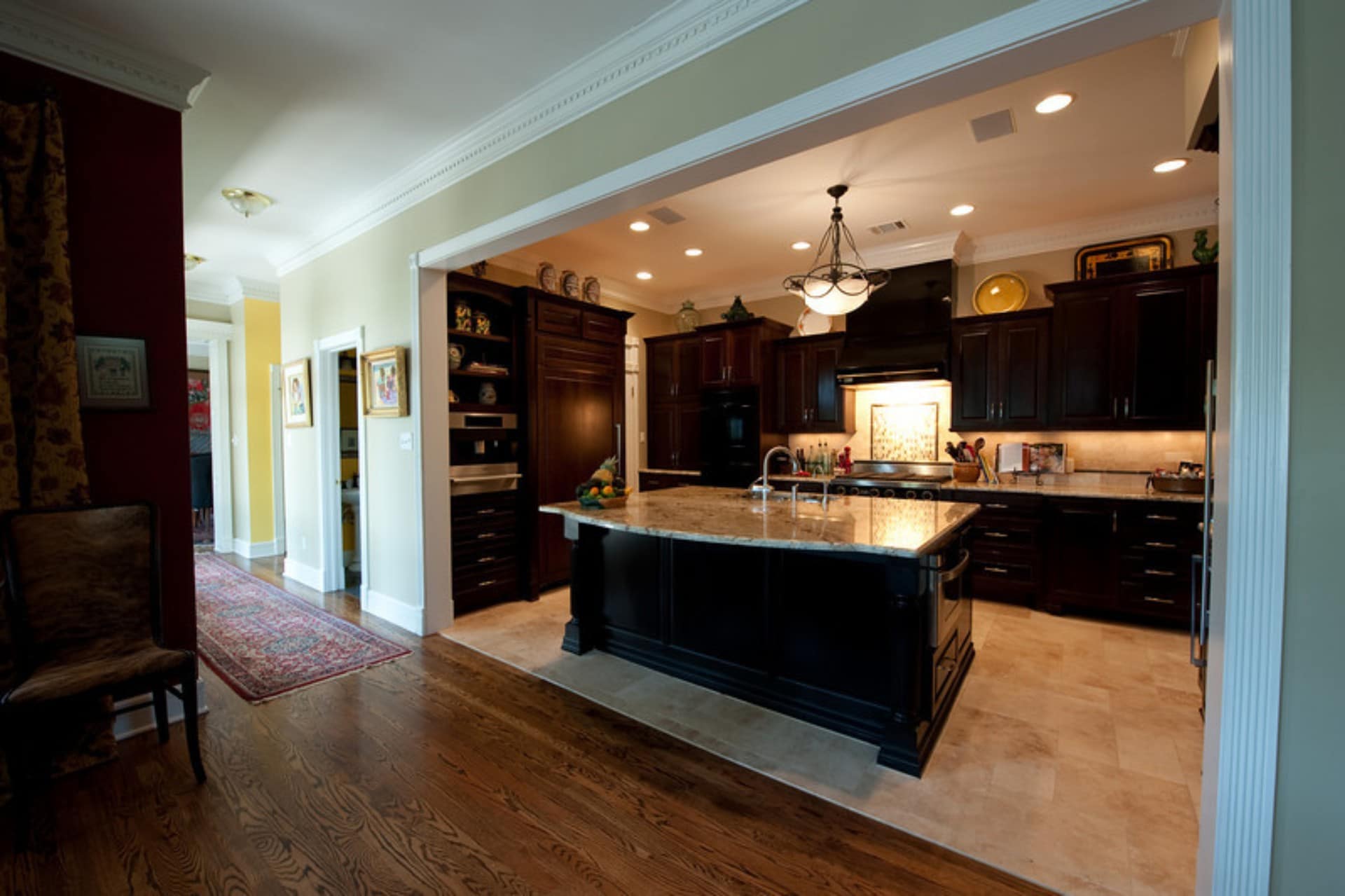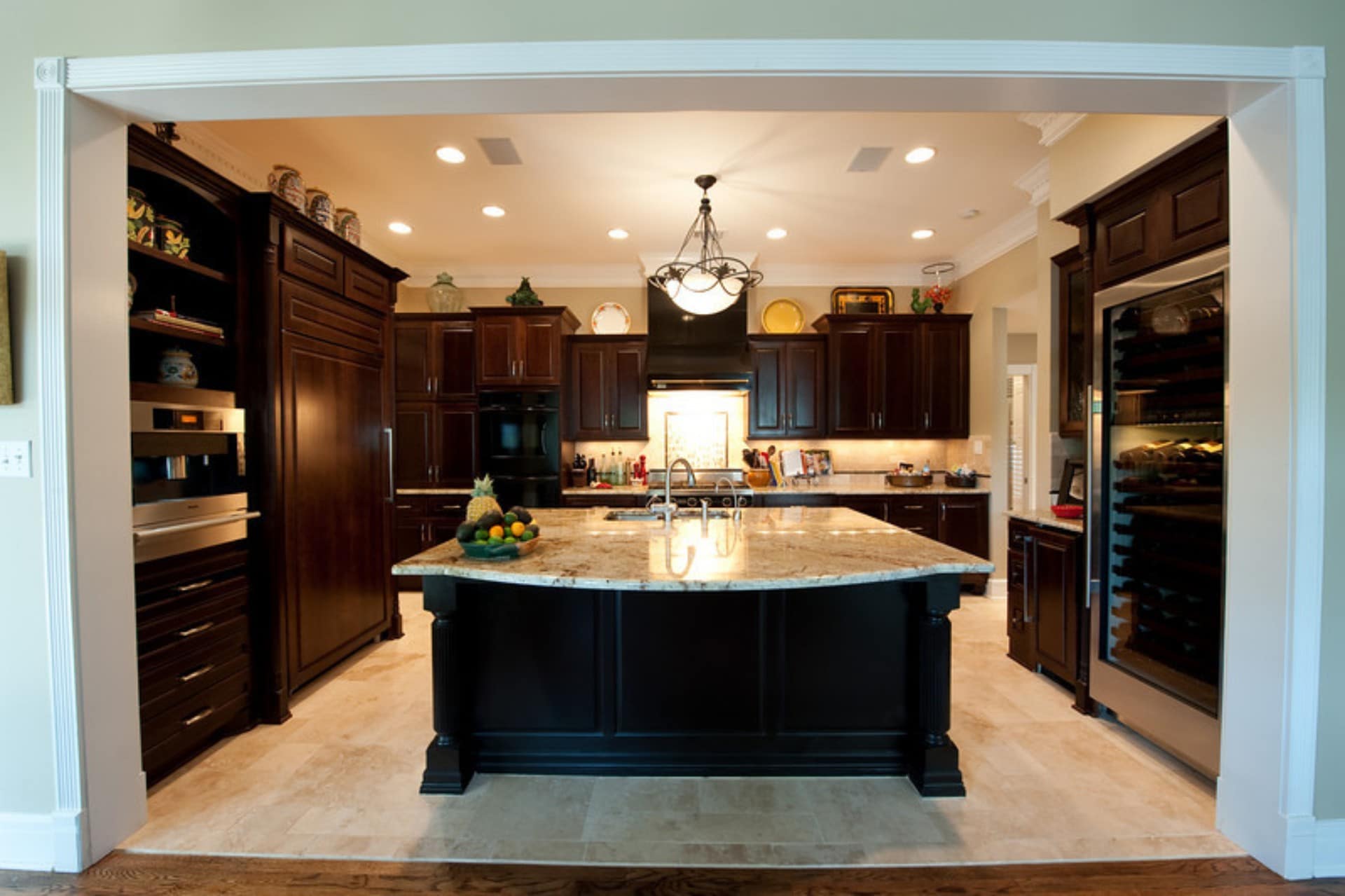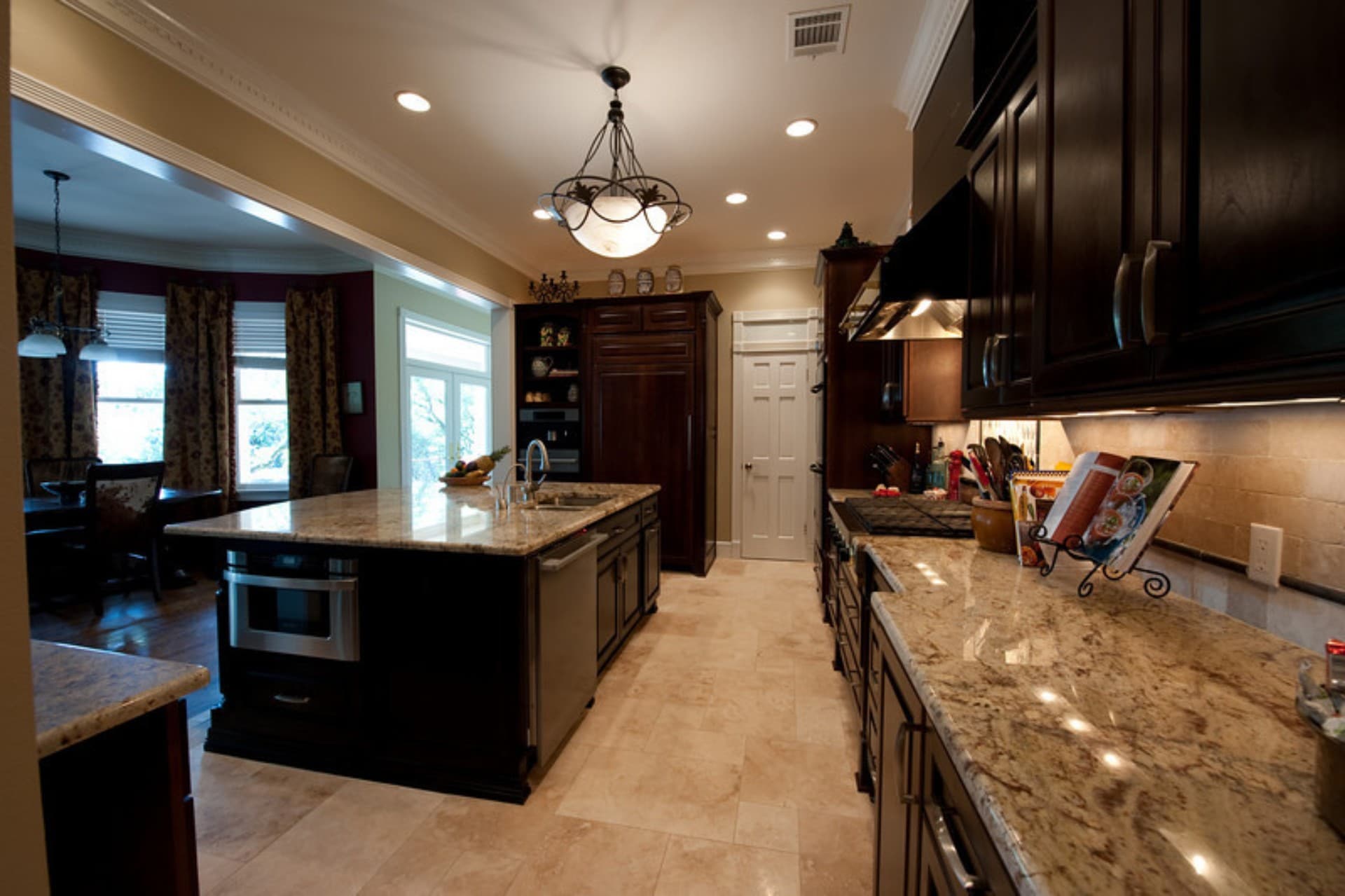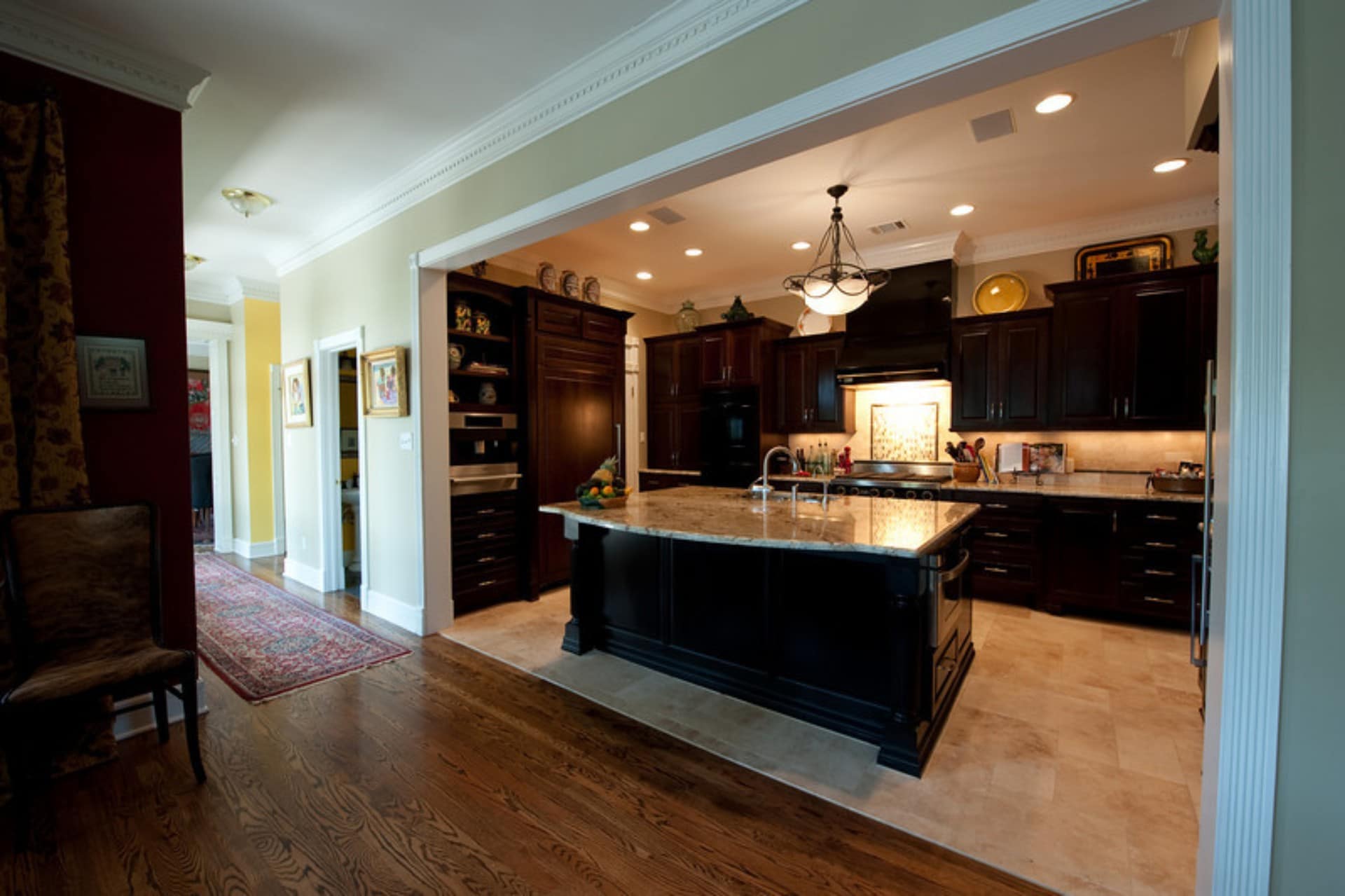 KITCHEN features
The kitchen needed a complete makeover. First, we removed the peninsula in the kitchen. Then, by adding a massive center island and opening the walkways on all sides we optimized the room. We added a breakfast bar on the backside of the island, surely an excellent feature for entertaining family and friends.
CABINETRY
Our team installed a black island that sits well against the dark cherry cabinets and Bordeaux granite countertops. Similarly, the polished decorative travertine backsplash and Versailles travertine tile flooring compliment the countertops.
The tall Thermador wine fridge that stores more than 50 bottles of red wine at 60 degrees is sure to impress the in-laws.
LAUNDRY ROOM RENOVATION
We renovated the adjacent laundry room helping to transform and update the whole house. Highlights include exotic green quartz and painted white custom cabinets.
MASTER BATHROOM RENOVATION
This luxurious master bathroom presents a classic color scheme spotlighted by dark cherrywood cabinets that reflect an old-world style. The emperor's dark polished marble with beige highlights complement the walls and cream-colored Travertine floor tiles.
SHOWER AND BATH
The sizeable oval bathtub is the center point of the bathroom. The custom-built tile deck matches the glass mosaic tile backsplash as well as the dark slate tile flooring of the adjacent walk-in shower. The dark-colored tile inserts in the floor, made from the same material as the tub deck, compliment the dark wood-stained window trim. The dual shower heads in this large, two-person frameless glass shower provide a gratifying showering experience.
LIGHTING FEATURE
The antique chandelier mounted above adds a sparkling touch of elegance to this luxurious master bath.
We moved the walls back four feet to add a custom master closet. The design provides ample shelf space and features built-in cabinetry. Another cool highlight is the sun tunnel that offers natural light.
Children's Bathroom Features
OVERVIEW
The kids' bathroom interior is designed to be fun and bright. Our client had two children so our interior designer, Erin, made sure to accommodate the facility to maximize space and functionality for two.
Accordingly, features include custom painted white cabinets, crystal quartz counters, and two mint-colored top mount sinks. The color theme and adequate lighting make the room feel cool and bright.
Lakeway Whole-House Renovation Summary
This Lakeway Whole-House Renovation project demonstrates the advantage of a whole-house renovation — you have the opportunity to uniformly remodel every aspect of your home to match your vision and needs. Specifically, you can choose complementary building materials to ensure everything matches throughout your home.
Builder-grade materials and appliances serve their purpose, but if you can afford contemporary features and upgraded appliances, you can reinvent the way your family lives with utility, comfort, and beauty.
Without a doubt, if you have the budget, a whole-house renovation is the ideal way to transform your house into your dream home.
Years Remodeling Austin, Texas
+Austin Area Homes Remodeled
+ Glowing Five-Star Reviews
#1 Home Remodeling Contractor Since 2006
Lakeway Whole-House Renovation
"Well run Kitchen Remodeling Project! – New Creations captured our kitchen remodeling business because they offered the whole package … from design inception through installation, with a key focus on customer satisfaction. Roy Faust, New Creations owner, lives and breathes his commitment to his customers, and it permeates throughout his team. We enjoyed being an integral part of the kitchen upgrade design process, making key selections of cabinet styles/wood/finish, backsplash tile, inserts, and hardware in the New Creations' design center. One of the most rewarding parts of the design process was selecting the granite slabs at Pacific Shores and meeting with New Creations designer, Julia, and Summit Stoneworks manager, Sam, to jointly lay out the pattern of the kitchen countertops on the actual granite slabs. Our New Creations project was managed with an online project scheduling tool that was very useful, and any detailed information requests were responded to promptly by phone and email.
As with many home construction projects, we had a couple of issues pop up. Roy and his team (with a special note to his project manager, Troy) were professional and responsive. Issues were resolved in a timely fashion and the focus on making us happy with our project was always at the top of their list.
Also worthy of note, is that there were several subcontractors used on our project that were true artisans. We were particularly impressed with Summit Stoneworks, who effortlessly put final touches and edges on the granite during the install to make it fit perfectly. Additionally, Greg Olson and his team did a wonderful job of working with us to design, construct and install a beautiful, new family room media cabinet. Impressive workmanship!
There are always ways to improve a team, and in this case, I would recommend having the project manager get involved earlier. It would be beneficial to have the project manager start engaging during the tail-end of the design process so that there is no gap in the flow of information from the design process to the installation phase of the project. 
Additionally, we had a gap in our schedule between the demolition of our kitchen to the start of the construction phase, so I would recommend "tightening up" the schedule to eliminate this inconvenience to the customer.
We are very happy with our beautifully remodeled kitchen, and would recommend New Creations to anyone interested in a well-run home remodeling project!"
McCarty Family
Get Our Newsletter
Learn the insider remodeling secrets NO CONTRACTOR wants you to know and participate in bonus offers and NC GIVEAWAYS!