North Buttercup Creek Multi-Room Renovation
By New Creations Austin
North Buttercup Creek Multi-Room Renovation
PROJECT OVERVIEW
Sometimes you think about getting a new kitchen and it escalates into a multi-room renovation. That's exactly what happened on this project.
NORTH BUTTERCUP CREEK MULTI-ROOM RENOVATION
These clients love to cook, entertain, and host large parties. But their kitchen was small and outdated. They knew that it was time to optimize their home with a fully updated custom kitchen. They have a large family including two huge dogs.
We knew we had to design a unique custom interior to accommodate their lifestyle, but our clients not only need an accommodating kitchen, but they also wanted to take the festivities outdoors. So, the design plan also included upgrading the backyard exterior.
They had an awesome outdoor grill and mini bar ready to go, so we set out to transform their backyard into the epic gathering place for family and friends that they envisioned.
Our team laid new patio tiles, installed new siding, and remodeled the external fireplace with new stone to match the patio tiles.
North Buttercup Creek | Cedar Park, TX
Multi-Room Design and Build Plus Backyard Exterior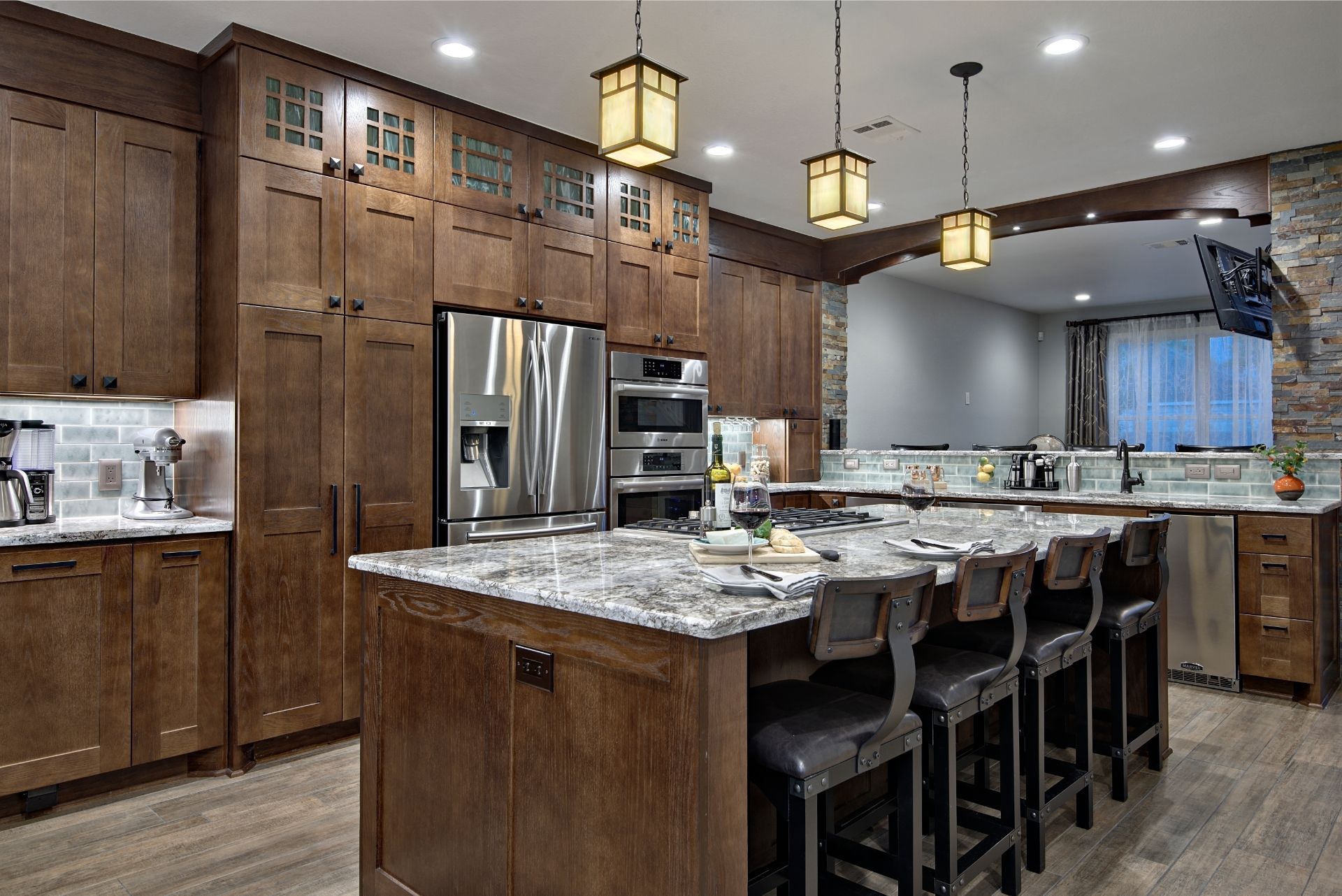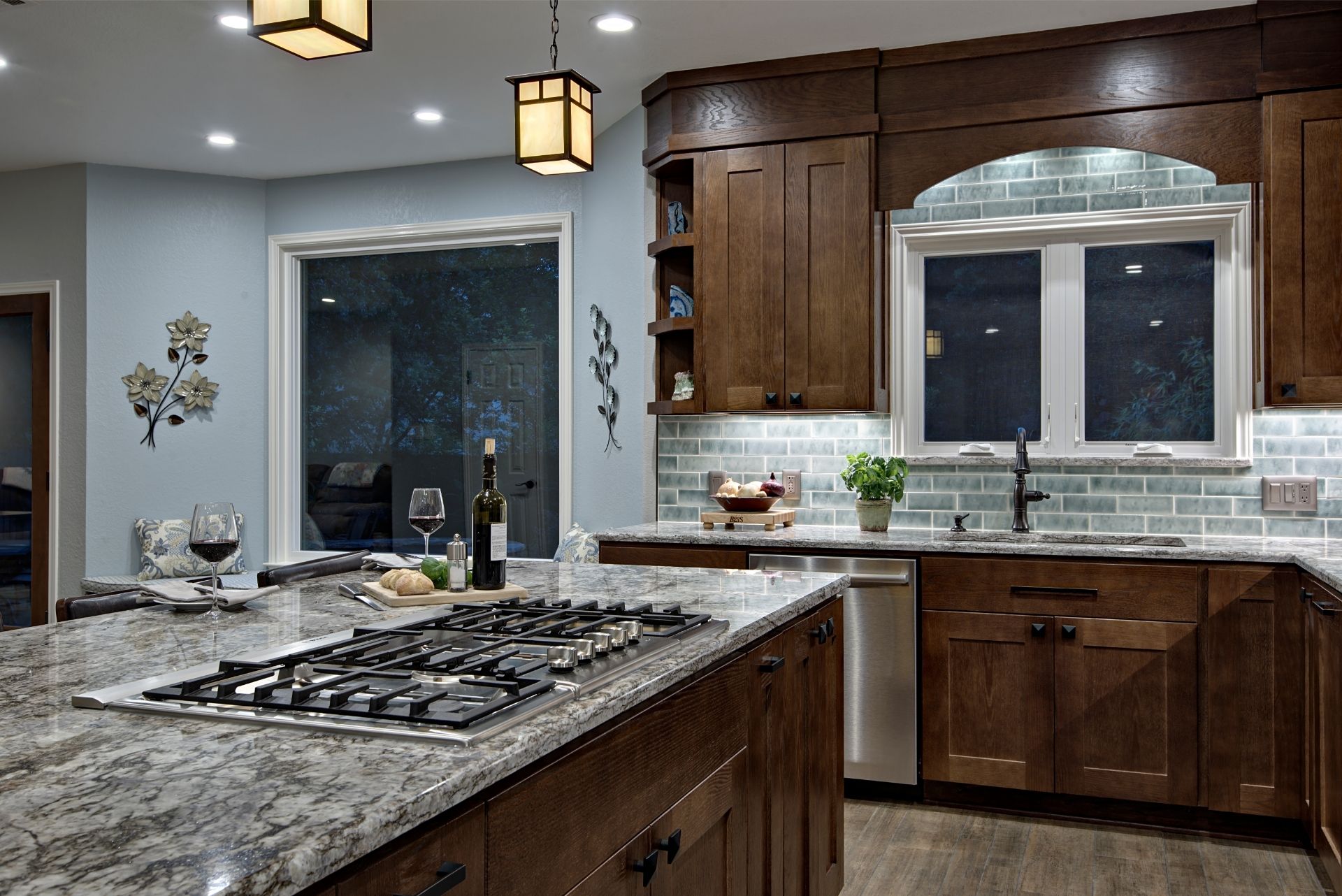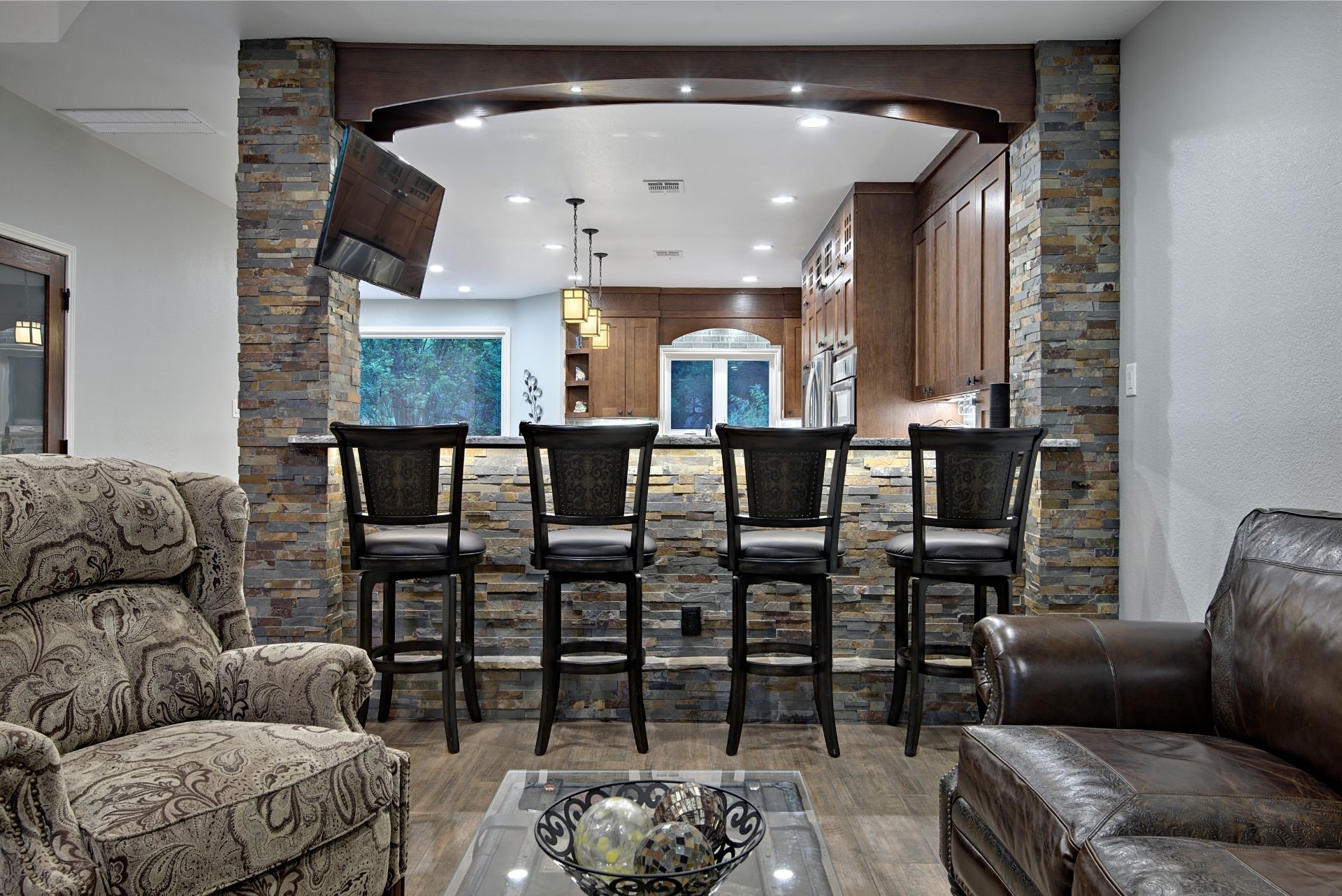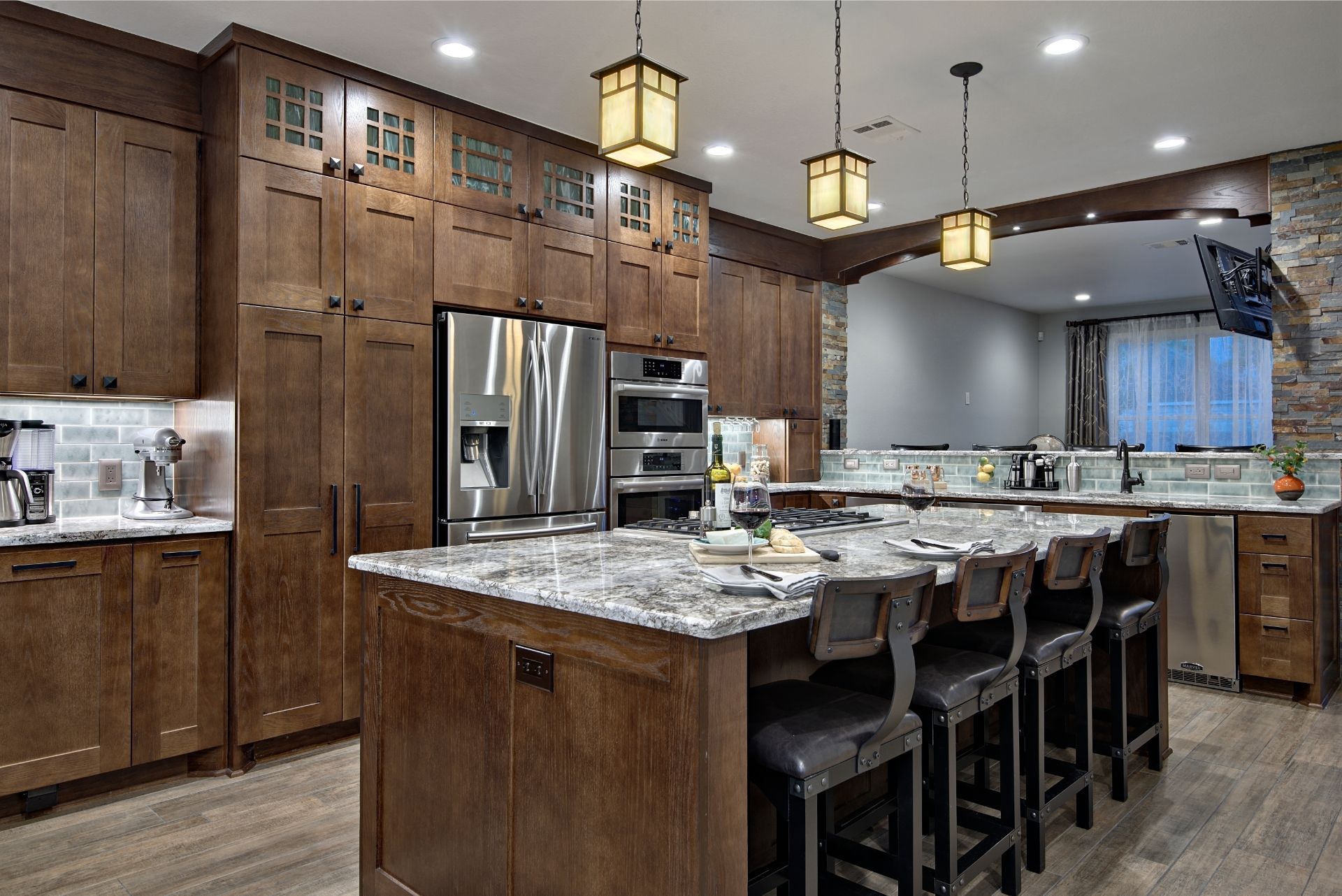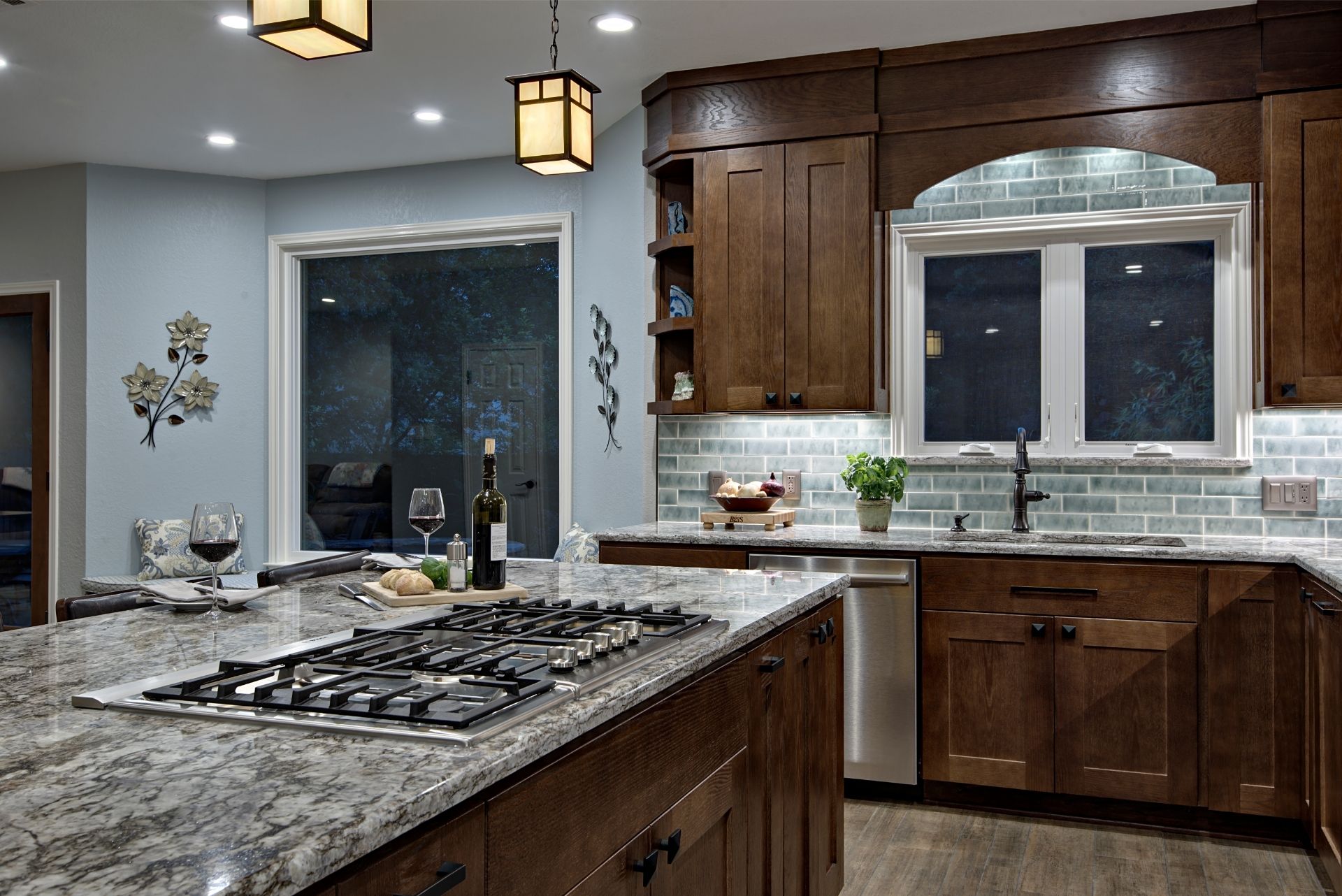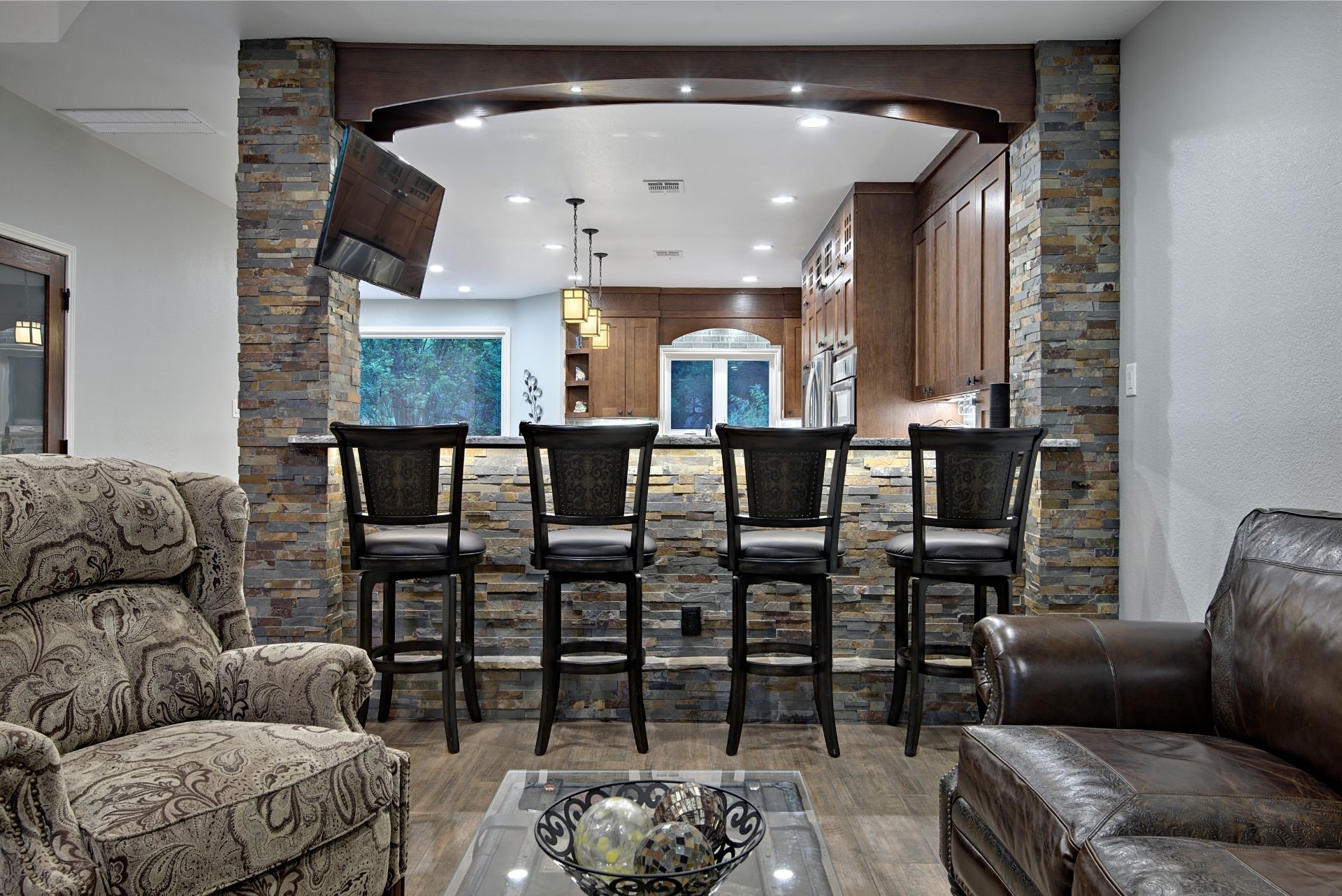 Kitchen and Family Room Features
KITCHEN RENOVATION
Our clients rarely used their dining room. The wall between the kitchen and dining room impeded the flow of the space and created a stale environment. So, we removed the back wall—transforming the kitchen and dining room into one harmonious gathering area.
In addition to removing the barrier to absorb the formal dining room, we also removed a built-in pantry to create the spacious chef's kitchen their family desired.
At the center of the kitchen sits an enormous island/breakfast bar builtaround a 36" gas cooktop with a heavy-duty downdraft pop-up vent.
The massive island also provides endless countertop workspace.  Our veteran team made sure to leave ample space around the island to promote ease of movement throughout the space.
KITCHEN HIGHLIGHTS
The kitchen highlights include beautifully finished custom-built cabinetry with gorgeous backlit glass-front cabinets and stunning marble countertops. 
We maximized storage with large pantry cabinets while optimizing functionality with pull-out organizers, a hands-free trash can pull-out drawer, and pull-out drawers for pots, pans, and cooking utensils. 
Additionally, we created a sizeable stone-front bar area complete with a bar sink, double beverage centers, and an ice maker.  The built-in bench seating in the bay window breakfast nook offers a nice touch.
Staircase/Mini Office
Our clients wanted to make sure the staircase to the side of the kitchen complimented the look of the kitchen interior for this multi-room renovation. They also wanted to take advantage of the small nook under the staircase.
We constructed a custom, built-in desk area to utilize the space under the stairs. Then, we finished off the renovations by refacing the railing and the base of the staircase to complement the kitchen's aesthetic.
The result is a luxurious custom interior that will make our clients happy for years to come.
Bay Window Transformation
Our clients were tired of the old dining table sitting by the bay window. They were ready for a fresh new look and no longer need an extra table. After all, we just opened up the kitchen and original dining room into one open room. The interior design plan intended the new, opened-up kitchen and dining area to be the focal point of their home where family and friends would gather for meals and passing time.
Our designer, Erin, worked with our clients to transform the space creating a beautiful bay bench. We maintained their home's original footprint while making their living area interior work cohesively with their new custom kitchen—all while improving their home's beauty. 
The dark stained wood finish of the bench complements the kitchen cabinetry. The custom stitched light blue bench cushions create a wonderful contrast against the dark wood finish while matching the interior wall paint.
We included some handy drawers underneath the bay bench seats to create more convenient storage space and maximize utility.
A massive sheet of tinted glass encased with classic white molding helps control the lighting, providing a glimpse into their fabulous custom design exterior without the need for curtains or blinds. The result is stunning.
EXTERIOR RENOVATION FEATURES
As I mentioned, the plan was to create a home that is fully equipped to entertain family and friends inside and out. Our clients love to take the party from the kitchen to the back patio, taking advantage of the warm Texas weather.
So, it was imperative to make sure the back patio exterior design would accommodate their lifestyle. We made sure our client's guests would be impressed.
Our team laid eye-popping stone patio tiles and remodeled the external fireplace to complement to look of the fireplace interior. See the images below to see how the interior and exterior stonework incorporate the same color scheme.
INTERIOR/EXTERIOR FIREPLACE FEATURES
The stone patio tiles match the stonework and siding, tying everything together and creating a beautiful and accommodating backyard playground that comes equipped with a custom outdoor bar and mini outdoor kitchen.
Remember, our client's goal was to create a seamless transition between their kitchen interior their patio exterior, one of the reasons they opted for a whole-house renovation. As you can see, that is exactly what our team accomplished.
NORTH BUTTERCUP CREEK MULTI-ROOM RENOVATION SUMMARY
In the end, we achieved exactly what our clients had envisioned for their multi-room renovation, a warm and accommodating home that was capable of entertaining family and friends with a highly functional kitchen interior and a spacious backyard patio with all the bells and whistles.
Years Remodeling Austin, Texas
+Austin Area Homes Remodeled
+ Glowing Five-Star Reviews
#1 Home Remodeling Contractor Since 2006
North Buttercup Creek Multi-Room Renovation
"Roy and his team not only designed and built us a beautiful kitchen, but remodeled our entire bottom floor to include two living rooms, breakfast nook, and small bathroom. Additionally, his team coordinated new windows for the entire house, siding, and a lot of rock work. Oh, and they remolded my husband's garage. Apolo, Erin, Roy, and the entire New Creations team were fantastic, professional, clean, on time, and within budget.
I have nothing but positive things to say and we look forward to our next remodel with New Creations.
Oh yeah, they re-did my staircase and built me a desk under my stairs.
Amazing work."
Cyrus
Get Our Newsletter
Learn the insider remodeling secrets NO CONTRACTOR wants you to know and participate in bonus offers and NC GIVEAWAYS!