Northwest Hills Master Bath Renovation
By New Creations Austin
Northwest Hills Master Bath Renovation
NORTHWEST HILLS MASTER BATH OVERVIEW
The original master bathroom was highly inefficient and broken up into several awkward spaces. The lighting was lacking, and the room felt a bit cavernous. Our clients wanted to completely overhaul the room and understood a complete bathroom renovation was the only solution to get what they wanted.
Our team needed to make major changes in the overall layout to optimize the aesthetic, functionality, and storage potential of the room.
BIGGEST PROBLEM
The biggest obstacle was that the tiny space of the room was limited. However, our veteran team faced this problem before, and together with our clients, we came up with the perfect interior design to maximize the available space and improve the lighting.
We completely demolished the room and started over from scratch with a smart design and all-new layout. They decided to relocate the vanity to open the room up. With the extra space we created, our team enlarged the shower area to make the room more accommodating.
The result is inspiring. Our clients have an intelligently designed master bathroom that makes up for limited space with amazing lighting, modern functionality, and a sizeable walk-in shower.
Northwest Hills | Austin, TX
Master Bath Design and Build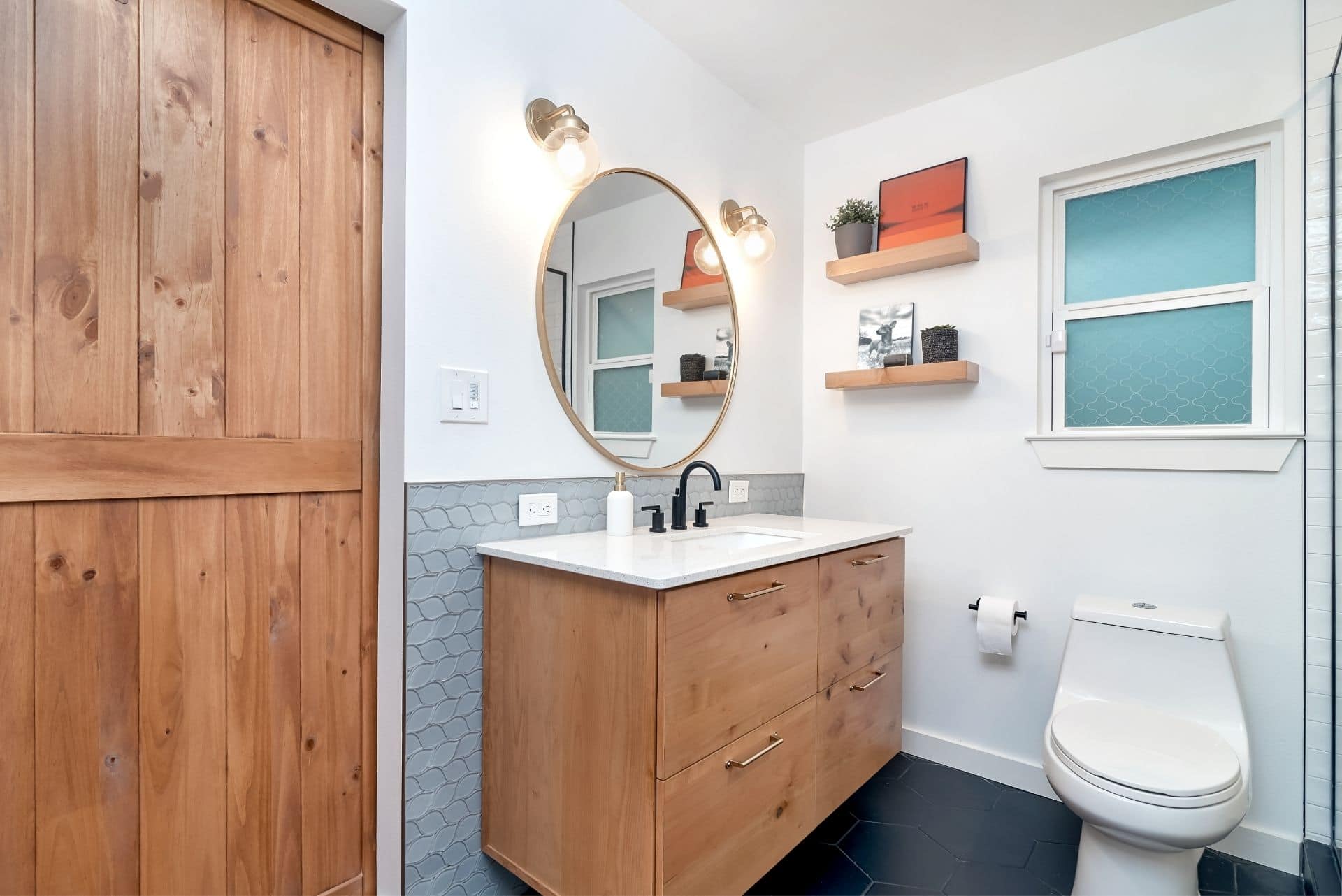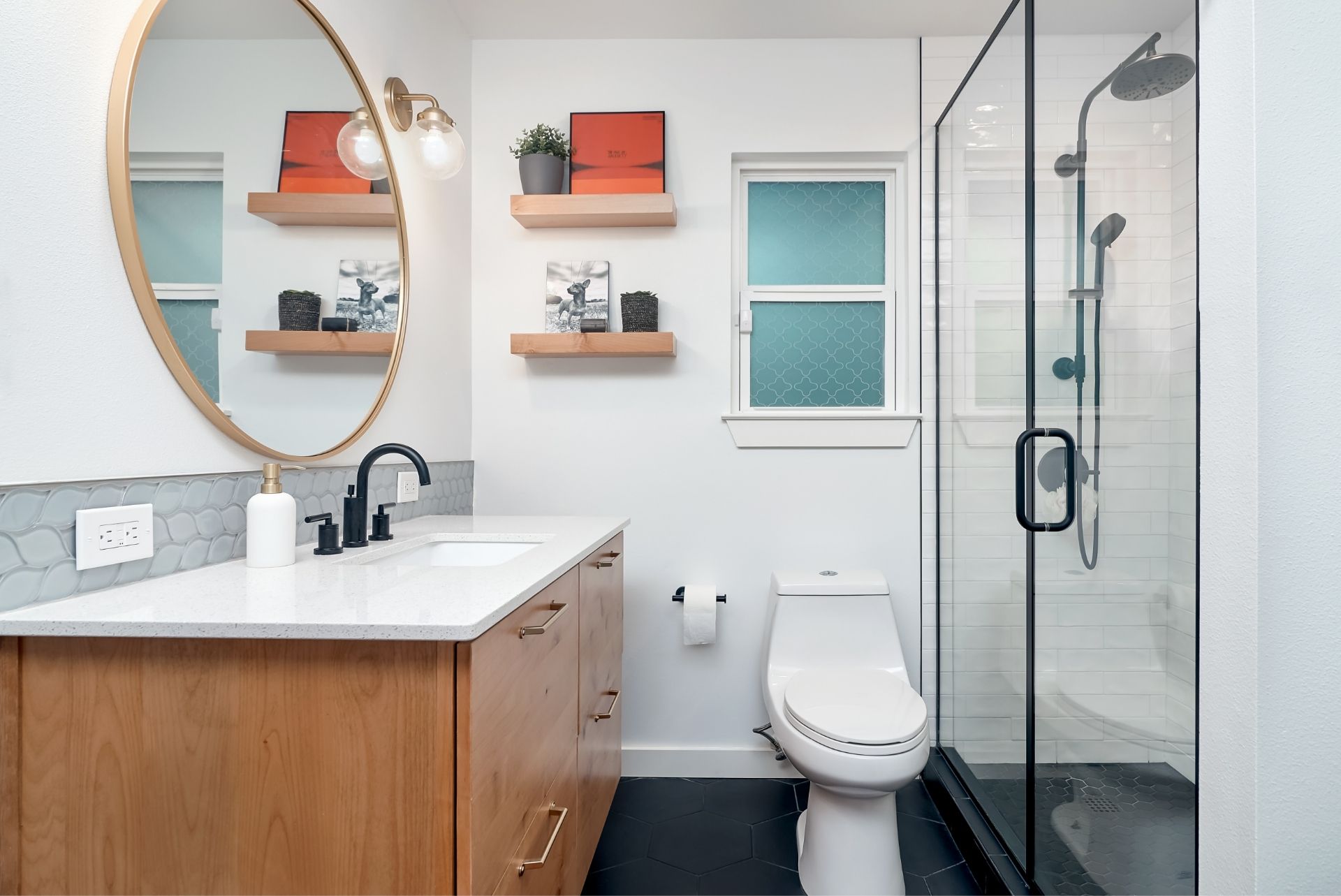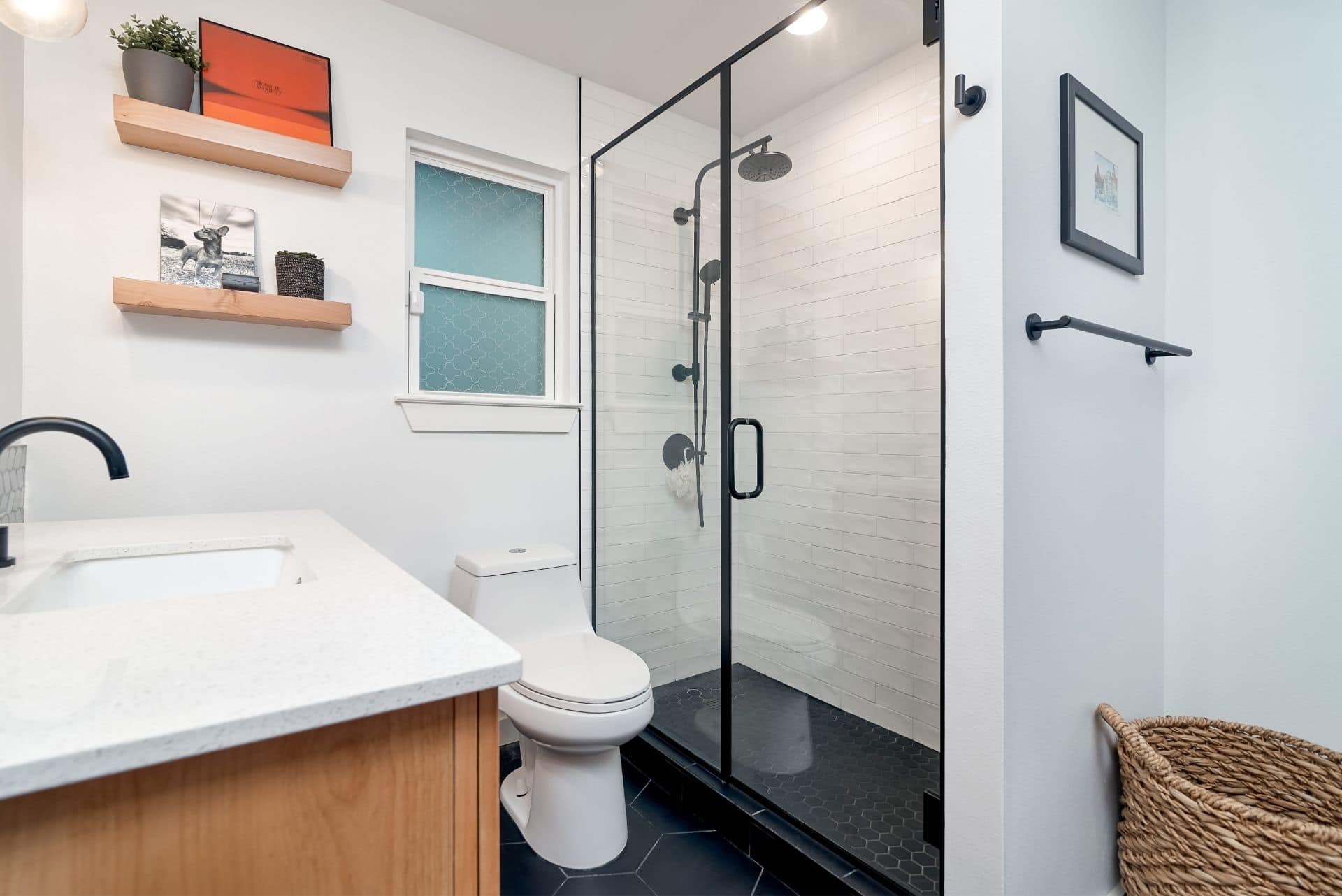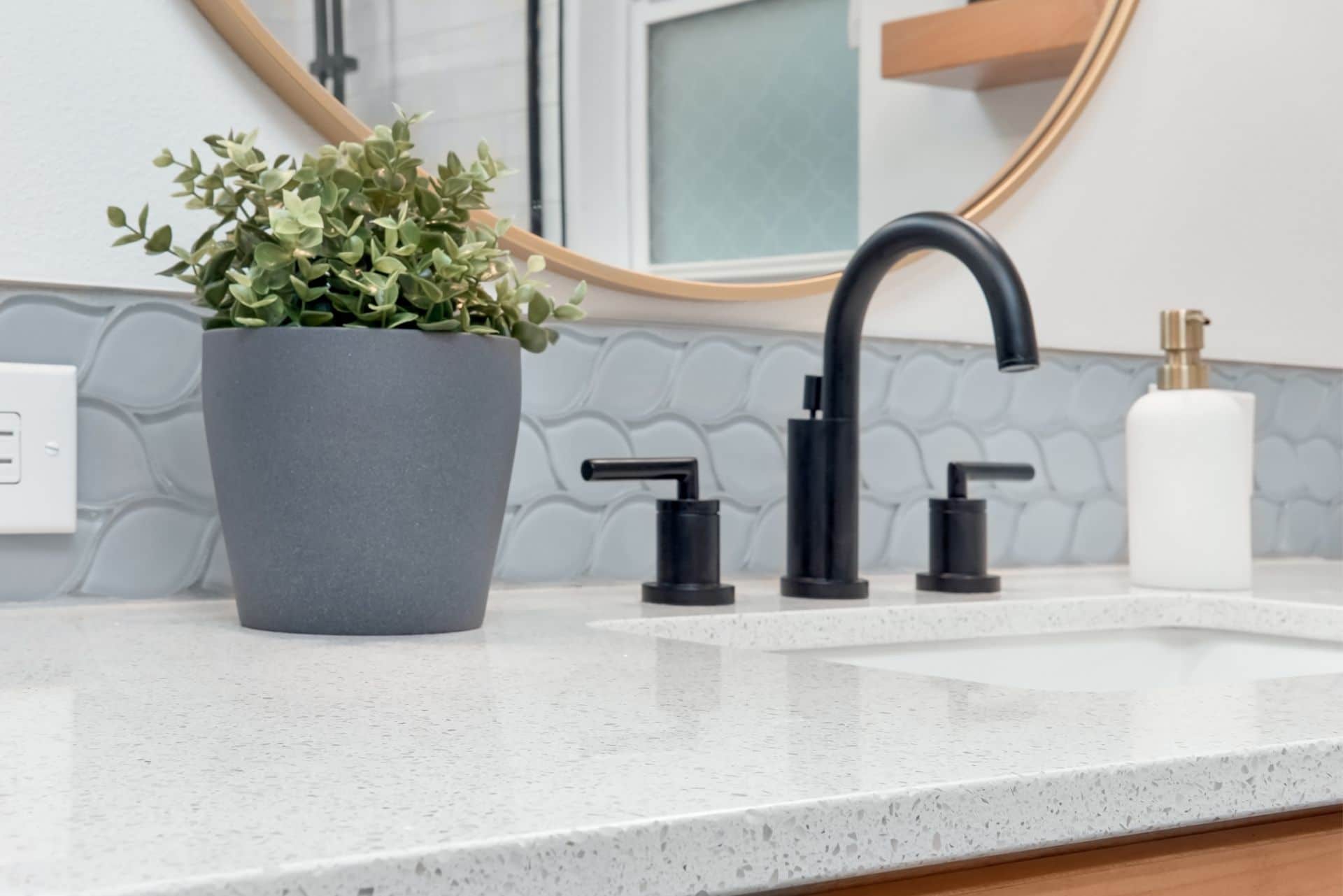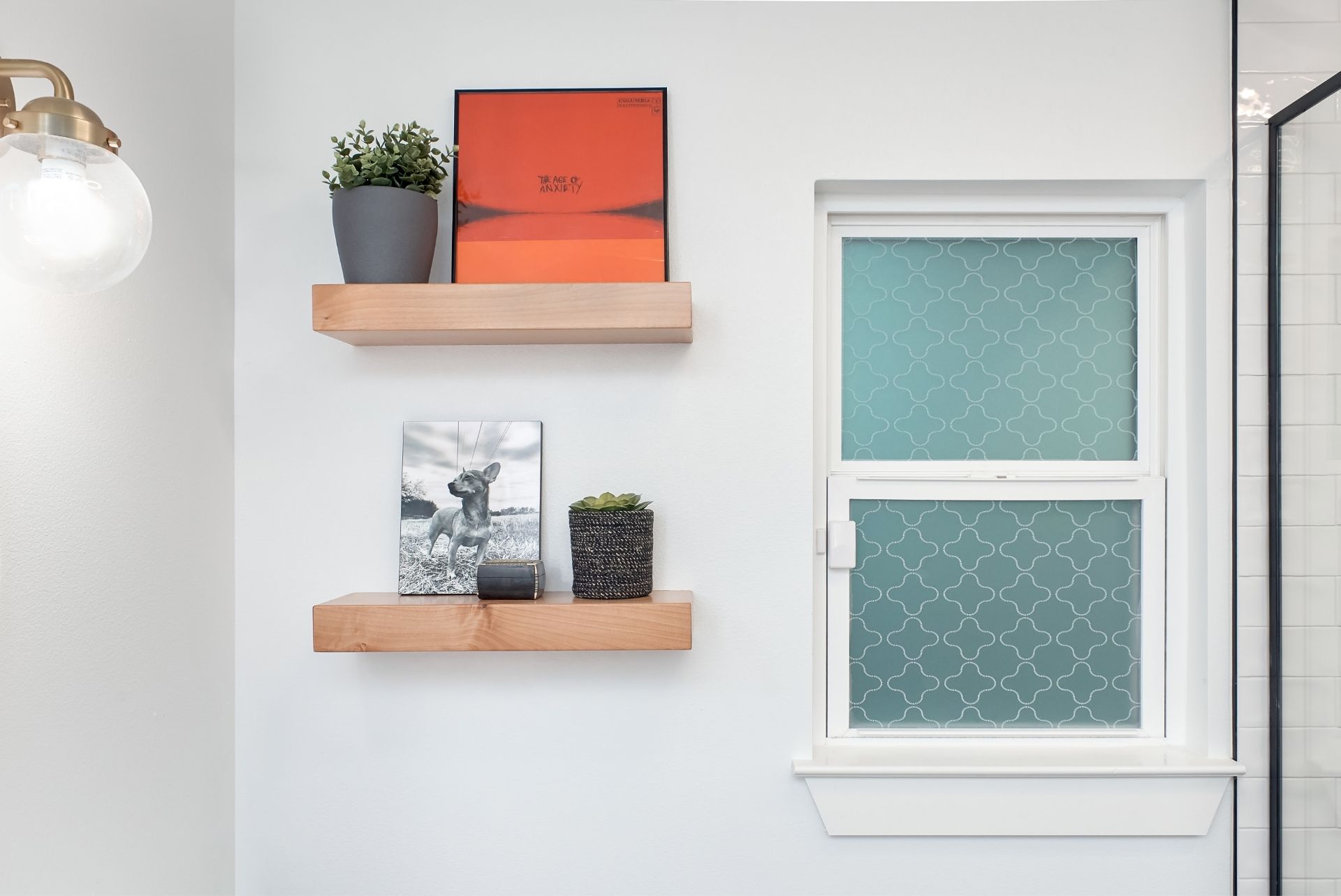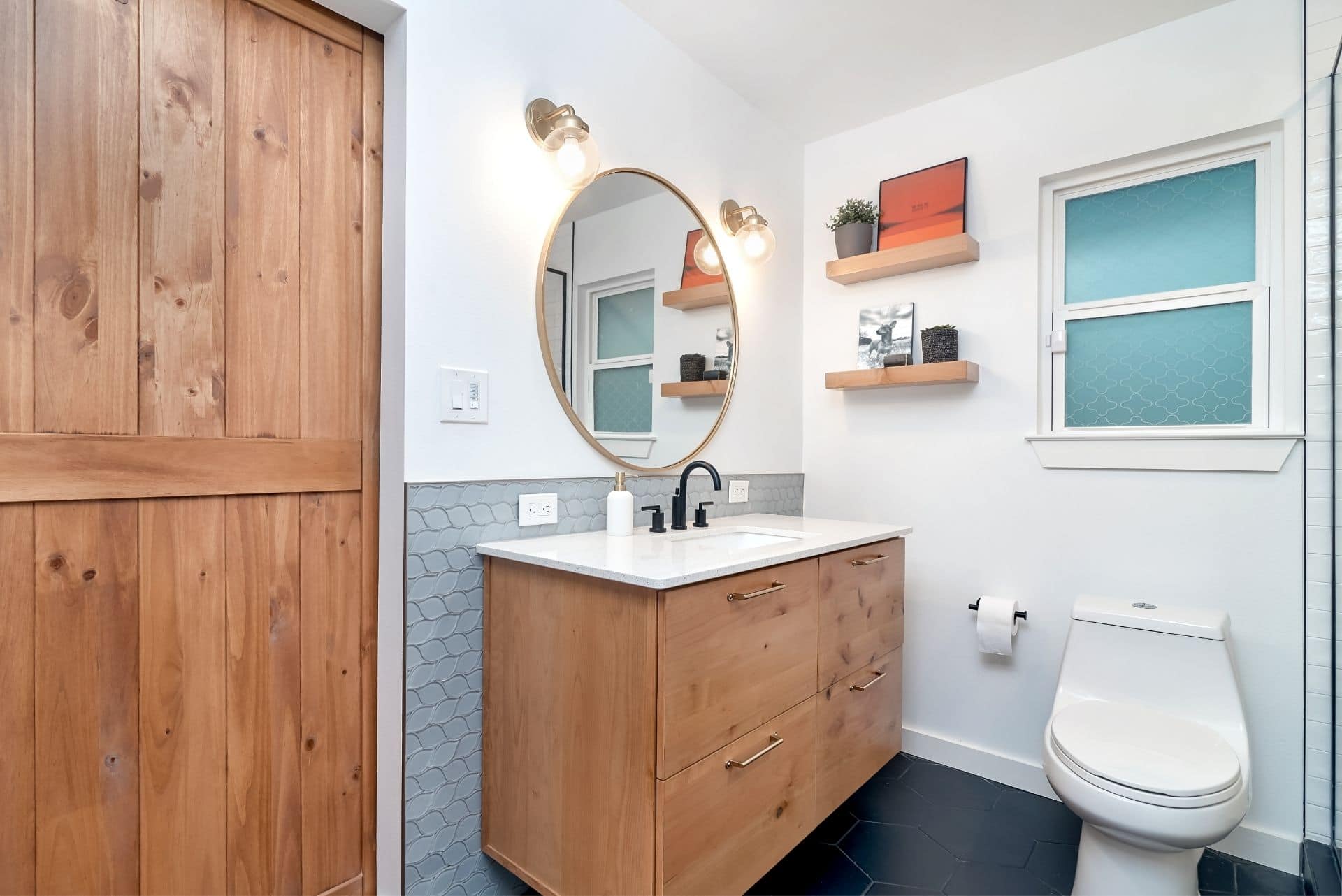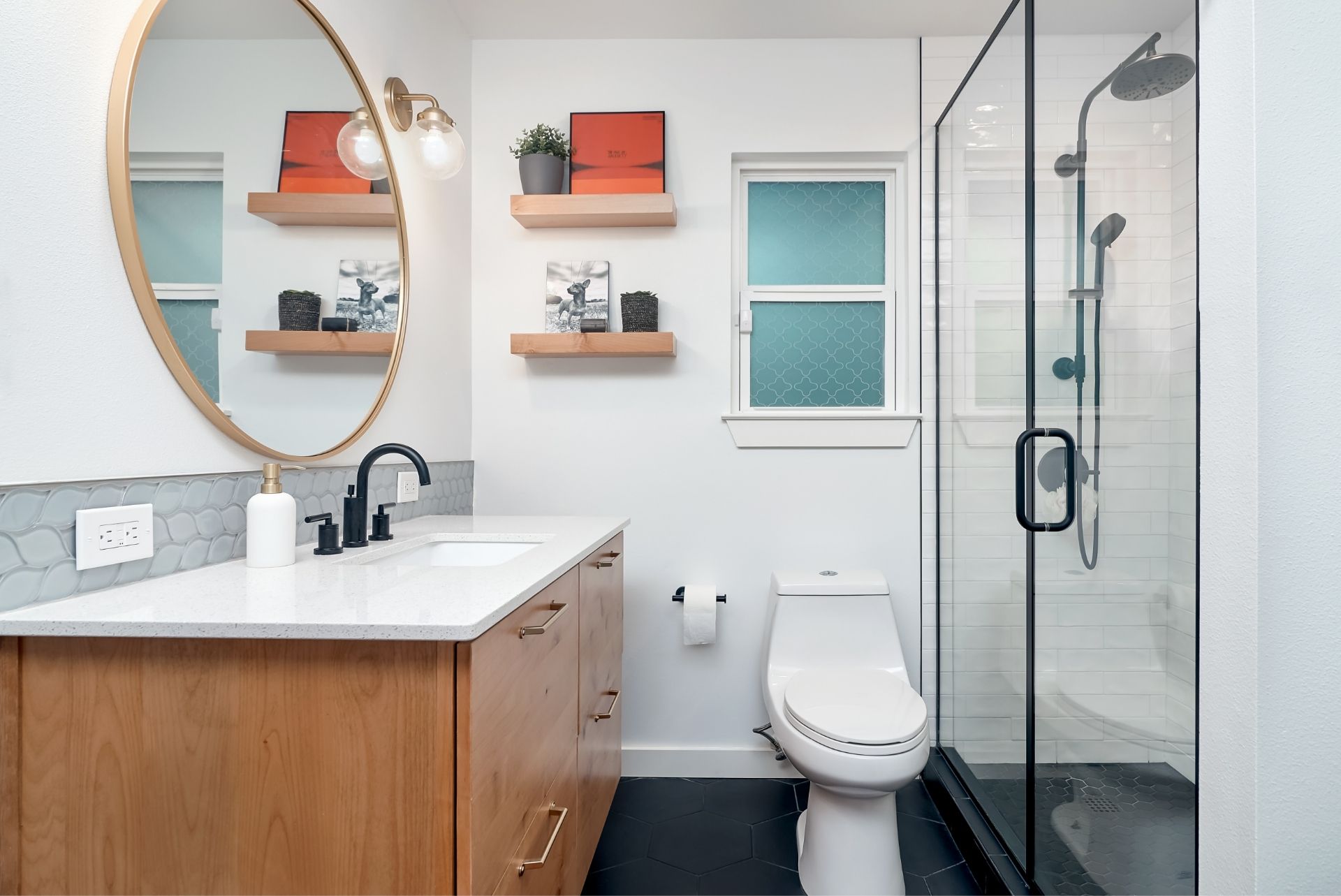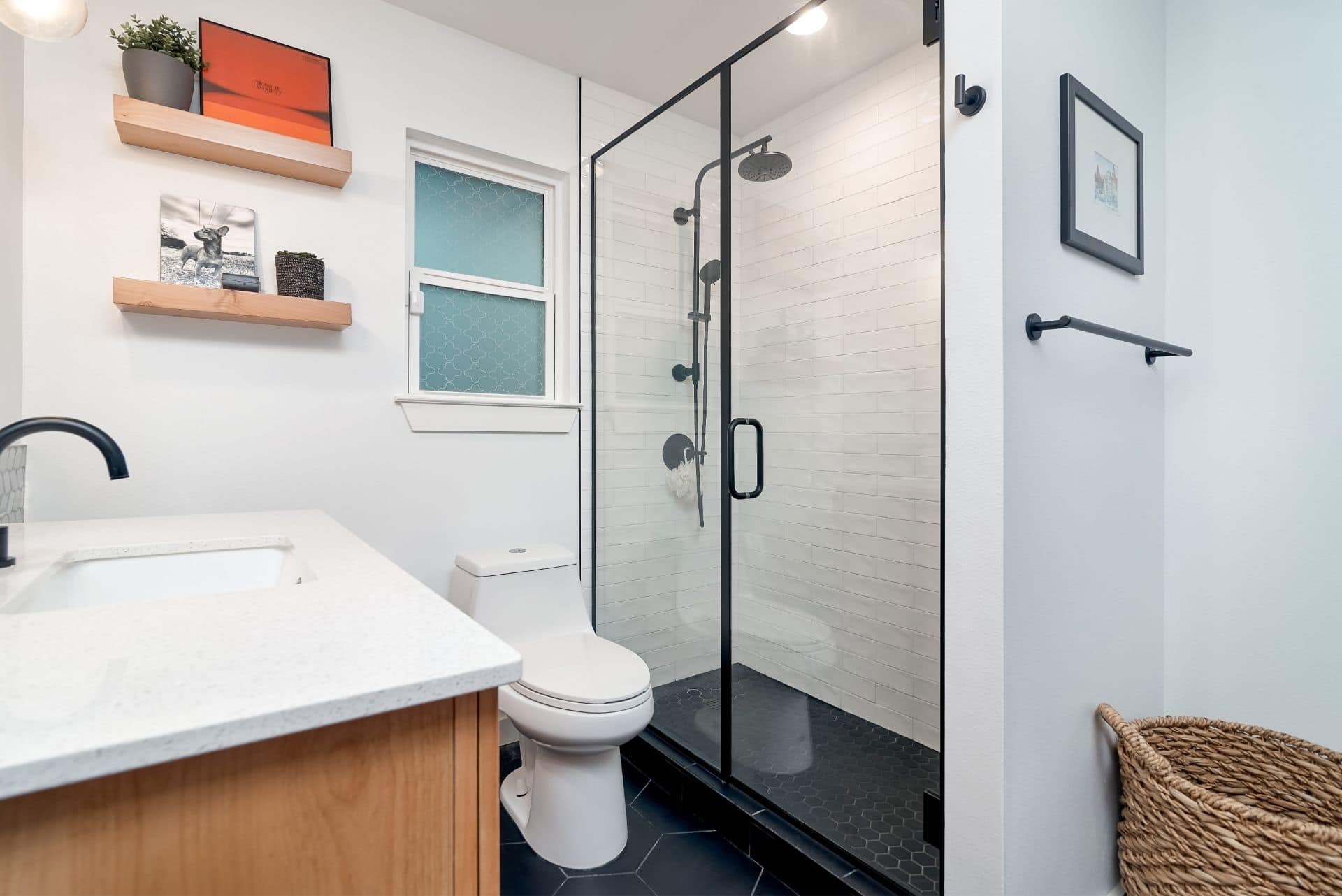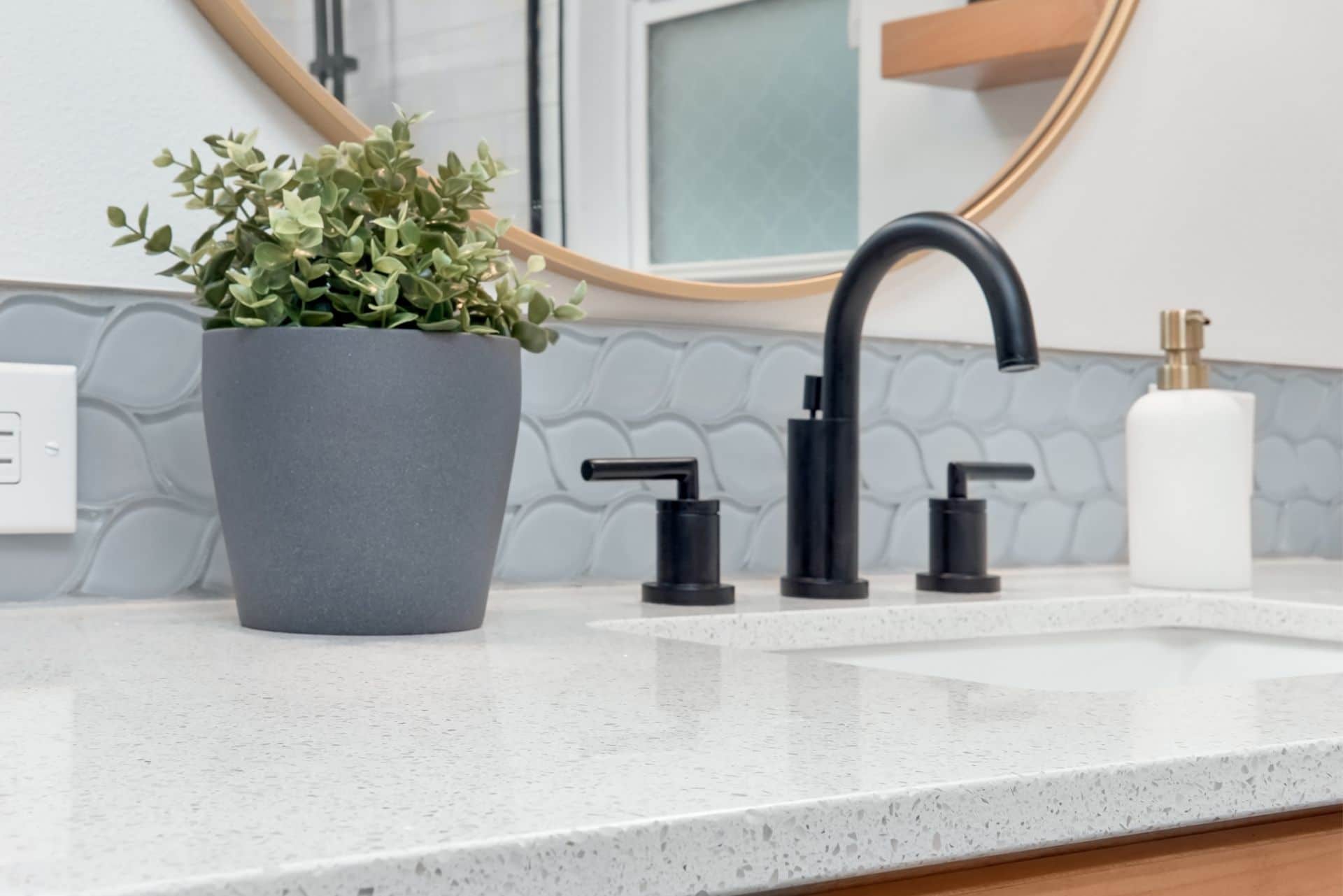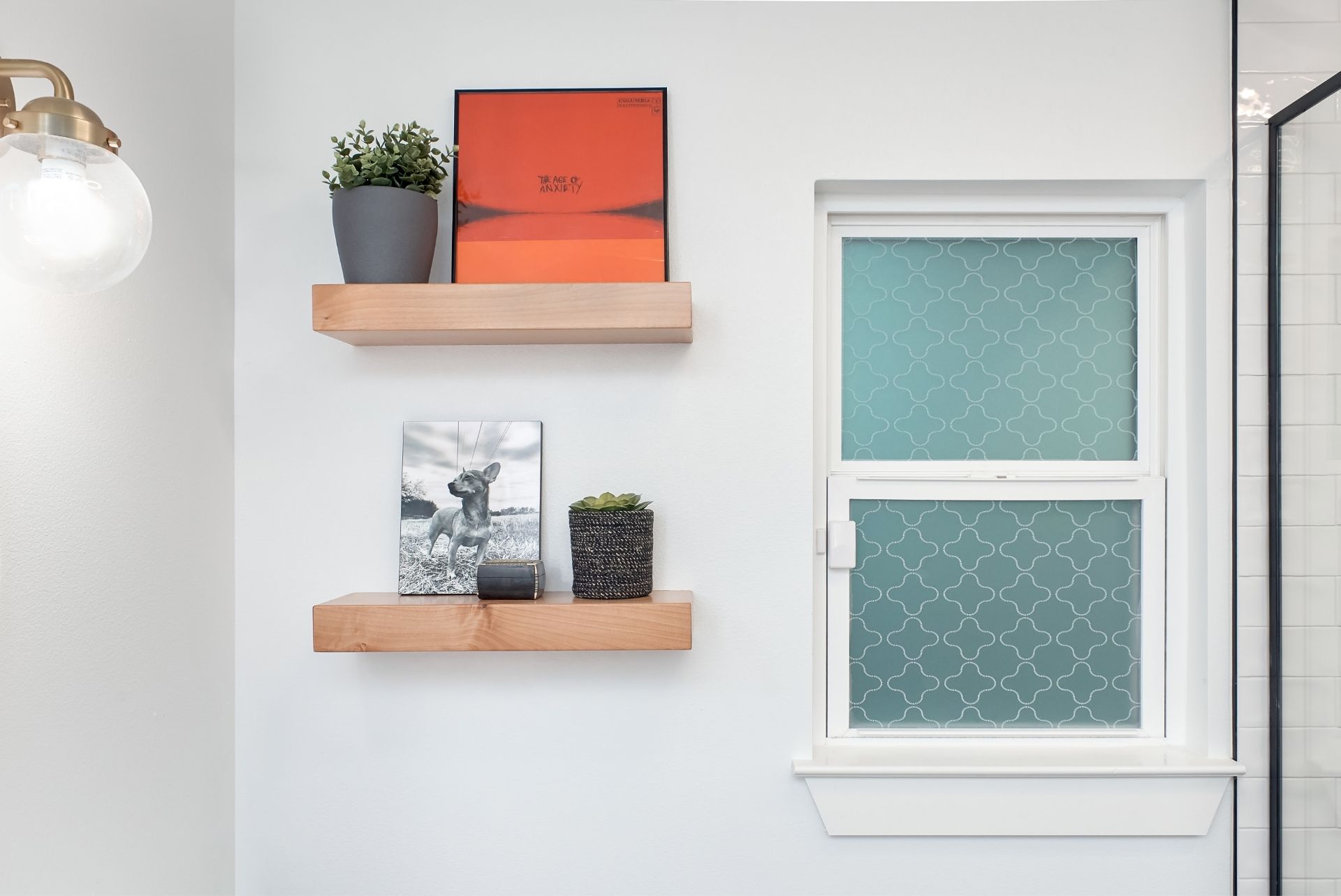 WALK-IN SHOWER
After removing the original vanity and the tiny old shower our clients hated, we built a large and luxurious walk-in shower with beautiful glass doors wrapped in a black metal frame. The renovation spotlights cool features such as niche lighting and stunning frameless glass doors. 
SHOWER FLOORING & HARDWARE
The shower flooring consists of festival matte black hex porcelain mosaic floor tiles that create a nice contrast against the Villa Artisan Frost ceramic wall tiles. The matte black shower head and hardware match the shower floor tiles and the black metal trim on the glass shower doors.
CUSTOM CABINETRY AND BARN DOOR
We replaced the existing cabinets with custom-built flat-paneled Knotty Alder wood cabinetry that matches the stunning barn door we installed. We upgraded the vanity storage by adding two matching knotty alder wood hanging shelves. This popular feature removes unwanted clutter in a small space.  
FLOORING AND BACKSPLASH
The bathroom flooring consists of opal matte black hex porcelain floor tiles that complement the shower flooring and contrast the Montage Winter leaf polished glass mosaic tile backsplash.
NORTHWEST HILLS MASTER BATH SUMMARY
This Northwest Hills Master Bath Renovation transformed an awkward old bathroom into a fabulous master bathroom updated with modern accessories, an upgraded layout, and a visually stunning interior. Most importantly, our hard-working clients now have the dream master bathroom that they deserve.
Years Remodeling Austin, Texas
+Austin Area Homes Remodeled
+ Glowing Five-Star Reviews
#1 Home Remodeling Contractor Since 2006
Northwest Hills Master Bath Renovation
"I had a mess of a 1972 bath/closet/vanity table and nothing from 1972 should still be around…except for the people, of course, and the music. Roy and his team transformed these three small, cramped areas into one big, bright, beautiful, functional space that makes me jump for joy almost every time I walk in there. He and his team took my ideas and made them my reality—all within budget. 
They jumped through all the hoops I tossed at them and creatively resolved some challenges that the small space presented. I am saving all my pennies in the hopes that sometime in the not-too-far future, I can bring them all back to work their magic on my kitchen."
Love Family
Get Our Newsletter
Learn the insider remodeling secrets NO CONTRACTOR wants you to know and participate in bonus offers and NC GIVEAWAYS!