Oaks of Jollyville Kitchen Renovation
By New Creations Austin
Oaks of Jollyville Kitchen Renovation
PROJECT OVERVIEW
This Oaks of Jollyville Kitchen Renovation has a unique, funky look. This style is called retro-contemporary, and we love working on these kinds of projects. Using cool building material and smart design concepts, you can achieve an interior that is as functional as it is visually stunning.
As our third remodeling job with this client, we have a good bit of experience working together. Moreover, we've established a great and trusting relationship.
LIFE CHANGING KITCHEN
For this project, our clients decided it was time to revolutionize the way they live with a custom interior that would improve the beauty and functionality of their kitchen.
They envisioned a warm and open, family-friendly environment, but they also desired to have a clear view of the backyard from the dining area. The challenge for this kitchen renovation was working in a small space and with a tight budget.
MI CASA, SU CASA!
The family cooks together and loves to entertain family and friends, but their original kitchen space did not allow them to cook, entertain, and move about the room comfortably. Accordingly, our in-house design team optimized the layout for convenience and to provide workspace.
We updated the appliances and added many new features to improve ease of movement and functionality while creating a stunning visual aesthetic that is sure to please family and friends for years to come.
McNeil Estate – Jollyville, TX
Custom Kitchen Design and Build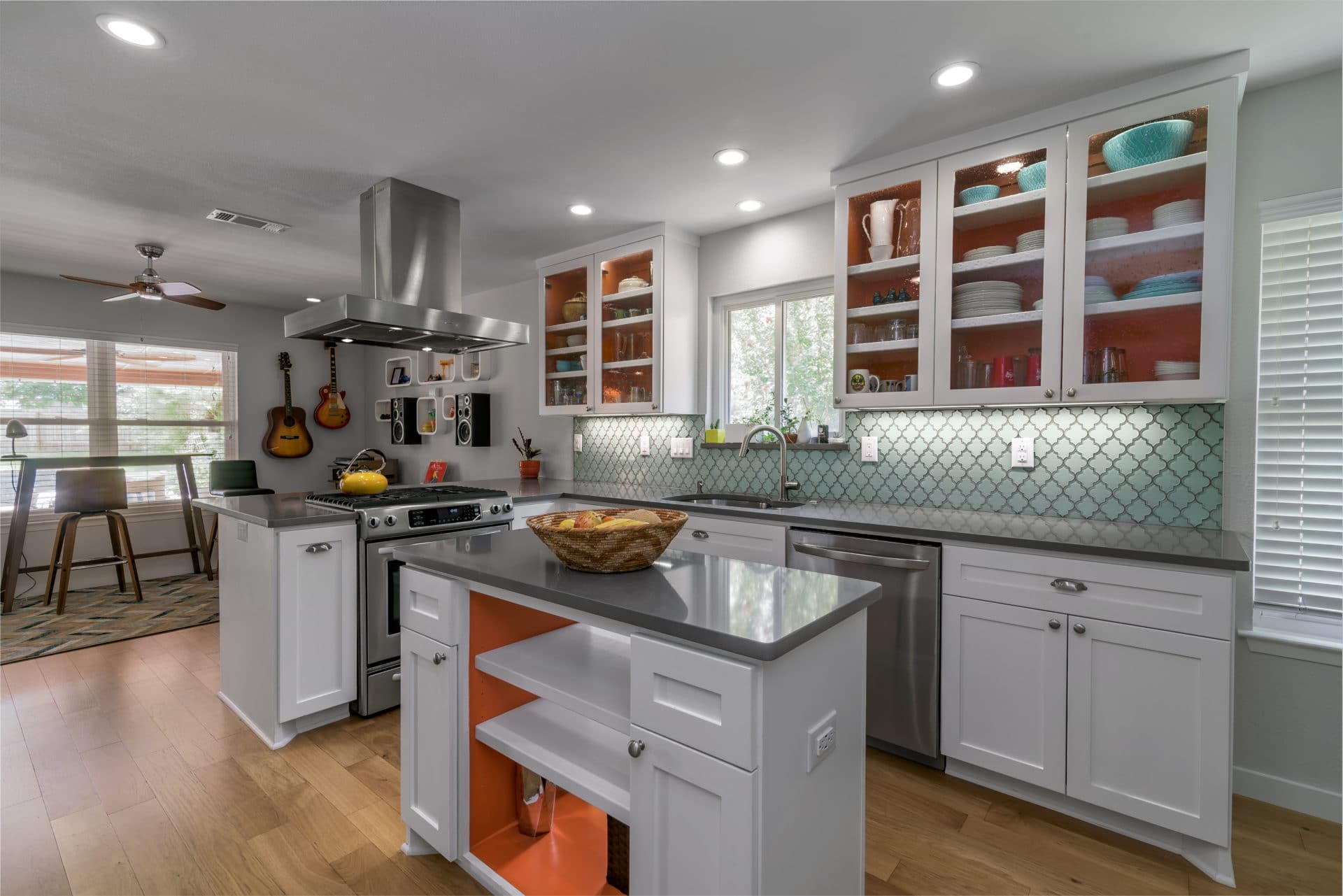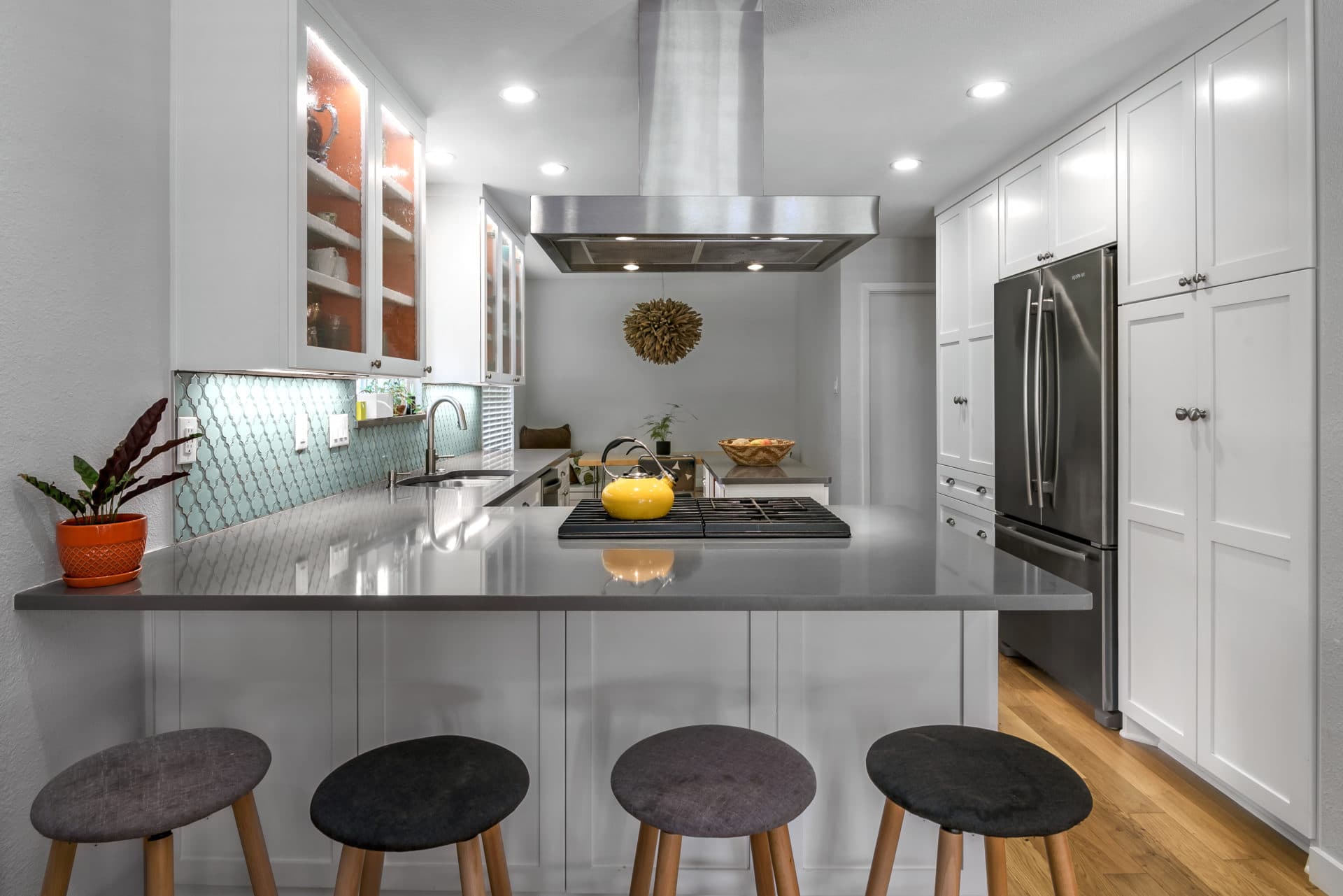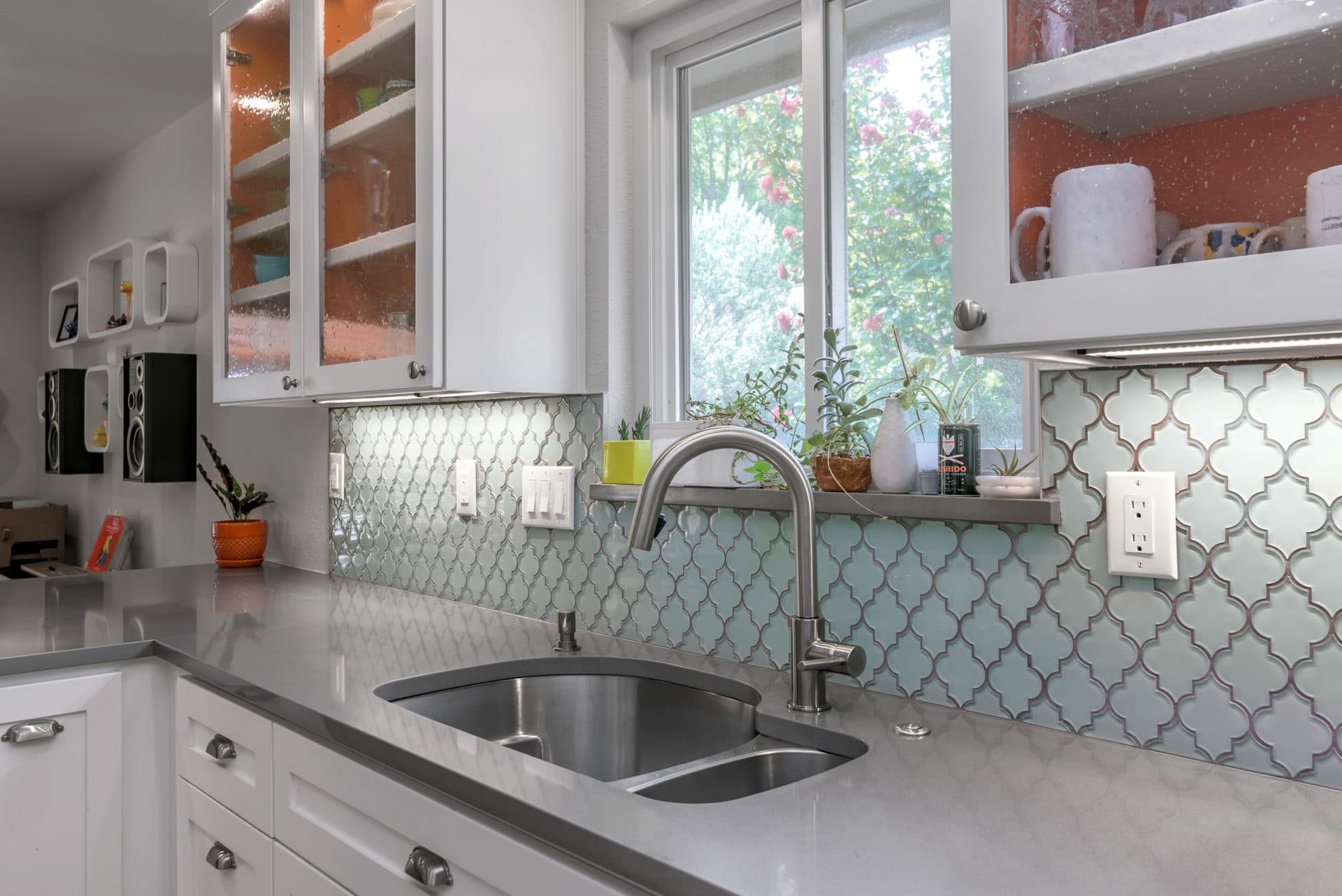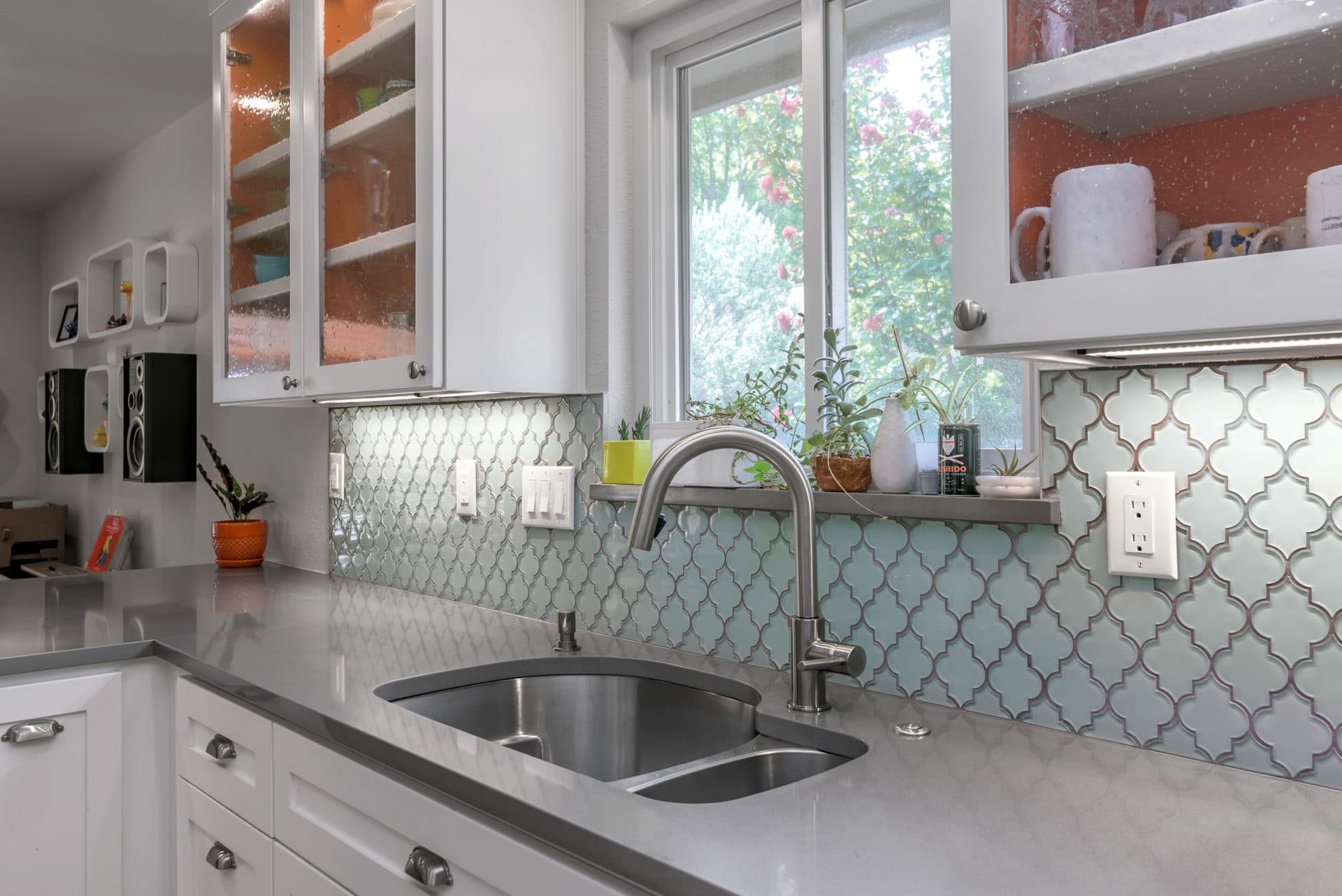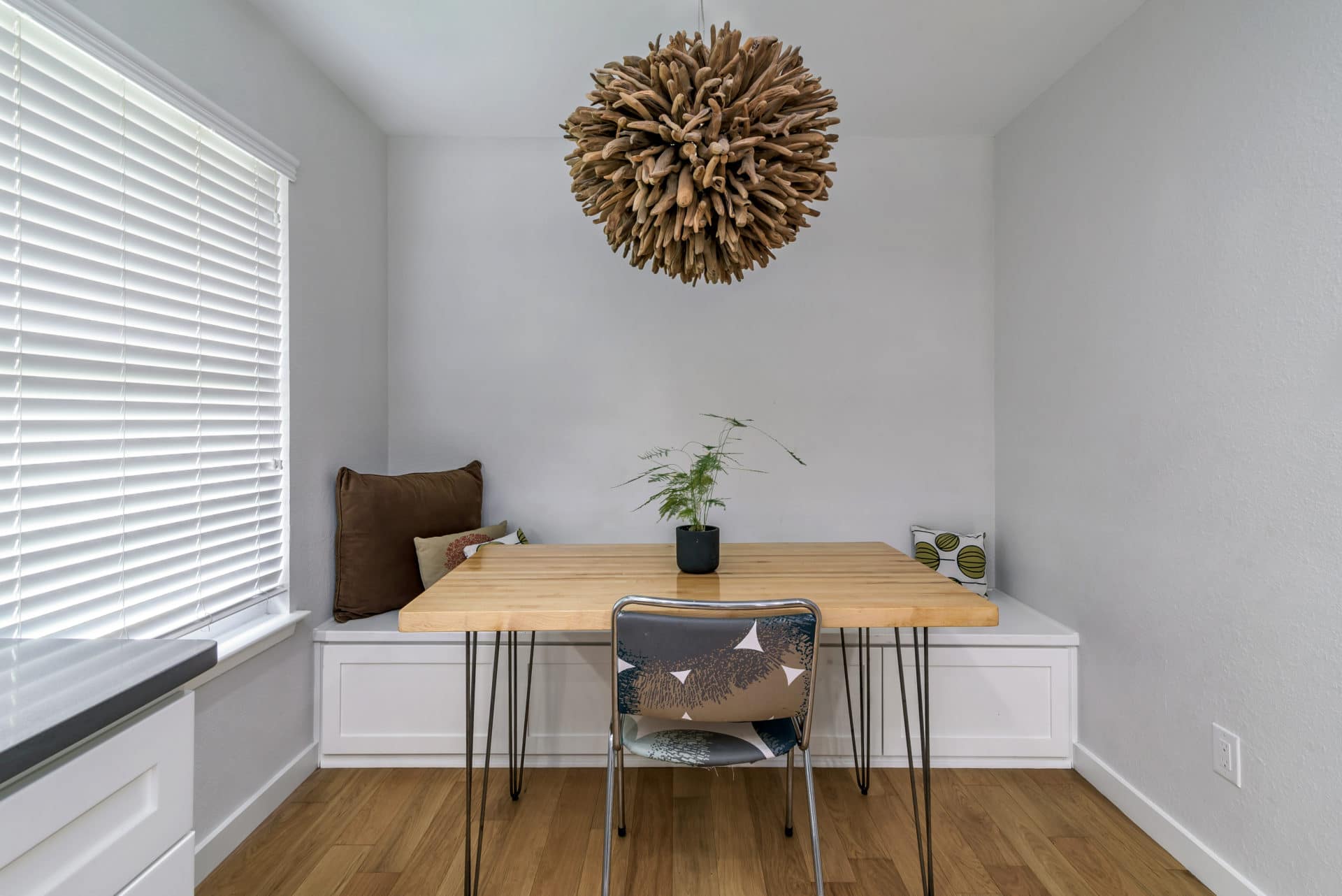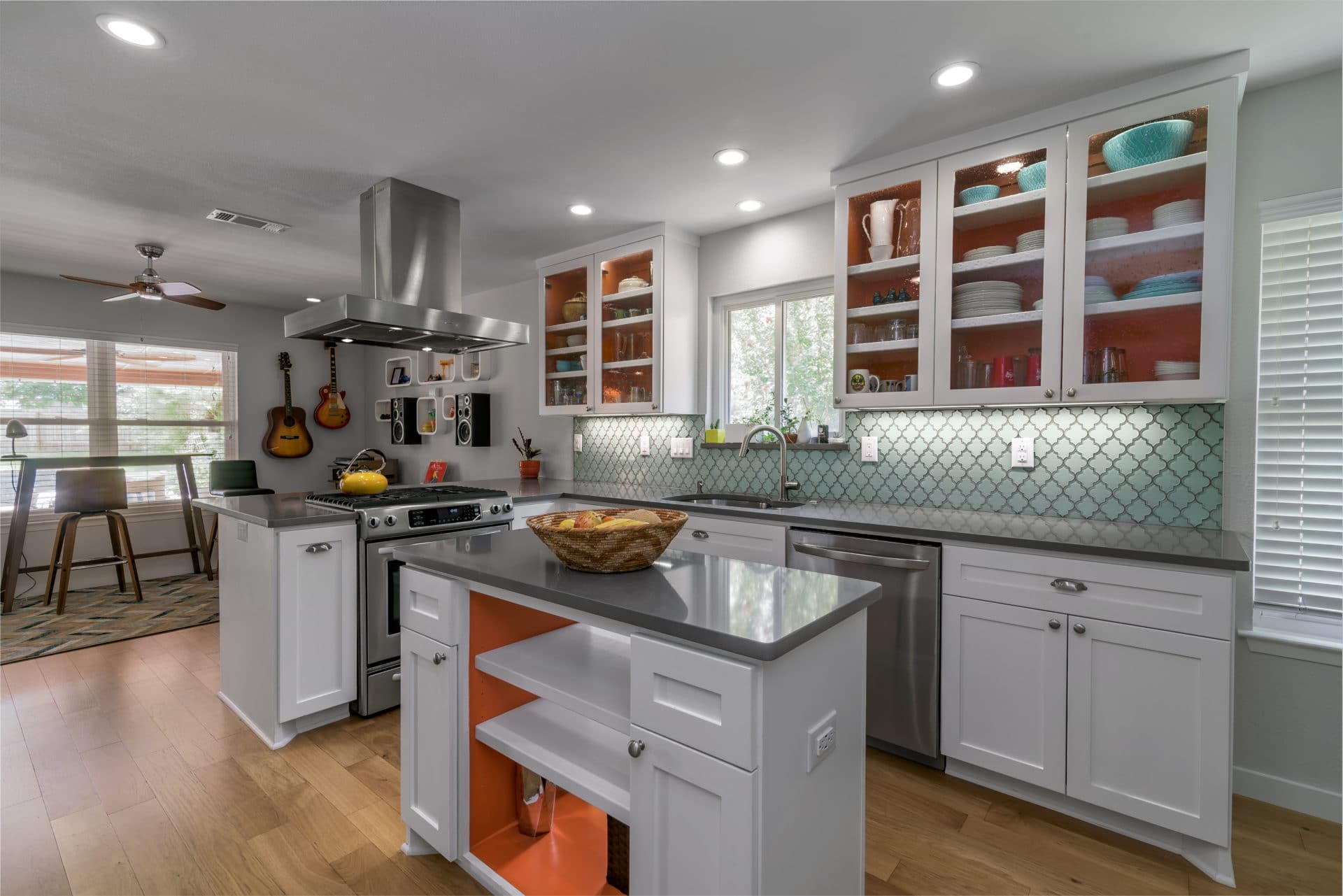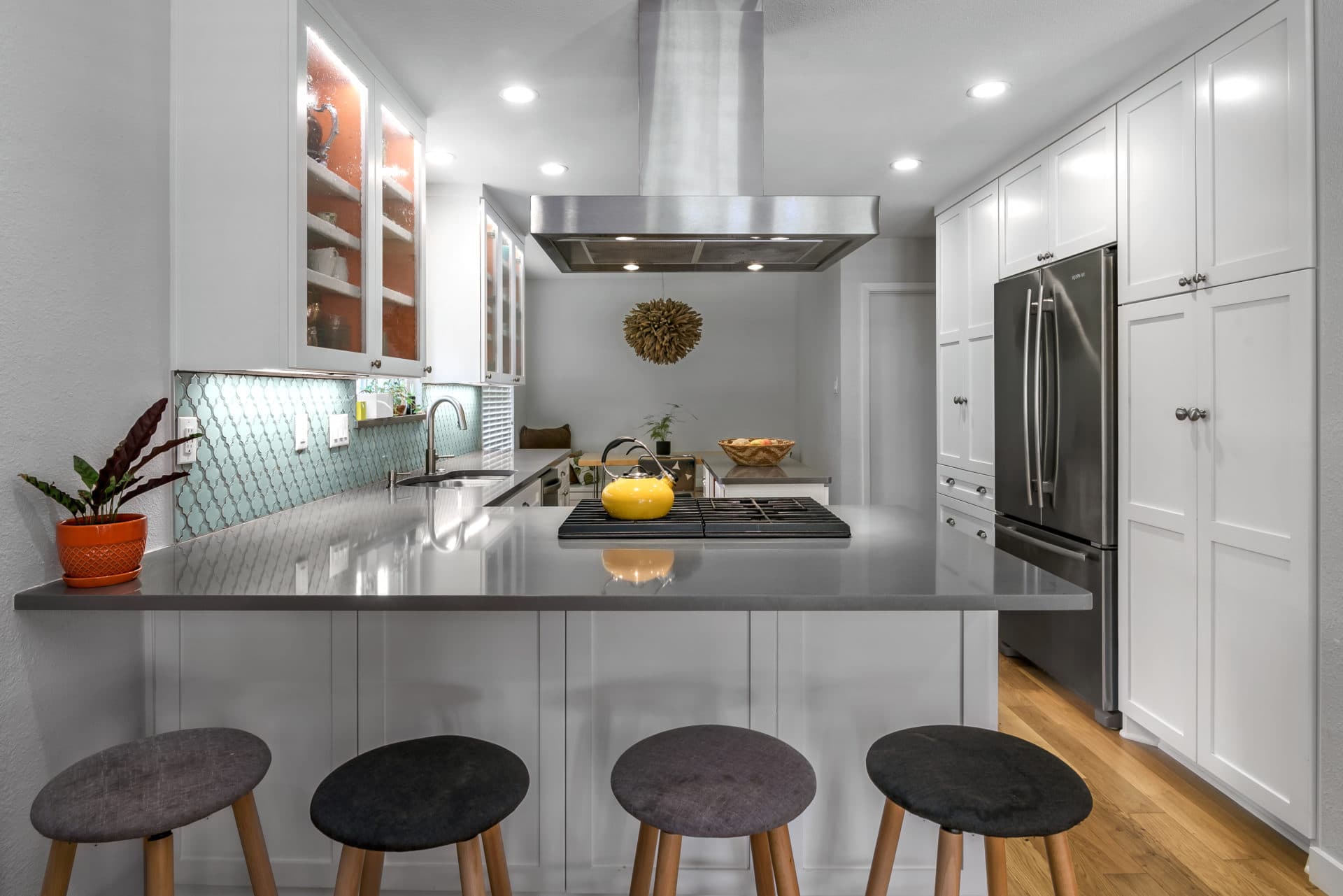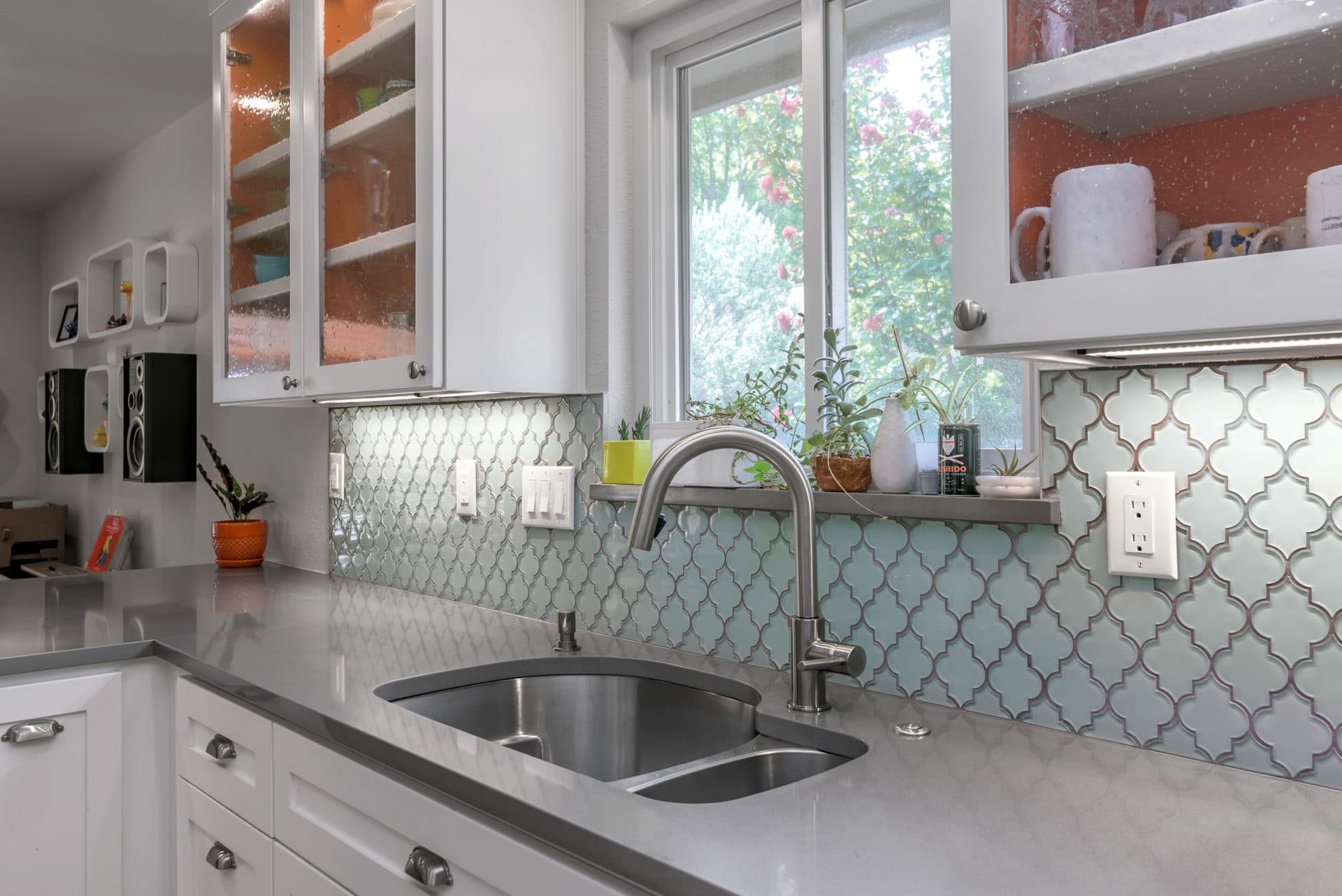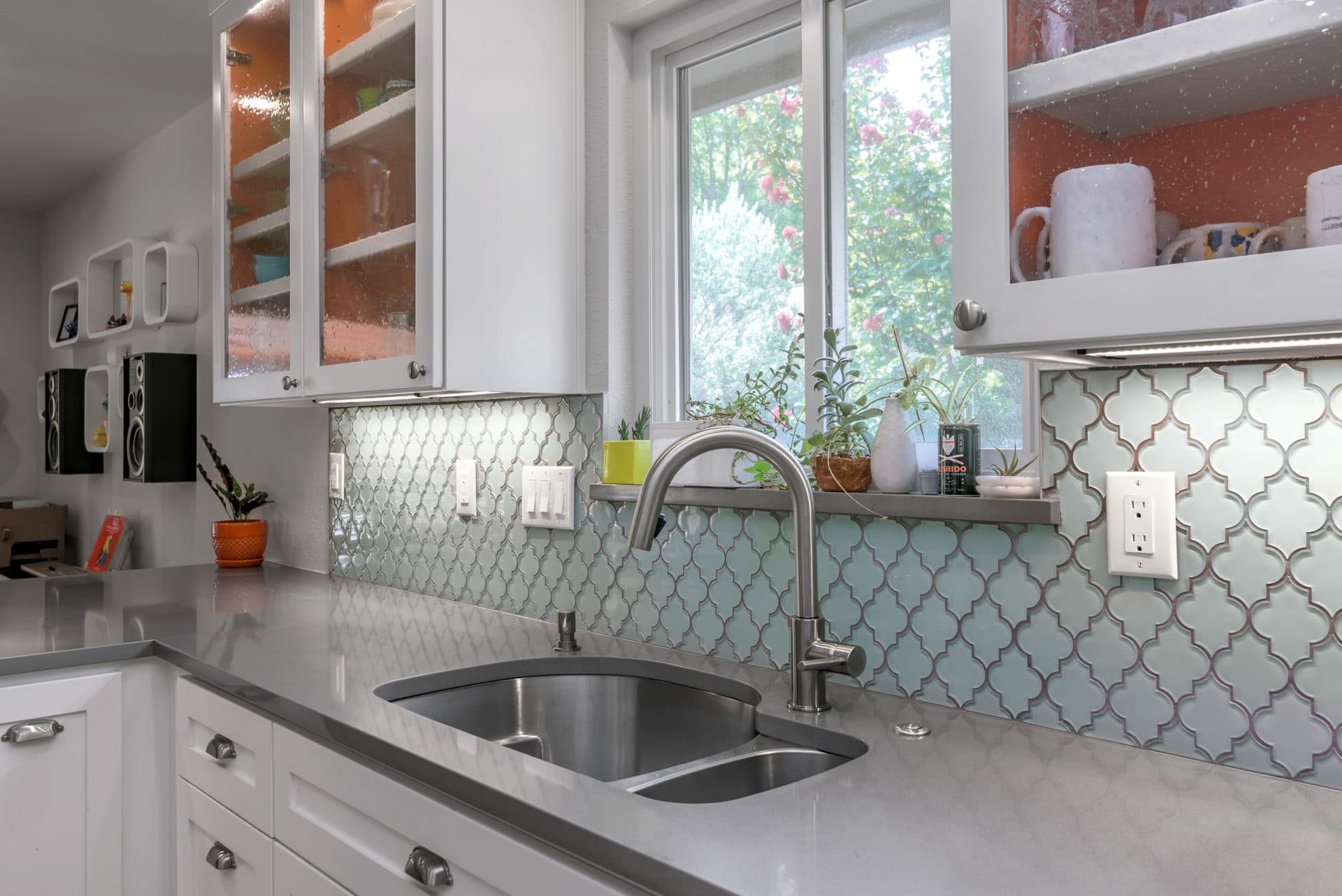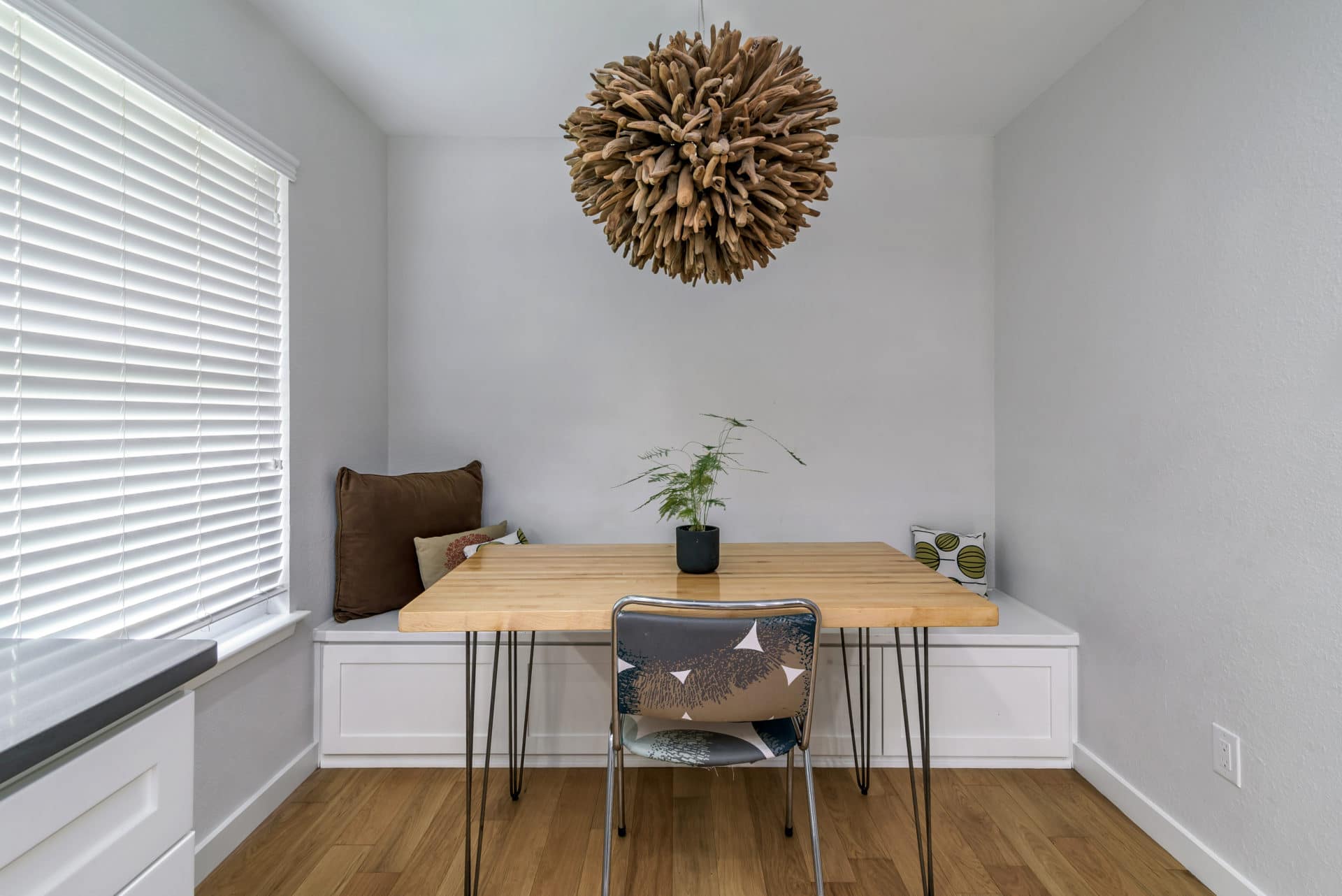 CABINETRY
The custom cabinetry spotlights a low-maintenance white finish with bold orange accents. We installed a peninsula with a breakfast bar. We also built a small, mobile island to increase storage. The island and peninsula both expand countertop workspace.
NEW LAYOUT
The original layout was very tight and closed in with a tiny built-in pantry. But the pantry occupied too much space. But it also provided inadequate storage.
We removed the wall between the kitchen and formal dining area. The goal was to create a warm and open feel. Creating more space, we also widened the entryways to maximize flow through their home.
BUILT-IN APPLIANCES
The built-in fridge is encased in custom cabinets extending up to the ceiling on either side of the fridge. Our clients decided on white shaker-style doors for the cabinetry. Unique features include a cool mint green backsplash and a colorful orange interior on a few cabinets.
SMART FEATURES
We also accessorized the cabinets with functional upgrades like pull-out drawers and open shelves in the island. Additionally, we added built-in bench seating in the breakfast area.
GREAT ROOM CONCEPT
The scope of work extended into the breakfast area and living room. We painted all the walls and ceilings to match the kitchen. We also re-tiled all floors to tie it all together. The wood mantle finished it off with a natural, warm touch.
OAKS OF JOLLYVILLE KITCHEN RENOVATION SUMMARY
This Oaks of Jollyville Kitchen Renovation exemplifies the retro-contemporary style. The result is colorful and unique, reflecting the personality of the homeowners.
Wrapping up a well-executed remodeling project never gets old. We love what we do. But most of all, we're happy that our clients have the dream kitchen they always wanted and inspiring space for enjoying meals with family and friends.
Years Remodeling Austin, Texas
+Austin Area Homes Remodeled
+ Glowing Five-Star Reviews
#1 Home Remodeling Contractor Since 2006
Oaks of Jollyville Kitchen Renovation Summary
"This review marks our third successful engagement with Roy and the New Creations team. The first was a stunning remodel of a galley into an open, airy European-style kitchen with wide open shelves featuring floating cabinets with attractive under-cabinet lighting. Our second was a remodel of a beige and forest green lavatory with peeling-linoleum-filled bathroom into a crisp, airy bathroom featuring hexagonal tiles that popped with dark grout and thoughtfully reworked plumbing with chrome fixtures.
Our most recent engagement was a large project in our newly purchased home. It involved new floors, resurfaced ceilings, wall-to-wall paint, and a completely resurrected kitchen space. I've always admired how clean and unimposing Roy's team can be while knocking down walls and tearing out wires and pipes. One of Roy's most exciting additions is Erin Rooney, who provides thoughtful advice and sketches while sweeping the clients around town and offering her input on a dizzying array of building materials, hardware, and glass. You really feel taken care of with the New Creations team—they have a gift for taking your vision in the form of magazine clippings, your favorite photos on Houzz, and vague descriptions (think, "modern but traditional," "light and open but private," etc. I think I would have slapped myself if I were them) and turning them into a coherent, thoughtful design.
We are in love with our new home and that is largely attributable to Roy and his team. I appreciate the consistency with which they deliver beautiful results. Most importantly, we have never felt Roy's attention waver due to the size of our jobs. From the little bathroom remodel to the full home excursion, he has made sure we are taken care of. Cheers to the New Creation team!"
Roquemore Family
Get Our Newsletter
Learn the insider remodeling secrets NO CONTRACTOR wants you to know and participate in bonus offers and NC GIVEAWAYS!