Onion Creek Whole-House Renovation
By New Creations Austin
Onion Creek Whole-House Renovation
This Onion Creek Whole-House Renovation truly exemplifies how your home can be an extension of your personality. As you will see from the image gallery below, every room has this family's personal signature on it. 
PROJECT OVERVIEW
The owners of the beautiful house in Onion Creek were ready to design and build their dream home with a complete home renovation. Their plan included a fabulous new kitchen and master bathroom interiors as you would expect.
However, our clients understood that to create a cohesive and personalized look throughout their home, they needed to renovate every room. They even envisioned adding a custom outdoor grill to the back patio.
To tie it all together, they also decide to fully renovate their hall bathroom at the same time, that way they wouldn't have to go through the process again. In all, our design team remodeled just about every square inch of this lovely home.
The finished product spotlights intelligently designed home interiors with modern appliances, improved functionality, perfect lighting, and a dazzling aesthetic throughout their home. Our clients now have the fully-renovated home of their dreams to entertain family and friends.
Custom Kitchen, Master Bath, Hall Bath, and Patio Grill Design and Build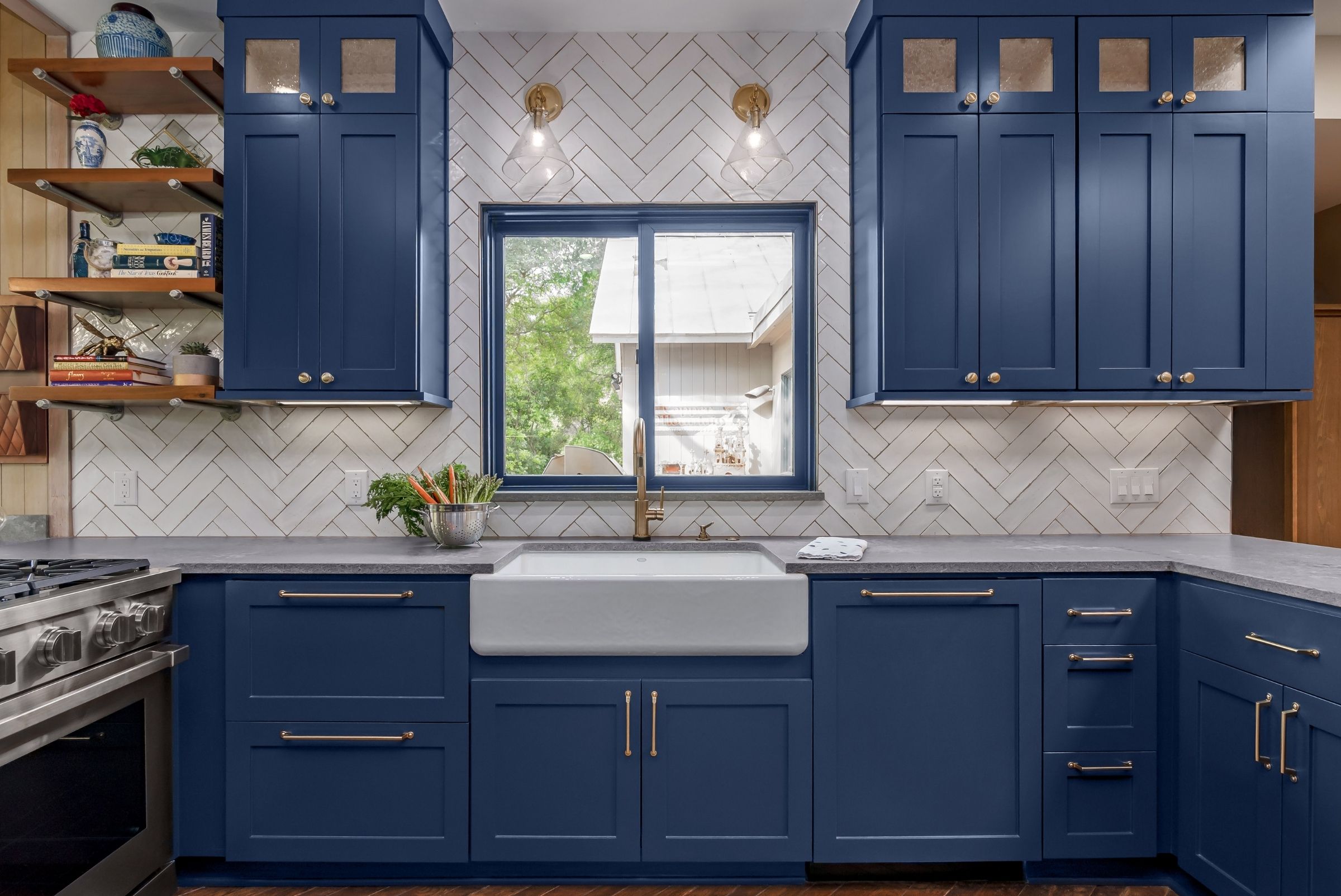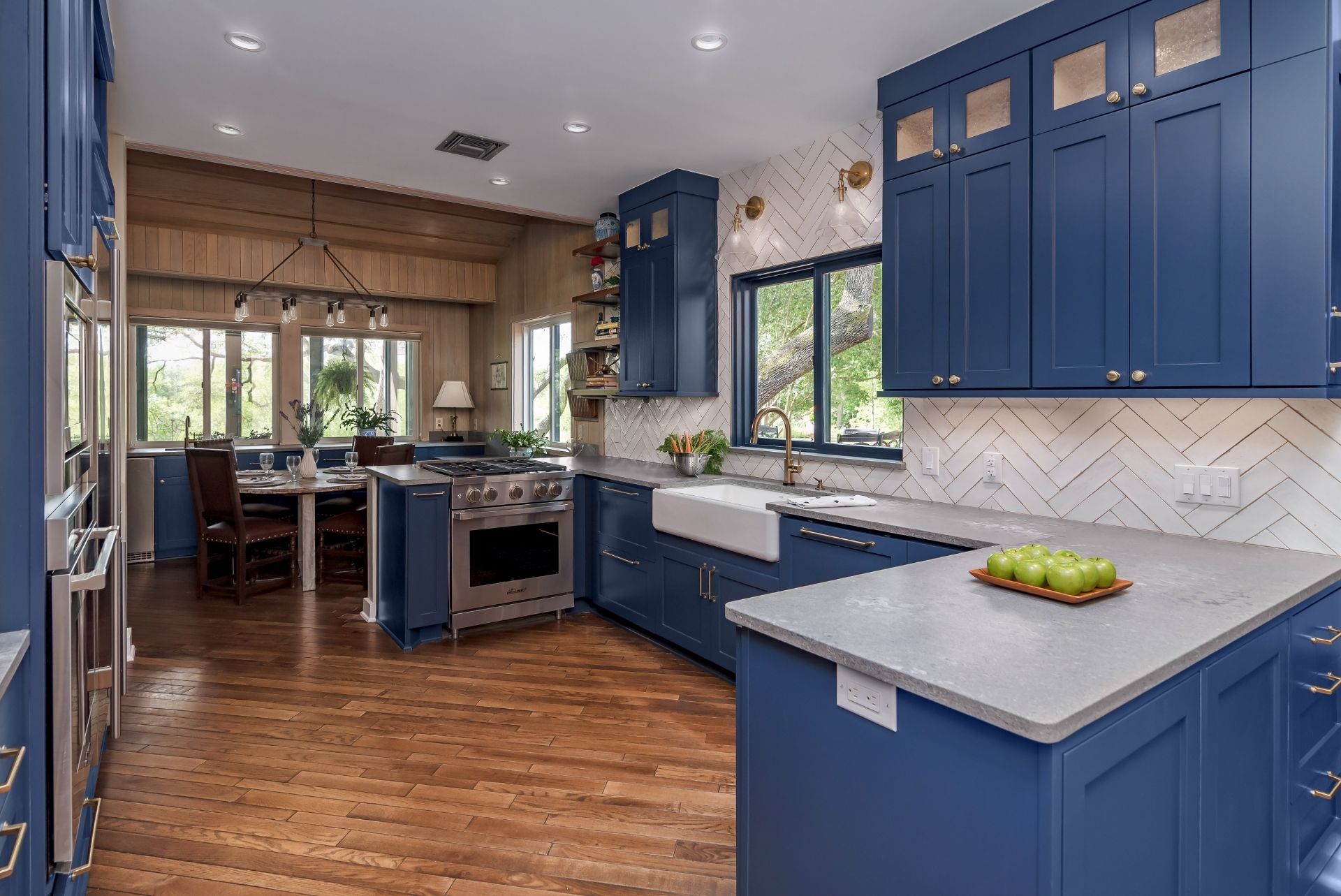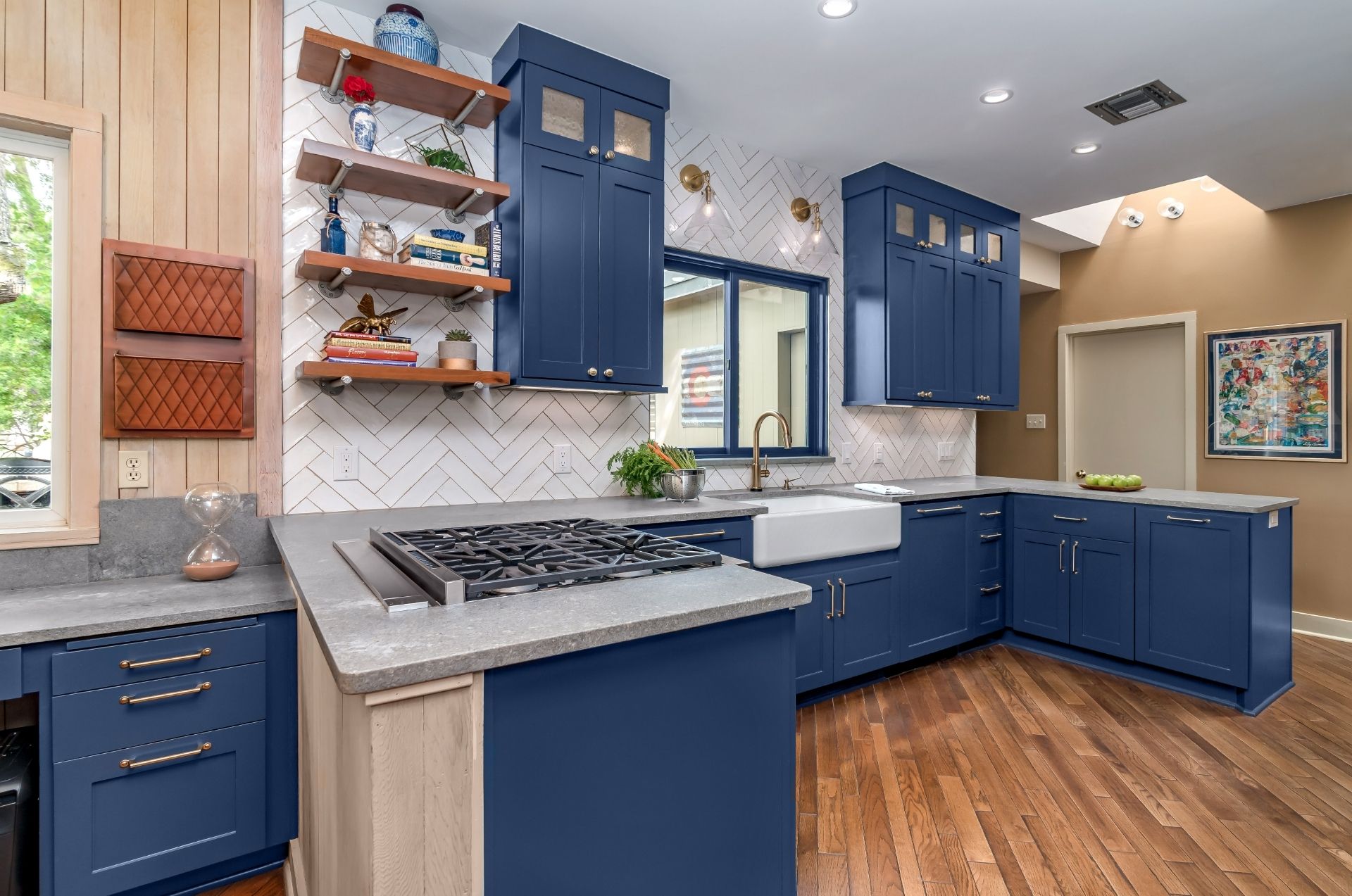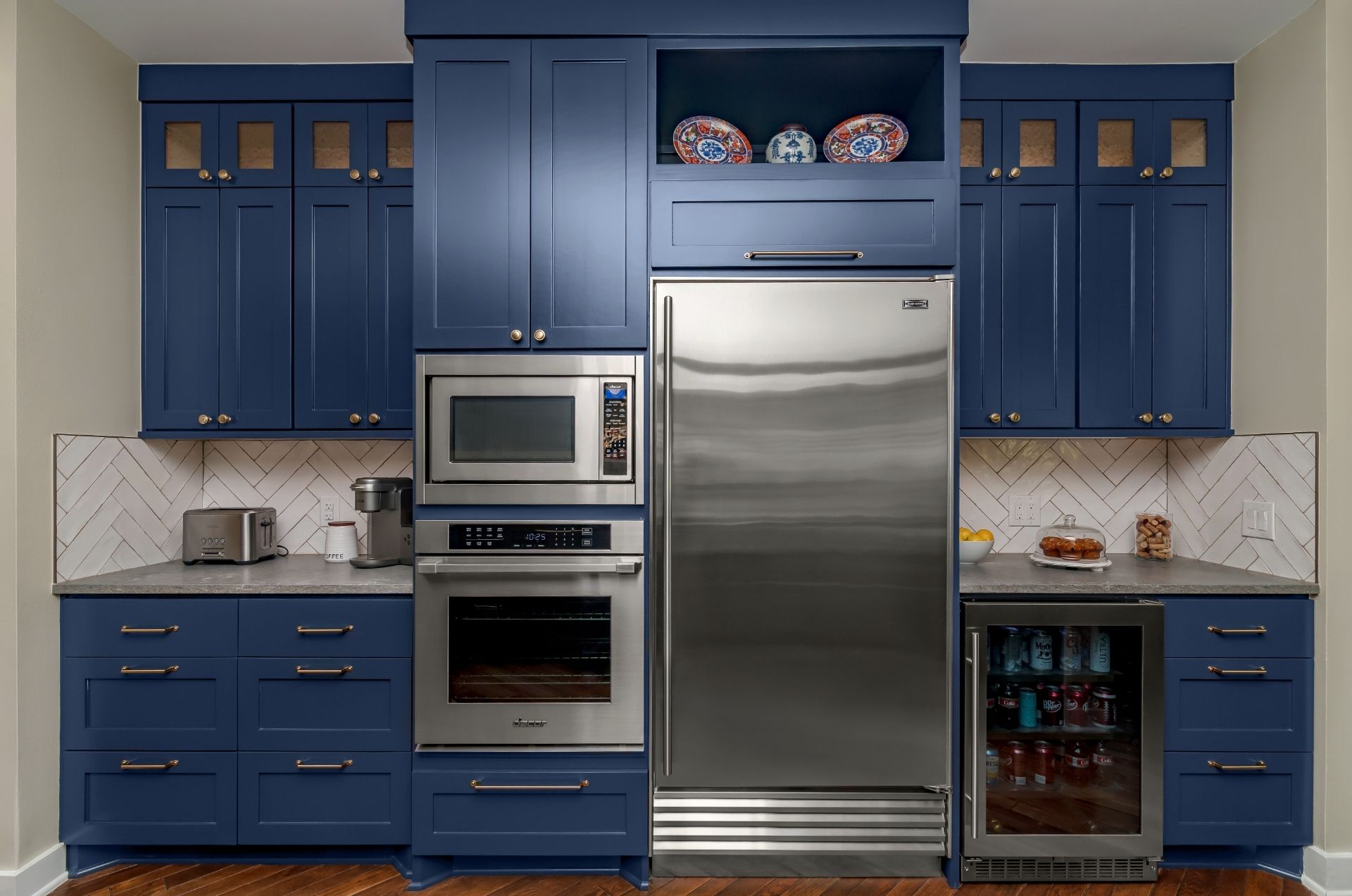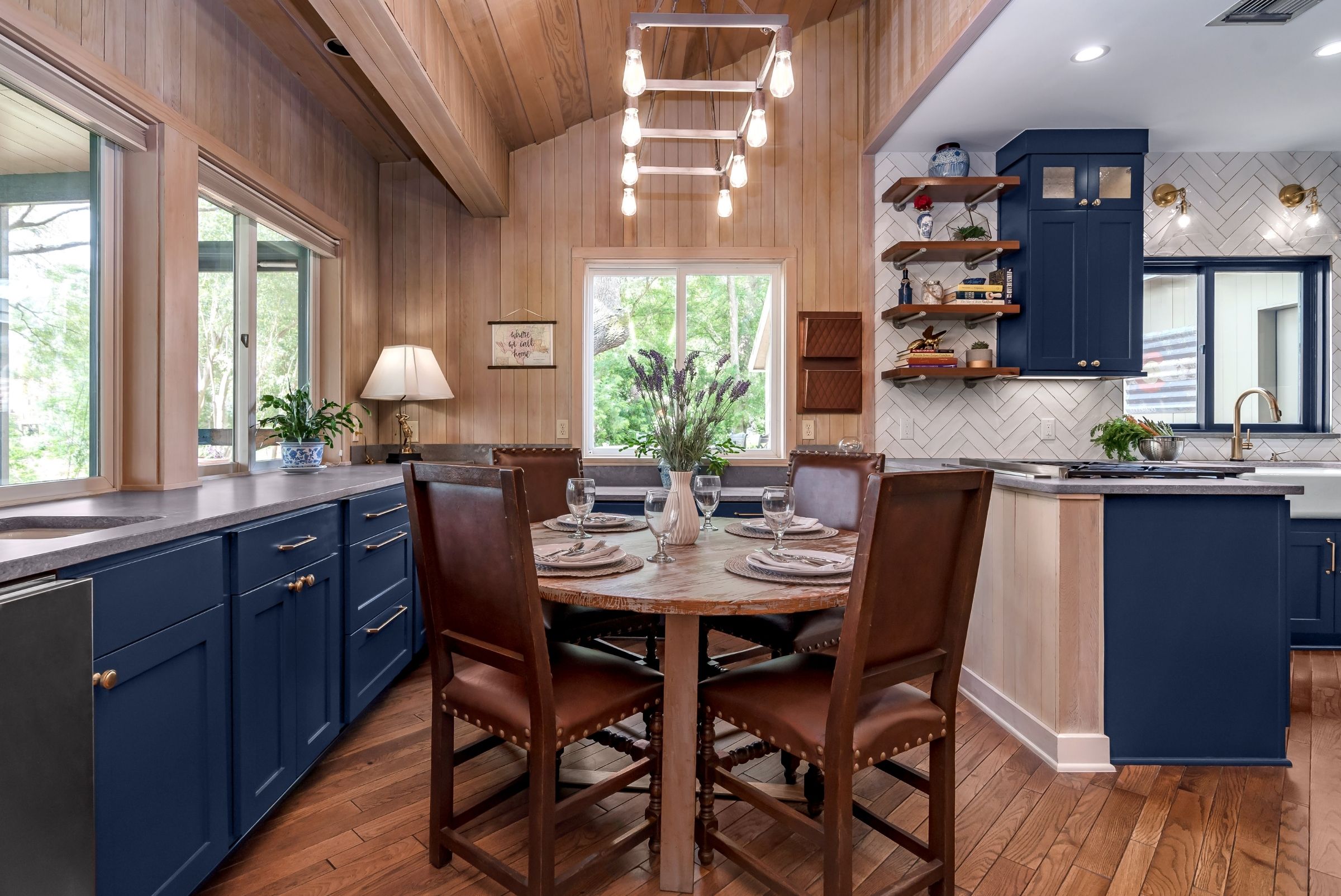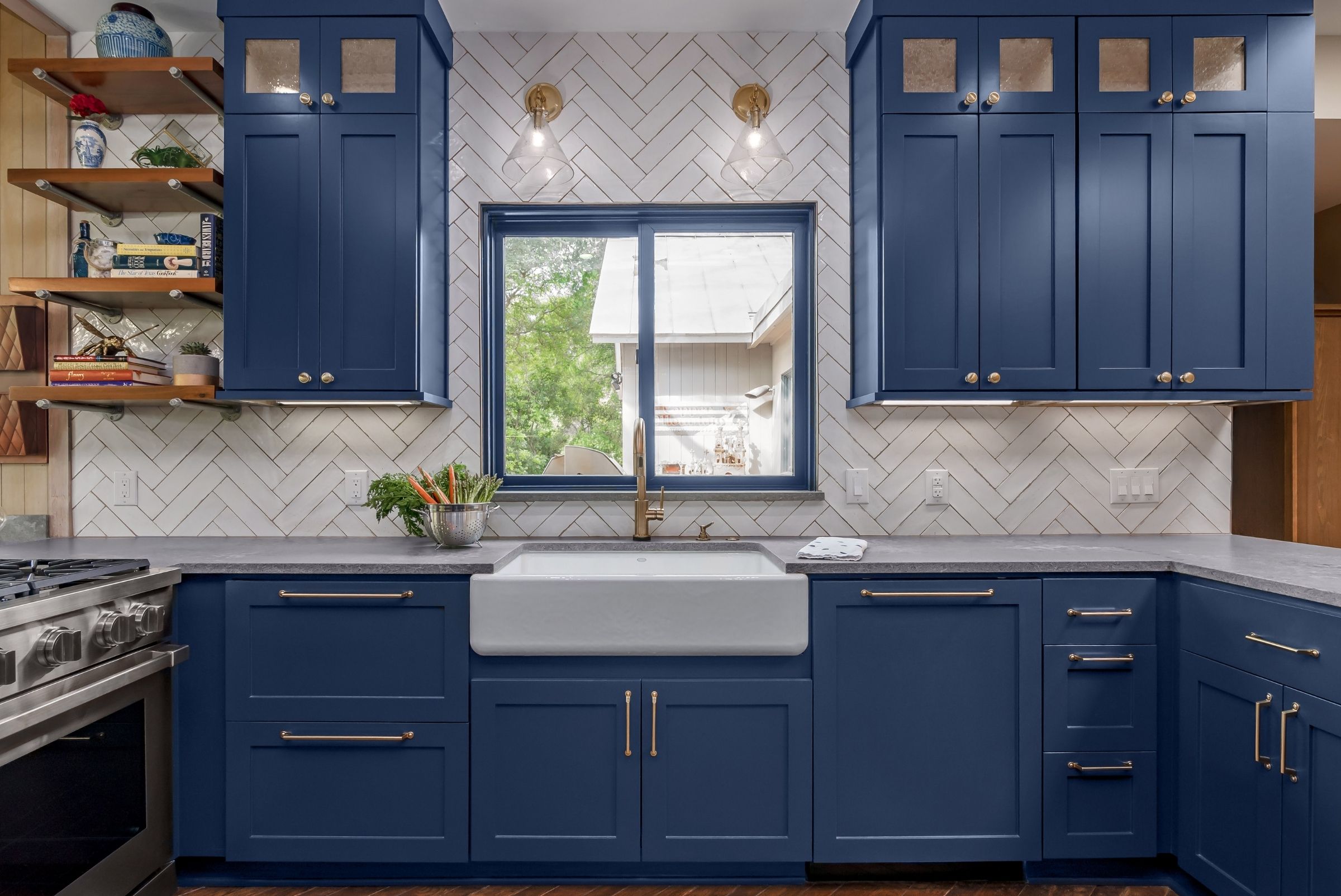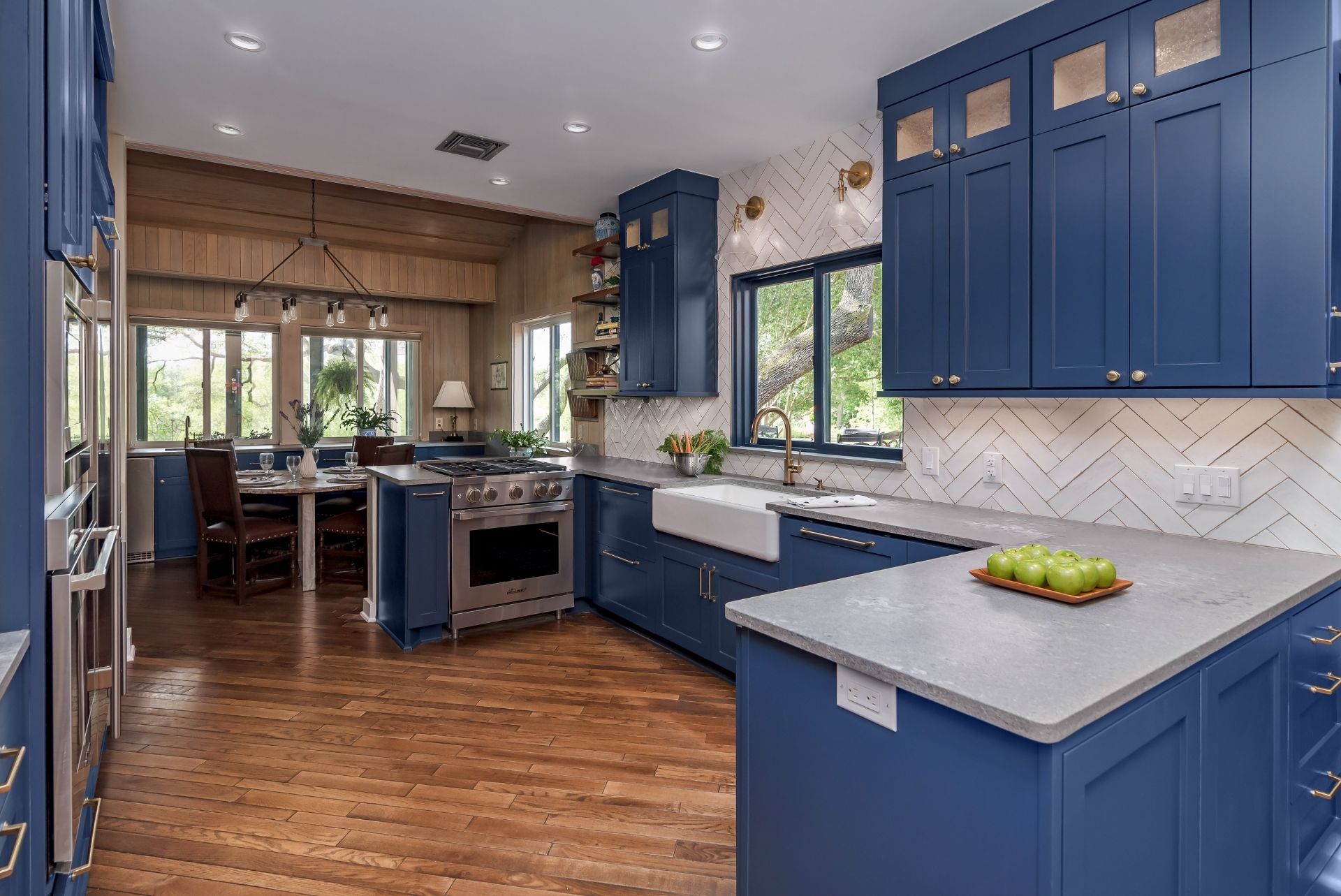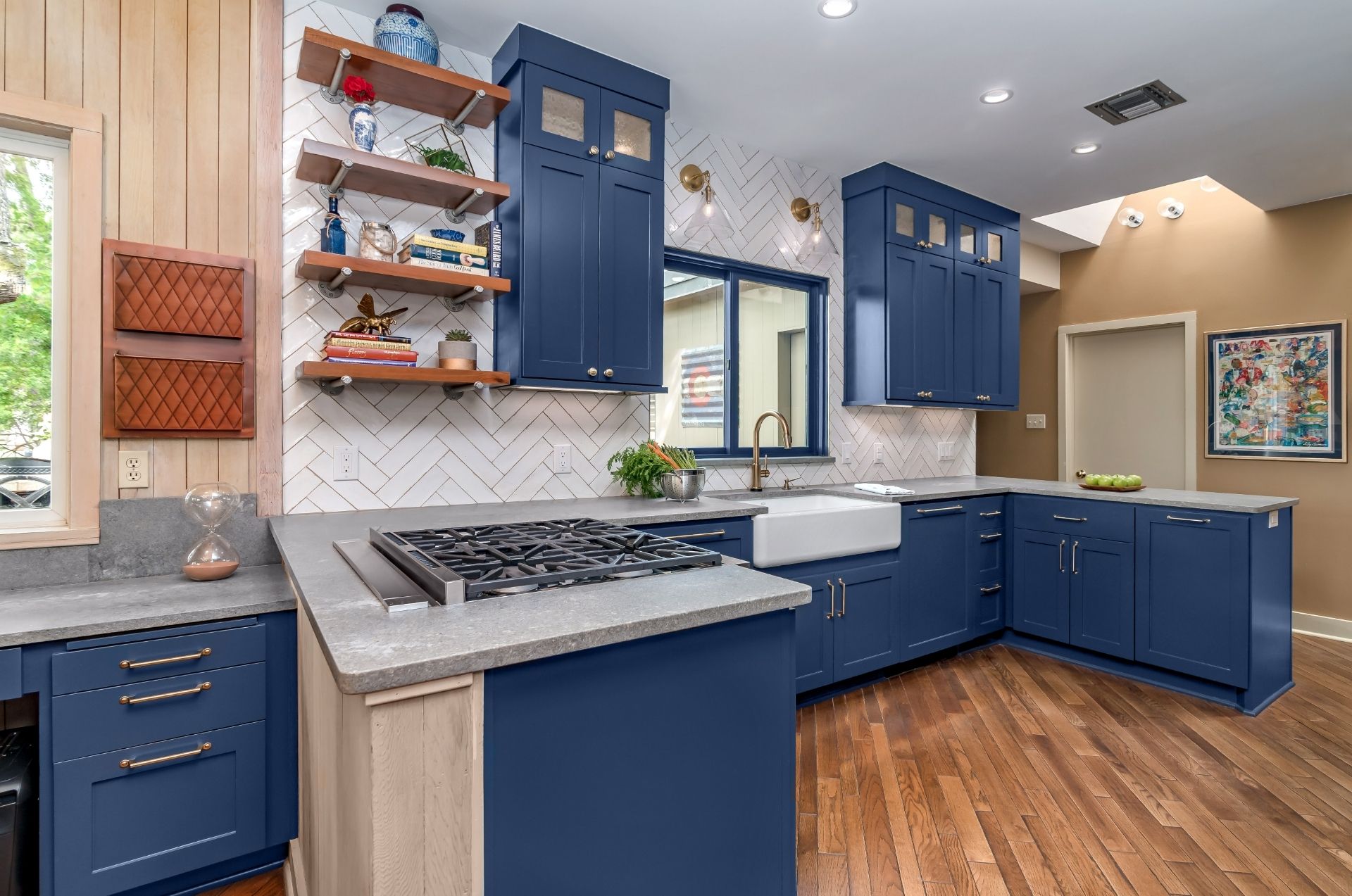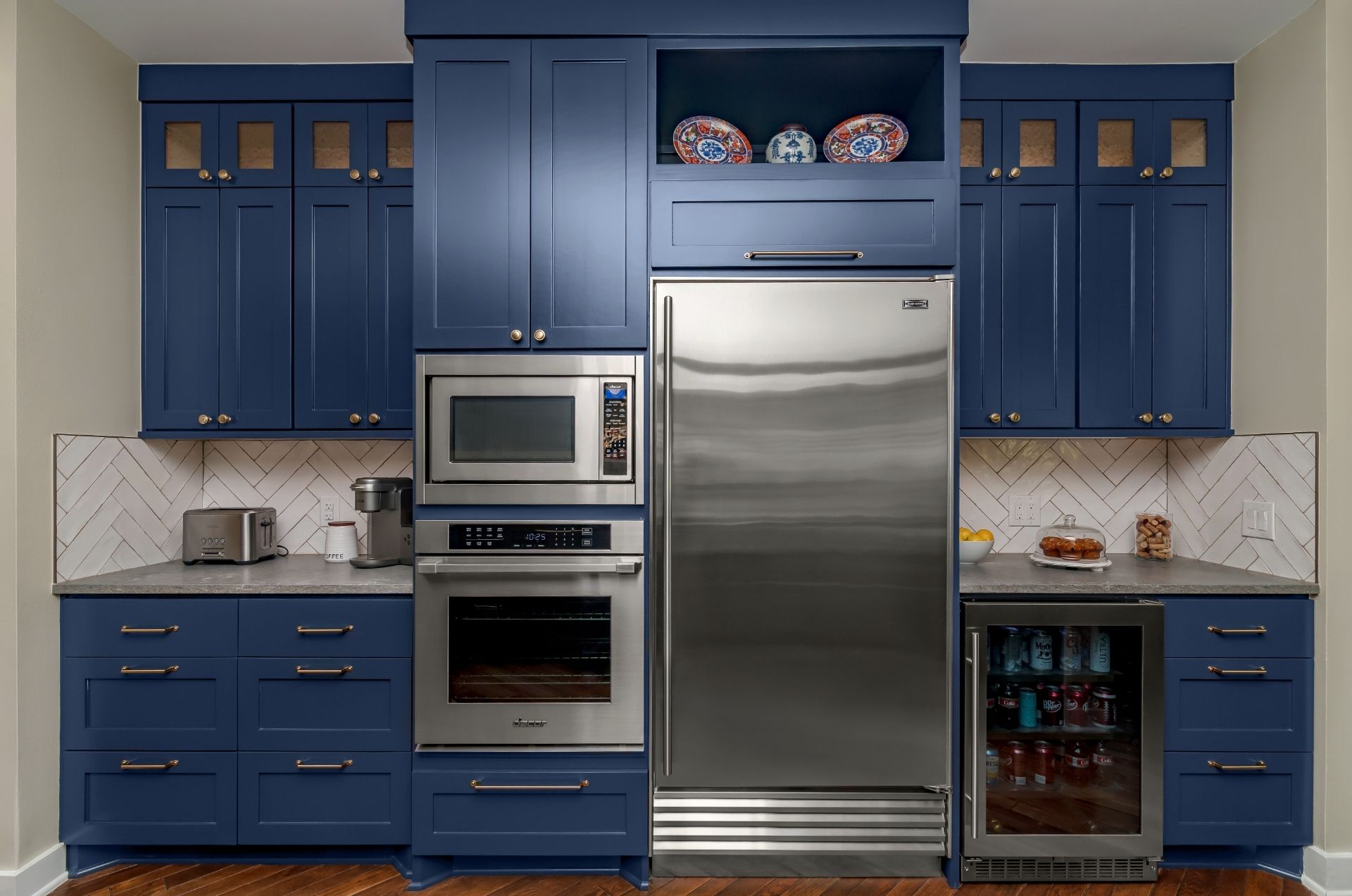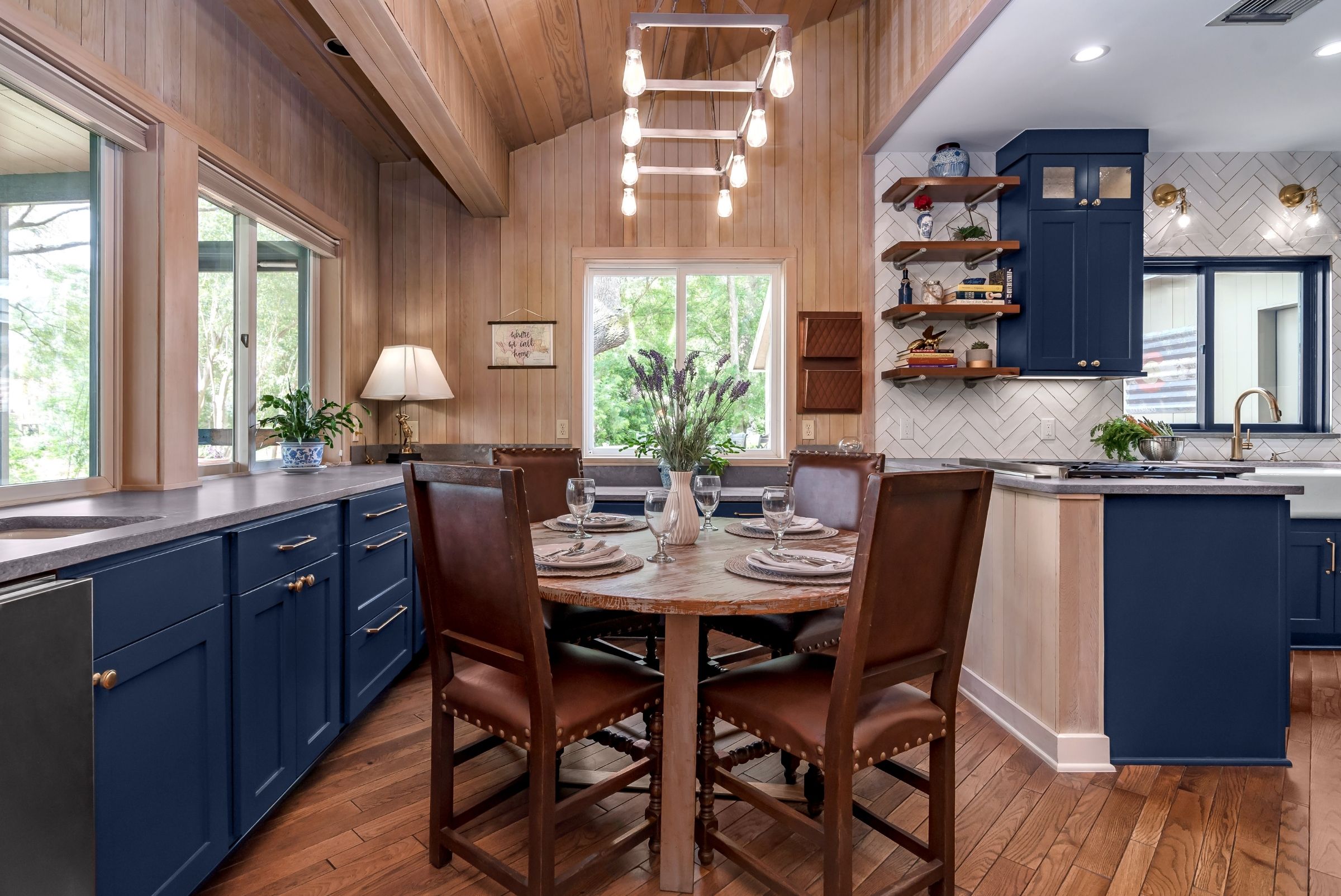 FLOORING AND FLOOR PLAN
Our clients liked the layout of the kitchen and existing hardwood flooring, so we were able to maintain the footprint of the kitchen and keep the wood flooring. We did a little patchwork under where the original sink was to match the existing flooring. 
CUSTOM CABINETRY
The original cabinets lacked beauty and did not take advantage of the space above them. So, we built the cabinets up to the ceiling, making the room feel taller and creating more storage.
Our clients opted for blue painted shaker cabinets and added wood-finished floating shelves mounted on 1/2″ pipe brackets. The warm tones of the floating shelves compliment the flooring and wooden wall panels.
BACKSPLASH AND LIGHTING
For the backsplash, our clients decided to on the Stone Solutions Raphael
crackled series in biscuit (white-colored). The white tiles look beautiful against the white quartz Ceasarstone countertops and look amazing against the blue shaker cabinets and wood tones throughout the kitchen.
For lighting, our team added evenly-spaced 4″ recessed can lighting throughout the ceiling to provide amazing lighting. We installed a beautiful Bristol 8-Light Chandelier by Capital Lighting in the dining room. 
We added two sconces mounted above the kitchen sink creating a visual focal point and balancing out the interior design. Of course, we add Dimmable LED strip lighting inside the cabinets, under the cabinets, and as toe kicking lights creating a well-lit kitchen space.
OVEN AND APPLIANCES
The existing stainless steel wall oven and refrigerator were new and looked great with the interior design, so we were able able to keep them. We installed a new Dacor Heritage 30″ Gas Range and a Caturra 30″ Downdraft Vent.
Bringing the kitchen up-to-date, we added a Bosch Benchmark Dishwasher, a Scotsman 15″ Nugget Ice Machine, and a Silhouette Professional 24″ Beverage center all in matching stainless steel.
PULL-OUT APPLIANCE DRAWERS
The plan was not only to design a cosmetically appealing space but to also create a highly functional kitchen that is easy to organize and keep clutter-free.
Check out the pull-out drawers we added conveniently next to the oven. It's the little smart features throughout a well-designed interior that makes a good design a great one.
Trendy in contemporary kitchen design, pull-out drawers for cookware and appliance are extremely functional. They keep your kitchen organized and also add a dazzling visual aesthetic to your kitchen interior.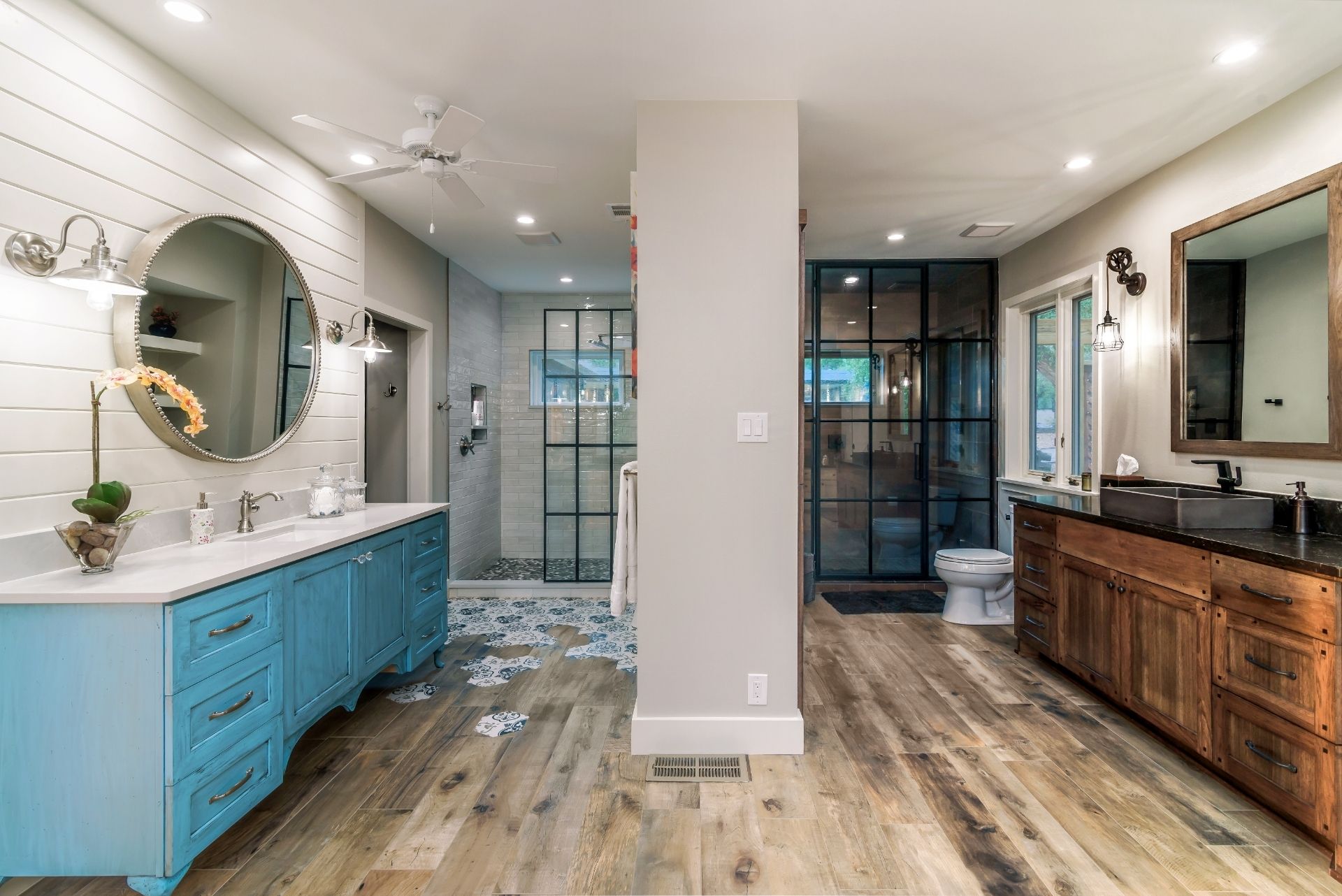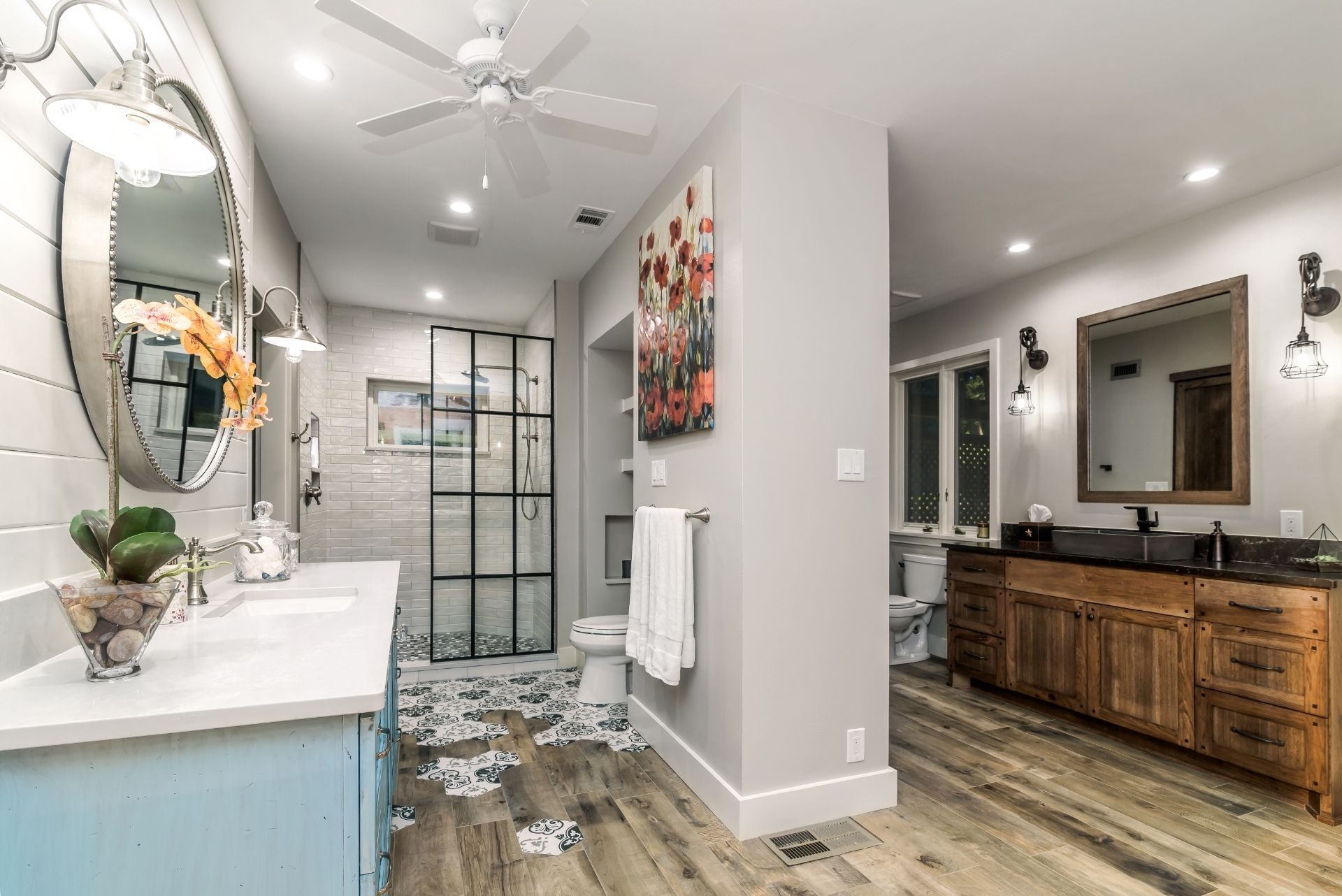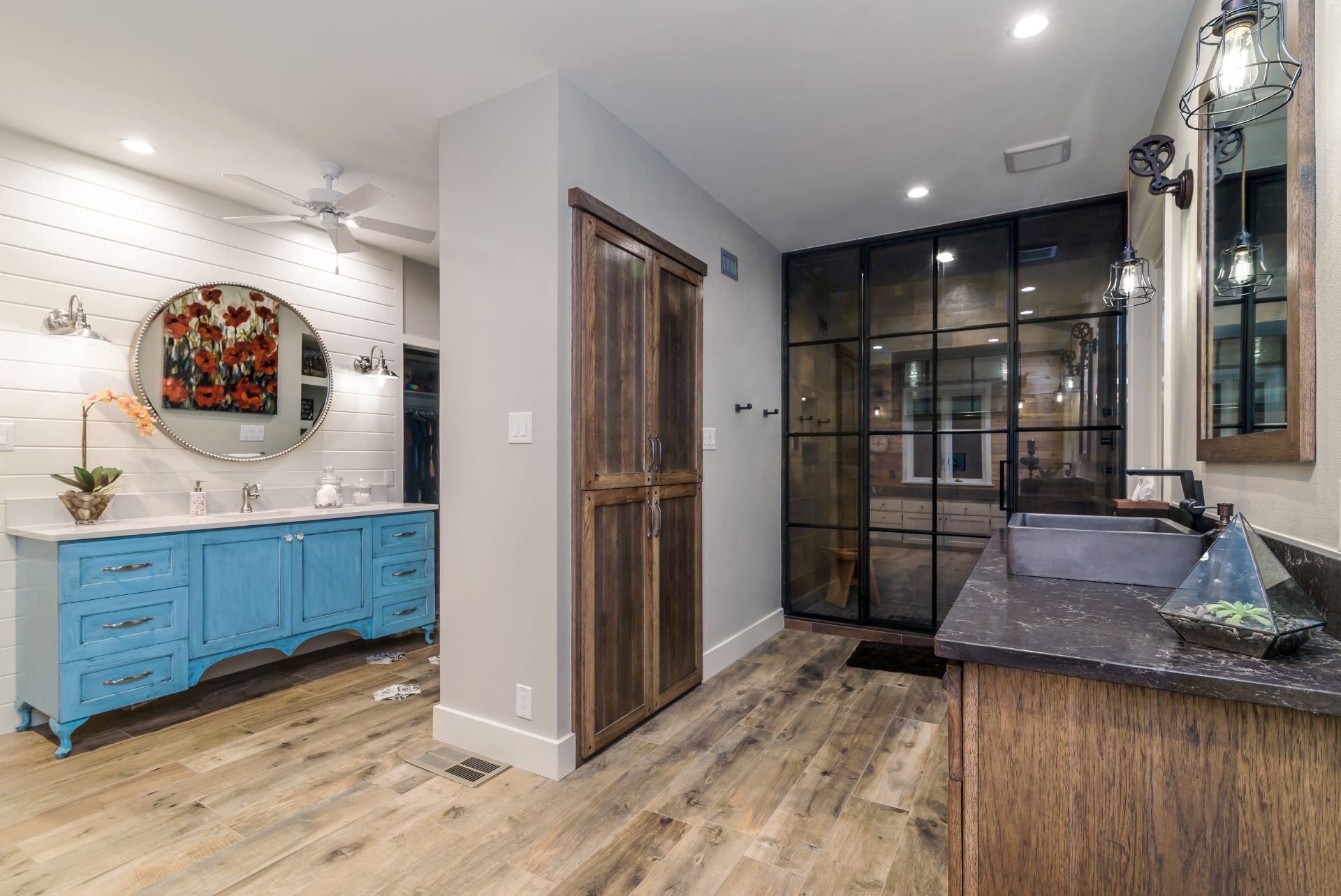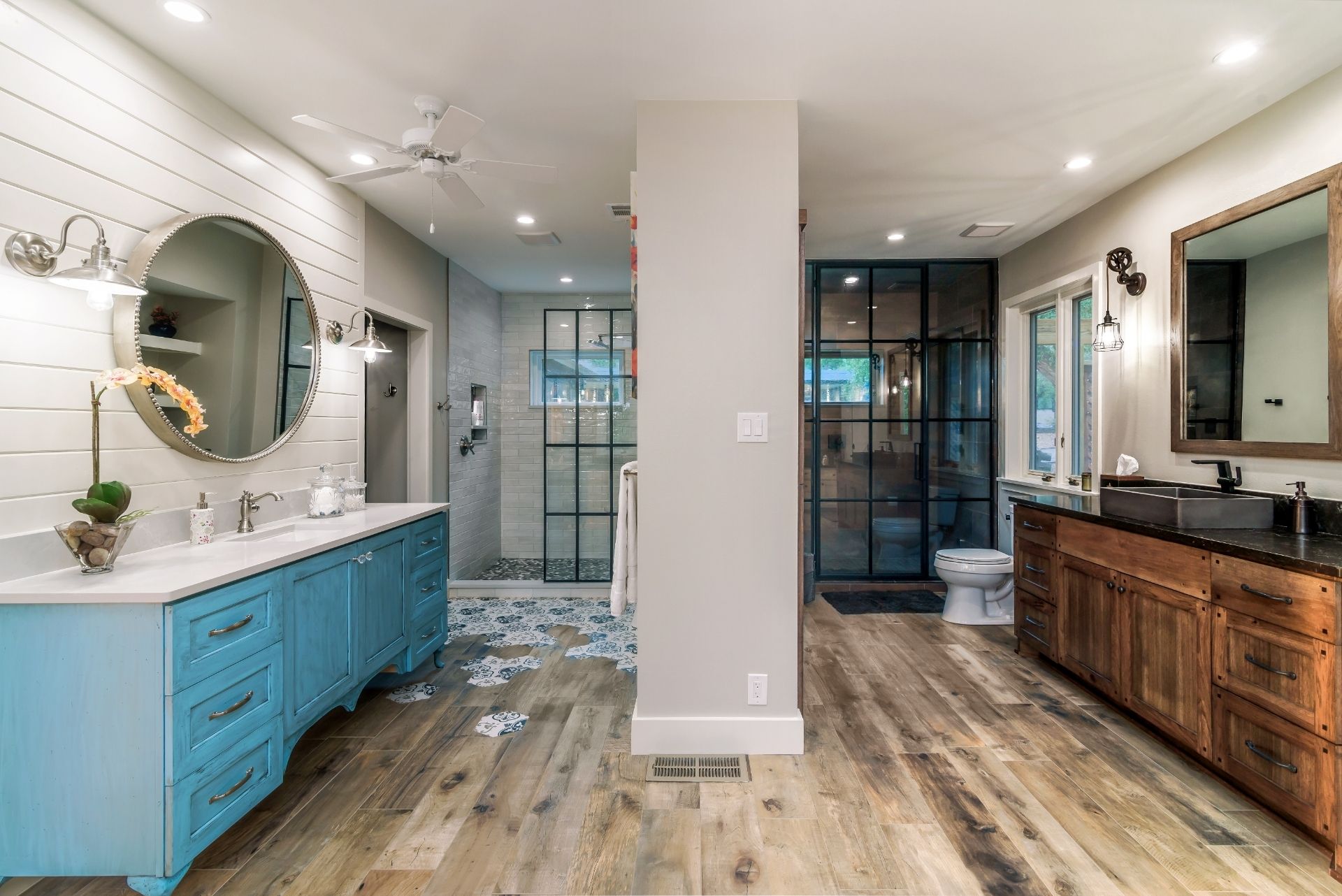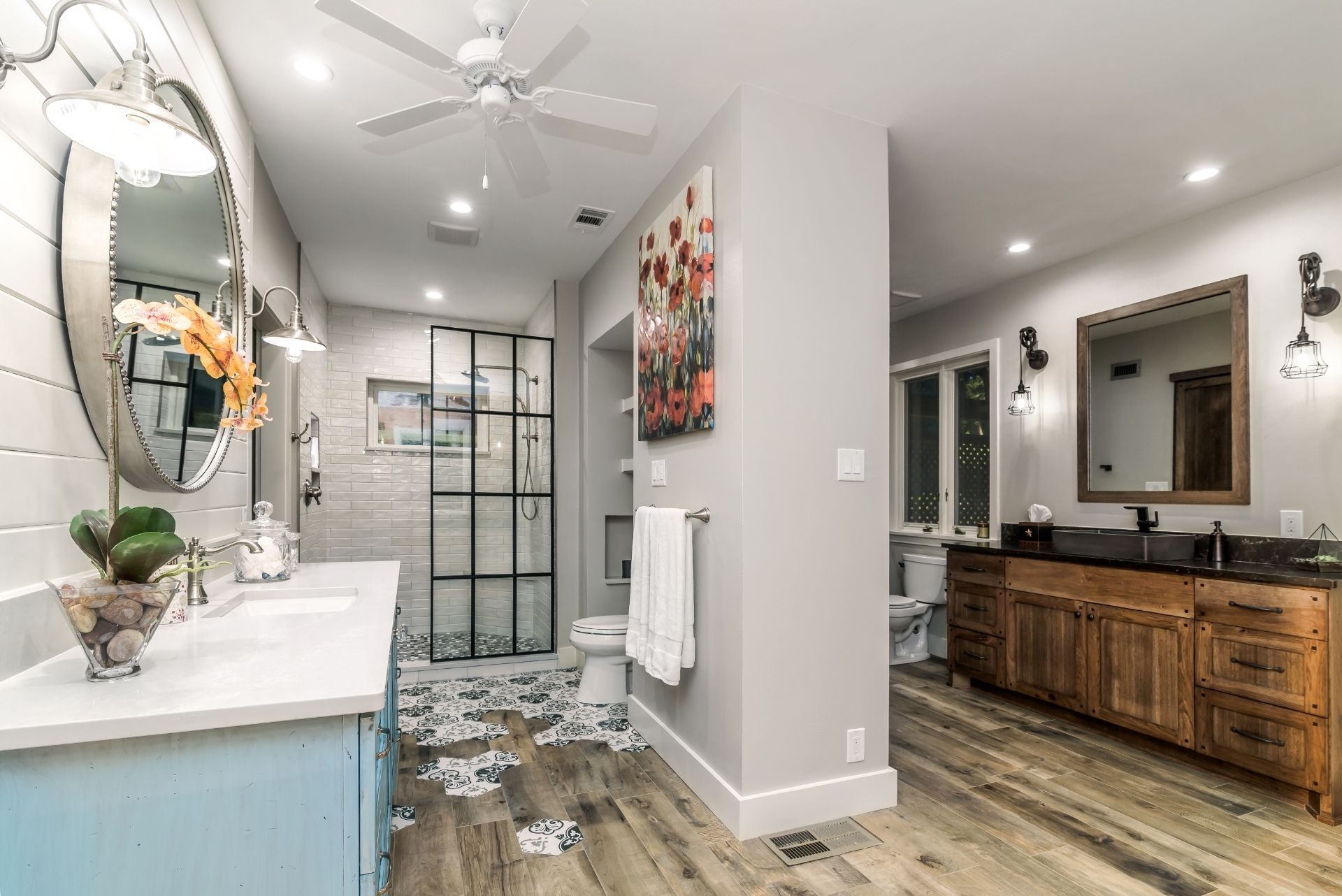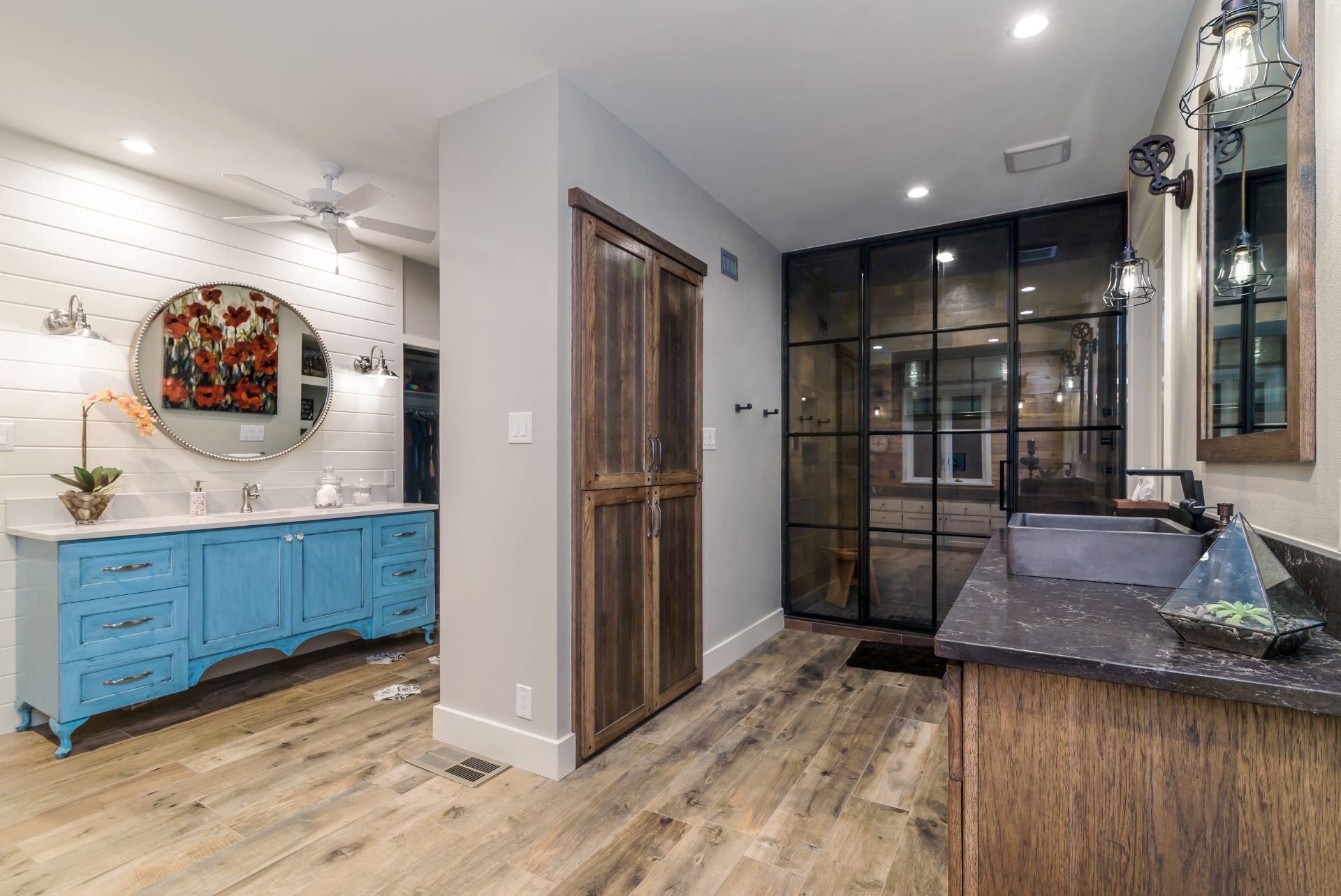 Design overview
These clients wanted to do a whole house remodel, but each room was so unique that we decided to feature them individually. 
First, we'll review this creative, luxury master bathroom renovation that reveals some inspirational bathroom remodeling ideas. 
PERSONALITY INSPIRED 
What makes the design so special is that the interior décor on her side and his side are unique and match his and her personalities.
Her side features a white and white color palette highlighted by powder blue cabinetry and medium wood tones. His side has a more masculine feel with natural wood tones that are accented shades of copper and black.
Our interior designer helped select the appropriate building materials and designed this luxurious interior, materializing their vision.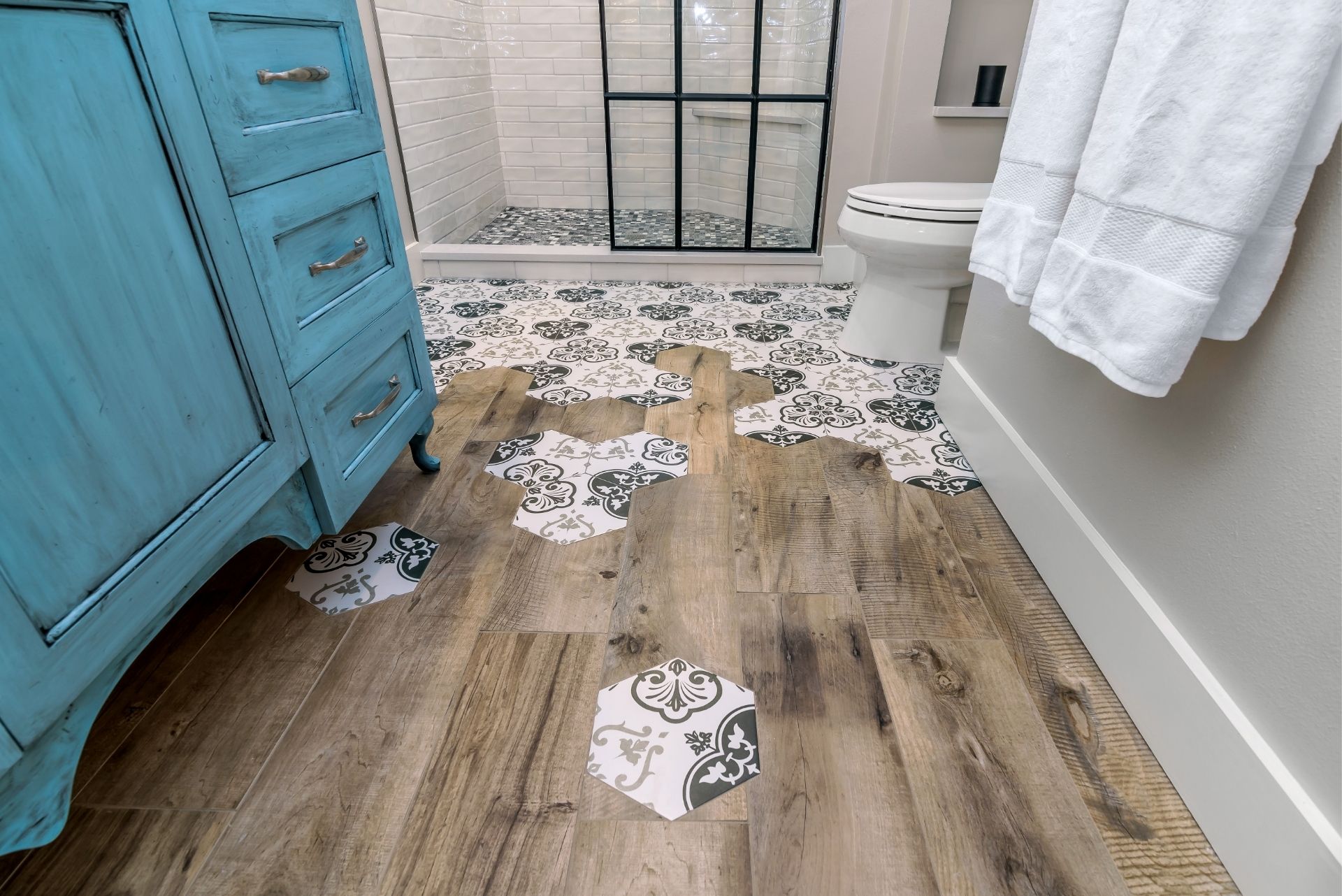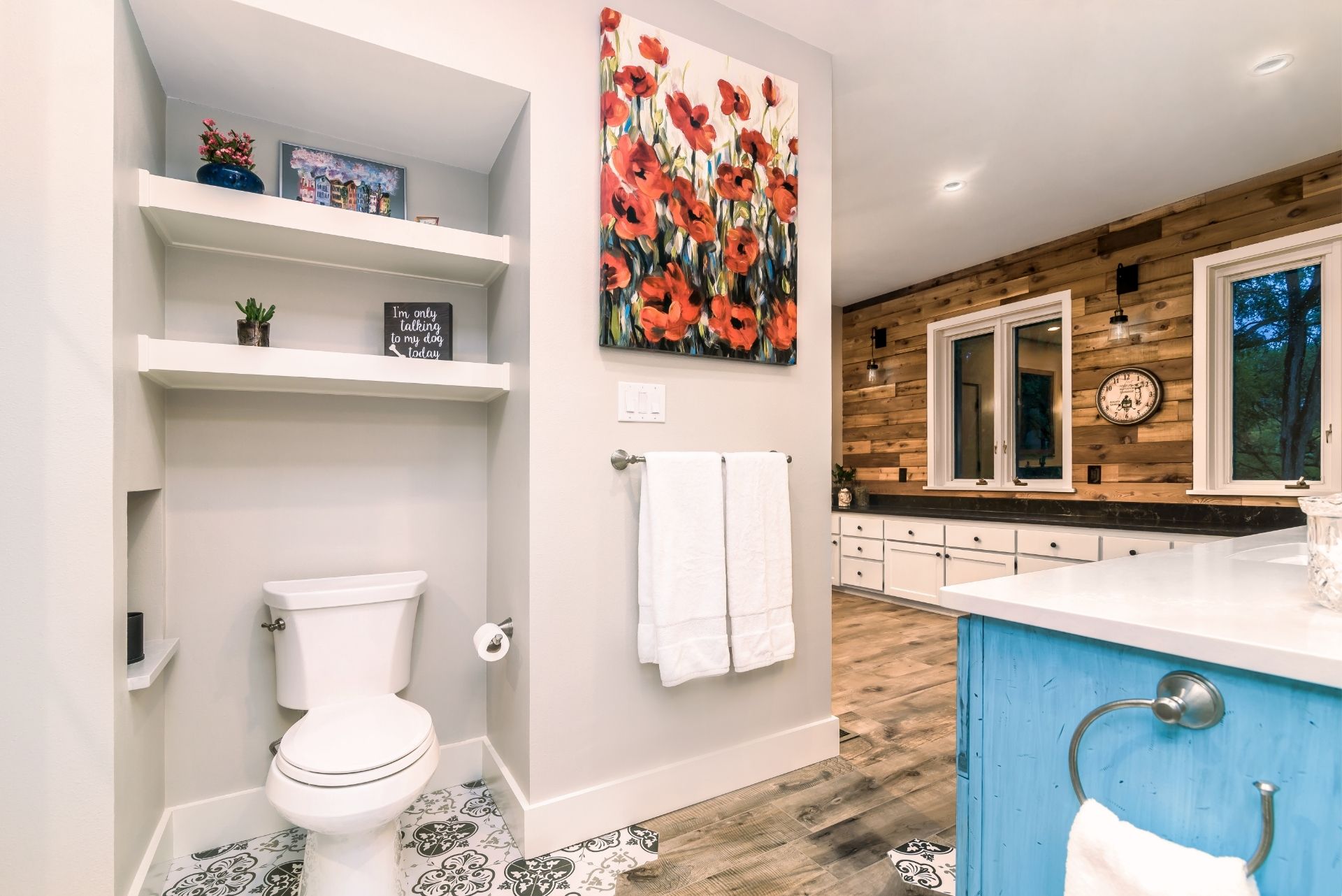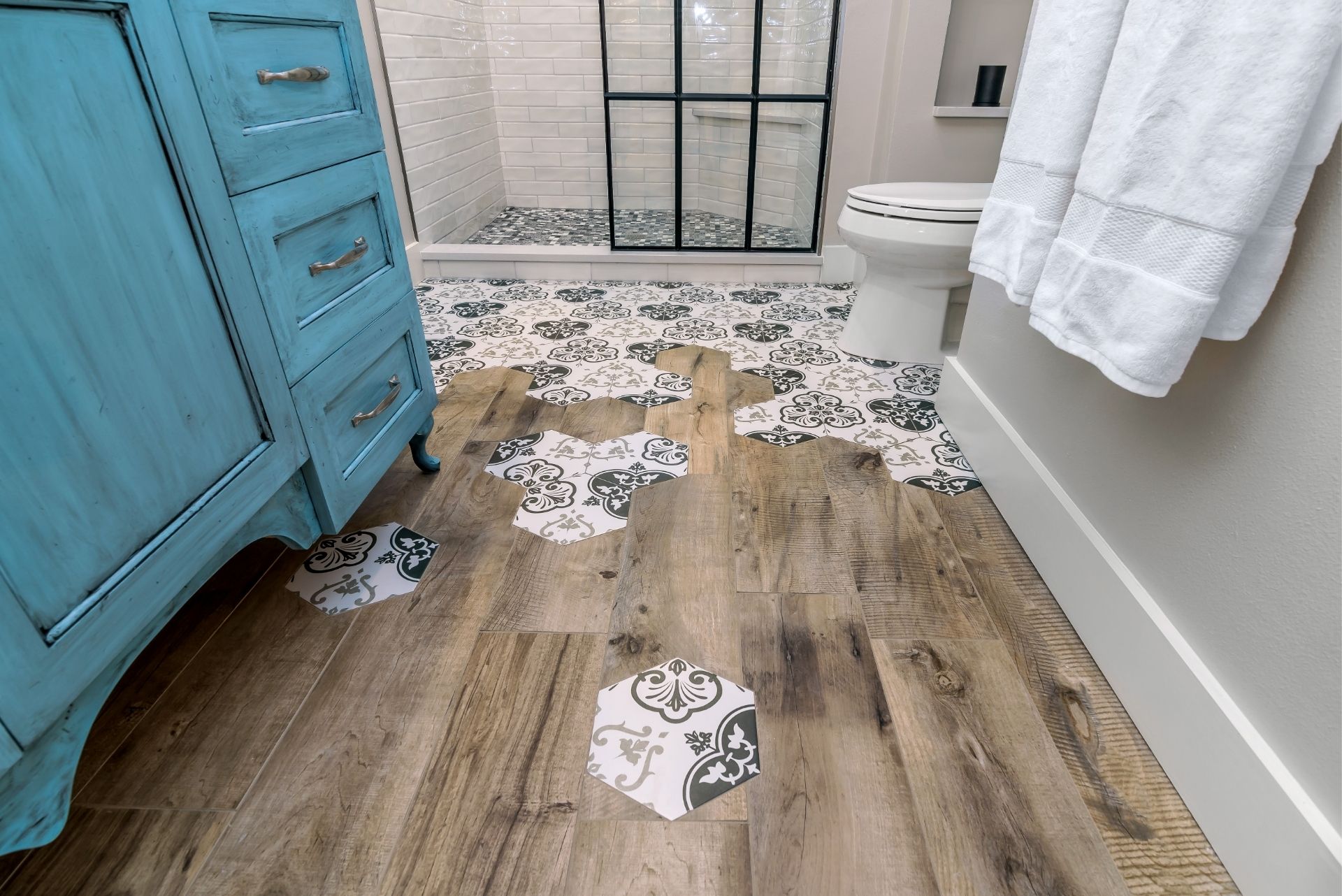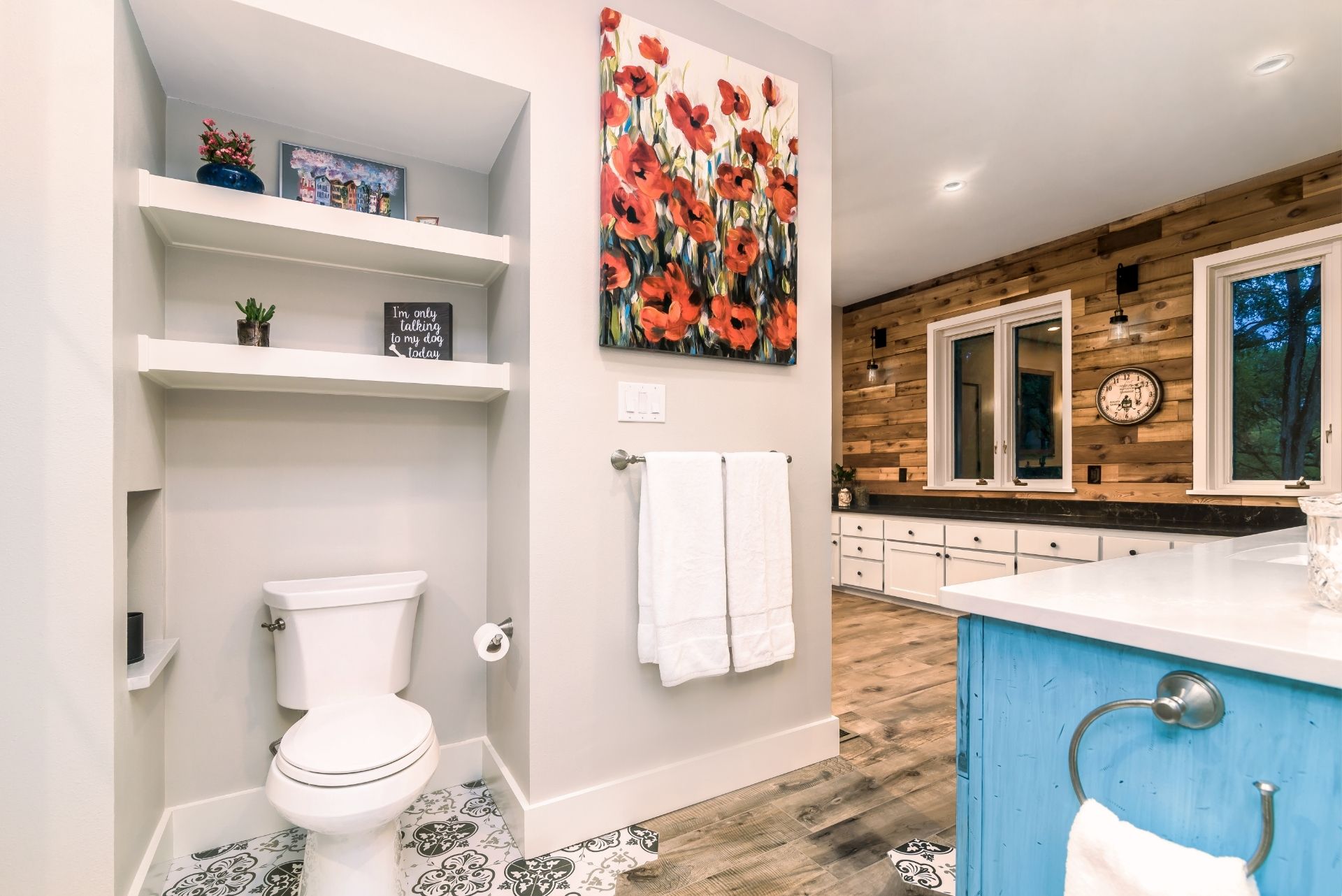 Her side of the bathroom offers a unique look with colors of blue, brown, black, and white.
Cabinetry
First, the custom-built cabinetry spotlights a beautiful antique powder-blue finish, flat panel doors, and elegant Queen Anne feet.
FEATURES
The white Caesarstone Quartz countertops compliment the walls and the black and white shower. Similarly, the backsplash behind the sink features the same Caesarstone Quarts.
The brown flooring consists of Dakota faux wood porcelain tiles, but the hexagonal-shaped black and white decorative floor tiles offer a stunning aesthetic. And they help smooth out the transition into the shower area.
Other features include floating shelves above the toilet, pendant lights on either side of the framed mirror, and dimmable can lights throughout the room.
His half offers an equally personalized aesthetic. but with a masculine vibe, featuring colors of brown, black, and copper throughout the bathroom.
CABINETRY
The cabinetry on his side features rustic hickory wood in a dark brown finish and shaker-style doors and dark hardware that complement the countertop and shower hardware. The countertops and backsplash feature stunning black Caesarstone Quartz. Other highlights include a large framed mirror with pendant lights on either side.
FEATURES
The wall on the opposite side of the shower features beautiful reclaimed Cedar planks that help tie both sides of the bathroom together. The cabinetry below consists of white shaker cabinets and a black Caesarstone Quartz countertop.
The pendant lights above keep the area well-lit, while the dimmable can-lights spaced evenly throughout the bathroom provide excellent lighting and allow you to set the mood.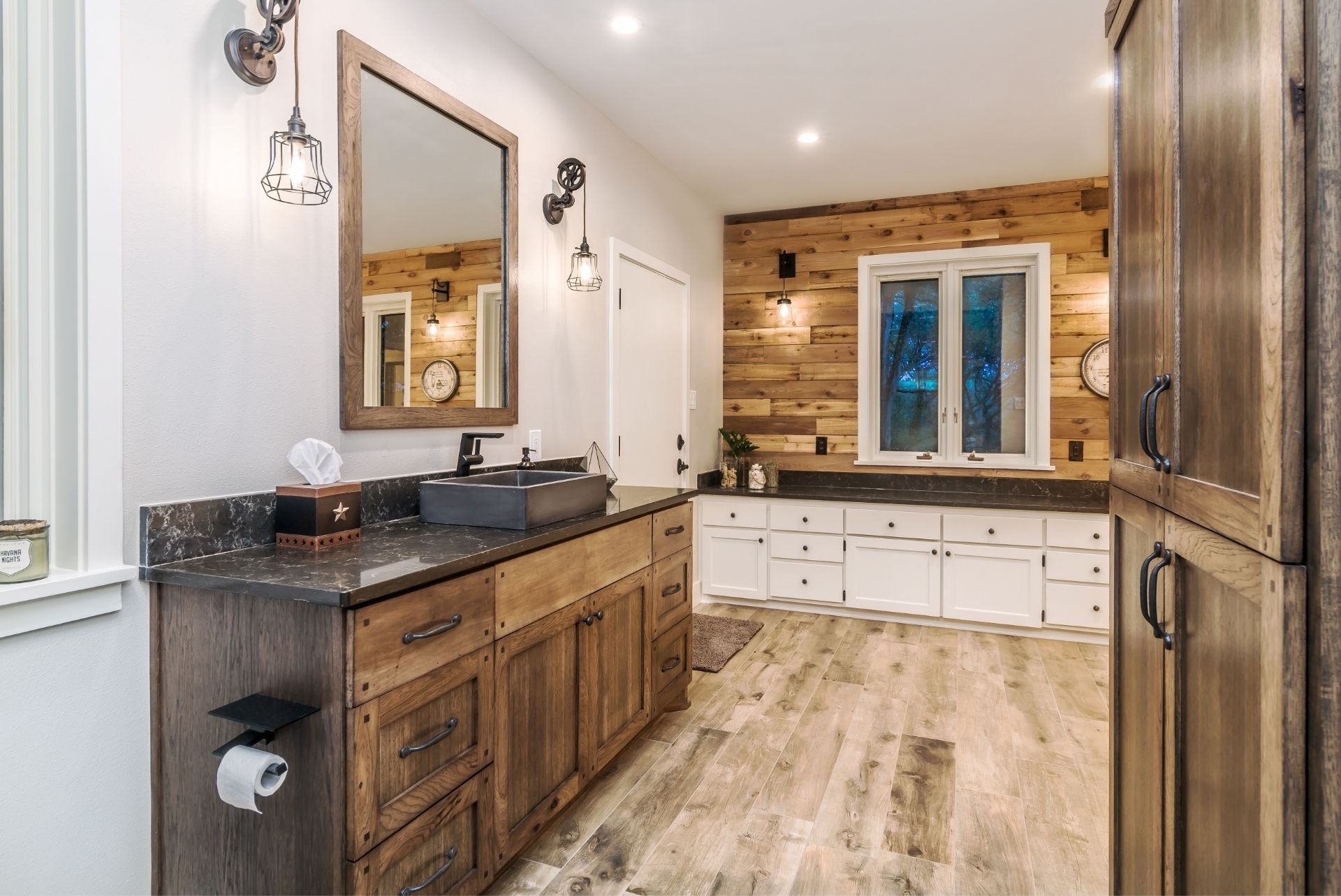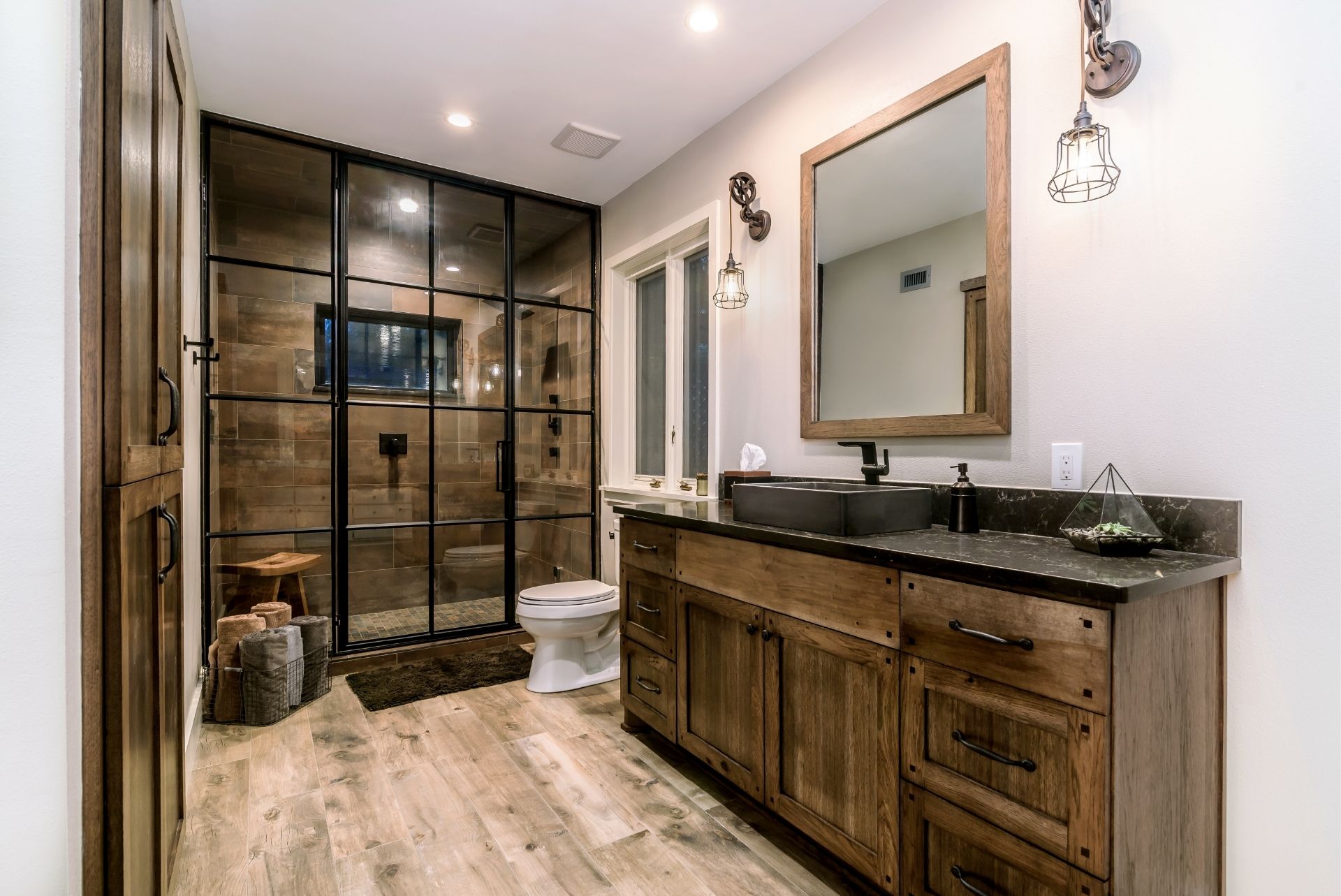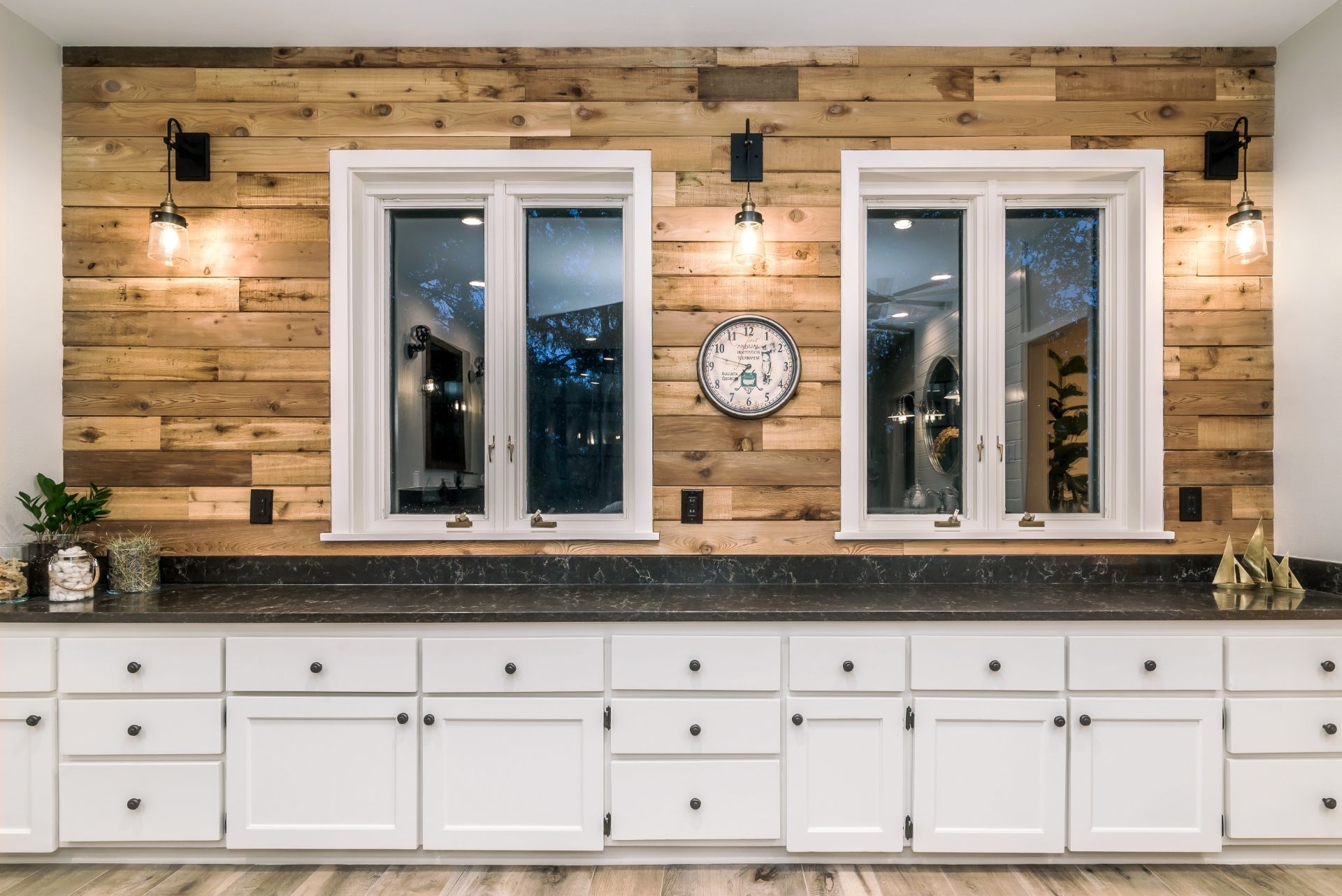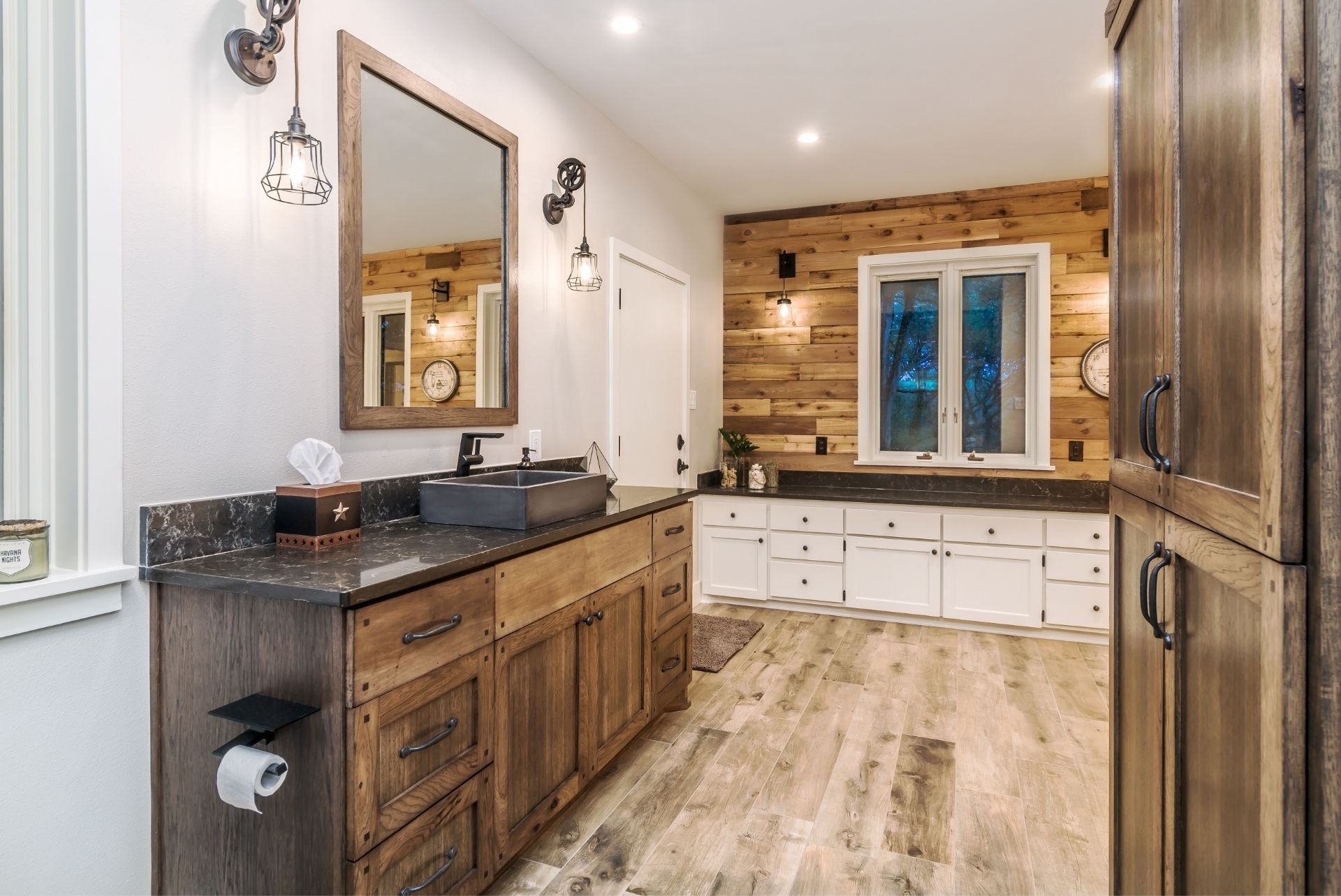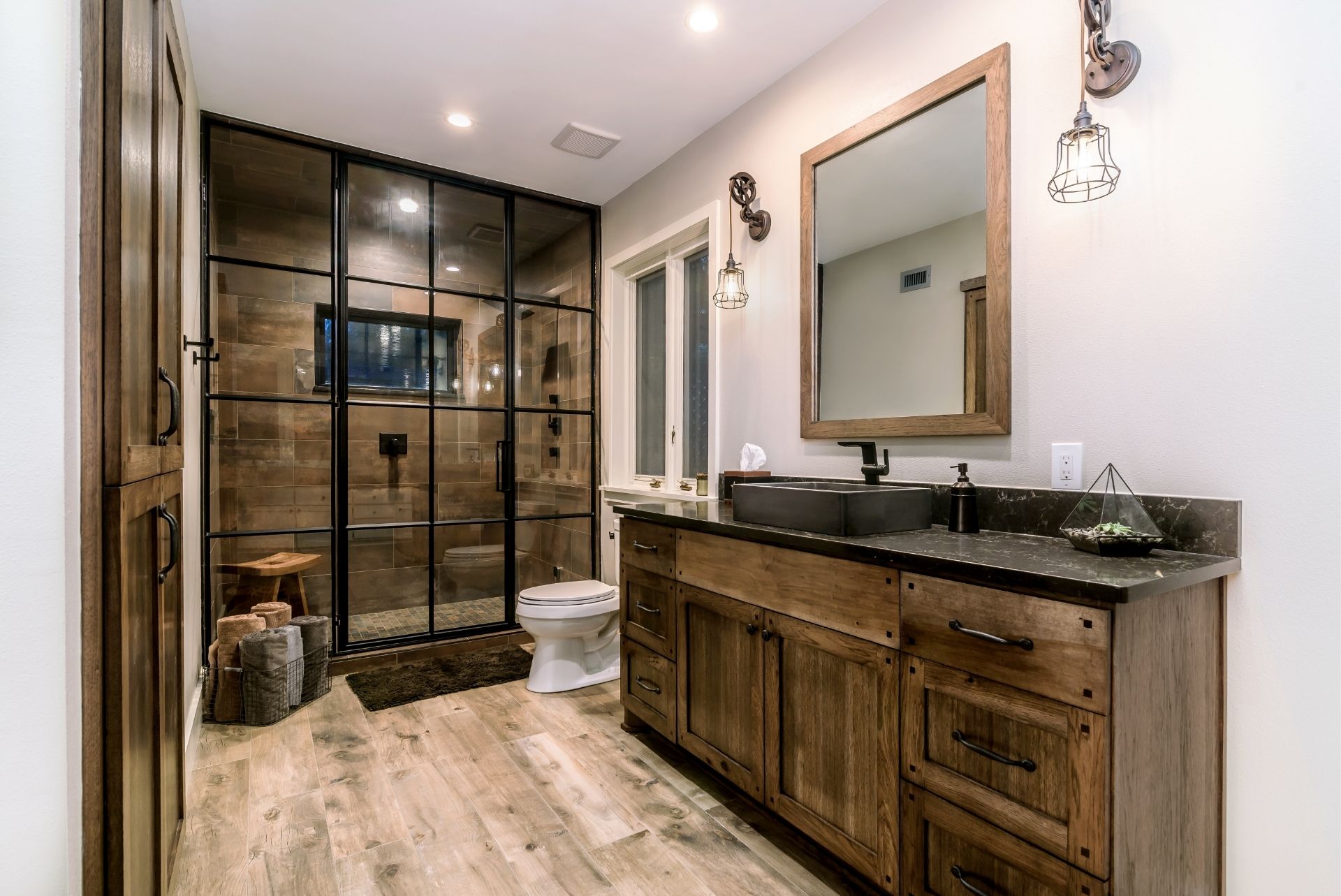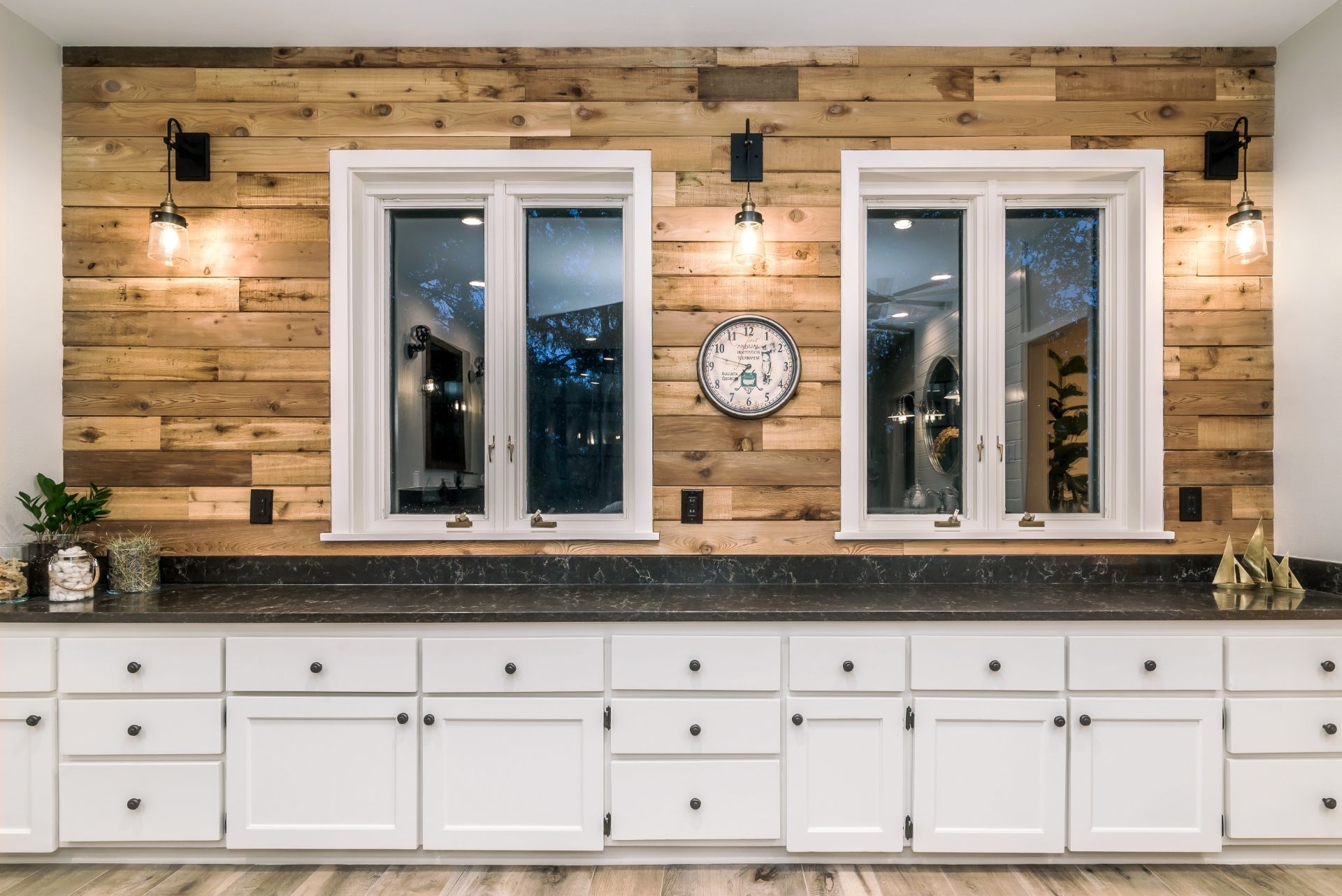 HER SHOWER
Her walk-in shower comes with an awesome rain shower head that provides a luxurious showering experience. And the handheld showerhead and built-in shower bench make shaving convenient.
The shower walls consist of white Shadebrick ceramic subway tile, but the flooring spotlights gorgeous antique black and white glass mosaic tiles that complement the hexagonal tile flooring. Also, the glass shower door with a black frame matches nicely.
HIS SHOWER
He wanted a sizeable walk-in shower with exciting features. For example, this shower comes equipped with body touch massage sprayers and a luxurious steam shower by Mr. Steam. Moreover, the twelve-inch square rain showerhead offers a fantastic showering experience.
The shower walls and ceiling consist of rust-colored porcelain tiles by Interno. The shower floor spotlights complementary multi-colored porcelain mosaic tiles.
CABINETRY
We built custom cabinetry featuring shaker doors with honey bronze hardware. The glacier white granite countertops, Torbay Pull hardware by Top Knobs, and the hammered nickel vessel sink complement the cabinetry. 
FLOORING
Our clients loved the existing hardwood flooring, as it was in great shape. So, we kept it mostly intact, although we did perform some patchwork where the original cabinetry sat. Of course, we made sure that the new work perfectly matches the existing flooring.
BACKSPLASH
For the backsplash with used cool 3-D mosaic back-painted glass tiles in Orion Blue. The blue tiles create a dazzling contrast against the wood flooring and granite countertops.
LIGHTING
The beautiful semi-flush-mounted Tesoro light in antique nickel creates warm lighting throughout the room while adding a touch of elegance.
OTHER FEATURES
The other prominent features include a floating wood-finished shelve above the toilet, wall-mounted faucets, and a wall-mounted mirror above the sink that complements the hammered nickel vessel sink.
OVERVIEW
Our clients love taking the party out to the back patio from time to time to take advantage of the temperate weather Austin, Texas is known for. 
BUILT-IN GRILL
Accordingly, we installed a massive 30″ stainless steel built-in grill by Lynx on their hardwood back porch. The grill is housed inside a beautiful piece of custom-built cabinetry.
CABINETRY
We built 2 1/2 " thick paint-grade shaker cabinets around the grill. The cabinetry is light olive green and features a Texas Longhorn with 5-pointed star metal ornaments and burnt-orange trim. The Sirocco Dekton Countertop by Summit Dekton and Havana Brick porcelain tile backsplash round out the design.
FEATURES
Features include plenty of convenient power outlets, a custom-built foot railing, and an awesome outdoor refrigerator. Now our clients have not only the perfect custom home interior, but they also have an amazing outdoor playground to share with family and friends.
Onion Creek Whole House Renovation Summary
As you can see, this Onion Creek Whole-House Renovation shows how your dream home should reflect your family's unique personality. Their home flows smoothly from one room to the next, and it's as beautiful as it is functional. Check out the review below to see what they have to say about it.
Years Remodeling Austin, Texas
+Austin Area Homes Remodeled
+ Glowing Five-Star Reviews
#1 Home Remodeling Contractor Since 2006
Onion Creek Whole House Renovation
"Roy and his team did a fantastic job! We had a large remodeling project which included our kitchen, master bathroom, powder room, and outdoor grill. His team is professional, reliable, and fun to work with! I have recommended New Creations to my friends and will use them for future projects. Thank you, Roy, Erin, and Apollo!"
Logan Family
Get Our Newsletter
Learn the insider remodeling secrets NO CONTRACTOR wants you to know and participate in bonus offers and NC GIVEAWAYS!