Town Lake Craftsman Kitchen Remodel
By New Creations Austin
Town Lake Craftsman Kitchen Remodel
Craftsman Kitchen Remodel OVERVIEW
The owner of this home on town lake contacted us to perform a craftsman kitchen remodel. He felt it was time to transform his new place into a forever home he could enjoy for years to come.
The challenge was creating a kitchen that felt large in a space that was overwhelmingly cavernous and limited. Our client and team were eager to create a design that could capitalize on every square inch and realize this room's true potential.
It was dated aesthetically, and the layout made it cumbersome to work. Some of the appliances also needed upgrading. We also felt the lighting and functionality of the kitchen needed an upgrade.
Our client and design team settled in on a craftsman-style kitchen design. The hallmarks of a craftsman style include natural material, fine craftsmanship and artisan flair.
Town Lake Penthouse | Austin, TX
Complete Kitchen Renovation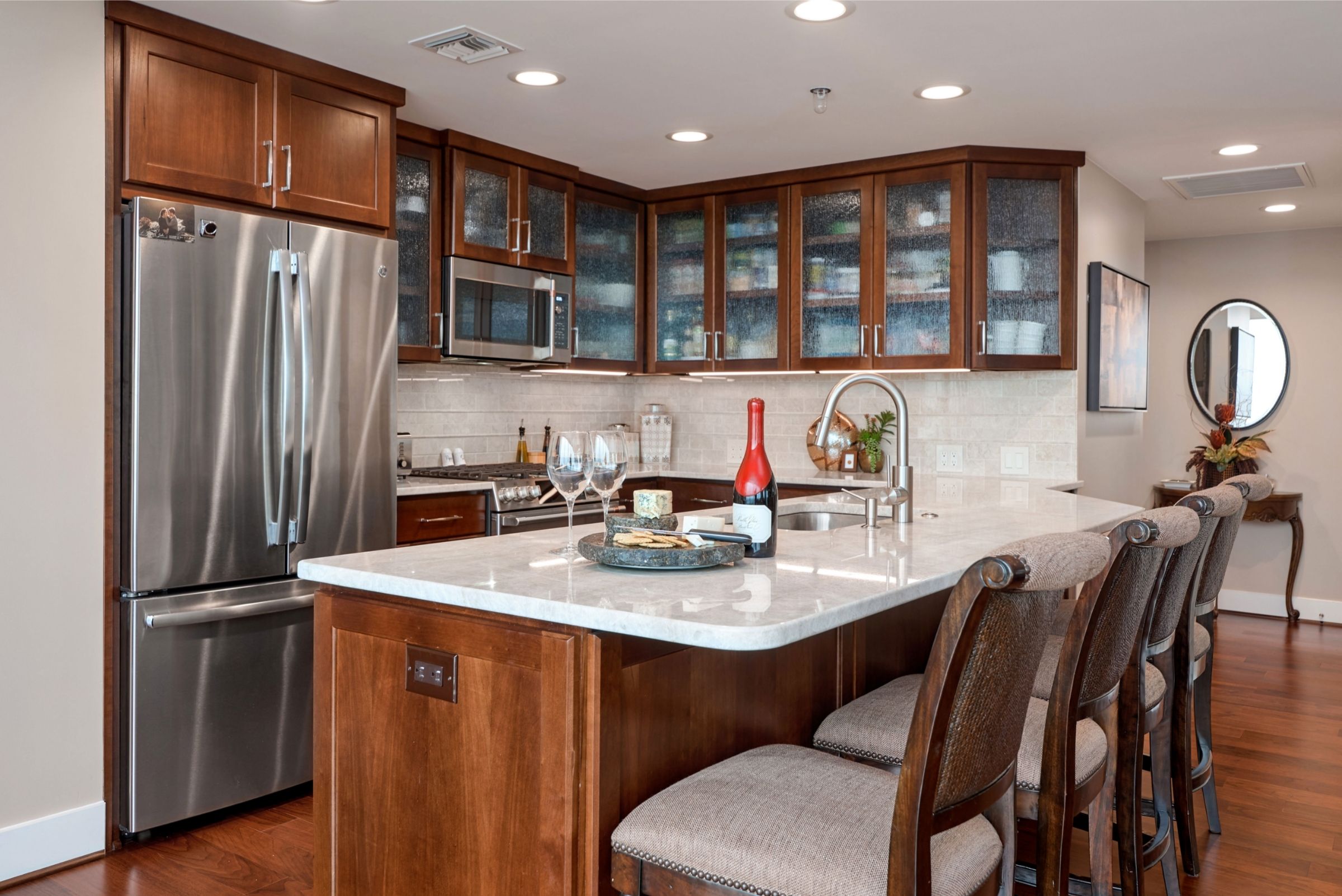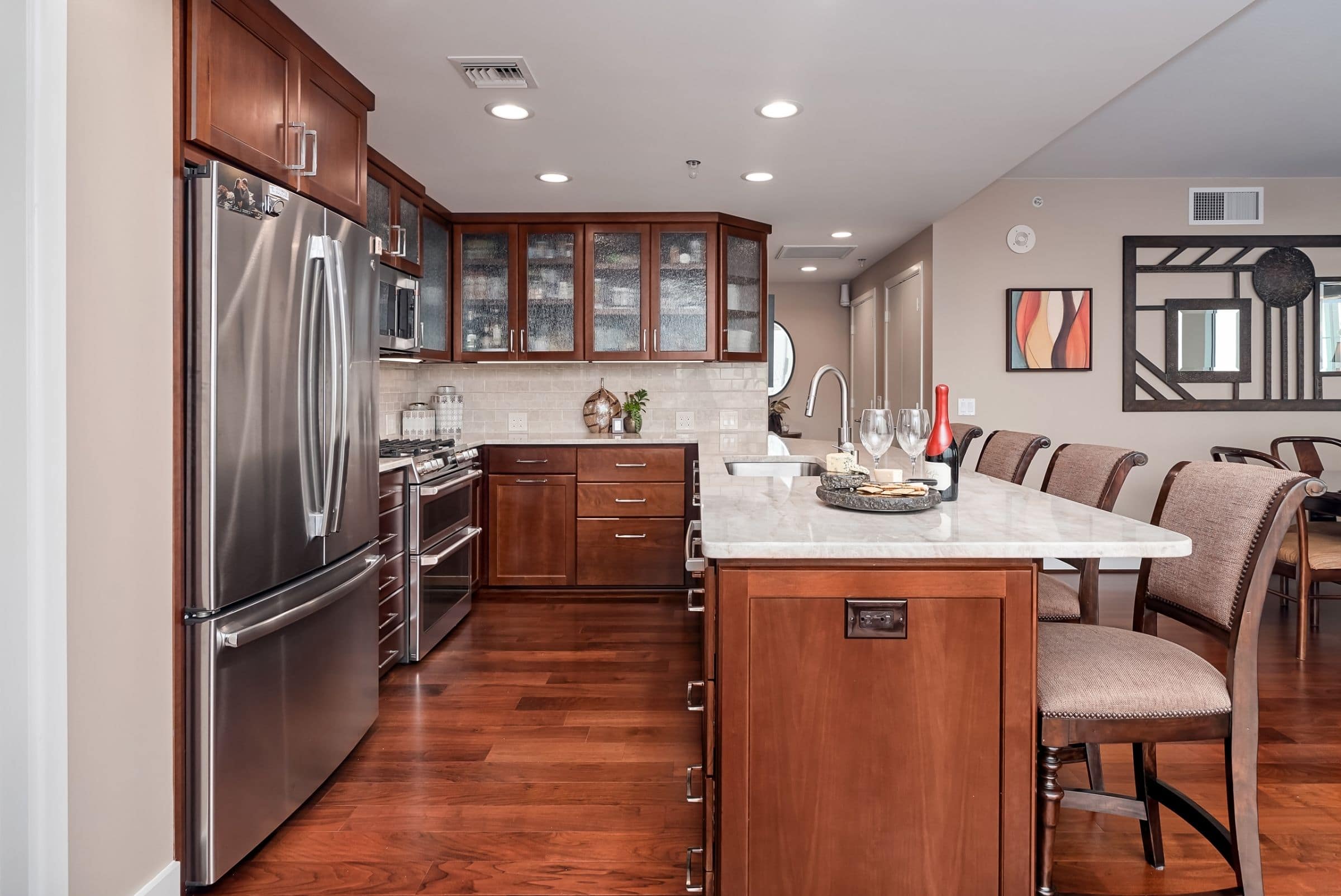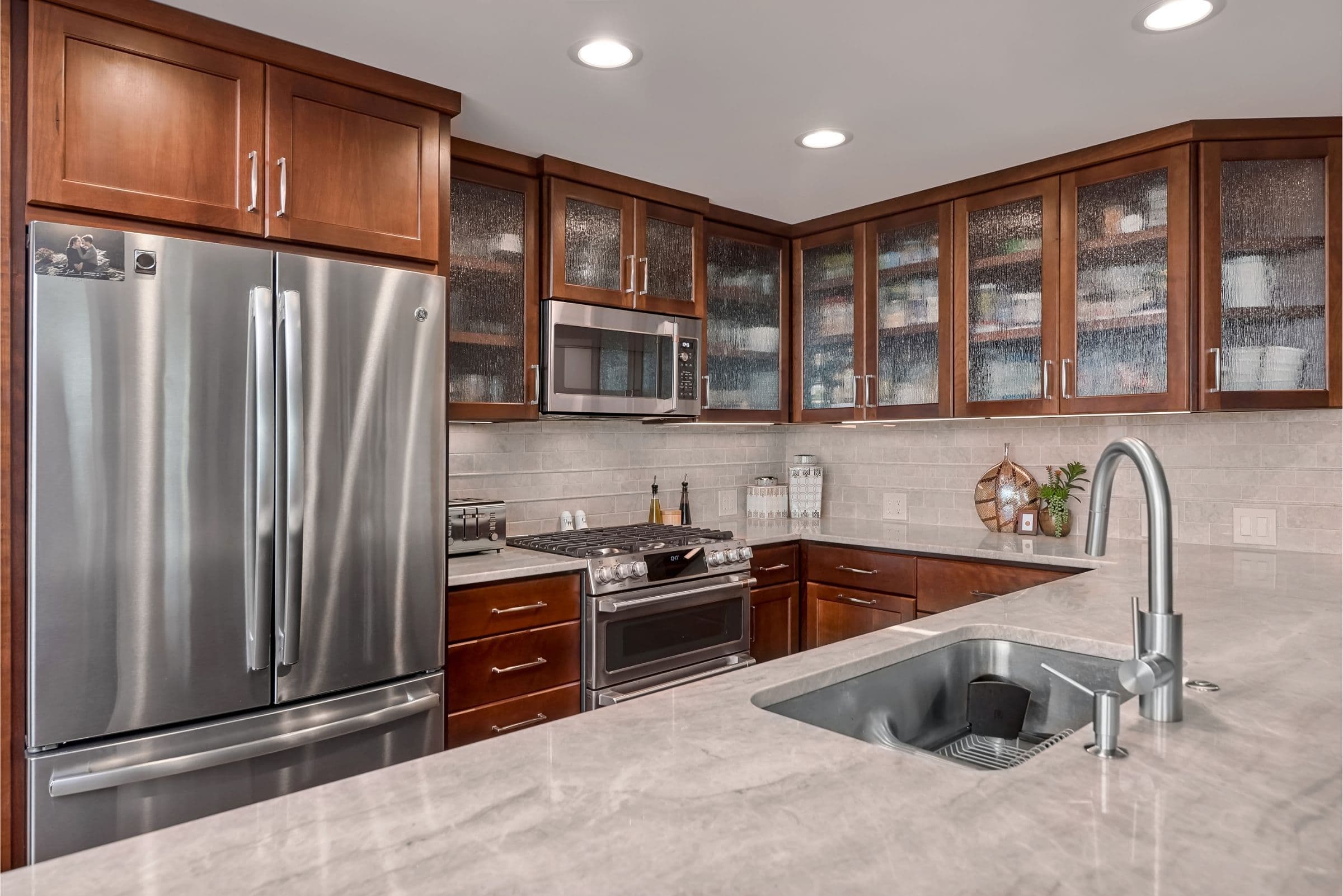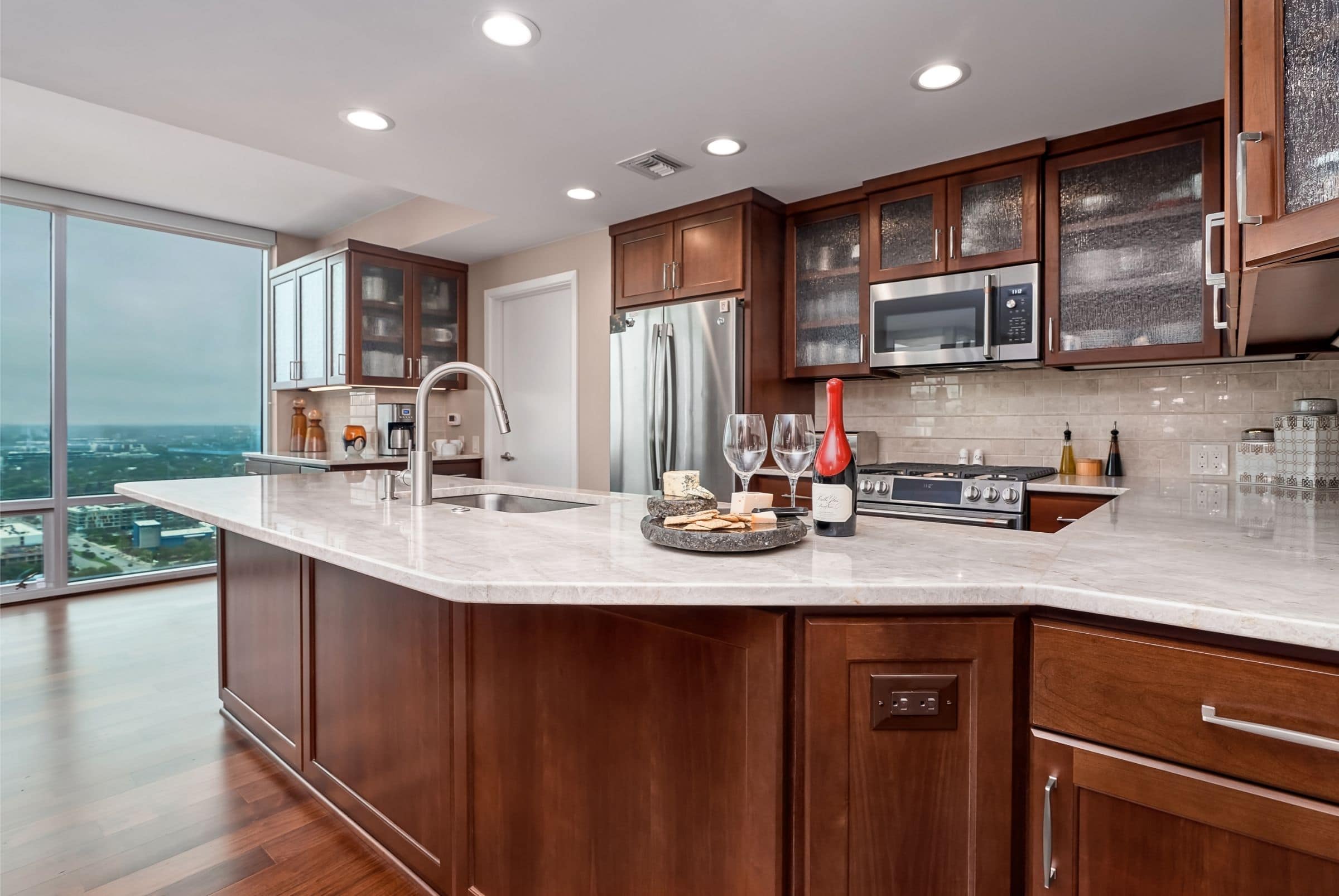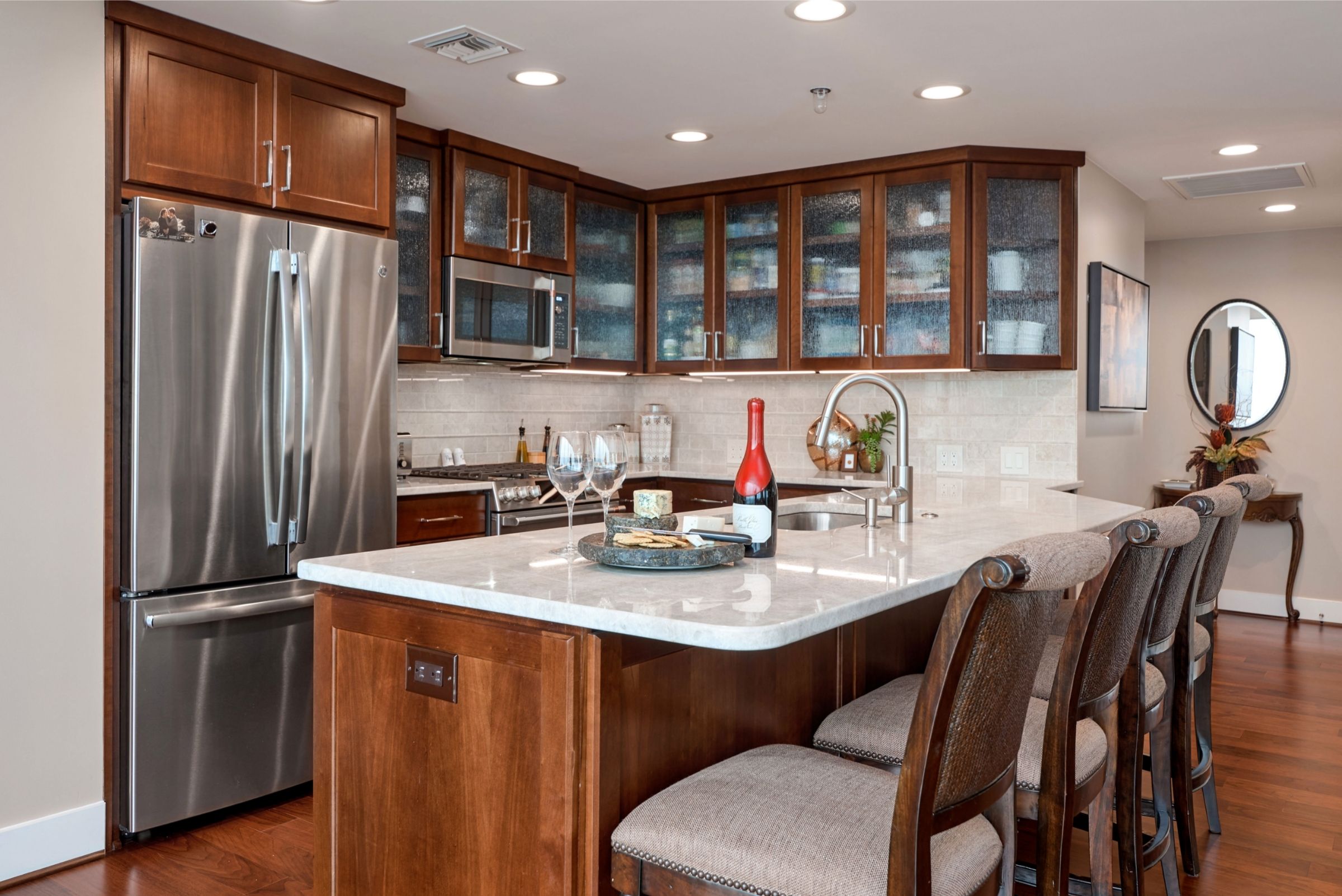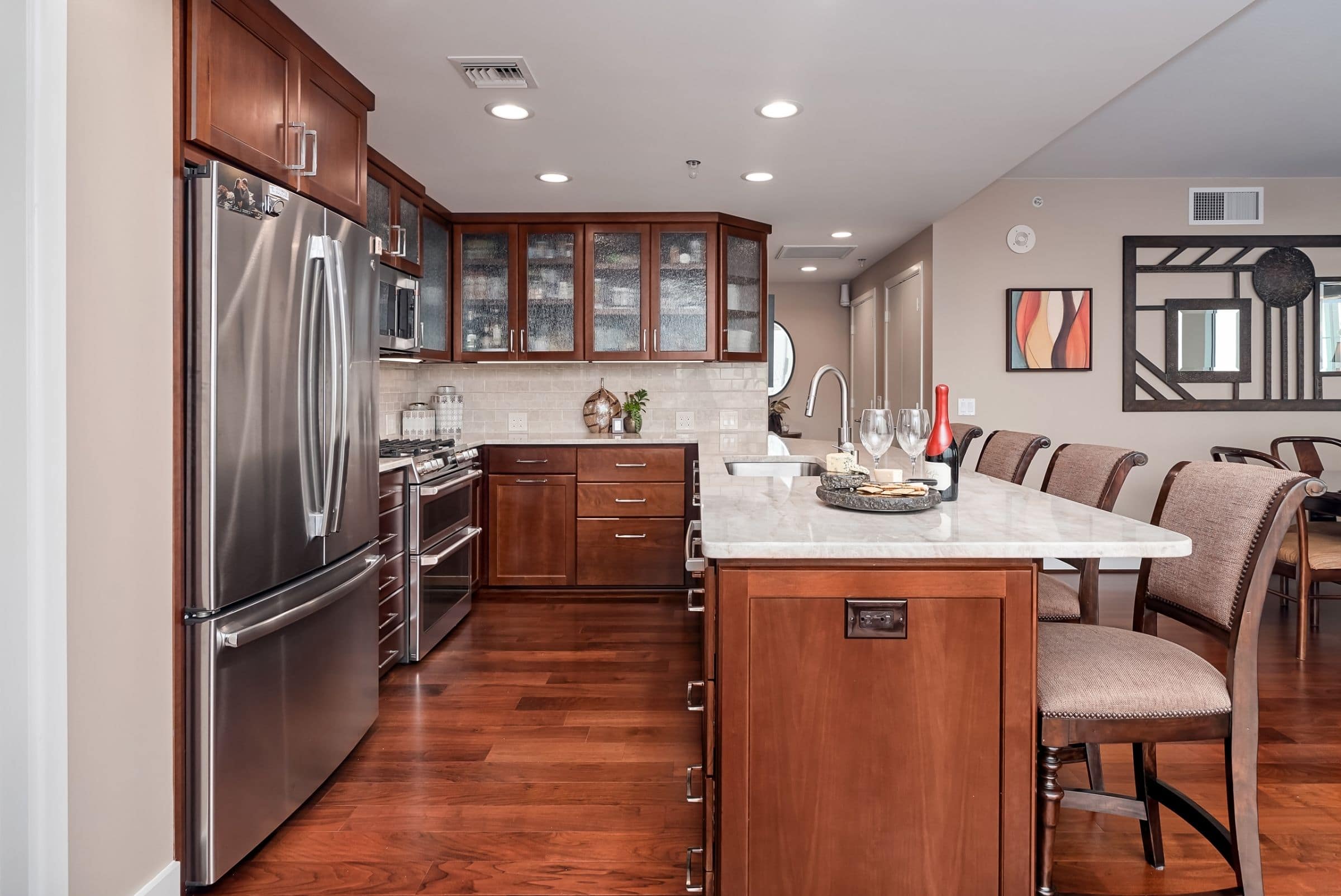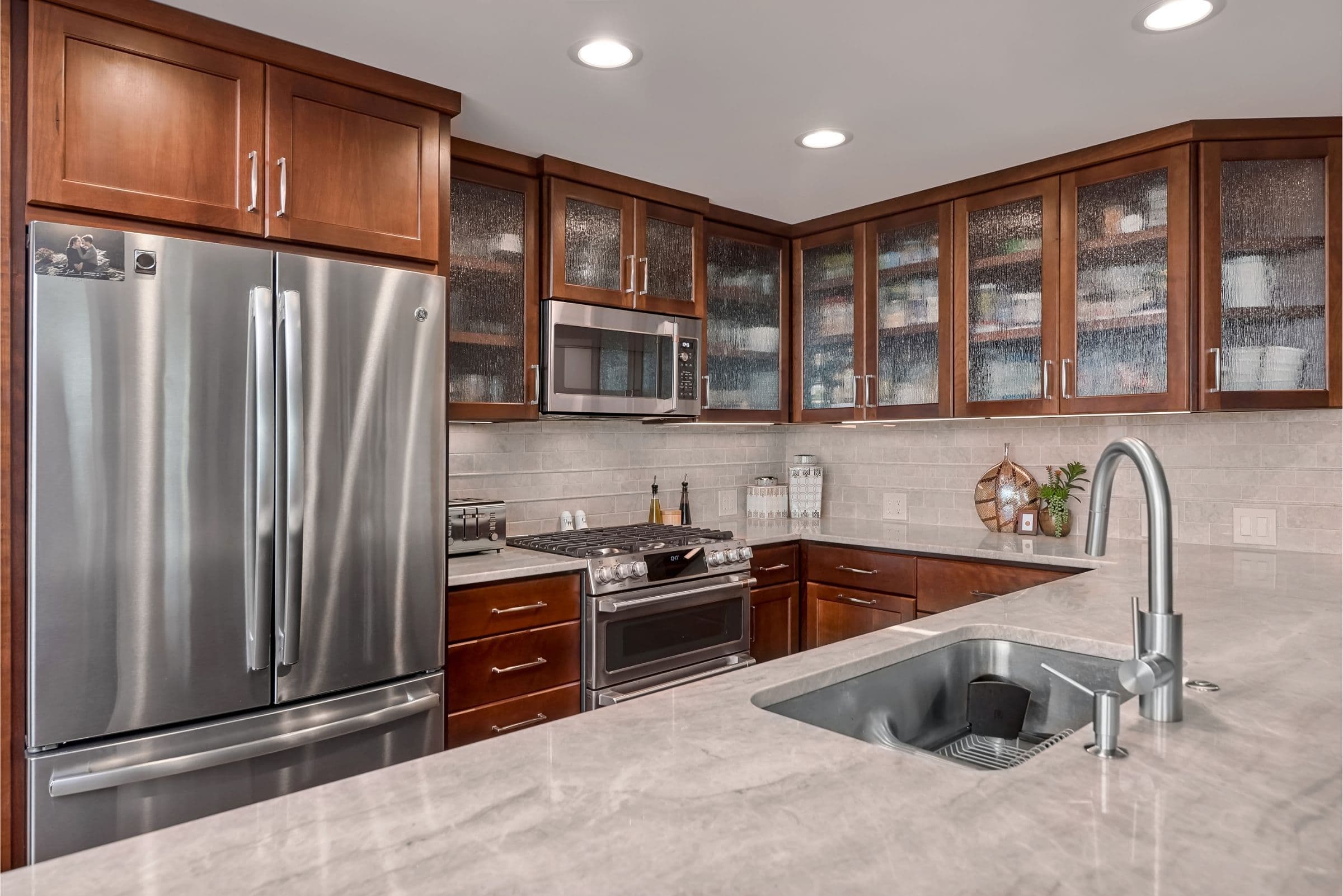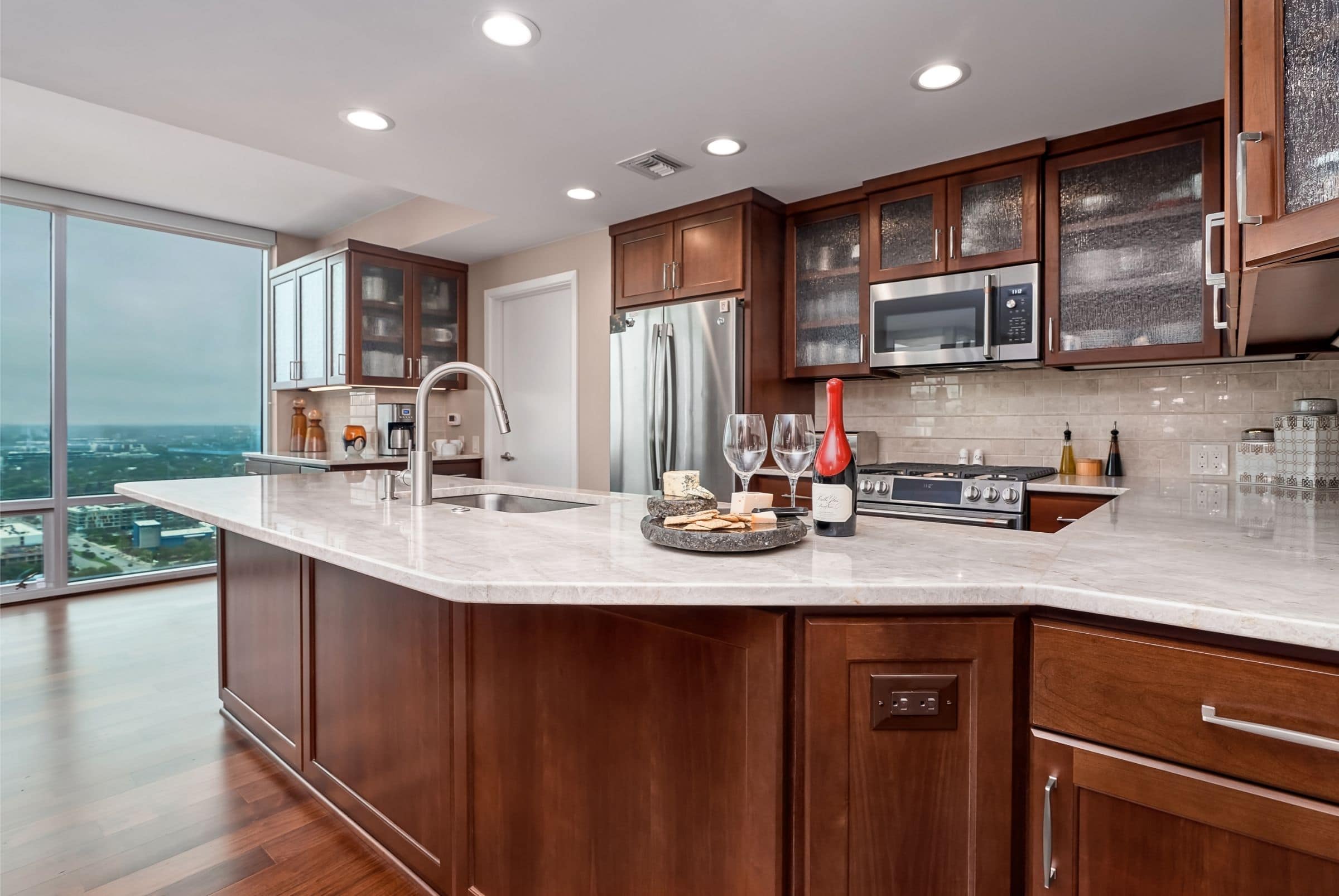 Craftsman Kitchen Remodel Highlights
CUSTOM CABINETRY
One goal for this craftsman kitchen remodel project was to maximize the room's footprint. So, we raised the cabinets to the ceiling making the room feel taller and optimizing storage.
The custom cabinetry features Cherry wood with stain-grade flat panel doors. The upper cabinets have Ames glass inserts with a fine rain design that creates a dazzling shimmer.
FLOORING
We decided to keep the original flooring as it was in excellent condition and looked great. So we made sure that any new work we did in the kitchen complemented the existing features.
In the end, the new construction maintained a consistent aesthetic throughout the space while updating functionality and the layout. 
COUNTERTOPS
The countertops for the peninsula, perimeter cabinets, and living room table feature beautiful slabs of quartzite in Taj Mahal (white/beige), which look incredible with the Cherry wood cabinetry and stainless steel appliances.
BACKSPLASH
Consisting of Avorio Fiorito (beige) Polished Monterrey marble, the backsplash complements the countertops and shows well against the Cherry wood cabinets.
HARDWARE
All doors, large drawers, and small drawers have a stunning brushed nickel finish that looks amazing against the cherry wood cabinetry and white backsplash and countertops.
SINK
The stainless steel Ruvati kitchen double bowl smart divide sink matches the appliances and the Kraus Oletto single handle pull-down stainless steel faucet.
We added a complementary Kraus stainless steel soap dispenser. The stainless steel push-button air switch for the InSinkerator garbage disposal rounds out the theme. 
APPLIANCES
A General Electric Cafe 30″ slide in gas range and dual fuel double oven sits below a General Electric Cafe 1000W sensor microwave/vent. Both are stainless steel.
The General Electric Profile counter-depth French door refrigerator and Avallon built-in wine fridge also feature stainless steel. A Bosch S800 bar-handle, stainless steel dishwasher rounds out the kitchen appliances.
LIGHTING
The plan was to illuminate the space by taking advantage of the available natural light and installing strategically placed artificial lighting. We added recessed can lighting and installed LEDs under and inside the cabinets throughout the kitchen. The outcome is a wonderfully lit room with no dark zones.
Town Lake Craftsman KITCHEN Remodel SUMMARY
In the end, this craftsman kitchen remodel achieves a stunning look. We took a tiny room and made it feel warm and spacious while improving its functionality and lighting. Our team designed a highly functional and beautiful kitchen.
We maintained the aesthetic of the original space while creating an all-new layout and selecting complementary building materials.
Consequently, our client has what he always wanted—a warm and spacious feeling atmosphere to entertain family and friends for years to come.
Years Remodeling Austin, Texas
+Austin Area Homes Remodeled
+ Glowing Five-Star Reviews
#1 Home Remodeling Contractor Since 2006
Circle-C Ranch Kitchen Renovation
"Professionalism, Punctuality, Quality, Responsiveness
Thanks to the great team at New Creations for a remodeling of our condo kitchen. They demo'd, drafted, designed, fabricated, and installed what is now a "home style" kitchen in our condo. What they delivered was exactly what we'd envisioned. Not a single detail was left unattended. We're so grateful to have worked with such skilled, timely, committed, caring, and professional craftsmen, who delivered on the product and the quality that they'd committed to."
Bob Curcio
New Creations' Client</h6
Get Our Newsletter
Learn the insider remodeling secrets NO CONTRACTOR wants you to know and participate in bonus offers and NC GIVEAWAYS!