Spicewood Springs Kitchen Renovation
By New Creations Austin
Spicewood Springs Kitchen Renovation
PROJECT OVERVIEW
This Spicewood Springs Kitchen Renovation shows a contemporary look that leans towards transitional. The overall aesthetic consists of classic design elements, but modern features, LED lighting, and commercial-grade appliances make this a transitional design.
These clients' lives focus on the family. From building tree houses to cooking dinner, they do things together. The details of their design, and especially its features, were critical. Both well-respected professionals in the tech field, desired a contemporary custom kitchen design to accommodate their family of four.
KITCHEN HIGHLIGHTS
We transitioned their traditional kitchen to a contemporary design by accessorizing it with modern features like a wine bar and a pullout espresso station. Our team created a place in the kitchen for doing homework and optimized the space for socializing and preparing meals. Now our clients have the perfect kitchen that can do it all, with everything in its place.
The Park at Spicewood Springs – Austin, TX
Custom Kitchen Design and Build
Contemporary Transitional
Transitional Cabinetry
Our client wanted both contemporary kitchen amenities and but wants it to have that classic look. I think the cabinetry design along with the building materials they chose accomplished the look they desired to create.
Although the cabinetry is classic, there is no doubt you are in a modern kitchen when you notice the commercial-grade appliances, contemporary lighting, and all of the smart features.
The kitchen spotlights white quartz countertops and the cream-colored kitchen island. In contrast, we used espresso-stained shaker-style cabinets and colorful walls. Pendant lights over the kitchen island along with the red bar stools also add a modern accent. The custom cabinetry with built-in bookshelves balances it out with a home-like vibe.
This contemporary custom kitchen features two-tone walls, and we separated each color by a chair rail. Also, notice the small square crown molding on the cabinets contrasted by the lack of crown molding elsewhere in the kitchen, a trendy modern design element.
GLASS, BUT NOT TOO MUCH
The frosted glass inserts in upper cabinets on either side of the sink achieve a beautiful aesthetic, and the Key West cabinet hardware adds a stylish touch. The large stainless steel rectangular under-mount sink paired with subway-patterned grey glass-tiled backsplash, blue walls, and off-white floor tiles look amazing.
We took advantage of the high ceiling above the island bar installing pendant lighting. However, we opted to use can lights over the peninsula since the roof above was lower in height.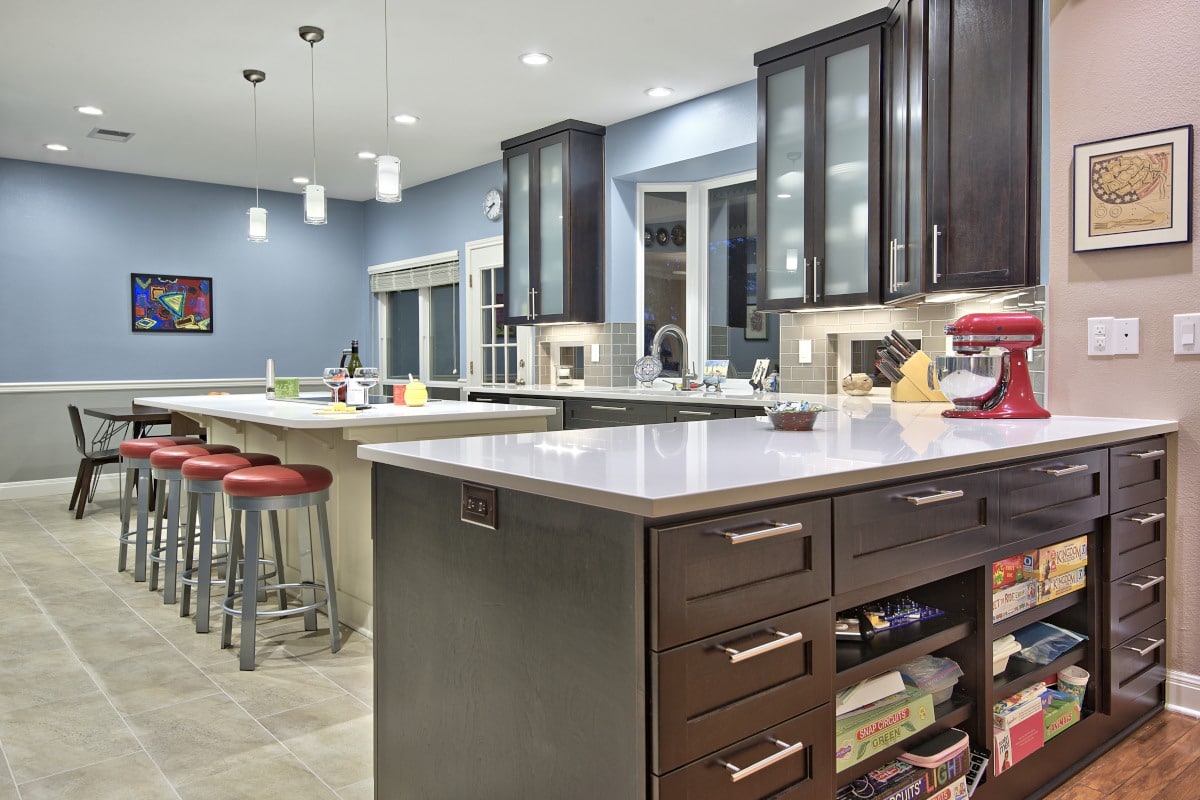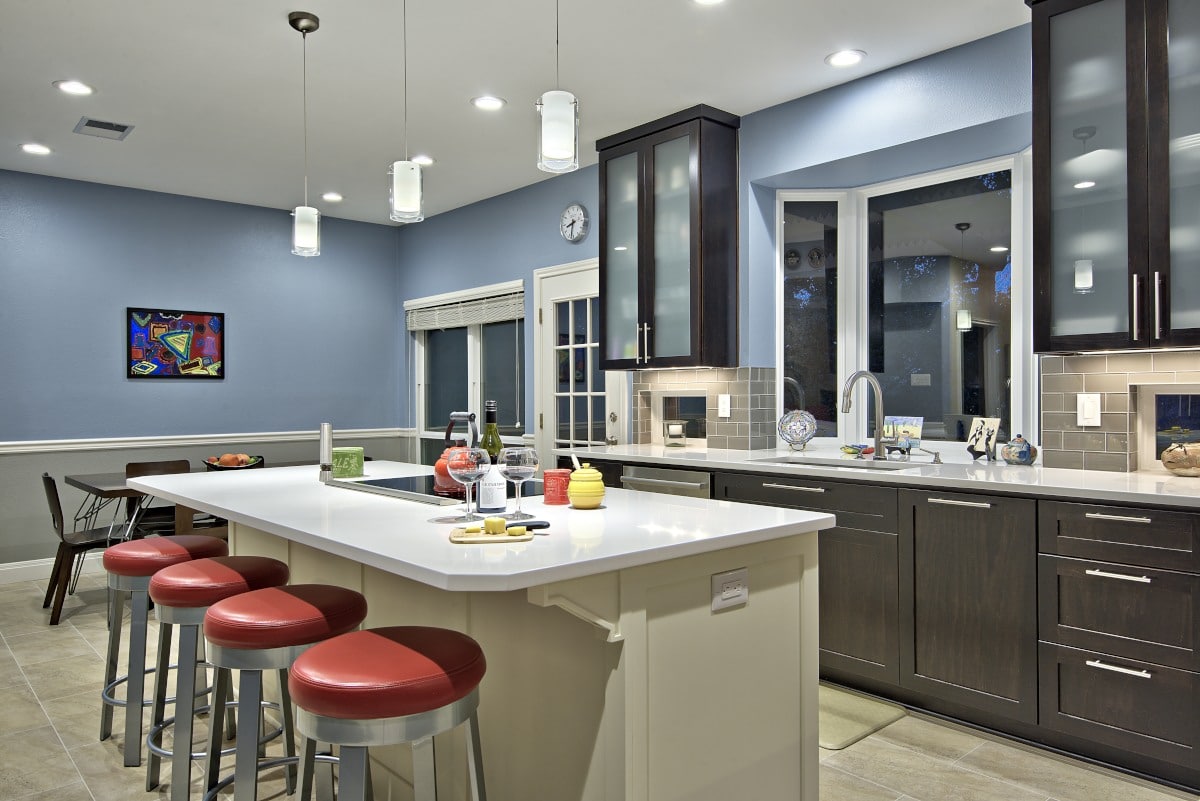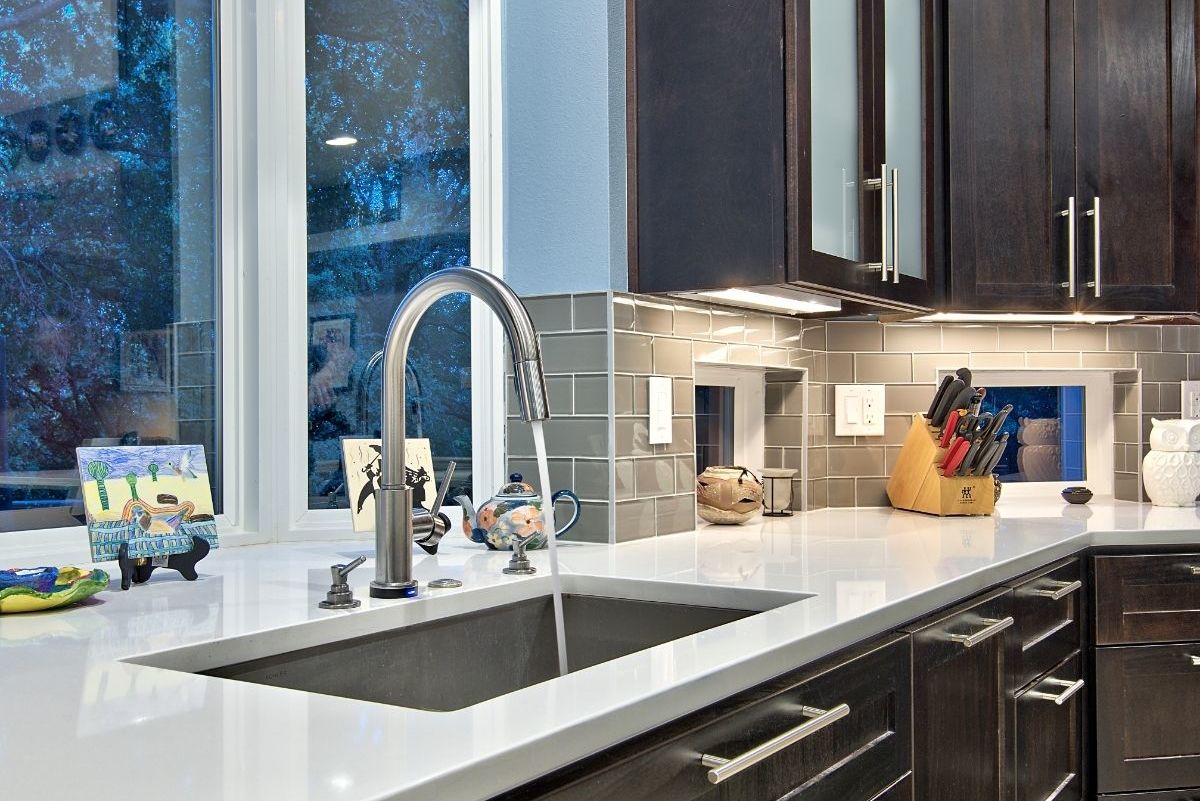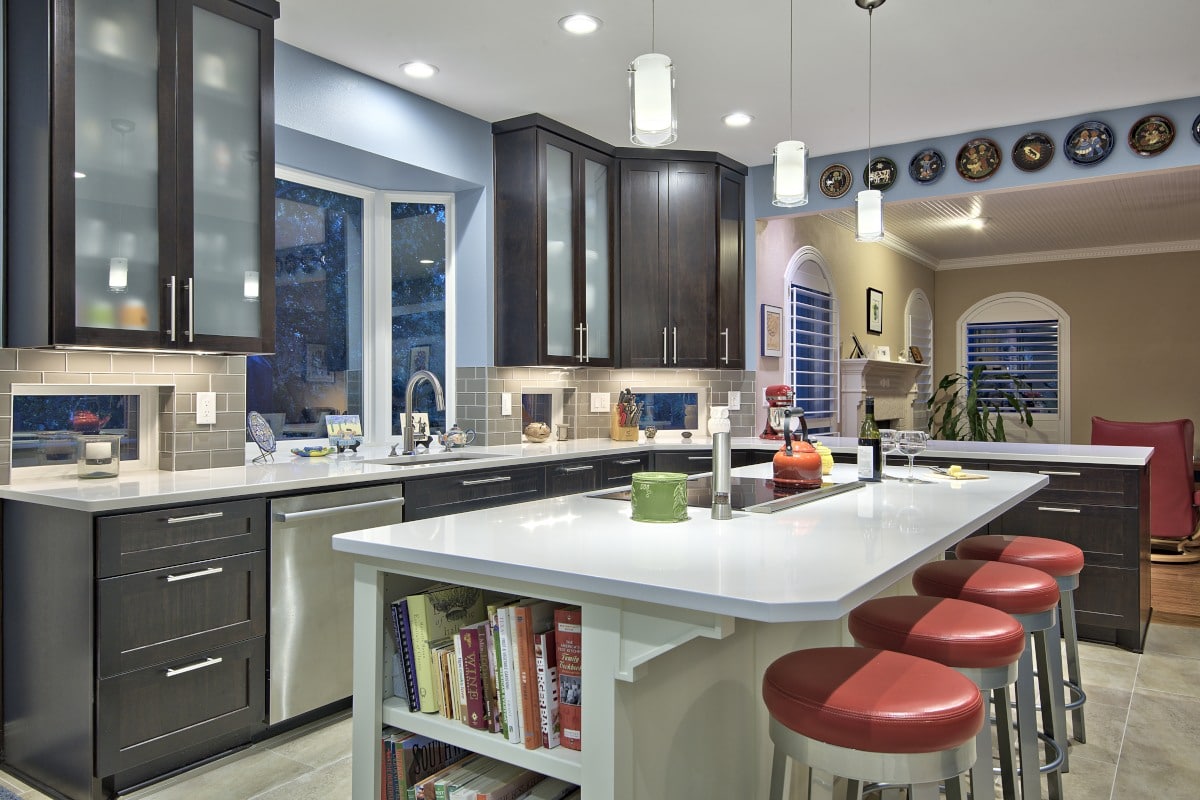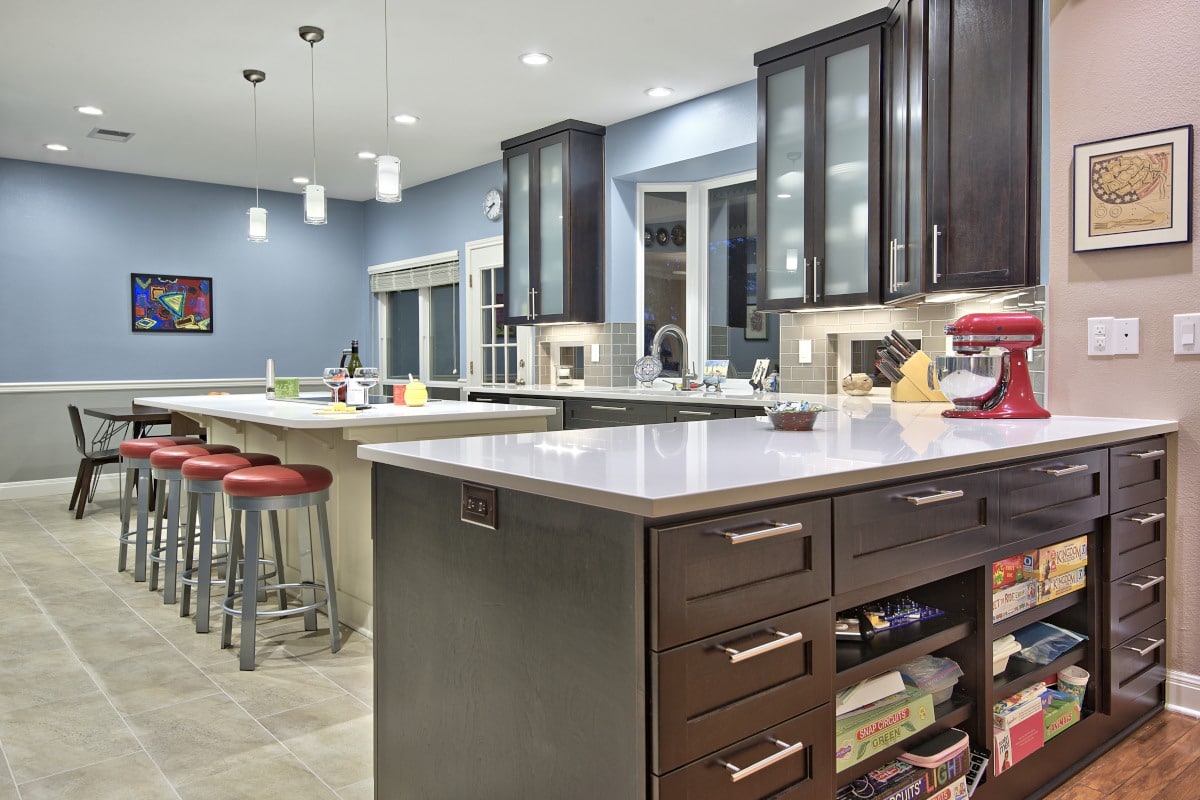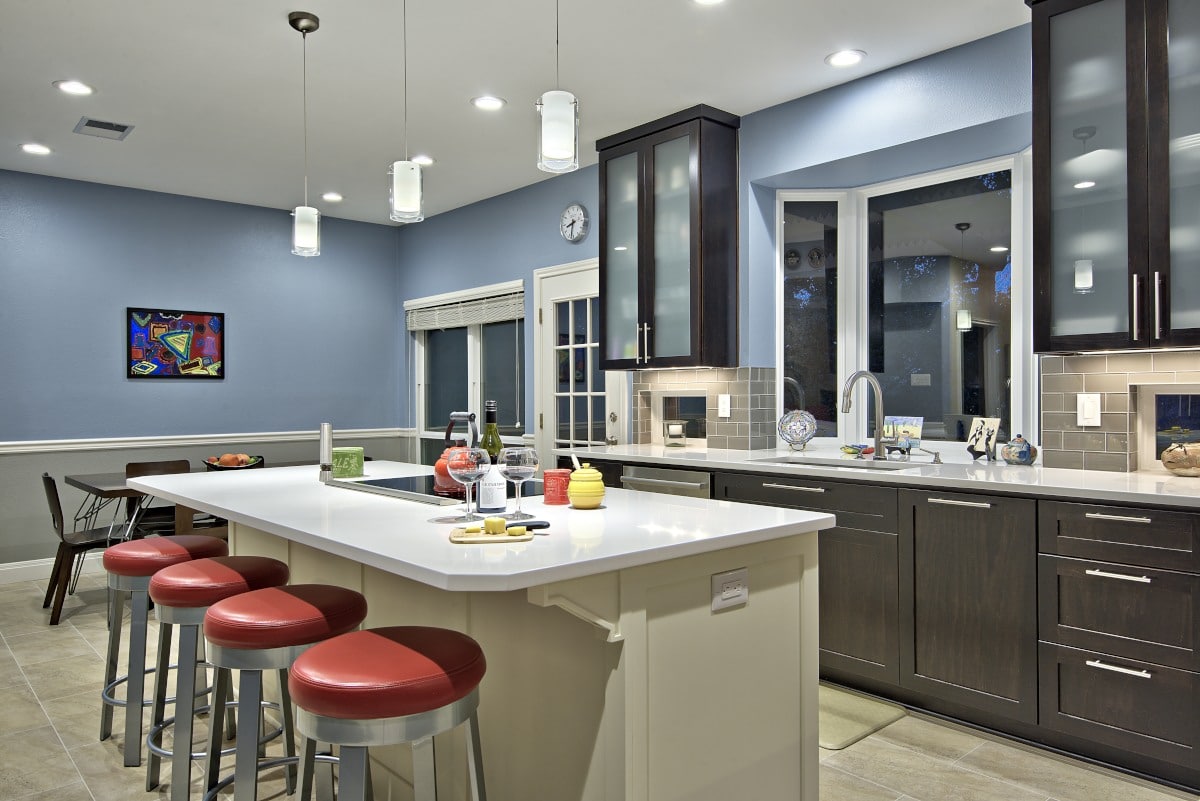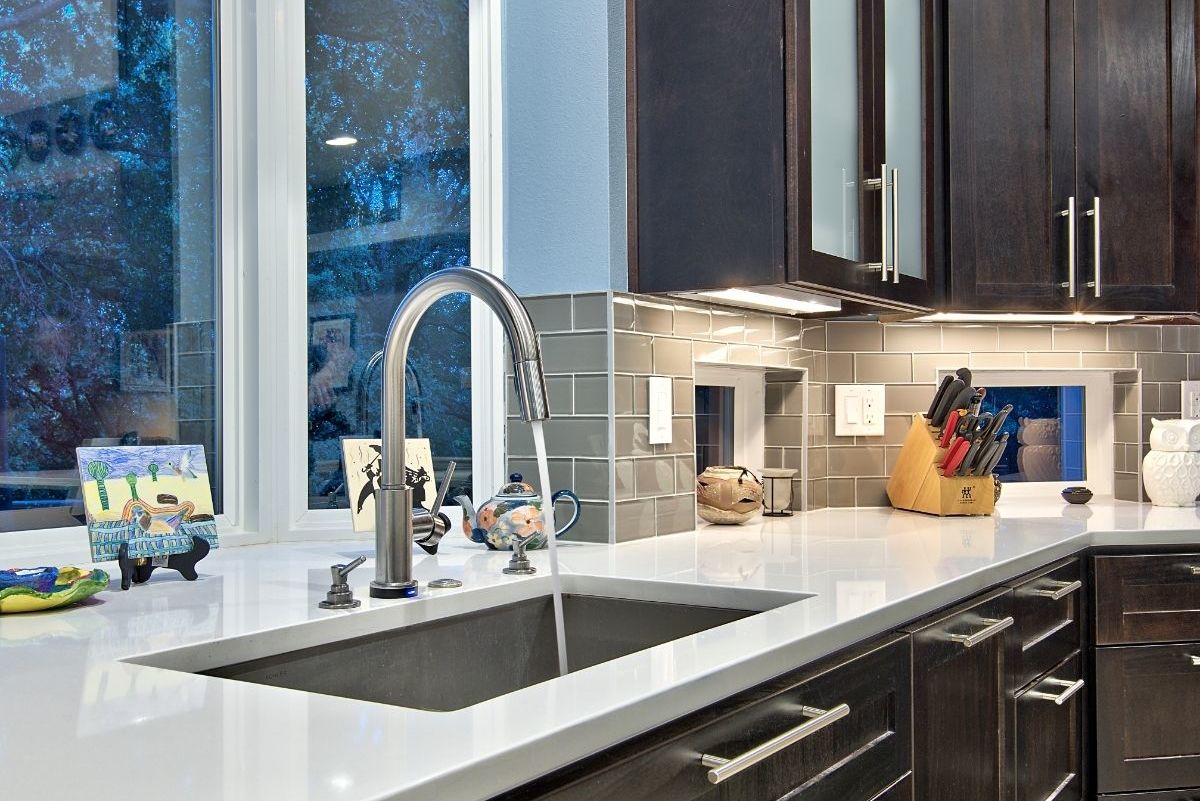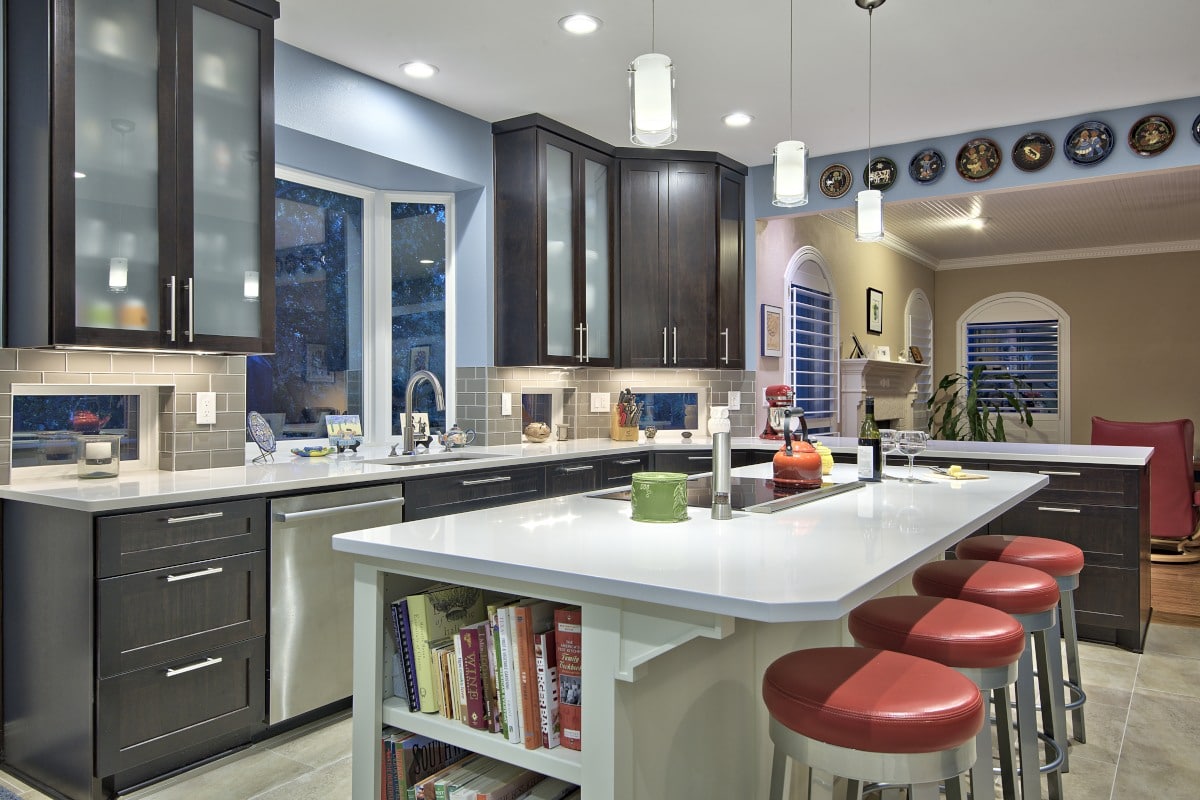 ACCESSORIZED CABINETRY
HIDE THOSE APPLIANCES
Our clients love to use their coffee station and other handy appliances every day. But they hate the clutter it can leave, which is why specialize in smart, functional designs that also look amazing.
The cabinetry conceals the microwave and coffee station inside of a convenient appliance garage. We finished the inside of the appliance garage providing an impressive look even while it is open. A flat pull-out stand extends the coffee station providing easy access.
SMART DESIGN FEATURES
Modern features and storage options abound in this transitional kitchen. We built a long run of cabinets that extend up to the ceiling. The kitchen cabinets, accessorized with pull-out drawers for the trash can and cooking accessories, provide elements of functionality as well as beauty. The dark espresso-stained wood contrasts the stainless steel appliances creating a stunning aesthetic.
ISLAND FEATURES
The initial design intended the living room side of the peninsula to be a built-in desk. However, during construction, the clients decided to install shelves in the original seating area. We applied the cabinet finish underneath the shelves to achieve a stunning finished furniture look.
The bar area just outside of the kitchen has flat-panel doors, also offering a modern look. In contrast, we used traditional shaker-style doors. The glass inserts in the upper cabinets add a beautiful aesthetic. Highlights include vertical shelves for wine bottles, expansive countertop space, as well as a built-in wine refrigerator.
Butler's Pantry
Our client's home had an awkward area taking up usable space under their staircase. We took advantage of the area and built a custom butler's pantry — transforming this once useless into a functional work of art. This little station comes with everything you need for entertaining family and friends, minus the butler!
The cabinetry features stain-grade Alder wood, slab-panel doors, and polished nickel hardware. The top cabinets spotlight beautiful glass inserts.
We made sure to add some handy wine cubies on the right side, and created a ton of functional storage space. Of course, we also installed a small wine chiller on the bottom left to round out the design.
The countertops feature cream-colored Caesarstone quartz that complements the wall paint as well as the warm tones of the Alderwood cabinets.
SPICEWOOD SPRINGS KITCHEN RENOVATION SUMMARY
This Spicewood Springs Kitchen Renovation is a beautiful contemporary/transitional style custom kitchen that's optimized for convenience and functionality. Our client's home now fits their personality and their needs.
Their new Butler's Pantry completely transformed the wasted space under the staircase and created a warm environment for entertaining guests. We are so happy our clients now have their dream homes that will upgrade their quality of life for years to come.
Years Remodeling Austin, Texas
+Austin Area Homes Remodeled
+ Glowing Five-Star Reviews
#1 Home Remodeling Contractor Since 2006
Spicewood Springs Kitchen Renovation
"We worked with New Creations to do a complete kitchen remodel, and a refresh of a laundry room and powder room. We are very pleased not only with the results but the entire process from design to completion.
Roy is the business owner and handles the sales and design aspects of projects. Roy is a very honest person and was always upfront and forthcoming about what options would cost. He also is very good at planning a job to make sure everything runs smoothly. On the project design, Roy was always very enthusiastic and was a pleasure to work with. He was able to understand our vision of what we wanted and use his expertise to make it better than we ever could have done on our own. He was always working on new ideas, whether it was dropping off new tile samples that he was excited about, or sweating the details on the perfect paint colors. We appreciated the personal attention and passion that Roy put into our project.
Troy is the project manager and is responsible for the construction, schedule, and quality of the job. We couldn't have asked for a better person to work with than Troy. He was always on top of every single detail, and it was clear that he took the schedule and job quality very seriously. Whenever we would ask him a question or give feedback, he would always make sure to take care of it; I can't think of a single time when Troy forgot something that I had talked to him about. Troy is a very nice person who knows how to get things done on time with a level of quality that he would expect in his own house.
Our job came in on time and within budget. Everyone we worked with was professional and friendly. The results were everything we wanted, and for a job this big, it ran very smoothly. We will definitely be working with New Creations on our next remodeling project.
Update 4/6/2018 – Bathroom Remodel
We worked with New Creations to do a complete master bathroom remodel and a refresh of a jack and jill bathroom. Both bathrooms turned out amazing, both in terms of looks and functionality. This is our second time working with New Creations (previously we did a complete kitchen remodel) and once again Roy and his team really took care of us from beginning to end.
All aspects of the work – from design to project management to construction were handled extremely professionally and with great attention to detail. The project came in ahead of schedule and on budget.
A big thanks to Roy, Erin, Apollo, and the rest of the team for another home run project! We look forward to our next project with you all!"
Bryer Family
Get Our Newsletter
Learn the insider remodeling secrets NO CONTRACTOR wants you to know and participate in bonus offers and NC GIVEAWAYS!