Tumbleweed Canyon Multi Room Renovation
By New Creations Austin
Tumbleweed Canyon Multi-Room Renovation
PROJECT OVERVIEW
Tumbleweed Canyon Multi-Room Renovation project includes the kitchen, living room, and master bathroom. Our clients had a nice house in a wonderful neighborhood, but the overall flow needed improvement. The lack of lighting left something to be desired. On top of that, the kitchen appliance needed an upgrade. Moreover, several rooms, including the master bathroom and living room, needed to be renovated to achieve a consistent look throughout the house.
Accordingly, with a good budget to work with, they decided a multi-room remodel would be optimal. When we get the chance to do compete for projects, our team leaps at the opportunity.
One of the biggest advantages of a whole-house renovation is designing each room to complement the next. Plus, you can select all of the building materials together to further ensure consistency. Our clients worked closely with our interior designer to transform their house into a forever home to their spec.
The result is a more open and warm design. Our client updated their rooms achieving newfound beauty but also greatly improved their home's livability with modern appliances and contemporary features.
Tumbleweed Canyon | Bee Cave, TX
Kitchen Renovation, Living Room Renovation, Master Bathroom Renovation
KITCHEN RENOVATION
The original kitchen space was cramped with a poor layout, and a wall between the family room and kitchen impeded flow. The tile flooring looked out of place.
Consequently, we demolished the wall and replaced the floor tiles with hardwood flooring.
We constructed a large center island with a built-in wine chiller, a beer fridge, and a custom wine rack on one side. The opposite side houses a stainless steel microwave. Our team customized a butcher block that matches the island countertop.
To take advantage of the high ceiling, we extended the cabinets from floor to ceiling. This creates more storage and makes the room feel bigger.
We built a custom bay window bench seat by the dining room/breakfast nook. The bench seat has pull-out drawers for added storage.
Then, we accessorized with undercabinet lighting and added handy pull-out drawers to neatly store kitchen supplies and to conceal the trashcan.
Additionally, we installed a large, commercial-grade cooktop and vent hood along with a double oven to making cooking a pleasure. The refrigerator is built into cabinetry with doors that match the cabinets offering a stunning aesthetic.
Once a dimly lit kitchen, now the lighting is outstanding. We installed can lighting and pendant lights throughout, but we made sure to hang chandeliers above the kitchen island. Similarly, we installed another above dining room table.
PULL-OUT DRAWERS
Check out the pull-out options we built into our client's custom cabinetry. Handy pull-out drawers not only look cool when you're showing them off to family and friends, but they also keep your kitchen organized and clutter-free. A smart custom kitchen design should maximize every square inch of space, even when you have a generous amount of square footage to work with.
WINE CHILLER CUSTOM ISLAND
Our client's kitchen island offers ample space to work and prepare meals. But we also took the opportunity to further optimize the room by building our client's trusted wine cooler into the island.
MASTER BATH RENOVATION
The next step in this multi-room remodel – renovating the master bathroom. Our clients wanted a walk-in shower as well as a bathtub. First, we removed the existing tub and shower.
Then, we built a custom bathtub deck and a sizeable walk-in shower all as one unit. The shower easily fits two. Accordingly, it comes with two shower heads, but we also added a handheld shower for convenience. The frameless glass door adds a nice touch.
We used the same wall travertine wall panels and decorative glass backsplash in the shower as we did in the bath alcove and tub deck offering a complementary look. Also, we built the shower and tub niches featuring LED lighting to provide a convenient place for toiletries. 
The can-lights above provide excellent lighting. The travertine flooring complements the shower walls and bathtub alcove and tub deck.
Opposite the bath alcove and shower, sit his and hers sinks and cabinetry. The cabinetry has the same wood finish as the bookshelf in the family room.
We removed a wall between the two closets to make one large and open room. Her side features an accommodating custom-built vanity with a large mirror and pendant lights above.
The cabinets feature pullout drawers and a ton of storage space. His side includes ample drawers for storage and custom towel racks. The finishing touch is the flat-screen television.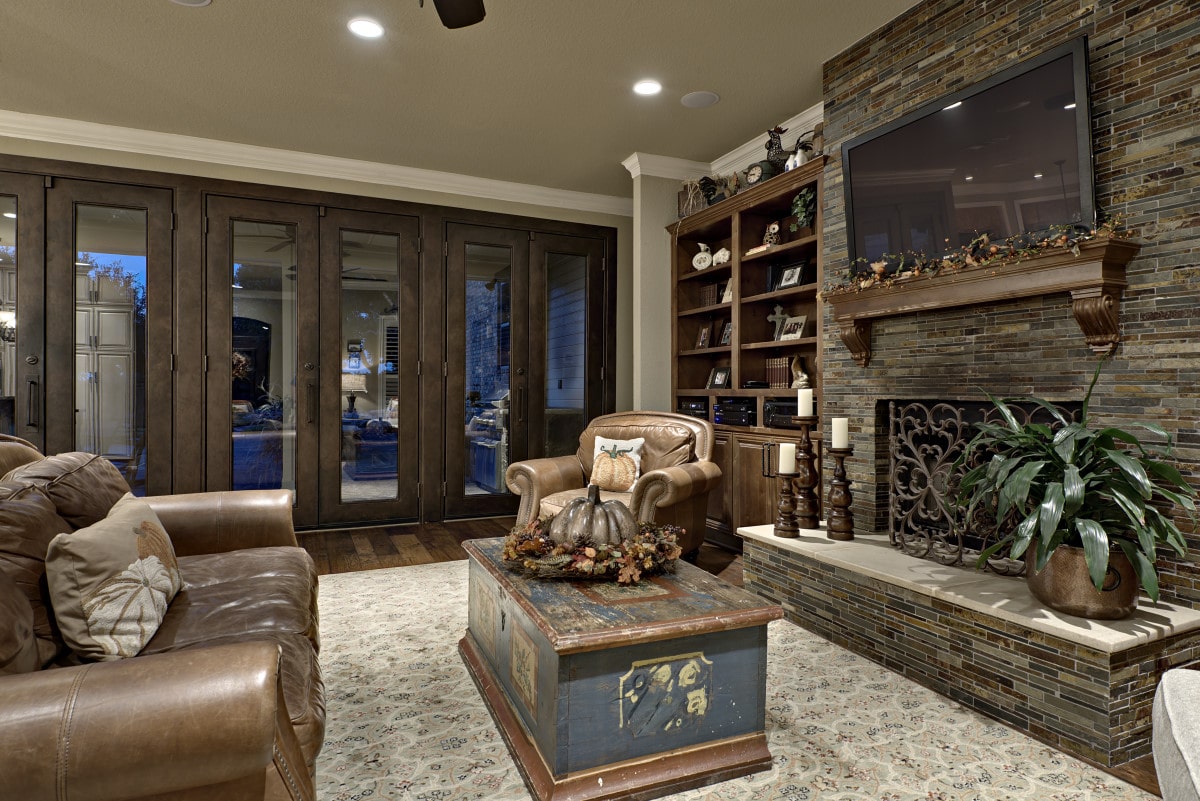 LIVING ROOM RENOVATION
We also remodeled the living room. The original family room had a nice vibe and a great layout. However, the fireplace didn't fit in, and the wall sitting between the family room and kitchen impeded the overall flow of the house. Accordingly, we demolished the wall and removed the mantel on the fireplace. We resurfaced the fireplace, installed a new mantel, and mounted the television above. Also, we built a beautiful custom bookshelf to the left to match the wood paneling on the wall and doors to the left. The results speak for themselves. The room now offers a warm and cozy, traditional look.
TUMBLEWEED CANYON MULTI-ROOM RENOVATION SUMMARY
As you walk from one room to another, you notice that each room has a look complementary to the next. However, each room also maintains a well-defined look. This kind of consistency is easily achieved only by a whole-house renovation. Although taking on a multi-room remodel is expensive, if you have the budget, it is by far the best way to get a uniform look throughout your home. In this case, our clients have a home that is consistently beautiful throughout and that will inspire family and friends for years to come.
Years Remodeling Austin, Texas
+Austin Area Homes Remodeled
+ Glowing Five-Star Reviews
#1 Home Remodeling Contractor Since 2006
Tumbleweed Canyon Multi-Room Renovation
"We hired New Creations to do a complete remodel on our 5000 sq. ft. home in Austin, Texas. We were very pleased with the results of our new home. The remodel consisted of everything from painting walls to taking the kitchen down to the studs and rebuilding it. Roy and his staff were very professional at all times. They worked with us and we never felt pressure of any kind to do something that we weren't 100% agreed upon. They kept us informed at all times of the process of the remodel. We all worked together and as a result, we have a beautiful home.
Roy has also continued to stay in touch with us and recently called to see if we would like our countertops resealed and anything else we needed. This follow-up was after almost three years from our remodel job. We were very impressed with New Creations not only for their design work, the quality of people they employed, and the follow-up they provided three years later. I highly recommend New Creations based on the job that was done for us."
Stricklin Family
Get Our Newsletter
Learn the insider remodeling secrets NO CONTRACTOR wants you to know and participate in bonus offers and NC GIVEAWAYS!