7 Must-Haves for Your Austin Home Remodel
Written By Roy Faust
Born and raised in Austin, Texas, I graduated from Lamar University with a Bachelor's Degree in Marketing in 1999. In 2006, I started New Creations and I am most proud to say we have earned 158 Five-Star Client Testimonials.
You've done your homework and hired the perfect contractor for your Austin Home Remodel. Now you are ready for demolition. Wrong! Do you want toxic construction dust living in your ac ducts for years to come? Would you like your beloved pet to escape during the renovation? Or how about a flat tire every day you leave the house? Well if not, you better read on to see how you can save a tremendous amount of time, money, and energy. You also won't get divorced! Don't leave this up to your contractor, unless of course, your pet dog Spot is not that important to you.
1. PERMITS
Remodeling is the game and the game has strict rules that everyone must obey.
We all love the lyrics "Breakin' the law!" from Judas Priest. But let's face it, that's just a song by a rock star, and we know who really wins when you fight the law! Do not cross the city.
Ordinary folks have to play by the rules. Therefore, make sure your contractor is pulling the proper permits required by law. It must be posted on a window or door so the inspector can see it. Here's what the City of Austin says, "A building permit is required to erect, construct, enlarge, alter, repair, improve, remove, convert, move or demolish any building or structure within in the City's zoning jurisdiction or certain Municipal Utility Districts." Check out this link to find out more When do I need to pull a permit?
2. COVERAGE ITEMS
One of the most critical elements of the project is to keep your home covered during your Austin Home Remodel. Everyone is so focused on the pretty shiny materials that they can forget about the nitty-gritty details like dirt. The remodeling process can be quite messy. Make sure your contractor has the right plan to keep your home sealed up and free of toxins. Please check out the list of items below that must be on-site and used to keep your home covered.
HEPA-Filtered Negative Air Flow Machine – Your home's air becomes filled with toxic remodeling debris from the start of the project. A neg-air machine will purify the space by filtering the air. You must have this running most of the time. It's even good to run it about a week after the project is complete to catch the residue when the job is finished.

Zip Wall Containment – Have you ever seen the scene from the movie ET where Eliot gets carried through the house wrapped in plastic? That is an ideal scenario for your renovation. The zip poles create plastic wall barriers in your home that keep dust out of rooms not part of the construction. There is a zipper added for access in and out of the construction zone. Check out this excellent link for more details 

Zip Wall.

Coverage Plastic – It's imperative to wrap all items left in a construction zone as well as secondary zones in plastic for the duration of the project. Make sure you nor your pets remove this plastic until the contractor gives their permission.

Plastic coverage with applicable tape

Rug covers

Shoe Booties – These are plastic shoe covers, a must during any renovation.

Ram board
3. CLEANING ITEMS
Cleanliness is Godliness according to conventional wisdom. Does that mean a mess is the devil's work? You bet it does. One of the most offensive things an adult can do is make a mess in your home for you to clean. If your contractor does not have a plan and the materials needed to keep your Austin Home Remodel clean, then you better look elsewhere. Dirty jobs ruin the experience for everyone involved. The list below will keep you squeaky clean!
HEPA-Filtered Negative Air Flow Machine – Your home's air becomes filled with toxic remodeling debris from the start of the project. A neg-air machine will purify the space by filtering the air. You must have this running most of the time. It's even good to run it about a week after the project is complete to catch the residue when the job is finished.

Shop-Vac with an extension cord

Broom and dustpan

Trash cans with trash bags

Chemical- Free Cleaners

Power Washer

Mop
4. POSTED WARNING SIGNS
It's a good idea to post signs on job sites to remind everyone on-site of the essential rules of your home. Below I listed some of the most common messages. Talk to your contractor about what is vital to your family.
Safety – Always place a sign that warns of dangerous conditions.

AC Warning Signs – It is imperative your air conditioner not run during the remodel. That's right, even here in scorching hot Texas. If you turn on the ac, the return will suck up the toxic particles right into your ducting system where they will live for many years. Make sure your contractor alerts the staff, family, and places signs warning everyone to keep the ac off.

Pet Care Signs – We all know pets are part of the family. It's paramount to bring attention if your pet is an escape artist or might freak out at the sign of a tradesman.

Lock Up Signs – A simple reminder to lock all windows and doors before you leave can save a lot of stress later.
5. MATERIALS STORAGE
There must be a safe to place to store and organize your project materials. A common practice is to put your items somewhere on the ground. As a result, the contents are damaged and lost. Installing a large metal shelving unit will keep the materials off the ground and organized. It's also crucial to label the materials so everyone can locate them. Make sure your contractor starts the project after all the materials have been procured, checked for accuracy and quality, labeled, and placed on a metal shelving unit.
6.
JOB INFOMATION POSTED
It's advisable to post job information on-site, so it's accessible to all trades at all times during your Austin Home Remodel. The critical thing to remember is that the information you post is accurate and up to date.
Job Plans – CAD, Work Orders

Materials Specifications

Job Schedule

All Contact Information – Client, Inspector, Trades

Mechanical Layout of Property – Denote water shut-off, gas shut-off, and the electric panel.

Safety Requirements
7. PROJECT TOOL LIFE-SAVERS
The more you plan for peace, the less you bleed in war. Remodeling is a battle that you win by arming yourself with the right tools. If you have the following items on-site during your Austin Home Remodel, you can rest easy.
Magnetic Nail-Roller – This little guy cleans up all the hidden nails on your driveway and the street. Make sure your contractor uses this daily.

Fire Extinguisher – It's better to be safe than sorry.

Water Main Shut-Off Tool – A water leak treated immediately is not a significant issue. It becomes a catastrophe when there your contractor did not supply a water main shut-off tool.

1st Aid – It's always smart to keep a good bit of medical supplies on your job site.

Dust Masks – Wear dust masks at all times.

Goggles – Wear protective eye-wear during construction
CONCLUSION
Avoid disaster and make sure your contractor is accountable for the content listed in "7 Must-Haves for Your Austin Home Remodel." Protect your home, family, and your experience. Every job site must have posted permits and be kept covered, clean, and safe. Display all critical job information along with the essential rules of your home. Keep your materials organized and secure. All of these ingredients make one happy family!
Since we started in 2006, New Creations has earned 125 Five Star Reviews. I want to share the strategies we used to achieve these results to help you have remodeling success.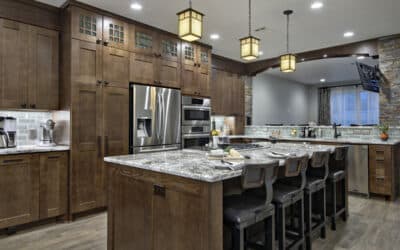 From granite to quartz, kitchen countertops deliver on aesthetic appeal and exceptional performance After kitchen cabinets, the feature that...