Popular Types of Kitchen Countertops – Austin, Texas
Written by Roy Faust
Born and raised in Austin, Texas, I graduated from Lamar University with a Bachelor's Degree in Marketing in 1999. In 2006, I started New Creations and I am most proud to say we have earned 158 Five-Star Client Testimonials.
From granite to quartz, kitchen countertops deliver on aesthetic appeal and exceptional performance
After kitchen cabinets, the feature that offers the best style impact in the kitchen is countertops. There are many types of kitchen countertops to choose from including quartz, granite, stone, solid surfacing, and wood. Before you pull out your wallet, eager to install the most popular design, you want to consider a few things.
Location: Where will the countertops go and will the style be attractive not only in the cooking space but in adjoining living or dining areas?
Use: How often do you cook? Do you need a material that withstands daily use or will it primarily serve visual appeal?
Connective space: How will the countertop look around adjoining elements such as your sink or stovetop? Consider the overall design of your kitchen space.
Cleaning: How often do you clean? Are you ready to invest your time in regular maintenance?
No matter how you've answered the above questions, there is a kitchen countertop for you. Current eclectic kitchen styles embrace mixing materials, so you don't have to concern yourself too much with matching. For example, you can choose one material for the island and another for the countertop. Or, treat yourself to a small slab of marble countertop for your bar space. To achieve the best results, hire a professional certified to fabricate and install the particular material you choose.
Read on for popular kitchen countertops that homeowners in Austin, Texas have installed and learn the pros and cons of each material.
Marble Countertops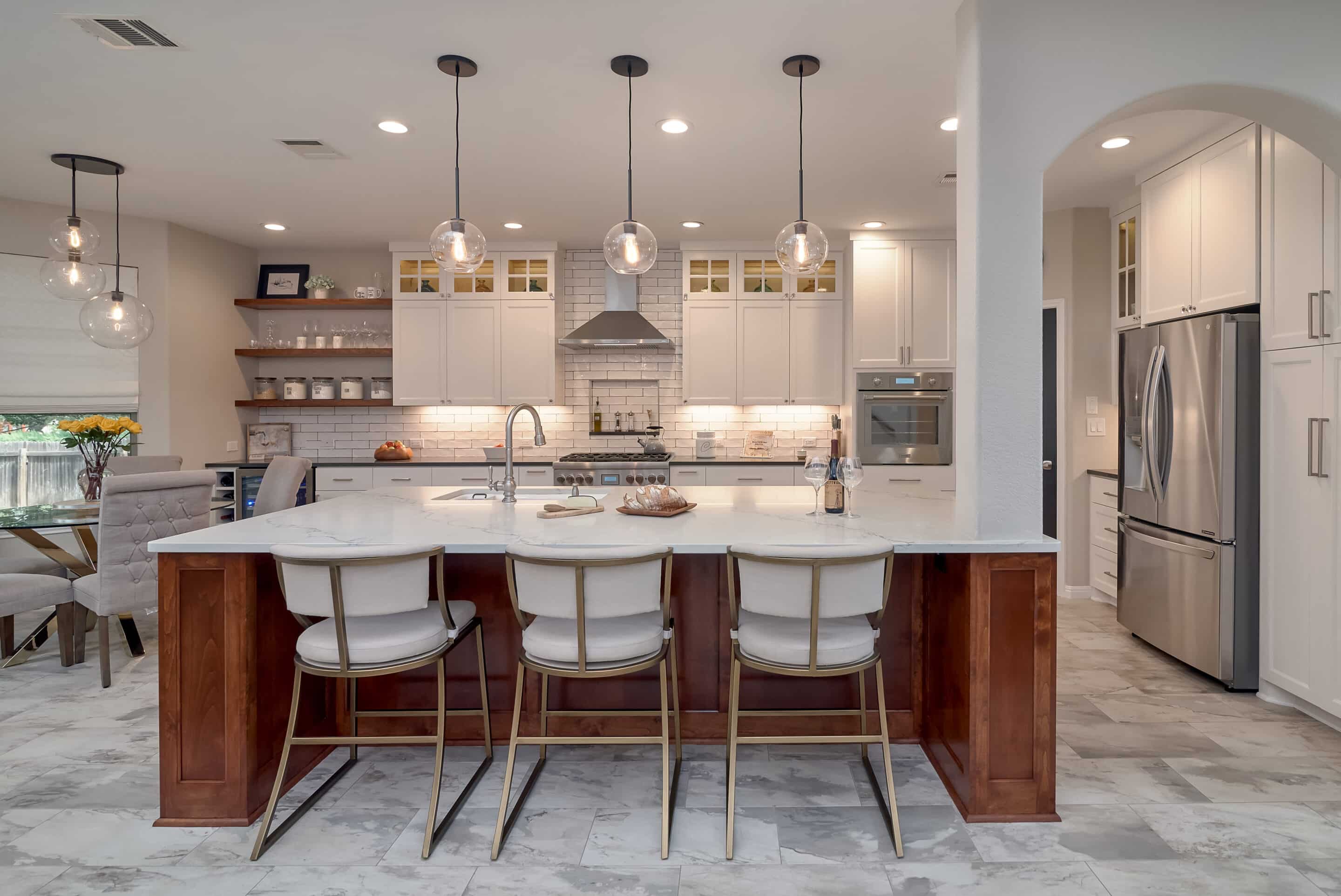 Sought for its classic beauty, marble draws its fans among homeowners who want to have a stone material in their kitchen. Marble countertops are more porous than granite, and this factor—combined with a high price tag—limits its application to select areas of the kitchen, such as entertaining or baking areas. Remember that this particular material enjoyed pride-of-place in grand homes in the last two centuries, so if you are up for classic elegance that yields a timeworn patina, this could be the countertop for you.
Pros of marble kitchen countertops
Withstands high heat
Adds a high-quality, luxurious look suitable for traditional or contemporary kitchens
Stays cool, which makes it good for rolling out dough
Pairs beautifully with many other surfaces, particularly with wood and metal
Cons of marble kitchen countertops
The most expensive stone optionLimited color choices (whites, grays, or blacks)
Stains, scratches, cracks, and chips more easily than other stones
Requires bi-annual sealing and may still discolor over time
Engineered Quartz Countertops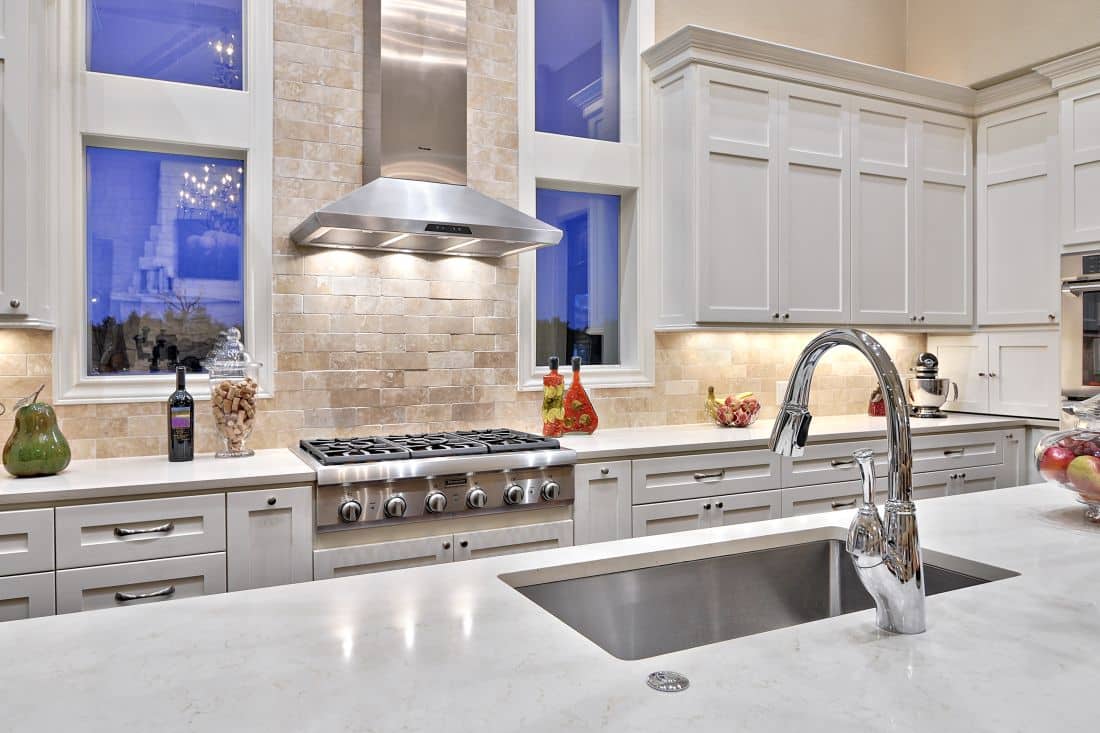 Of all the types of kitchen countertops, engineered quartz, which is sometimes referred to as engineered stone, is probably the toughest surface on the market. This material is typically 90 percent quartz mixed with pigments and polyester resin, then manufactured under pressure into highly dense slabs.
Manufacturers such as Caesarstone offer a vast array of looks, including many faux granites as well as the whitest whites, blackest blacks, and some brilliant colors such as red and blue. Claims that it won't stain or fade or succumb to high heat make them popular kitchen countertops, edging out granite, even though the cost is roughly the same or higher than natural stone.
Pros of engineered quartz countertops
Most impervious of all surfaces by resisting heat, stains, scratches, bacteria, and fading

Huge selection of patterns and colors, including faux stones and custom colors

Can be manufactured into nearly any shape you want

Requires no sealing or special maintenance
Cons of engineered quartz countertops
Faux stone doesn't have the appearance of real stone

May crack on sudden impact with a heavy object

Cost is equivalent to real stone

Solid-colored slabs will show seams
Granite Countertops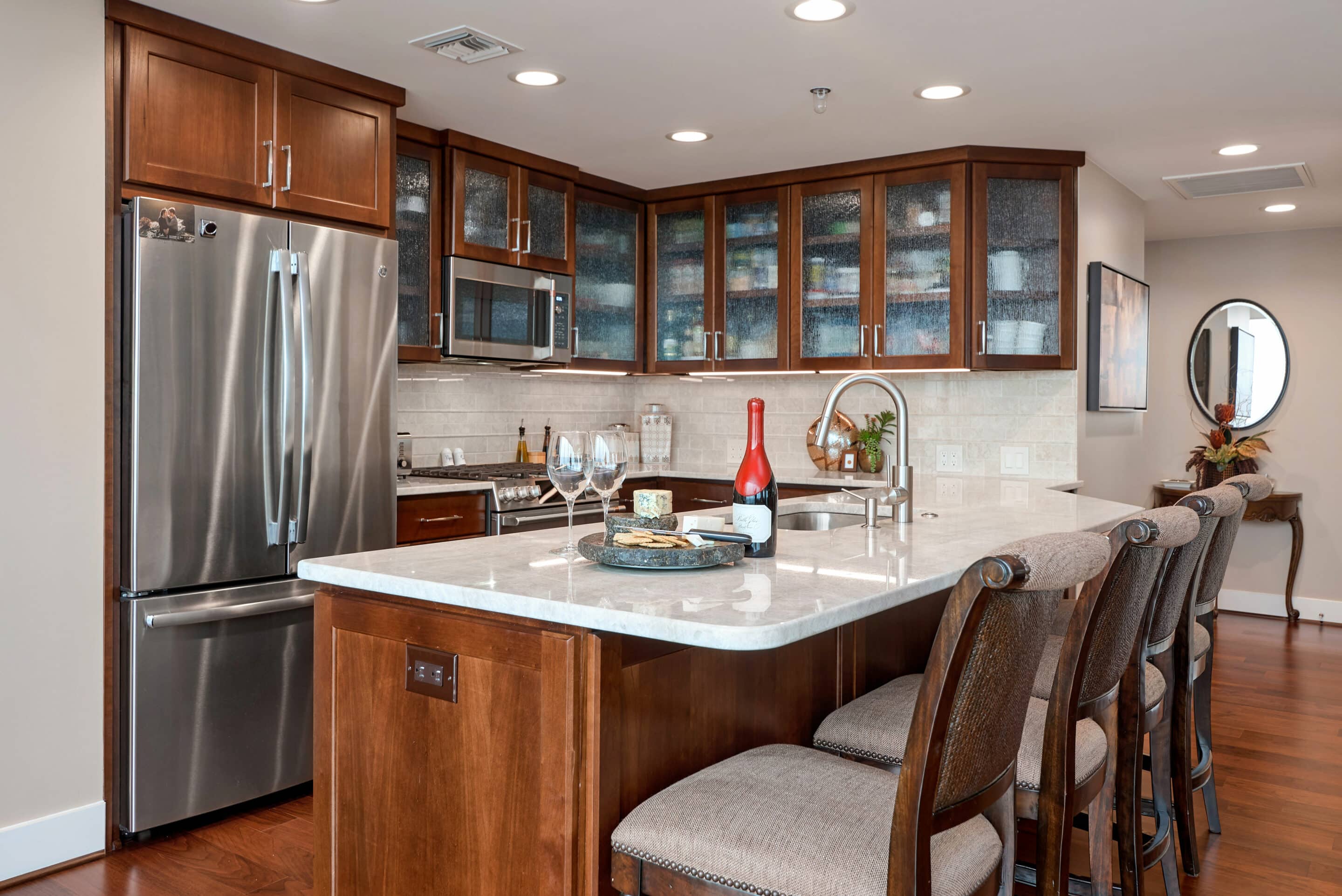 Granite landed on the kitchen scene a little over two decades ago and remains a popular choice for kitchen countertops. It's a close second behind the number one choice, engineered quartz, according to a survey from the National Kitchen and Bath Association.
Why do granite countertops remain popular? The material combines unique beauty with durability and low maintenance. The natural grain means no two slabs will look identical. While very hard and impervious to heat, granite is porous, so it needs to be sealed at least annually, which can be done easily enough with hand application by sponge.
Pros of granite countertops
Resists high heat
Comes in a wide range of colors and grains
Each slab has a unique appearance
Maintains its value when well cared for, including sealing annually
Cons of granite countertops
Expensive, but some popular colors are available at lower prices
Shows wear from knives and spills such as vinegar, citrus juice, or oils, so the use of a cutting board on top helps maintain longevity
Requires regular maintenance, which can be accomplished as a DIY project with a sealant and a sponge
Will crack if improperly installed or a heavy object makes an impact
Wood Countertops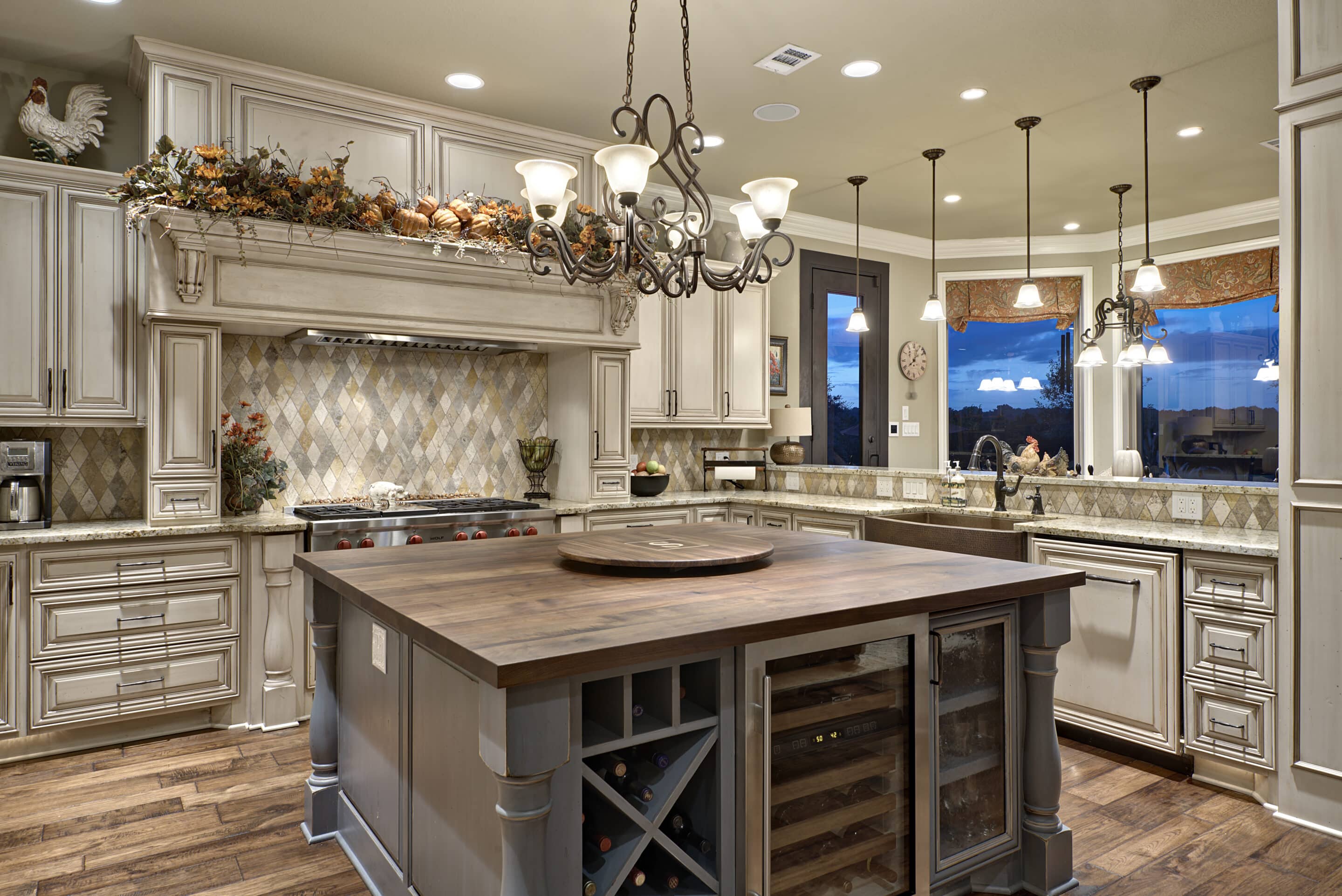 What is likely America's earliest type of kitchen countertop, wood is still a desirable choice for its natural beauty and warmth. Wood countertops can take moderate heat, but will show burns, dings, and knife cuts. Fans consider the patina part of the appeal. Most damage can be sanded out but be sure to reapply food-safe mineral oil after any repair.
Avoid installing wood countertops in areas such as the sink as prolonged exposure to moisture will cause it to swell. Clean these countertops with a damp sponge and mild detergent. Hardwoods such as maple and oak are most commonly used as wood kitchen countertops, in a butcher-block pattern, which provides additional strength. Another pro of wood countertops: they're a thriftier choice than many of the other types of countertops described in this post.
Pros of wood countertops
Easy to clean and repair
Good for cutting and chopping and knives won't dull with contact
Won't chip and objects dropped on it are less likely to break
Provides a rich look for a price lower than many other kitchen countertops
Cons of wood countertops
Vulnerable to moisture, chemicals, and high heat, which cause permanent damage
Immediately shows signs of use
Expands or contracts with extreme swings in a moist environment
Requires food-safe sealant and regular care to preserve the surface
Soapstone Countertops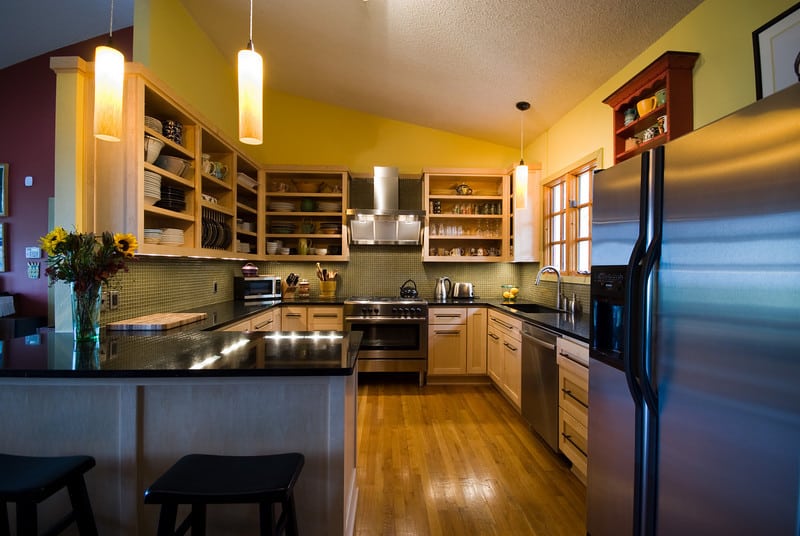 Soapstone's resistance to heat and water, along with a muted color palette marked by subtle veining, makes it an appealing alternative to granite and marble. It also comes with a slightly lower price tag, which is attractive to budget-conscious homeowners. However, as with all stone countertops, soapstone countertops do require care.
Pros of soapstone countertops
Resists heat and water
Color tends to be uniform throughout the slabSuitable for sinks if you want a blended look
Comes in at the lower price spectrum of natural stone options
Cons of soapstone countertops
Scratches easily and will show stains, which can be sanded out
Could crack or chip if you aren't careful when working on it
Requires regular sealing and will show stains if not wiped up immediately
Develops a patina over time, which you may or may not like
Solid Surface Countertops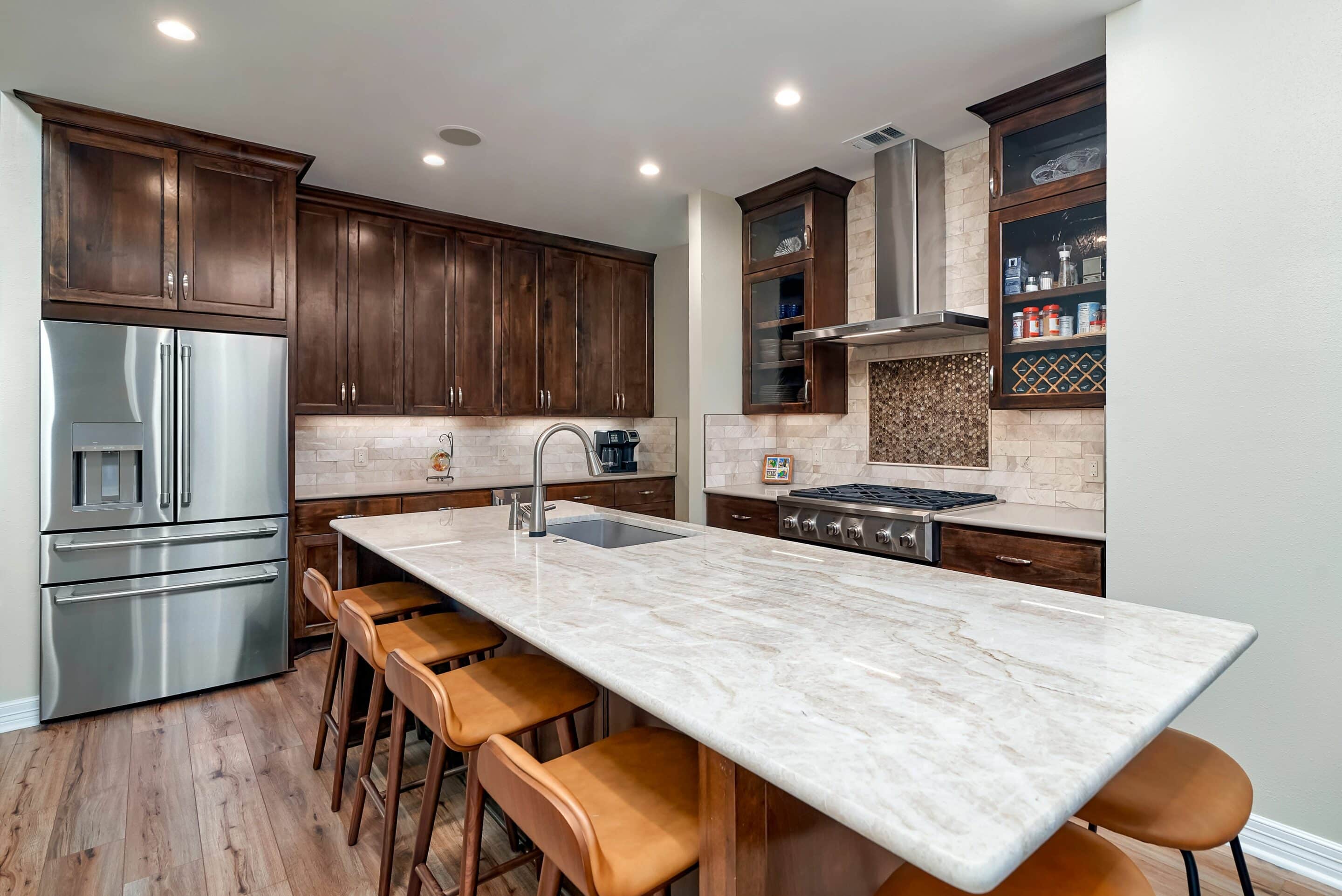 Twenty years ago, solid surfacing was the darling in the world of kitchen countertops. It still deserves consideration, as many qualities have been improved upon over time by brands like Corian. It is heat- and stain-resistant and comes in a wide range of looks, including faux stone, and lots of fashion colors. Because it has a little give, due to it being made of acrylic or polyester or a blend of the two, objects dropped on solid surface countertops are less likely to break. It also can be molded into many shapes, including intricate inlays, edge and backsplash treatments, as well as furniture.
Pros of solid surface countertops
Resistant to heat, moisture, and fading
Enormous choice of colors and patterns, including custom options
Seams fuse so joints don't show
Molds into just about any shape including integrated backsplash or sinks
Does not require sealing and can be cleaned with mild detergent
Cons of solid surface countertops
Can't take high heat or it will lose its shape
Vulnerable to scratches, cuts, and prolonged exposure to stains such as wine or ketchup, therefore, the material requires the use of a cutting board
Faux stone looks don't exactly resemble stone

Not recyclable
Stainless Steel Countertops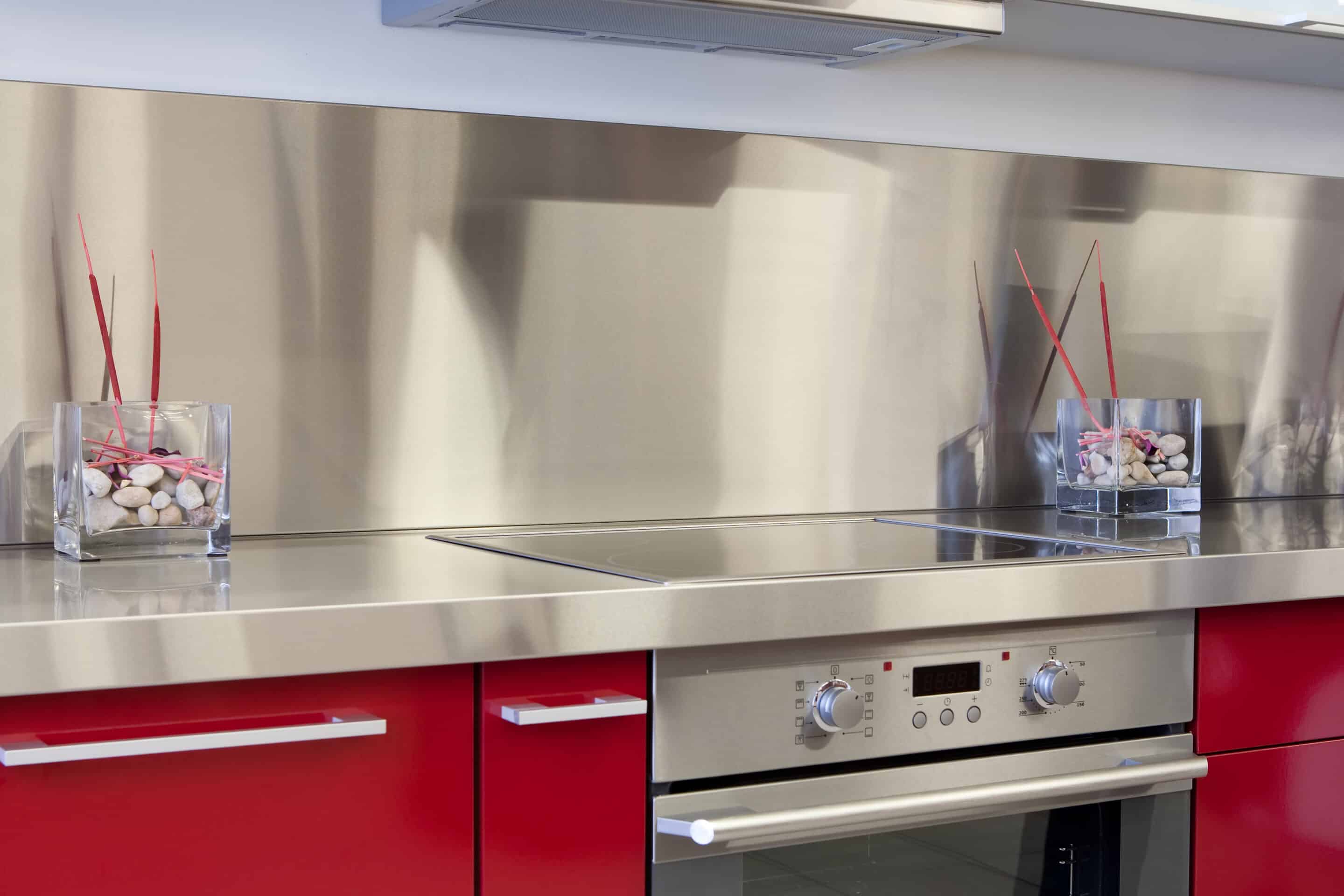 Stainless steel countertops are commonly used in commercial kitchens but have also found a home in more modern designs. This is because stainless steel can take a beating from knives to high heat to most spills and is completely anti-bacterial. You must avoid caustic chemicals, but since it's water- and stain-proof, that's not an issue unless you use it for something other than food prep.
Stainless steel countertops come in several finishes, including polished and brushed, which help hide scratches. Dings and dents will show up and are impossible to remove without displacing the countertop. But if you want a pro-style countertop, those battle scars can be shown with pride for a kitchen connoisseur.
Pros of stainless steel countertops
Super-resilient material is water-, stain-, fade-proof, and resists bacteria
No need for sealing and can be cleaned and sterilized with simple detergent and water
Integrates seamlessly with features like drainboards, sinks, and backsplashes
Manufactured to exact specifications, so potentially seamless
Cons of stainless steel countertops
Not suitable for cutting so a cutting board must be used to protect the material from knives
Shows the smallest scratches and dents, which are very hard to remove
Noisy when kitchen tools come in contact
Fabrication will drive up the price unless you buy a ready-made sink and drainboard unit
Remodeling Kitchen Countertops with New Creations
While we encourage everyone to do their research and consider how their selections will fit their lifestyle, we know this can be a difficult decision. We help homeowners at every stage of remodel from design to picking the perfect kitchen countertops. Need a super-durable kitchen surface? Look at granite countertops. Care more about achieving a luxurious look? Marble is your best bet. Or, if you want to keep it classic (or contemporary,) check out wood or stainless steel.
Interested in remodeling your kitchen? New Creations has been helping Austin, Texas homeowners build their dream renovations for over 15 years.
Ready to Jump In?
As a high-quality design build contractor, New Creations Custom Kitchen & Bath has excelled at whole-house remodeling in Austin since 2006, and we believe strongly in its efficiencies and aesthetic advantages. Contact us and we'll happily help you decide the best approach for your renovations.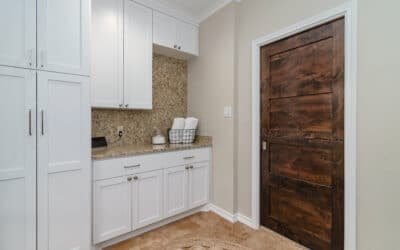 Top renovation and remodeling requests in Austin, Texas Home renovation and remodeling can be great ways to increase your home's value while...
read more
Years Remodeling Austin, Texas
+Austin Area Homes Remodeled
+ Glowing Five-Star Reviews
#1 Home Remodeling Contractor Since 2006