How to Find the Best Home Remodeling Contractor
Written By Roy Faust
Born and raised in Austin, Texas, I graduated from Lamar University with a Bachelor's Degree in Marketing in 1999. In 2006, I started New Creations and I am most proud to say we have earned 158 Five-Star Client Testimonials.
Choose Your Contractor Wisely
Oh no! The kitchen has been torn out for weeks, and there is no word from the contractor despite multiple phone calls and emails to reach them. You paid a lot of money for what you thought was the best home remodeling contractor, and now you are starting to realize you might be getting ripped off. You felt it in your gut during the interview process something was not right, but why didn't you listen?
Luckily for you, that was just a dream and you have stumbled onto my easy formula to find and hire the best contractor for your home remodeling project. Follow these 5 steps and you will be whistlin' Dixie!
1. HOW TO PREPARE YOUR SEARCH
Make a list of everything you want to change. Make sure to include detailed descriptions and why you don't like a particular item. Think about your needs now and into the future.
Will your family size change? Will you live here forever? Would you like a new lifestyle? Have you always wanted to be a barista? Want to turn your kitchen in Little Italy? Now is the time to find out just who you are and what you can do in this life.
Search online sites like HOUZZ.com to find pictures you like. Make notes on the photos and save them in a portfolio. If you are remodeling a kitchen, for example, you might want to search "Modern Kitchens" or "kitchen features and accessories." The more notes you make, the more you save on design costs later.
Create your budget. Interview different remodeling companies to get a feel for market prices and to establish a budget range. There are all sorts of studies on what to spend on your remodel. However, every situation is different, and services greatly vary. Like any profession, the better the service, the more you pay. There is an old saying in the construction business, "There's great service, great quality, and great price – pick two." After you settle on a budget range, it's time for the actual estimate. To get an accurate, detailed estimate, you must first complete the design and mechanical analysis.
There is a wide array of expensive options on the market today that can quickly destroy a modest budget during the design phase. You also don't know how to price what's behind the walls, in the attic, or under the floor, until you see what's there. If a contractor gives you a bid without knowing all of these things, how can that price be real?
Get your mind right. So many people go into remodeling with unrealistic expectations. You have to know there will be delays, human errors, change orders, and unexpected, strange events that will occur during production. If you get Zen and embrace the process and the people, you will have a much better experience; and after all, isn't that what we all want – a better experience.
2. QUALITY CONTRACTOR CHECKLIST
At Least 10 Years in Business

At Least 100 Completed Projects and in Most Austin Neighborhoods

Worked with the Same Team for at Least 10 Years

At Least 50 Positive Customer Testimonials

Licensed, Insured, Award-Winning

Consistently Responsive, Caring, and

Professional

Impressive Portfolio

Gives You a Positive Gut feeling

Have Professional Terms, Warranties, and

Processes Written Out

Offers a Turn-Key Service – Design/Build

Loves what They Do
3. WHERE TO FIND QUALIFIED CONTRACTORS
Google – Search for the company with the best reviews and website.

Local NARI.com Chapter – This is a great place to find a wealth of qualified contractors.

Your Network – Talk to neighbors, realtors, and co-workers.

Social Media – Ask for referrals on

NEXTDOOR.com and Facebook.

HOUZZ.com – This is the best source to find pictures and information about everything remodeling. There is also a long list of talented contractors.
4. HOW TO VERIFY CONTRACTORS
Interview at least three contractors in person. Review the website in detail and make a personal visit to the office or showroom. Get to know them over some time. You will learn a lot if you look for the small details. If everything lines up and they do every little thing they say, then that's a great start. To find the best home remodeling contractor, you have to dance with a few partners.
Make sure to meet and interview the entire staff that will be working in your home including the owner, structural engineer, architect, designer, project manager, plumber, electrician, carpenter, HVAC tech, painter, and not just the sales representative. Don't you want to know who the trade is that's installing wiring or running plumbing pipes behind your walls? You bet you do!
Visit at least three projects at different stages of production as well as past completed projects. Be ready with a list of questions to ask the homeowner and trades when you visit. Seeing the work in progress and talking with the homeowners at this stage will also condition you to the reality of the remodel.
Talk to at least ten clients spanning 5-10 years for reference. Ask the right questions like, "Was there anything you wished you would have done or not have done?" or "Was it a good experience and why?" It's also a good idea to talk to a few of their suppliers if you can. The more homework you do, the better!
5. RED FLAGS
They don't do what they say they will do. It starts with the little things in the beginning but gets progressively worse towards the end:
They are consistently late.

They rush you in any way.

They offer a discount to motivate you to sign a contract for any reason.

They are not detailed and don't put things in writing.

They don't have many positive client testimonials.

They have been in business for less than 3 three years.

They have changed their business name.

They sound too good to be true with promises of low pricing and fast production.

They don't pull permits when they legally should.

You have a strange feeling in your gut.
CONCLUSION
By following these five steps, you can ensure to have a great experience by finding the best contractor to remodel your home. Merely winging it is not enough, you must first prepare yourself with the right questions and job information. Knowing where to find a qualified contractor and what to look for will have you ready for battle. Last, watch out for those red flags and listen to your gut.
"How to Find the Best Home Remodeling Contractor" is the first of seven chapters in our book titled, "Home Remodeling Zombie Survival Guide." Please make sure to read the second chapter coming soon, "Design Tips to Achieve Your Dream Renovation." Please email me at [email protected] with questions or comments or contact us to set up an estimate.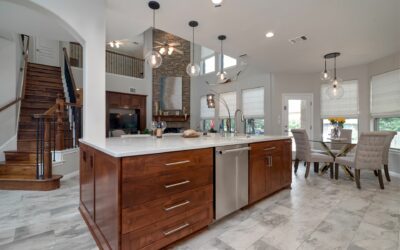 You are thinking about a home renovation, maybe updating the kitchen and dramatically improving the flow and sightlines throughout your downstairs....