How to Select the Best Appliances for Your Kitchen Remodel
Written By Roy Faust
Born and raised in Austin, Texas, I graduated from Lamar University with a Bachelor's Degree in Marketing in 1999. In 2006, I started New Creations and I am most proud to say we have earned 158 Five-Star Client Testimonials.
Understanding Appliances
Selecting the correct appliances for your remodel is more than just luck. With so many brands and even more features, you need a strategy. 
After owning a custom kitchen and bath remodeling company for 13 years and working with clients on hundreds of appliance selections, I've developed a 3 step process to ensure you select the appliances that will best fit your lifestyle now and in the future.
I met with my good friend Gabe Sutton, owner of Austin's popular Harway Appliances, to find out the top brands for best quality and customer service in 2018. He also included some cool features, so you don't miss out on the good stuff.
To see an awesome video we made about the information below, please visit our homepage or go to our Youtube Channel. Make sure you watch till the end to see Baby Elvis shake, rattle, and roll!
Now, let's get started!
1. ASK THE RIGHT QUESTIONS
By answering the following questions, you are well on your way to determining which appliances are best for you and your family.  Taking a few minutes now can save you from experience the nightmares that come along with unplanned remodeling projects.
WHAT KIND OF APPLIANCES DO YOU NEED? 
Fridge ________Size ________
Stove 1 ________Size ________gas  ________Electric ________
Stove 2 ________Size ________gas  ________Electric ________
Oven ________Size ________gas  ________Electric ________
Warming Drawer ________Size ________
Wine Fridge________Size ________
Vent hood  ________Size ________ Drafts down or up ________
Microwave________Size ________
Dishwasher________Size ________
Ice Maker ________Size ________Drain Out________
Coffee Maker________Size ________Water Line________
Other ________Size ________gas  ________Electric ________
Other________Size ________gas  ________Electric ________
Design Colors ____________________
Style:  modern ________Traditional ________Other ________
HOW DO YOU LIKE TO COOK?
How many people do you cook for regularly?

Is cooking a one-person show? Or are duties shared with additional cooks?

When you cook, do you like getting in and out of the kitchen fast?  Taking your time and enjoying the process?  Somewhere in-between?

What are your specialties or cooking hobbies? (Baking? Canning? Candy-making?)

What challenges do you face when cooking for your family? (Conflicting schedules? Special diets?)

How do you shop for groceries? (Do you stop at the market every day?  Buy in bulk at a warehouse? Shop every couple of weeks?)
HOW DO YOU LIKE TO ENTERTAIN?
This is less about the big event you throw once a year and more about monthly dinner parties, weekly backyard bashes, and the countless times you invite friends over for drinks – all of which are likely held often enough to have an impact on the appliances you choose.
How often do you invite people over?

What size groups do you usually entertain?

Are these get-togethers formal or casual? (Sit-down dinners? Buffet-style meals? Potluck parties? Drinks and appetizers only?)

Do you typically serve wine?
ARE YOU EXPECTING ANY MAJOR LIFE EVENTS?
Lives evolve – kitchens need to evolve too. Are you cooking in a kitchen designed 10 or 20 years ago? Outfitting a new kitchen offers you the chance to update your appliances to match your modified cooking rituals. How might your lifestyle change in the near future?
Will your family size change? (Is a baby on the way? Someone leaving home? One or both parents moving in?)

Does impending retirement impact how often you'll cook or entertain?

Do your children have families of their own?

Will you be taking care of the grandkids?  

Are you downsizing? Upsizing? Buying appliances for a vacation home?
2. DO YOUR HOMEWORK
By studying the appliances and understanding their features and functions, you will be able to make the best decision on appliances for you and your family. I've listed the Brands for you below with cool features and facts. I recommend first doing a little research to familiarize yourself with the brands, then visit your local appliance store to see them in person and ask questions.
MIELE
Since being founded in 1899 Miele has followed its 'Forever Better' brand promise. Miele ranges are not only built to last but are also built to cook at a high-end level for the entirety of their lifespan. They are also known for incredible customer service and support.
Cool Feature
ComfortDoor1:  Only Miele coffee machines give you convenient access to the removable water container, the drip tray, and the waste container once you have swung out the complete front section.
GAGGENAU
This timeless beauty handcrafted in Germany's Black Forest makes perfect use of its 3 century-long experience in manufacturing. Gaggenau balances weight and beauty better than any manufacturer I have seen.
Gaggenau's design is the most highly rated in design, however, it can be complicated to operate at first.  With a little practice, you'll never go back to using conventional appliances.  Life is just too short not to get exactly what you want.
Cool feature: The Vario flex induction cooktop is equipped with five cooking zones. The outer cooking areas can be combined and the center offers a large three-ring zone of up to 3 cm- perfect for wok cooking.
DACOR
60 years of cooking expertise has merged with the worldwide leader in Research, Development, and Innovation in Samsung. 
This insight has allowed Dacor to offer a full line of amazing appliances, including the stunning new "Modernist" collection. Dacor is no longer just an oven company. These appliances are as beautiful as they are highly functional. Not all brands are created equally, and Dacor is a brand that is synonymous with both quality and durability. 
Cool Feature
Dacor is the only brand to offer auto connectivity between the cooktop and vent via Bluetooth, allowing for smart and automated ventilation when cooking.
WOLF/SUBZERO
Wolf / SubZero is a third-generation family-owned company based in Madison Wisconsin with manufacturing in Scottsdale, Arizona. They are credited with manufacturing the first professional counter depth refrigerator. 
Cool Feature: When food spoils, it emits an ethylene gas. Sub-Zero employs an antimicrobial air scrubber to scrub the air of ethylene, mold, viruses, and bacteria every 20 minutes. Thus, the spoilage process is slowed. Other foods are not cross-contaminated with gases from other spoiling foods, so they last longer as well. 
VIKING
In 2013, Viking became part of The Middleby Corporation, the largest commercial kitchen equipment manufacturer in the world. Tapping the resources and technological expertise of Middleby with Viking's heritage in the residential market, we have transformed our products and reached new heights in customer satisfaction.
Cool Feature:
 Rapid Ready™ Preheat System
Wait less and cook more with the Rapid Ready™ Preheat System. Quick preheat means less time for the user to wait for the oven to be ready to cook in.
THERMADOR
Since 1916, Thermador has redefined the kitchen with luxury appliances that provide quality craftsmanship, culinary performance & exceptional design. From introducing the first Professional Range to crafting the exclusive, patented Star® Burner, their passion for everything culinary is what inspires their award-winning appliances.
Cool Feature: Largest Pro Range Oven capacity in the industry @ 10.6 cu.ft. overall (5.7 cu.ft. main oven & 4.9 cu.ft. secondary oven)
BUDGET-FRIENDLY OPTIONS
SAMSUNG
Ovens with convection, steam assist, and wifi compatibility is an example of Samsung's ability to deliver on features without breaking the bank. They have come farther, faster than any manufacturer of an appliance in 5 years. Ever.
Cool Feature
The dishwasher door automatically opens up at the end of a cycle to circulate air, so dishes dry faster. Plus the blue lights on all Samsung are really cool
BOSCH
Founded in Germany in 1886, Bosch immediately began to innovate within the world of powered equipment and technology. A year after their founding they went on to introduce the world's first low voltage magneto designed for gas engines. This was the forerunner for magnetos in cars that would become critical twenty years later. From this beginning, Bosch went onto innovating in the automobile and machinery industries before eventually branching into consumer goods and home appliances. Many people don't know that Bosch's precision in design extends to the world of power tools where they own Dremel and other brands known for their durable and dependable tools.
Cool Feature: When it comes to noise, Bosch has a reputation for being incredibly quiet in their dishwasher design. The Bosch 800 series boasts models with noise levels capping out at 42 dBA, with some as low as 39 dBA.
3. BUY LOCAL
With over 25 years of construction experience, I have learned that the quality of service after the appliance has been installed is one of the most important factors in selecting appliances. You need an advocate on your side that knows the ropes and has connections when and if you face mechanical issues with your appliance. If you are in our Capital City of Austin go see my friend Gabe Sutton or visit your local appliance dealer with the best reputation.
You've asked the right questions, examined the right information, and now know where to purchase your appliances. You are ready to avoid the dreaded appliance buyer's remorse and be the hero of your family for years to come.
We hope you enjoyed our 3 Step Process on How to Select the Best Appliances for Your Kitchen Remodel. I love home remodeling and would love to hear your questions or comments by emailing me at [email protected].
To get started now on your home remodeling project, click on the button below.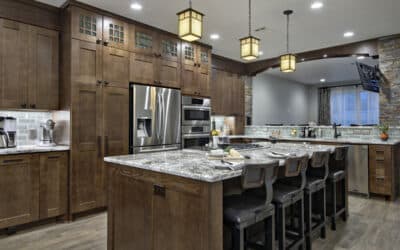 From granite to quartz, kitchen countertops deliver on aesthetic appeal and exceptional performance After kitchen cabinets, the feature that...
Years Remodeling Austin, Texas
+Austin Area Homes Remodeled
+ Glowing Five-Star Reviews
#1 Home Remodeling Contractor Since 2006